This Vegan Curried Tofu Scramble Recipe comes together in just 25 minutes. It's packed with some of my favorite veggies and seasonings and perfect for breakfast, lunch, and even dinner.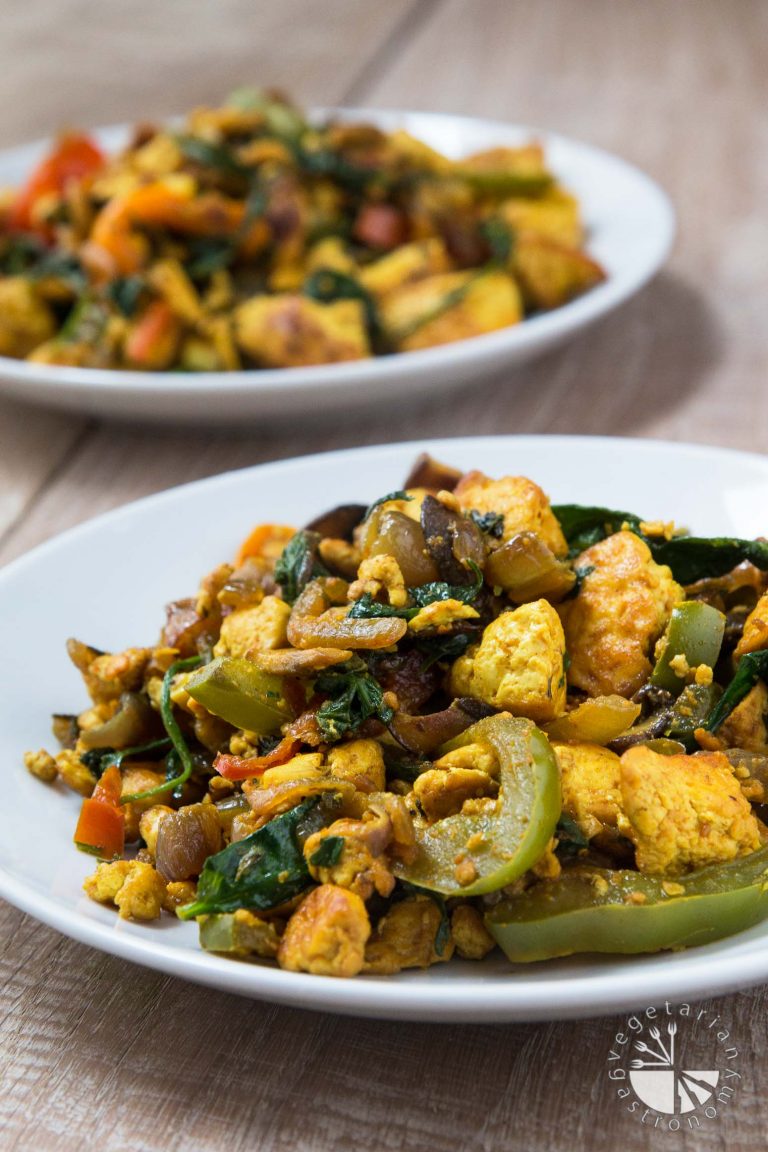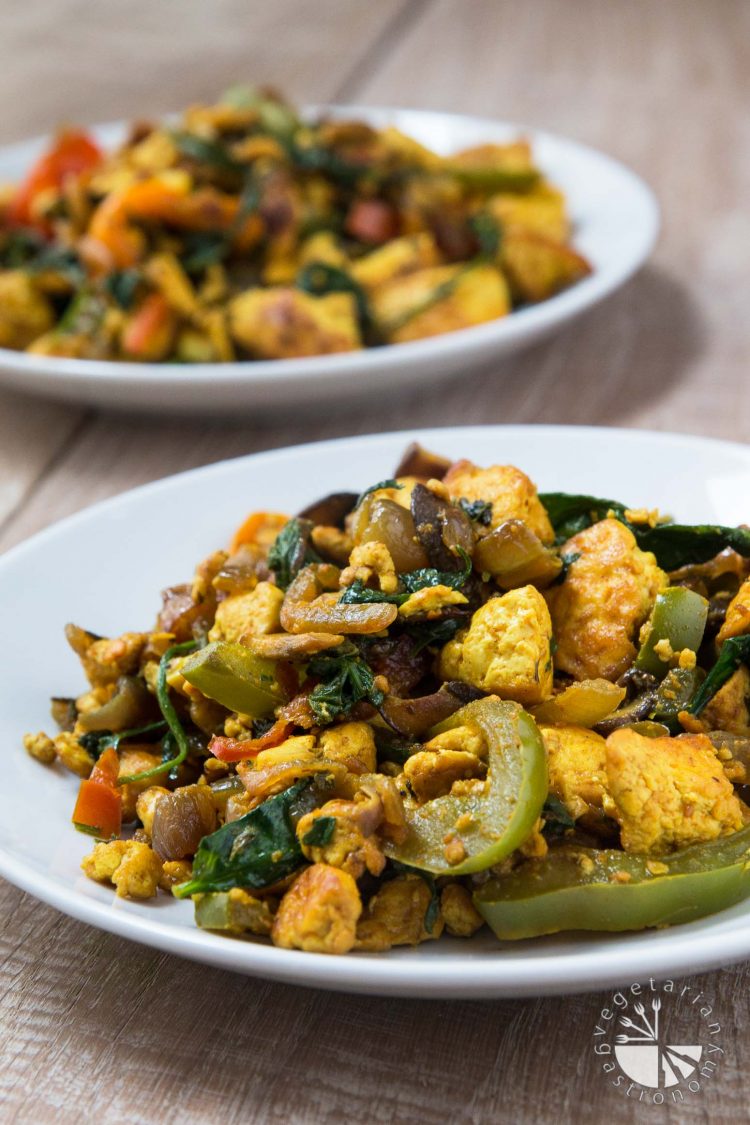 Tofu Scramble. This is not JUST a vegan alternative to scrambled eggs or yet another recipe to mimic a non-vegan dish. When made right, is a glorious way to cook tofu into a beautiful easy, healthy, flavorful dish!
My husband and I have always loved the idea of going out for breakfast or brunch on the weekends. But to be honest, unless you live in an area that has plenty of vegan-friendly breakfast places, the vegan choices are often slim to none. When there is a vegan option, it's often some toast with jam or side granola with fresh fruit. And let's face it…who wants to be eating that for breakfast when everyone else is indulging in pancakes, waffles, scrambles, breakfast burritos, etc.
Sometimes if you're lucky, you can get them to make you some potatoes with veggies or they'll have a tofu scramble on their menu. Although I usually shy away from ordering the tofu scramble, because it tends to be under-seasoned and boring. To me, a tofu scramble doesn't just equate to a few sauteed veggies mixed in with barely cooked mashed tofu and seasoned with some salt and turmeric (for that yellow egg-ish color). Sound appetizing? Nope, didn't think so.
The Perfect Tofu Scramble Recipe
A good tofu scramble recipe should consist of slightly mashed tofu that is scrambled enough to give it that perfect non-mushy texture and a blend of properly grilled veggies and greens, all seasoned with an awesome blend of spices to give it that "wow…now this is amazing" factor.
Most tofu scramble dishes are always turmeric heavy, bland, or require a lot of ingredients to get the right curry flavor, which is where one of my favorite seasonings comes to play, Spicemode Curry Seasoning! It's the perfect rich and smooth blend of turmeric, coriander, and fennel, with subtle spice from ginger and chili flakes.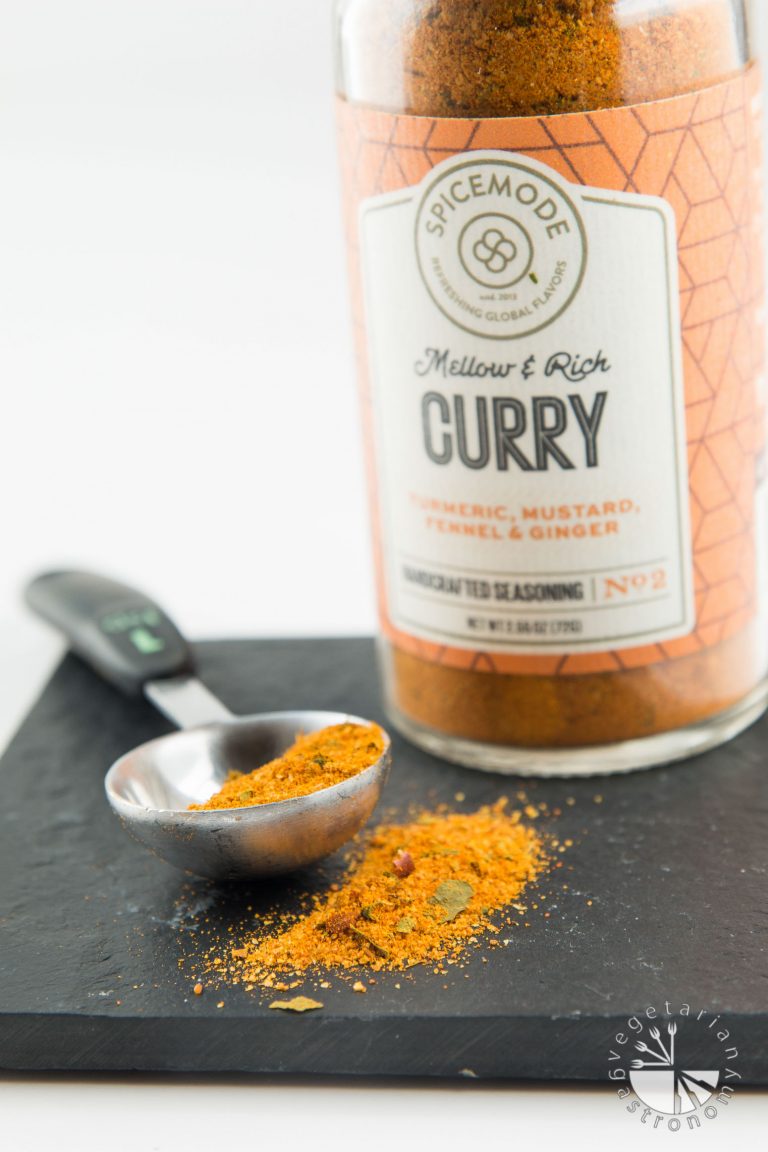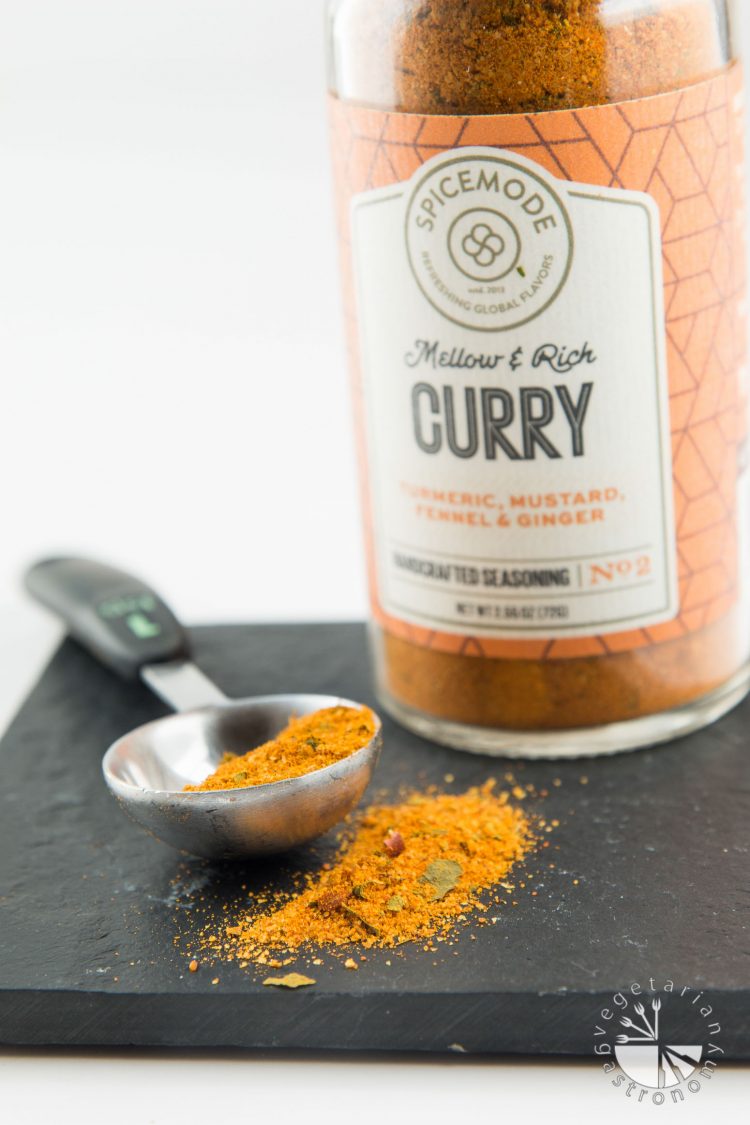 All of the Spicemode Seasonings are amazing. They have become a staple in my pantry ever since I first developed the Crispy Tofu Tikka Masala Tacos using their Tikka Spicemode Seasoning a few months ago. Their seasonings are hand-crafted with fresh, all natural, simple ingredients, without additives, preservatives, or GMOs. It's exactly the type of things I look for in my seasonings. I also love the fact that I am familiar with each ingredient in every bottle.
Spicemode seasonings are meant to give home cooks of all skill levels an easy way to experience flavorful ethnic food. I mean it when I say that they will NOT be lumped in your drawer of 'seasonings you got for a specific recipe and won't use again'. Their seasonings are based on the Indian Cuisine, but I've used them in all sorts of dishes such as pasta sauces, tacos, curries, or even something as simple as avocado toast and popcorn!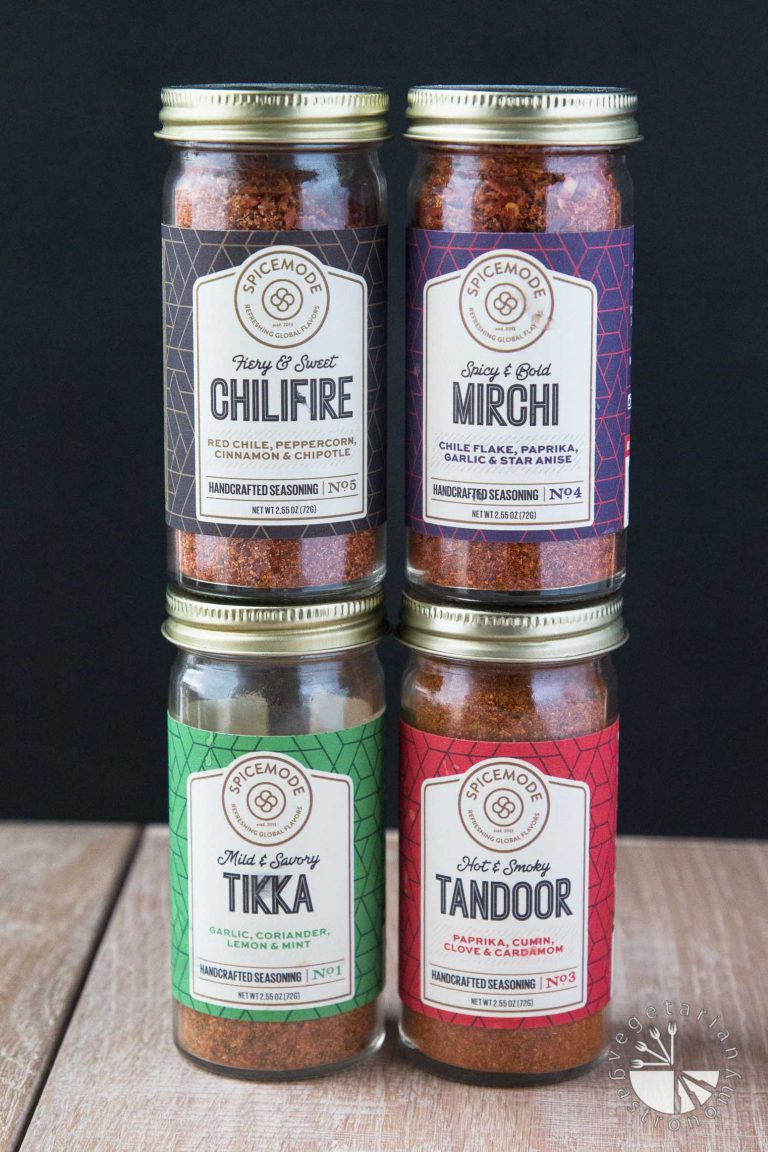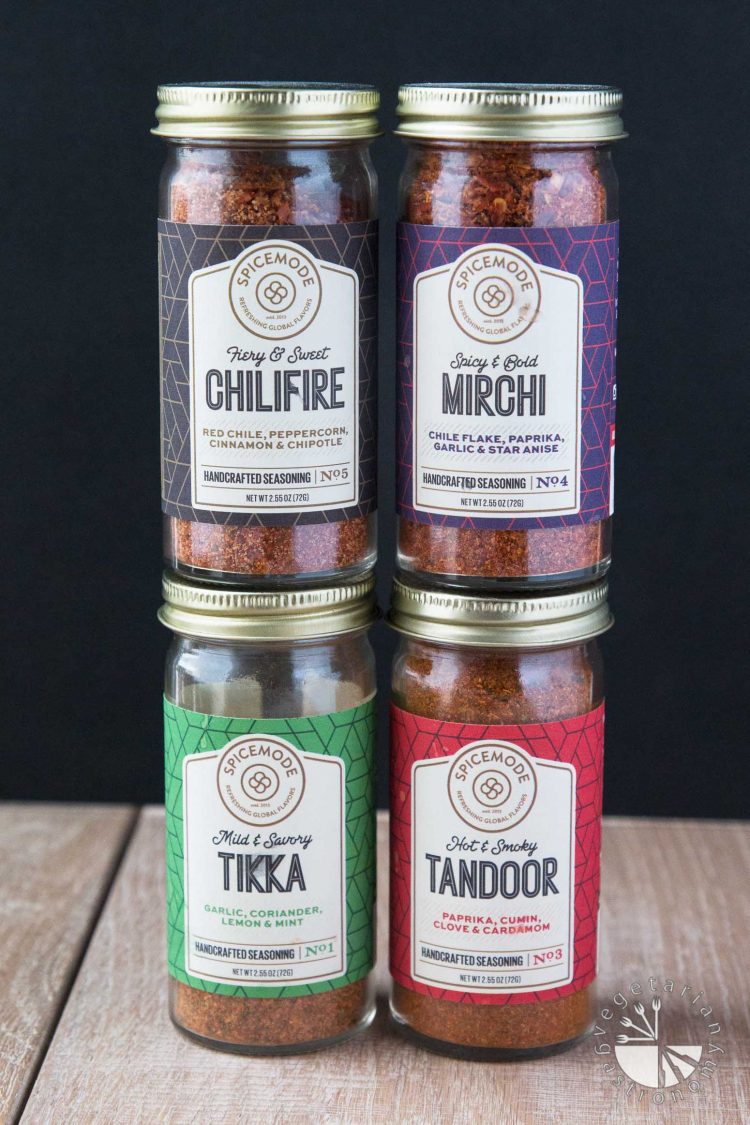 This Vegan Curried Tofu Scramble Recipe is delicious, healthy, and takes only 20 minutes to make. I even managed to whip this up one morning for breakfast after my workout while packing lunches and getting both my kids ready for school, so I have no doubt that this recipe will be very easy for any of you. You can serve the dish as is, enjoy it on toast, or make a grilled curry tofu scramble burrito by wrapping the filling with some avocado in tortilla. I've enjoyed all three versions for breakfast, lunch, and dinner.
Whether you're a tofu scramble skeptic or need another quick and healthy delicious meal idea, this recipe is impeccable. Grab yourself some Spicemode Curry Seasoning from your nearest Whole Foods Market or purchase them online and whip up this Vegan Curried Tofu Scramble Recipe in 20 minutes. Don't forget to tag me on Facebook or Instagram, @vegetariangastronomy #vegetariangastronomy so I can see your lovely creations!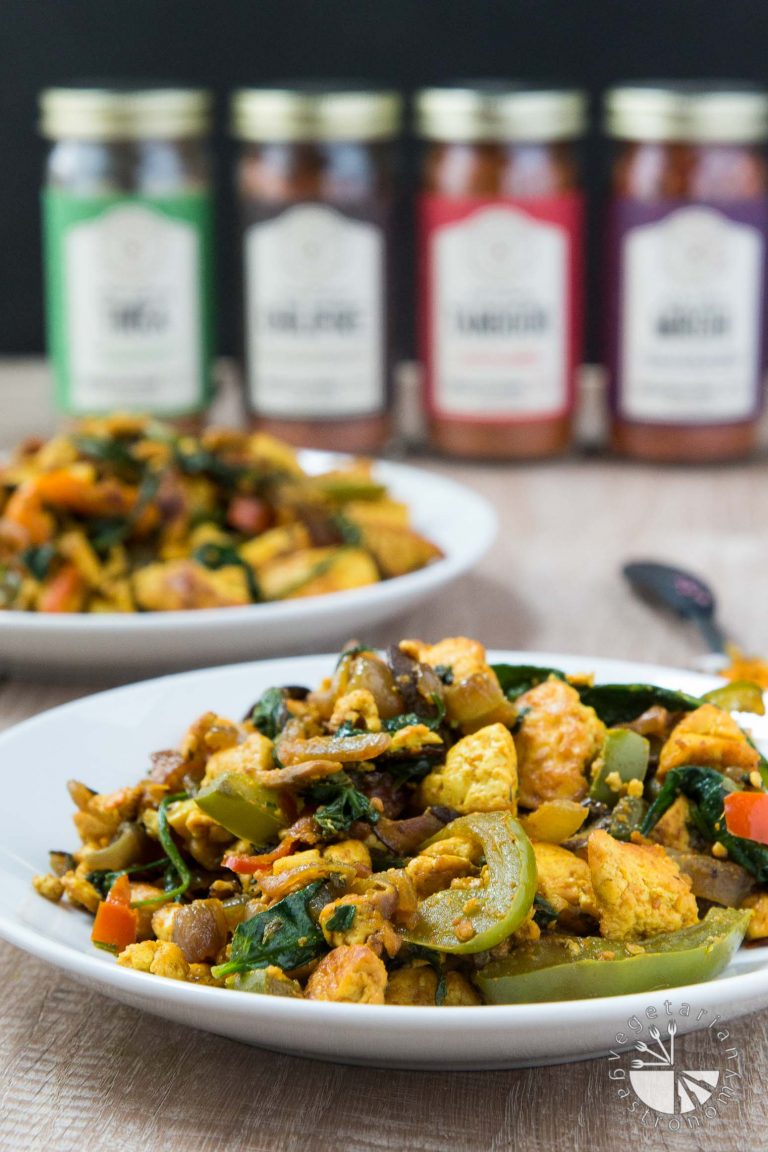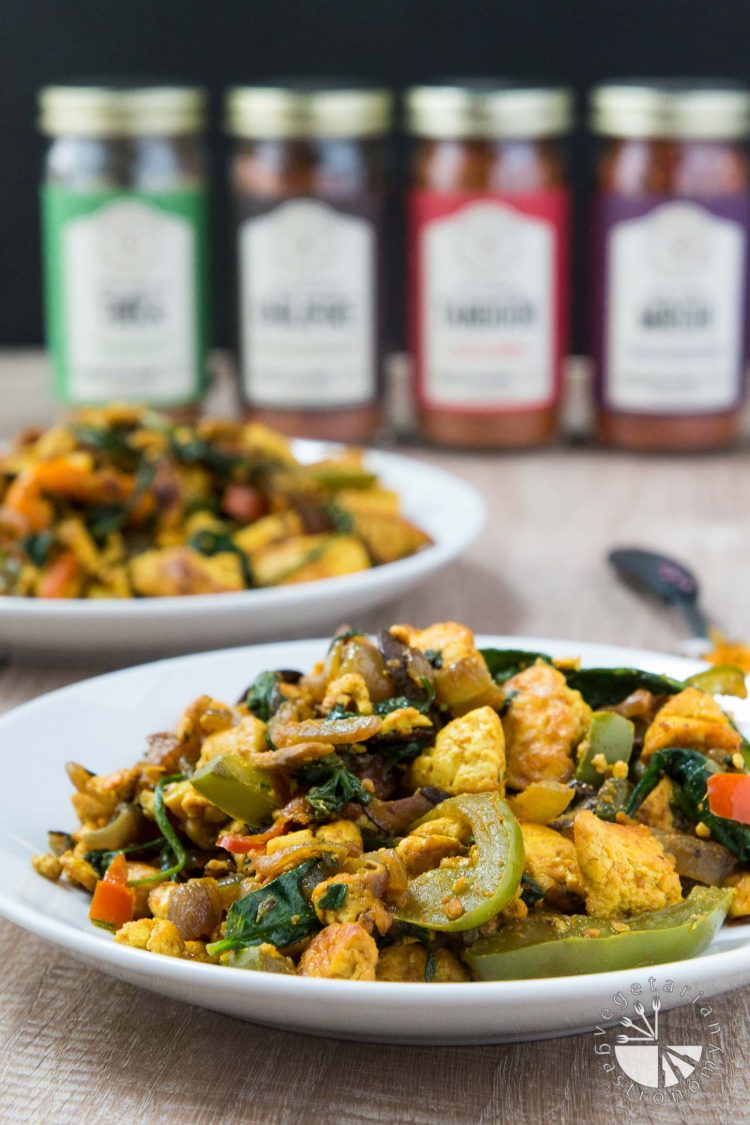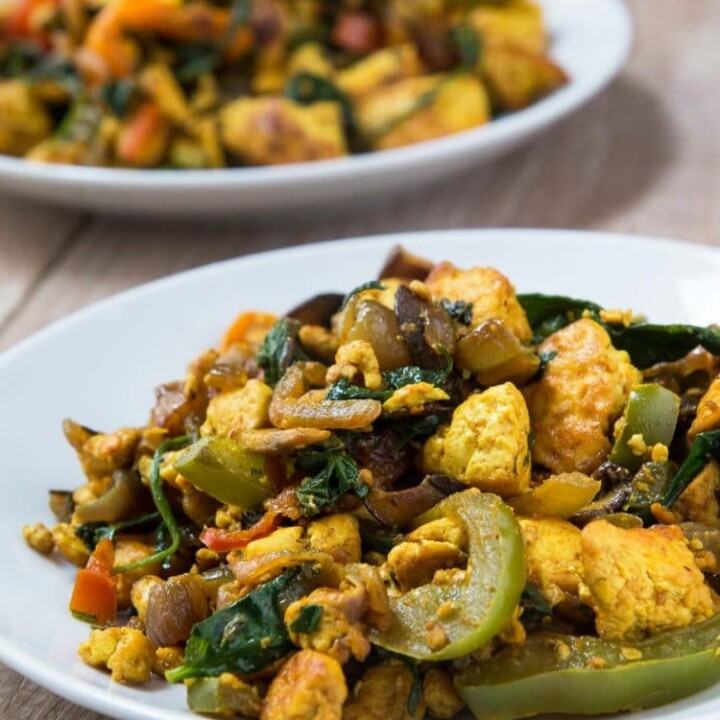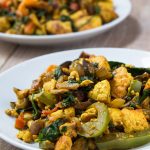 Print
Easy Curried Tofu Scramble Recipe (Vegan)
This Vegan Curried Tofu Scramble Recipe comes together in just 25 minutes. It's packed with some of my favorite veggies and seasonings and perfect for breakfast, lunch, and even dinner.
INGREDIENTS
14

oz.

firm tofu

, block

3

cloves

garlic

, minced

1

cup

red onions

, thinly sliced and halved

2

cups

bell peppers

, thinly sliced and halved (mix of red, green, orange, or yellow)

5

cremini mushrooms

, thinly sliced

2

cups

mixed greens

I used Earthbound Farms power greens mix - baby spinach, chard, and baby kale

1

tbsp

Spicemode Curry Seasoning

, divided

1/2

teasp

salt

to taste

4

teasp

avocado oil

, divided
INSTRUCTIONS
To Prepare the Veggies:
Add the minced garlic and saute for ~30 seconds.

Add the red onions, bell peppers, and mushrooms. Saute on medium-high heat, mixing frequently, until they just start to char slightly. When done, the veggies should still have a slight crunch to them. While the veggies are cooking, you can start to prepare the tofu by draining out the water.

Using a wet napkin, quickly wipe down the non-stick pan while it's still warm.
To Prepare the Tofu:
Cut the block of tofu in half. Place each half in 2 clean paper towels one at a time and gently press/squeeze to remove excess stored liquid (without completely breaking up the tofu).

Using your fingers, break apart the tofu into the pan so you get a nice scramble with lots of chunks. Mix and turn frequently until all the water is burned off, the tofu starts to get texture, and is lightly golden brown.
To Make the Curried Tofu Scramble:
Once the tofu is done, immediately add in the sauteed veggies, mixed greens, 1 teasp

Spicemode Curry Seasoning

, and 1/2 teasp salt.

Combine and cook for another 1-2 minutes until all the greens have cooked down.

To Serve: Enjoy the curried tofu scramble hot as is, pair it with a slice of toast, or make a grilled burrito using the curried tofu scramble and some avocado as the filling served with your favorite hot sauce!
NOTES
For the mixed greens, you can use any of your favorites. I found that the baby greens work best in this dish so that you don't have to chop them down in size. I used Earthbound Farms Power Green blend.
NUTRITION
Calories:
142
kcal
|
Carbohydrates:
12
g
|
Protein:
11
g
|
Fat:
5
g
|
Sodium:
448
mg
|
Potassium:
673
mg
|
Fiber:
2
g
|
Sugar:
6
g
|
Vitamin A:
3415
IU
|
Vitamin C:
134.3
mg
|
Calcium:
64
mg
|
Iron:
2.1
mg
This post was sponsored by Spicemode, but the opinions and text are fully my own.