Grilled corn tortilla filled with crispy tofu Tikka Masala tofu, grilled onions and peppers, fresh herbs, and a cool creamy vegan chilifire crema! This gluten-free, easy, vegan tikka masala taco recipe is packed with delicious Indian flavors with a little street-style taco flair!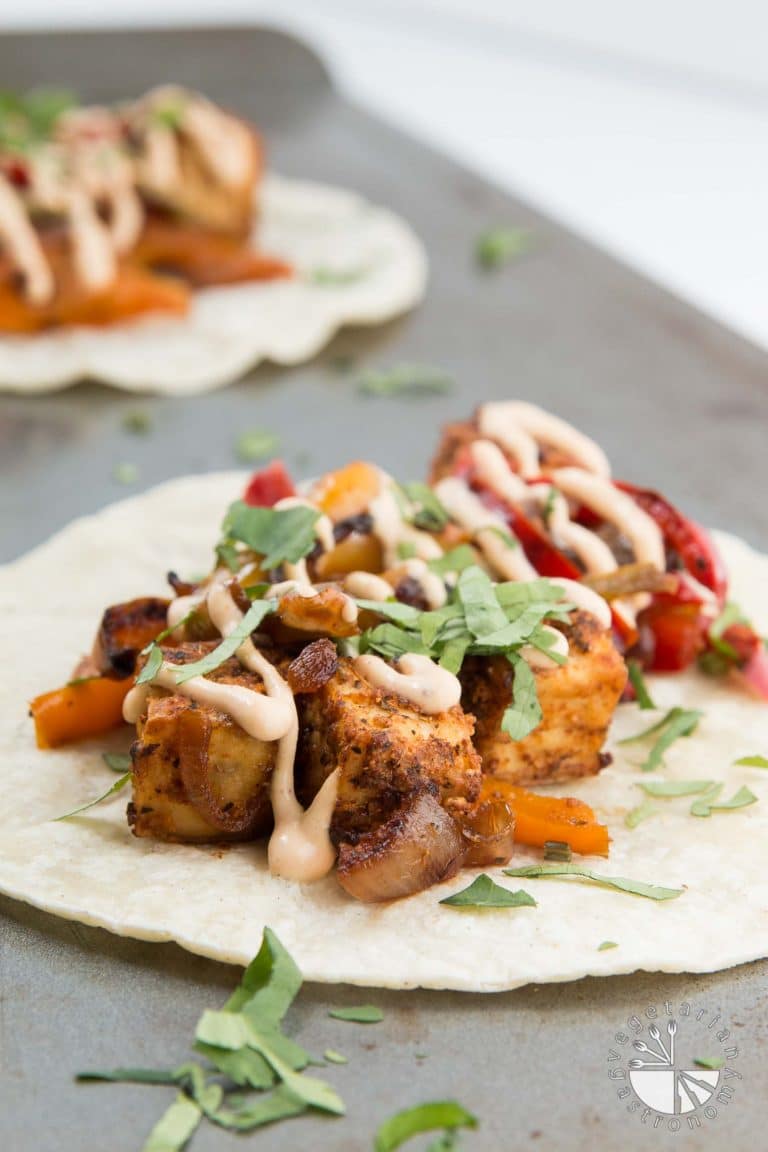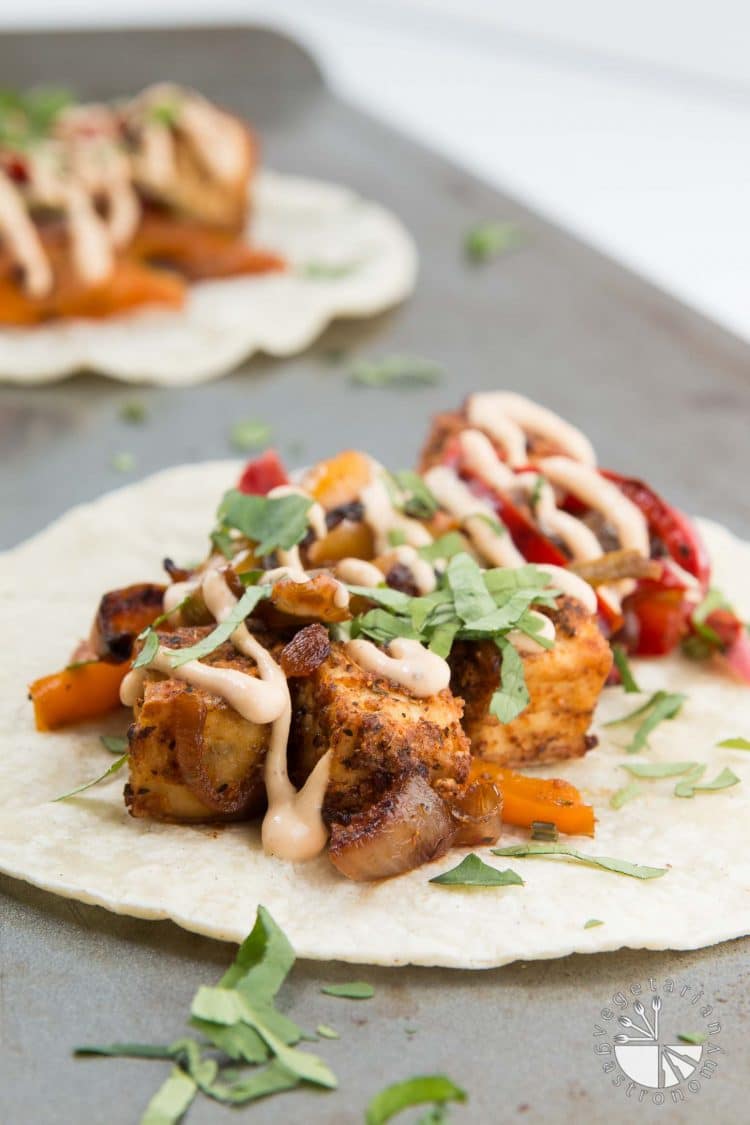 Do you crave those exotic tongue-tingling Indian flavors, but then find yourself intimidated when you look at the recipe and realize you're unfamiliar with many of the ingredients? Or maybe you hesitate buying multiple new spices, worried that you'll never use them again? The Indian Cuisine can be both exciting and intimidating. If you're not familiar with the flavors, you may find yourself frustrated trying to re-create a restaurant favorite. Or if you're like me and love cooking Indian food at home, sometimes you just want that multi-purpose spice blend that will making cooking easy without having to sacrifice flavor. This is where my new favorite brand of fresh handcrafted sauces & seasonings comes in… enter Spicemode!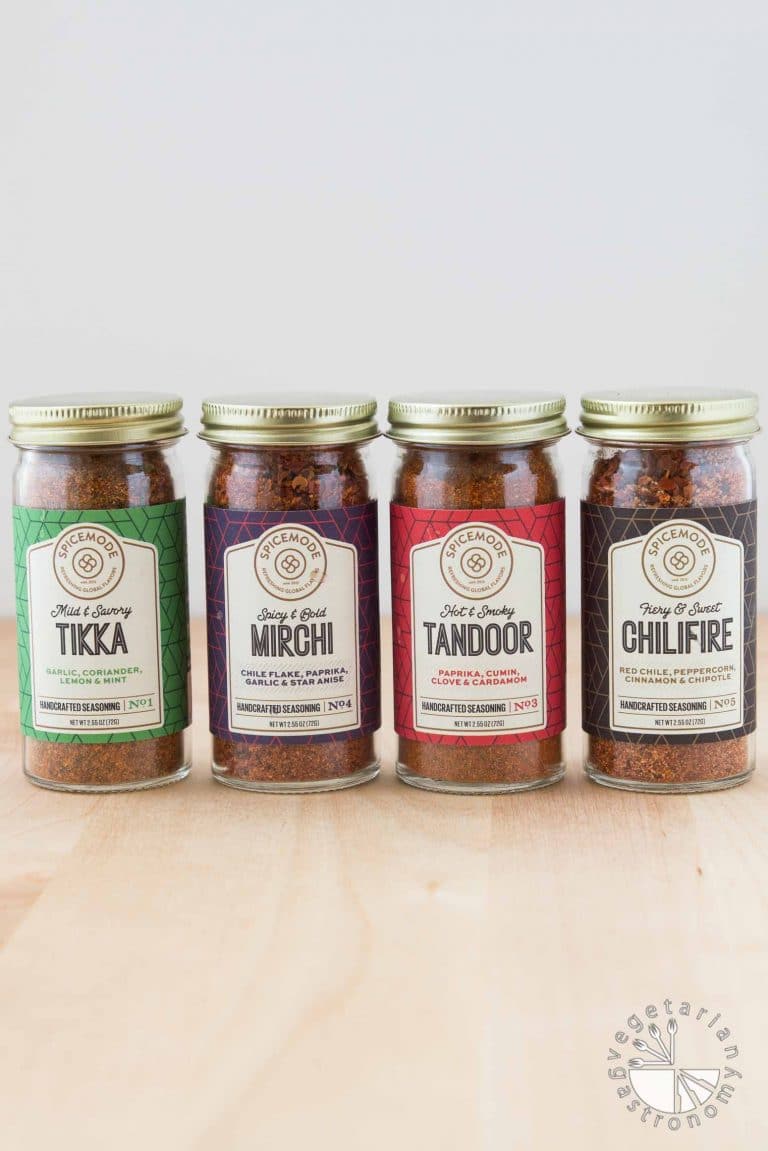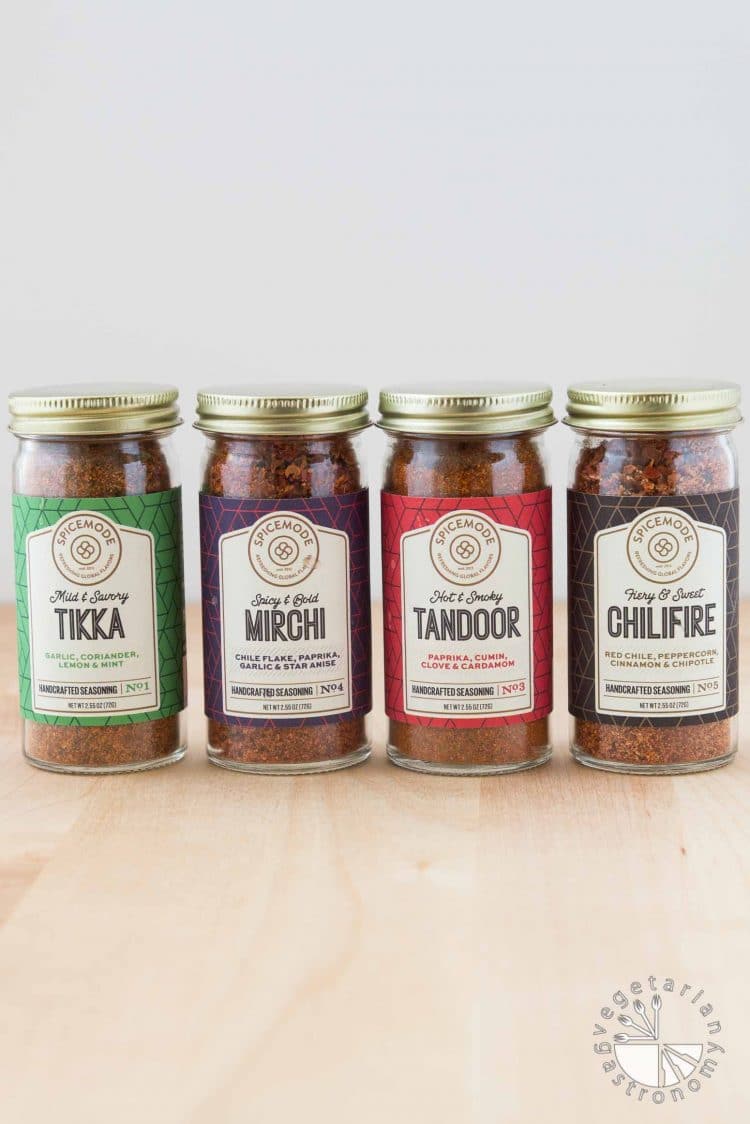 Growing up, we had Indian food the majority of the week. My mom cooked most of her meals from scratch, making her own spice blends or simply using a combination of basic spices in her food. Occasionally she'd bring home some new packaged masala from the Indian store (chat, sambar, pav bhaji or tikka masalas). But, they tasted fake, the flavors were always off, too salty and full of preservatives, that I couldn't even recognize half the ingredients. It's safe to say I wasn't a huge fan of store-bought Indian seasonings. Even 20 years later, aside from standard blends like garam masala, store-bought Indian seasonings have not had a place in my kitchen. That is…until now!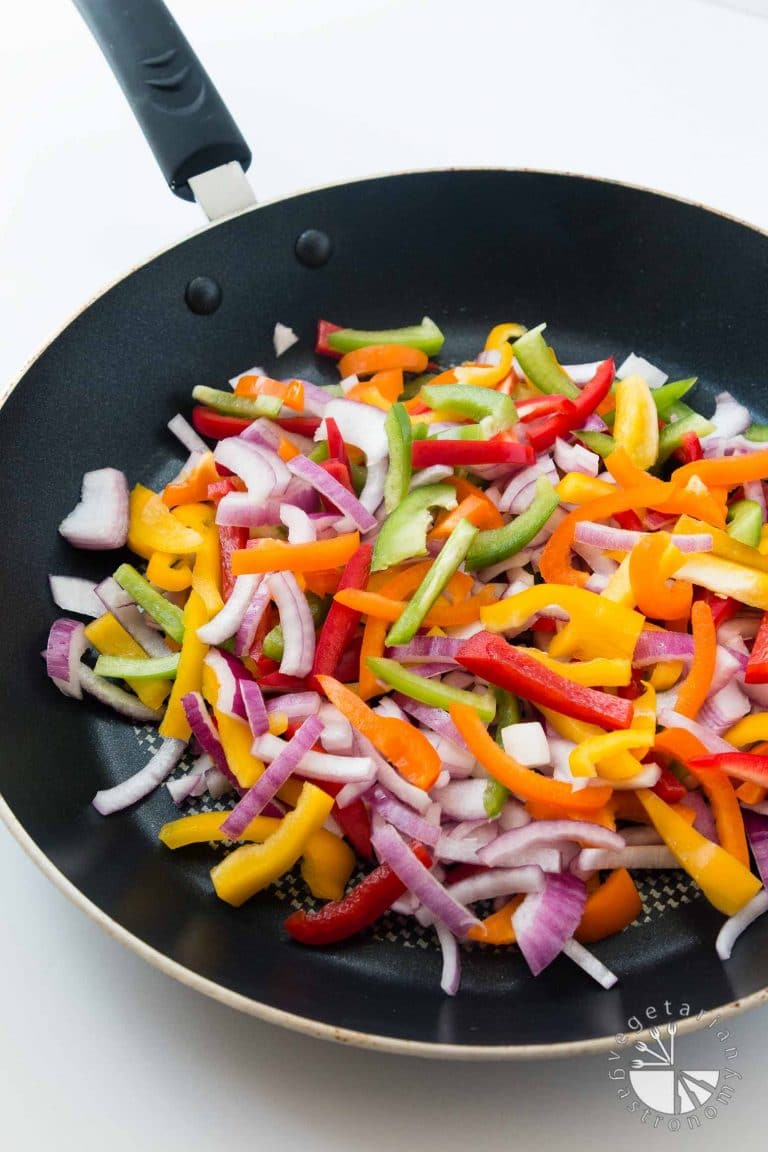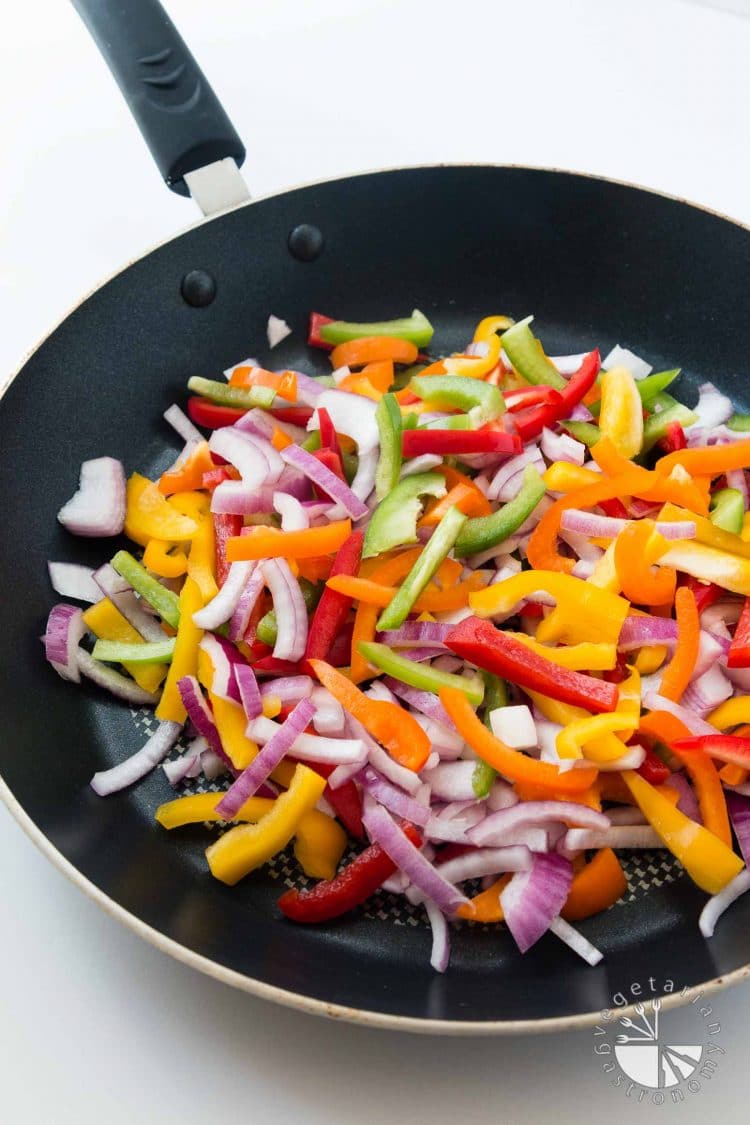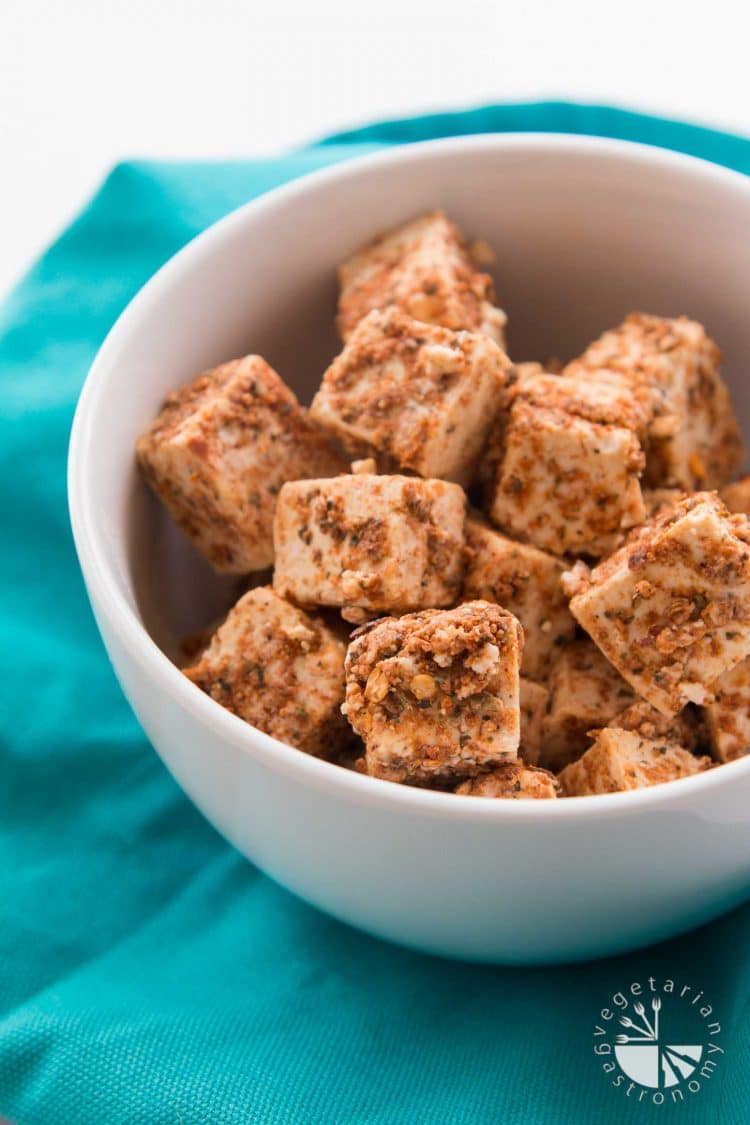 When the wonderful people over at Spicemode asked if I would like to try out their handcrafted seasonings and sauces, I immediately recognized their logo because I pass by their products every week at Whole Foods. I've always been intrigued, but never really stopped to check them out because of my past experiences. I checked out their products online and learned that they were hand-crafted with all natural and fresh simple ingredients, without additives, preservatives, or GMOs. Exactly the type of things I look for in seasonings! So, I was willing to give it a try, and I'm SO glad I did. I tried a variety of different seasonings and was blown away by all of them! They were fresh and amazing, all of them having their own unique flavor and the perfect blend of acidity, sweetness, and heat. I couldn't stop licking the palm of my hand as I was tasting each seasoning! Spicemode also offers a line of sauces that are versatile and perfect to have on hand.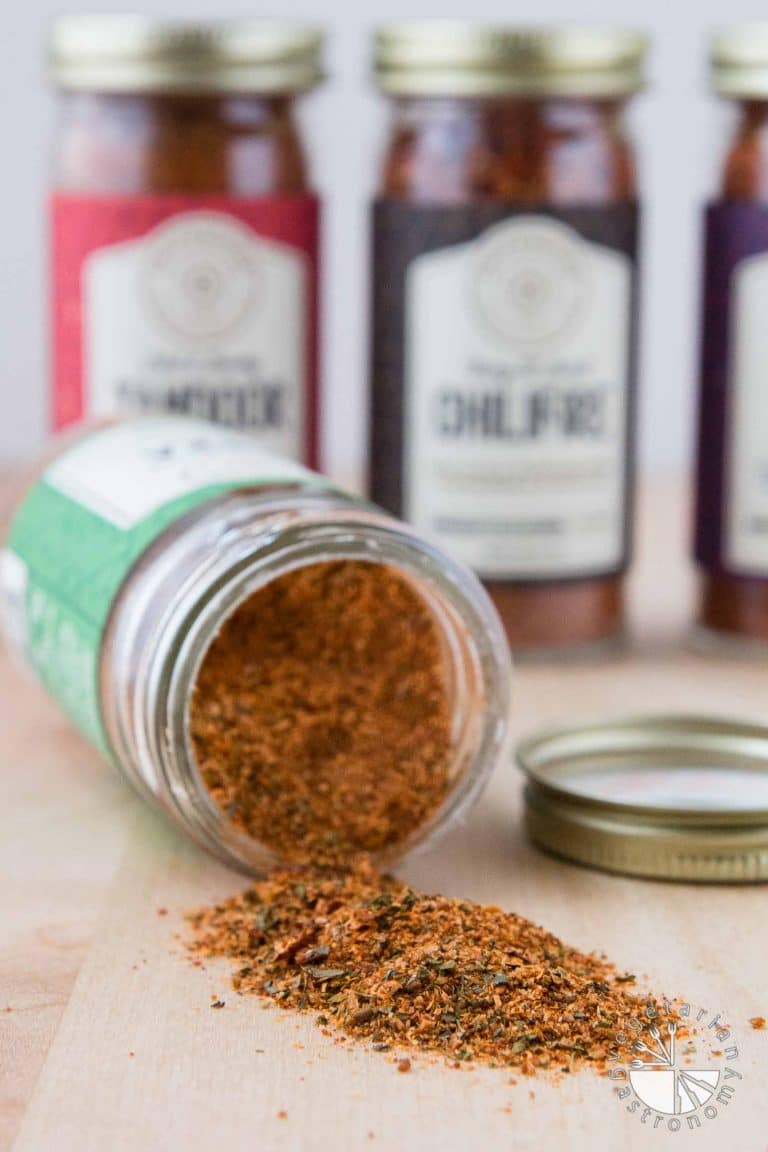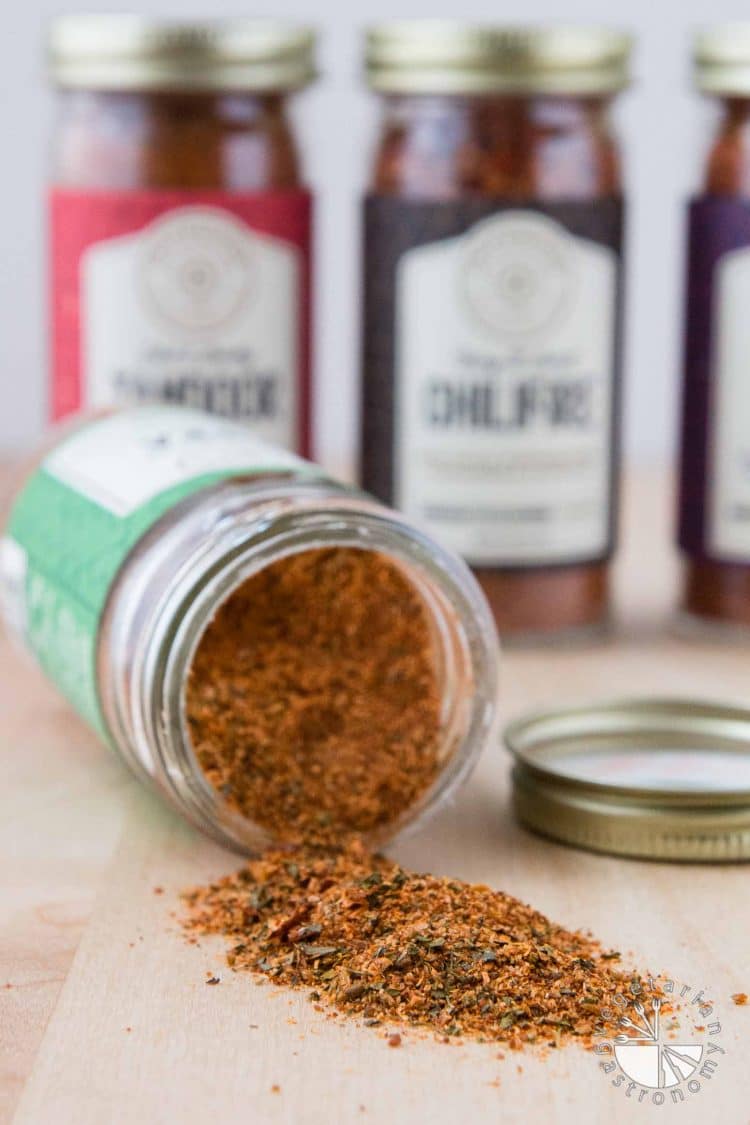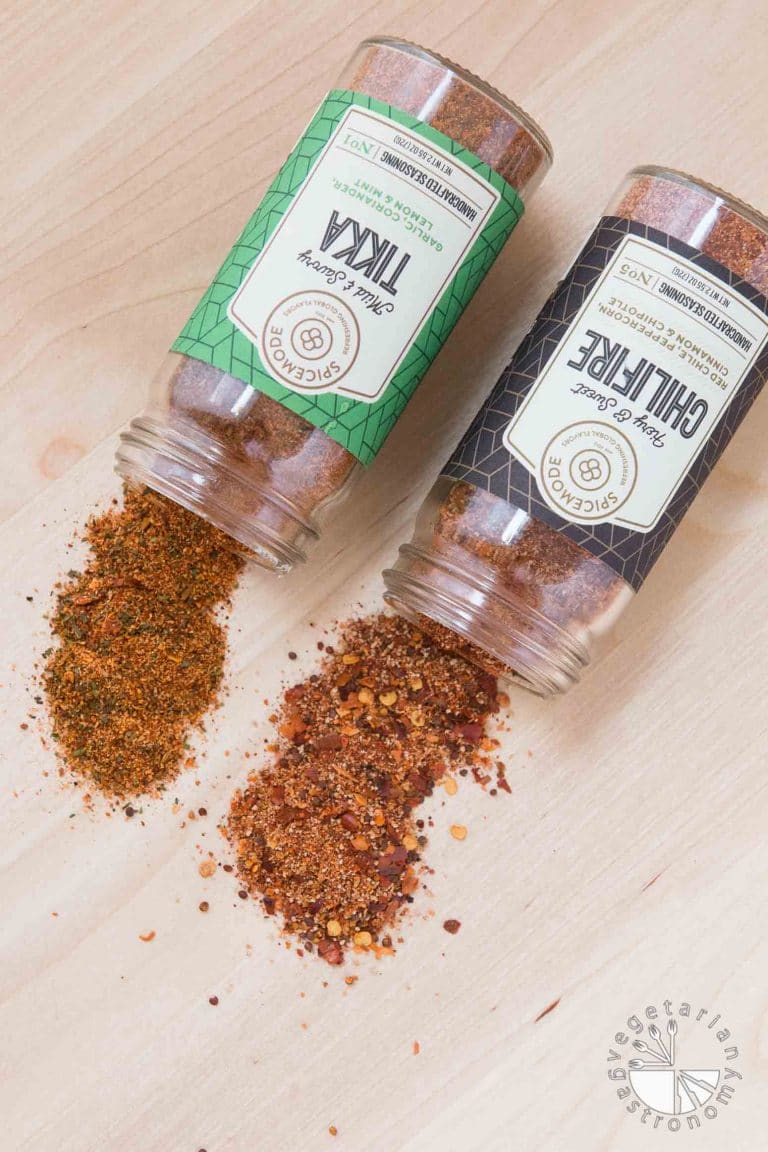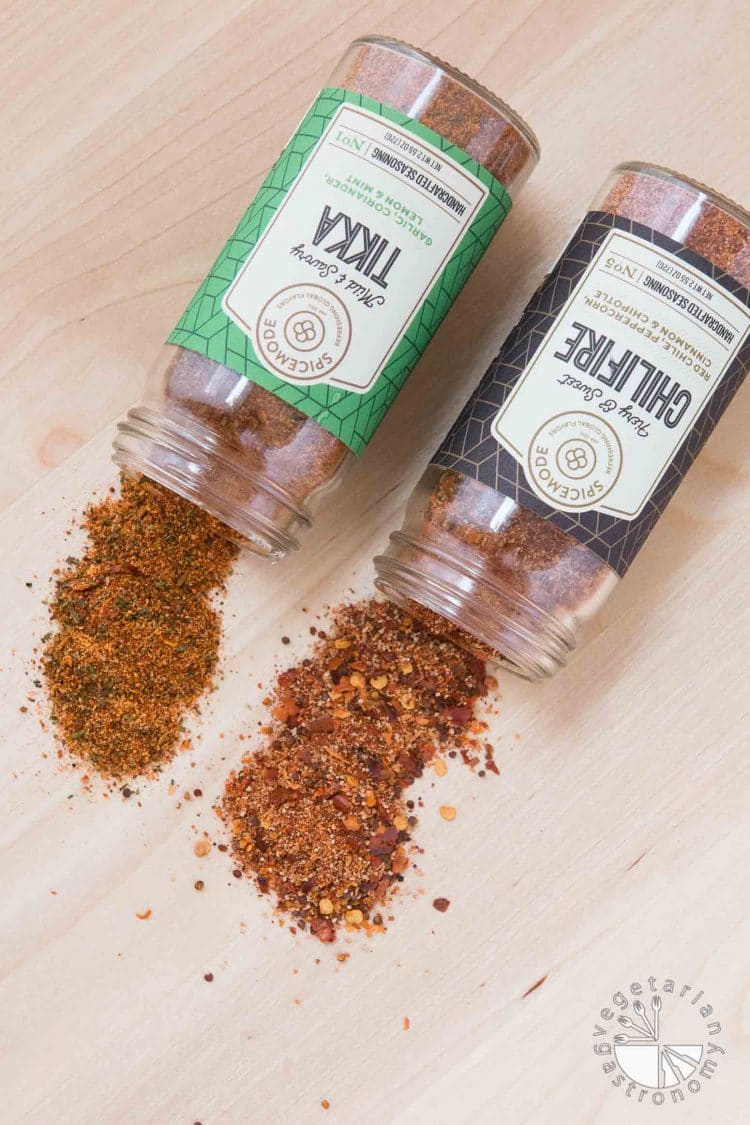 I was very excited to create a new recipe using these spices. Seeing as how popular my Cauliflower Tikka Masala recipe has become, I decided to start with the tikka masala and chilifire seasoning. However, instead of going with a traditional Indian dish, I decided to create a fusion tofu tikka masala taco recipe. My twist on Indian street-style tacos. All those warm Indian spices and peppery heat, coupled with some fresh herbs and a cool creamy vegan chilifire crema. Simply season some cubed tofu, bake it in the oven until crispy (warning…do not devour all of them otherwise you'll be left with no tacos!), saute some lovely peppers and onions, and whip up a fiery and sweet chilifire crema! All you need is 30 minutes and you have yourself some delicious Crispy Tofu Tikka Masala Tacos with Peppers, Onions, and Chilifire Crema!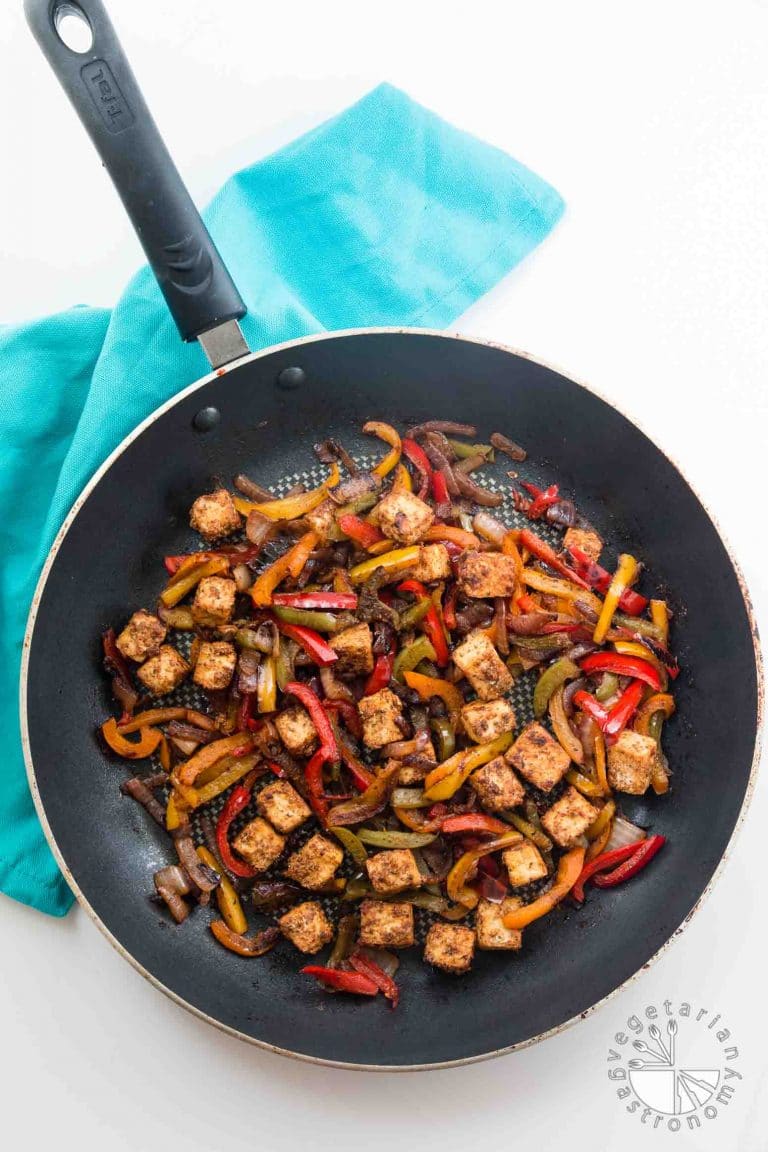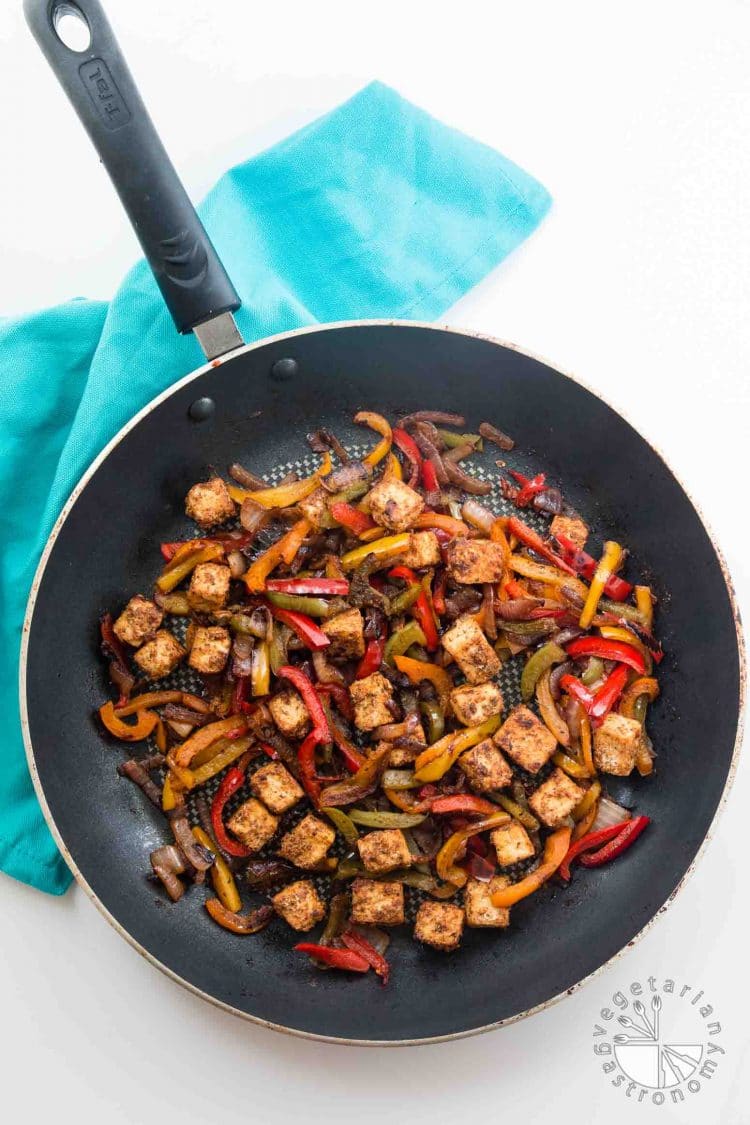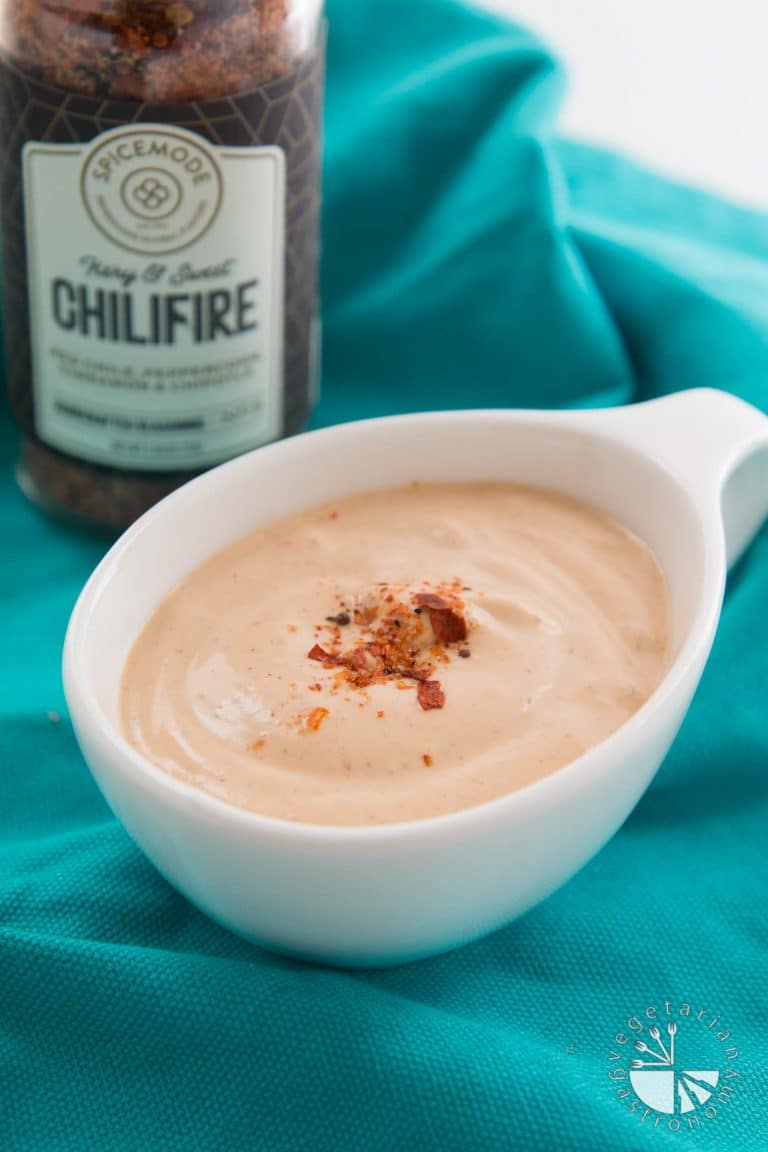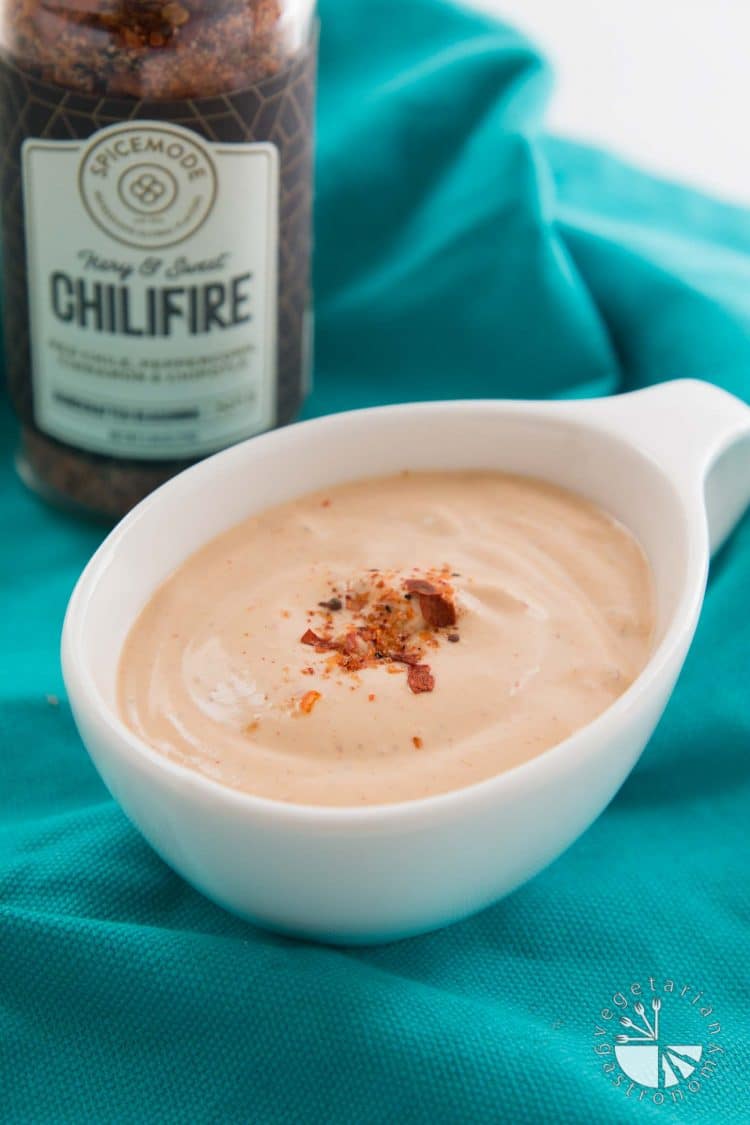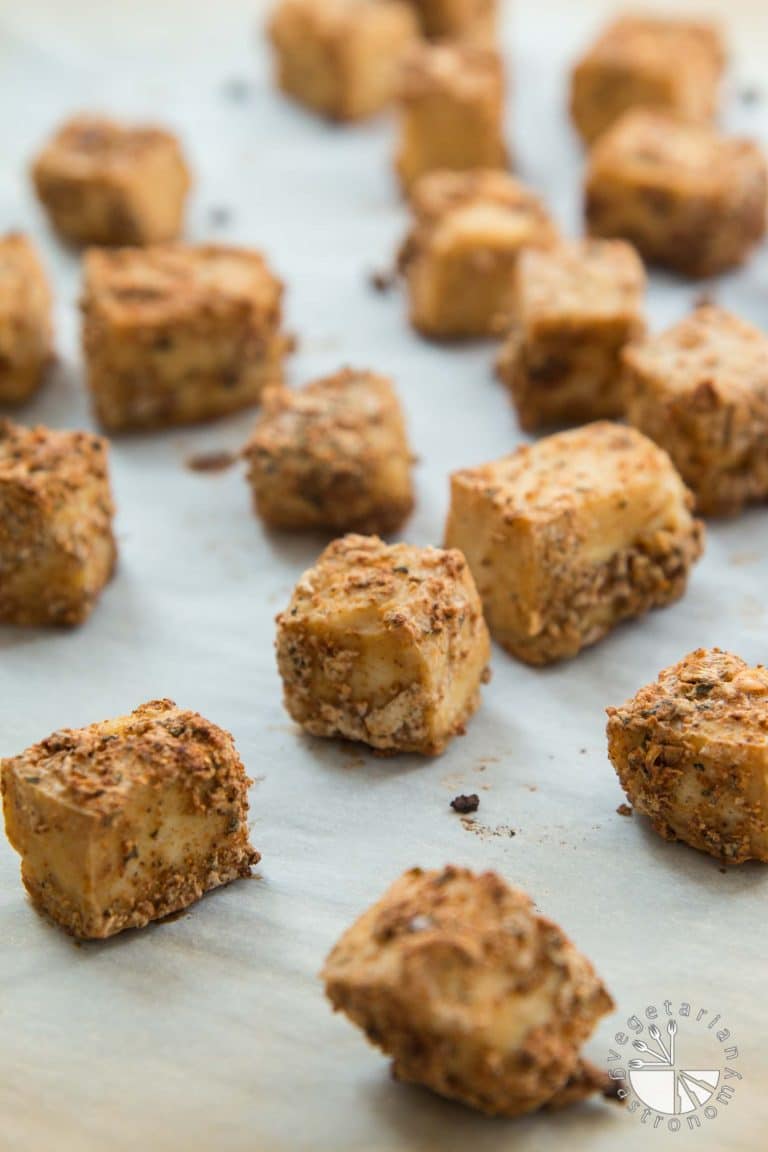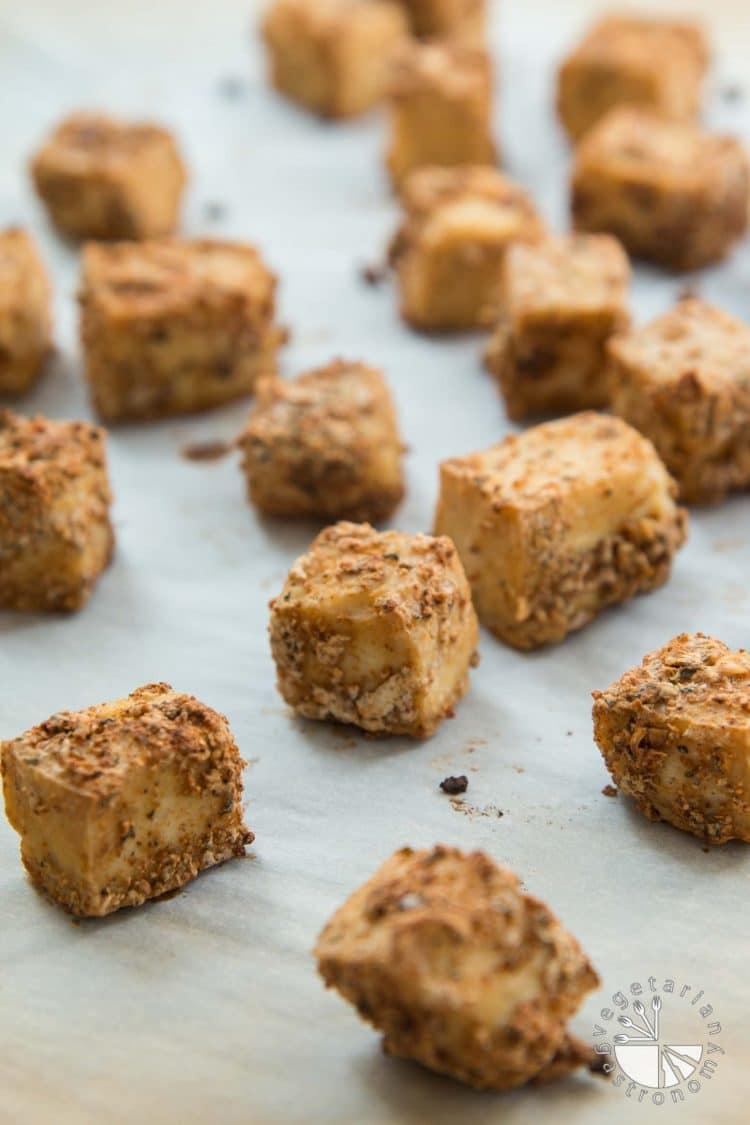 So if you're looking to try out Indian flavors, need something quick, easy, new and exciting for dinner… grab some Spicemode seasonings from your local Whole Foods or buy them online, and try making these vegan tacos! I've had these tacos 4 days straight. They're definitely going in our weekly meal rotations, and these seasonings have become a kitchen pantry staple for us.
If you order these seasonings online prior to December 13th, you can use the discount code 'VG15' and get 15% off your order! They're seasoning and sauce collections can make the perfect holiday gift! I'm also hosting a giveaway on Instagram this week for a chance to win both the Tikka and Chilifire Seasonings to make these tacos, so don't forget to head on over and enter today! As always, I love seeing and sharing your creations, so tag me on Facebook or Instagram if you try out this crispy tofu tikka masala taco recipe!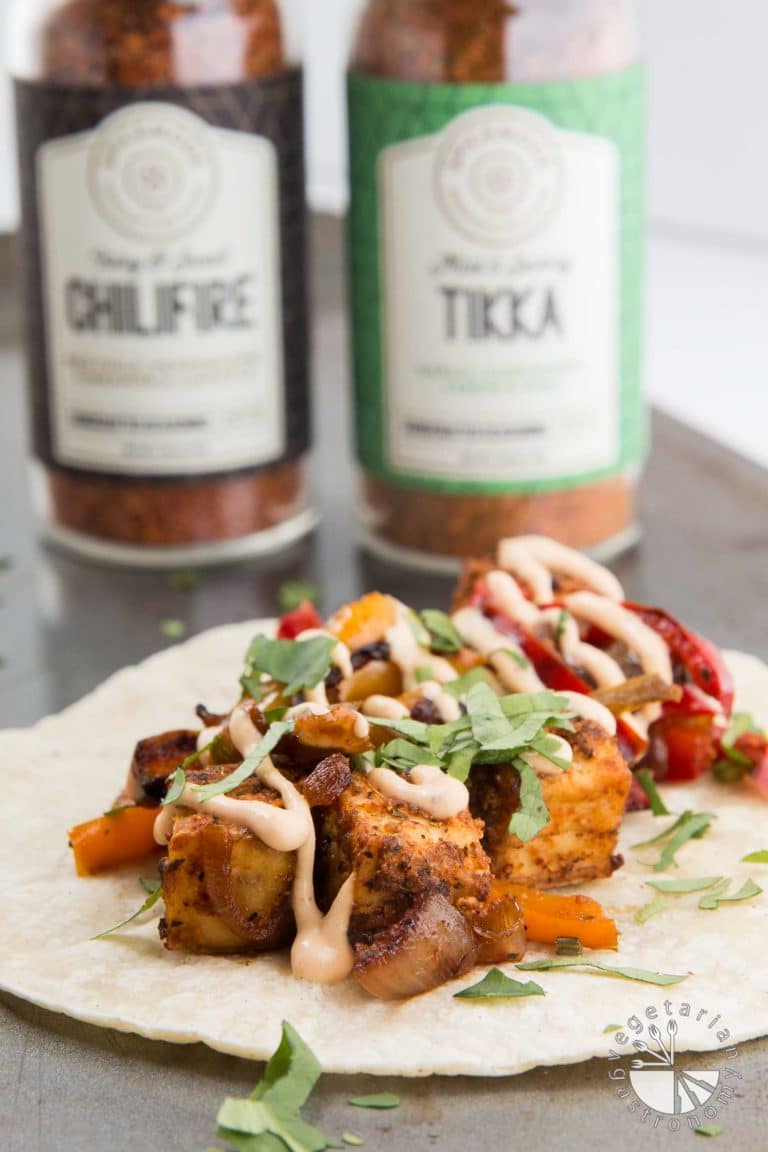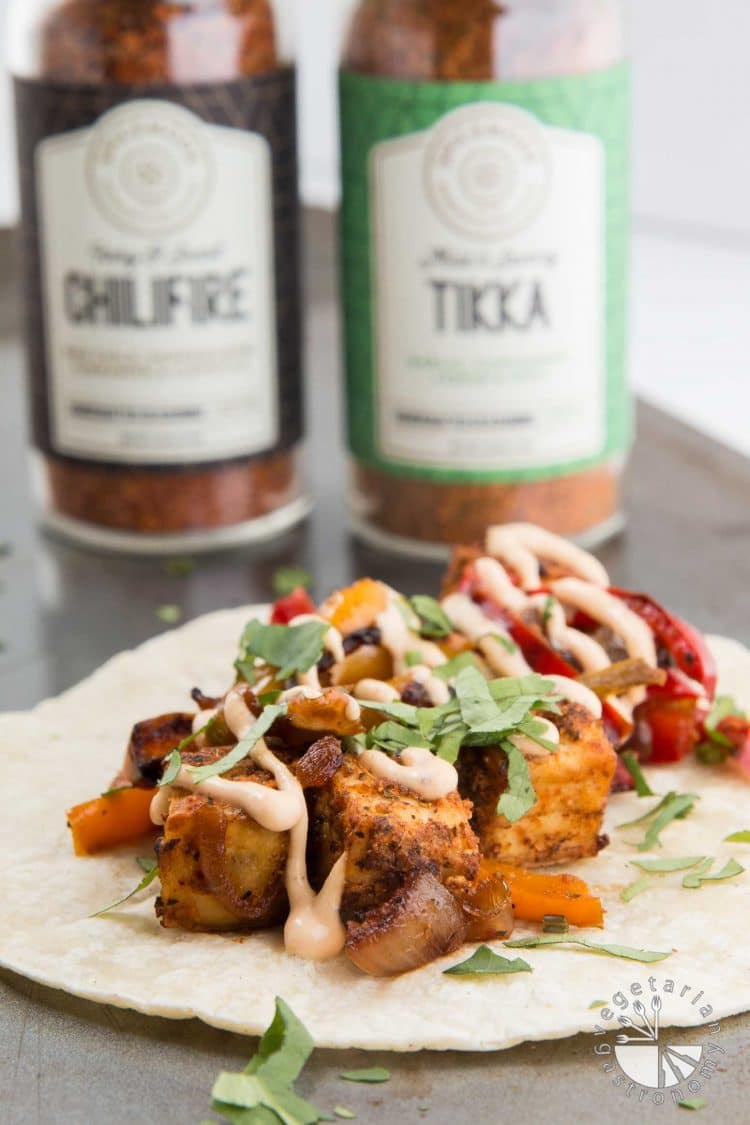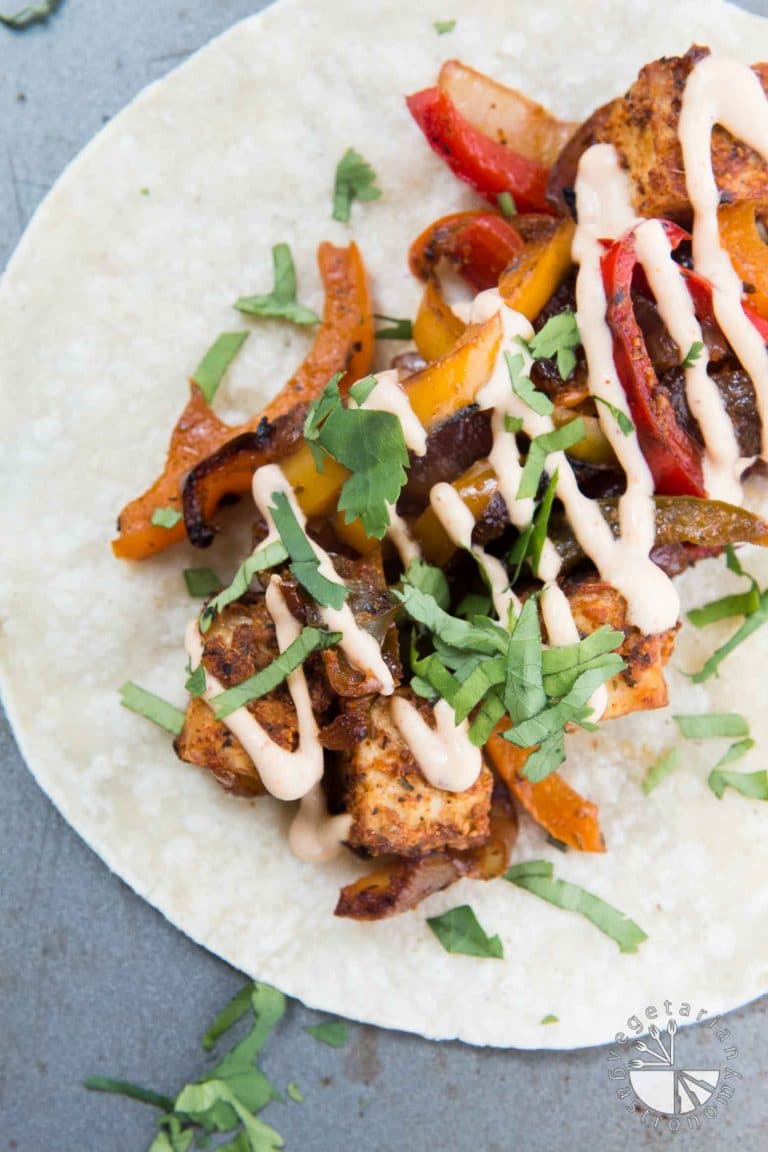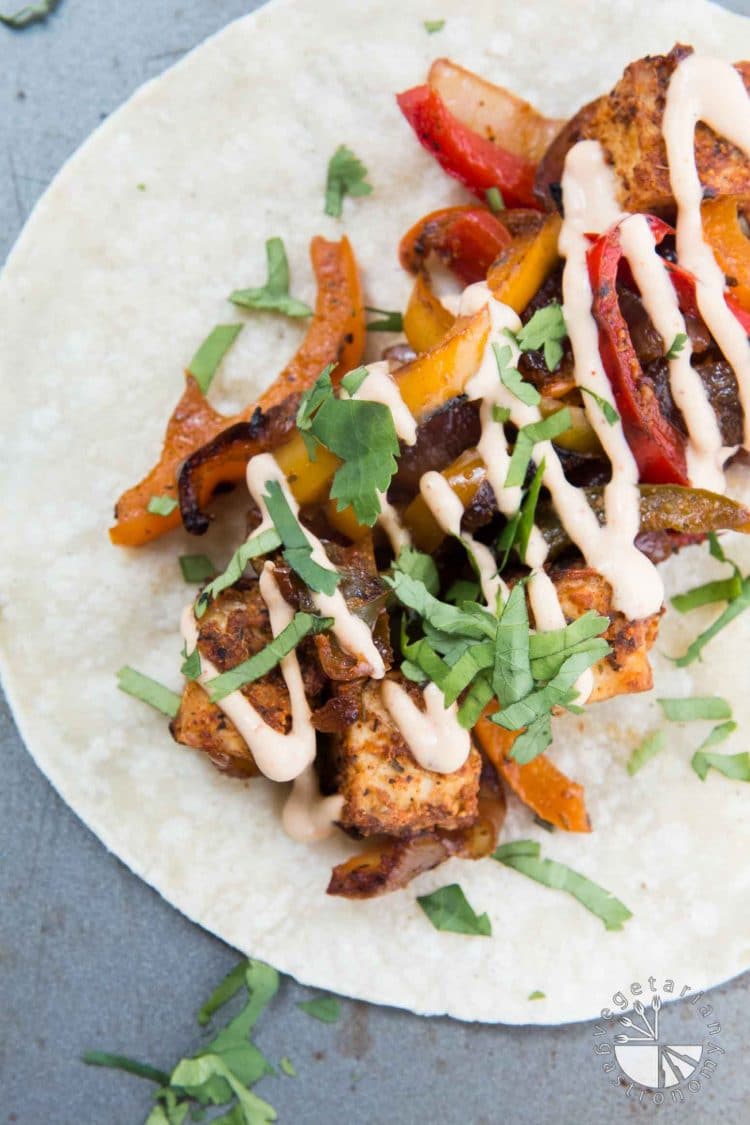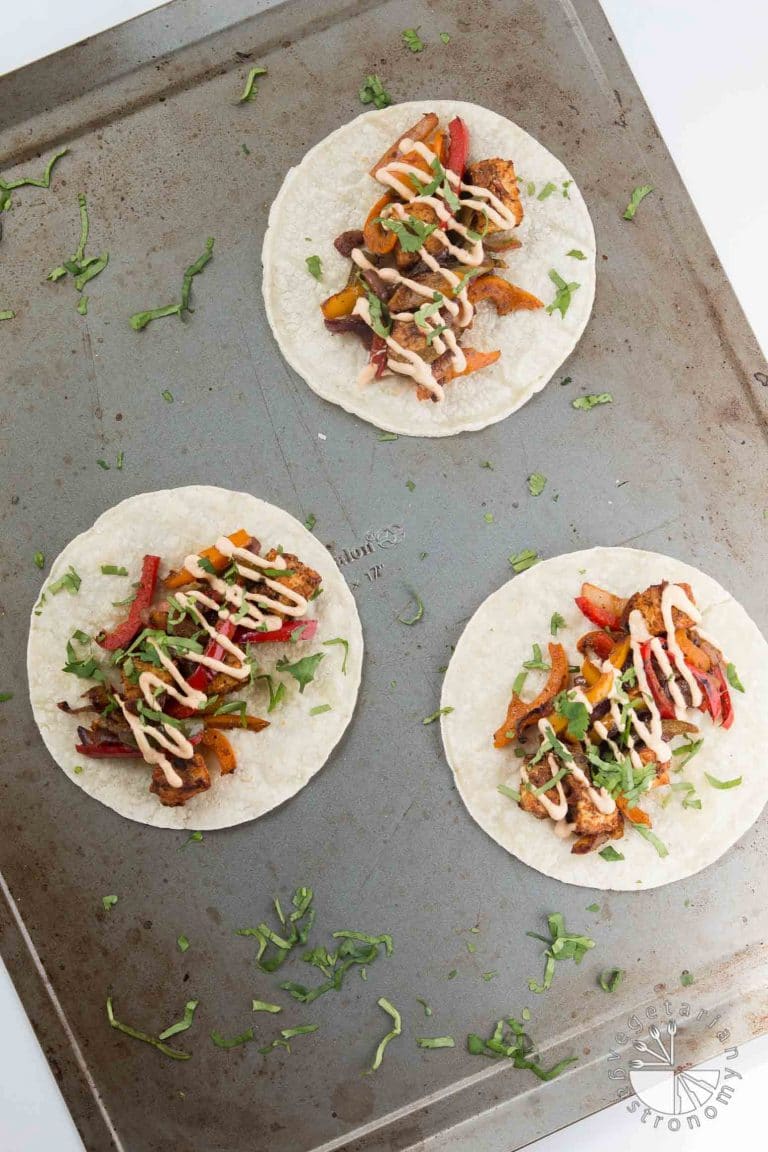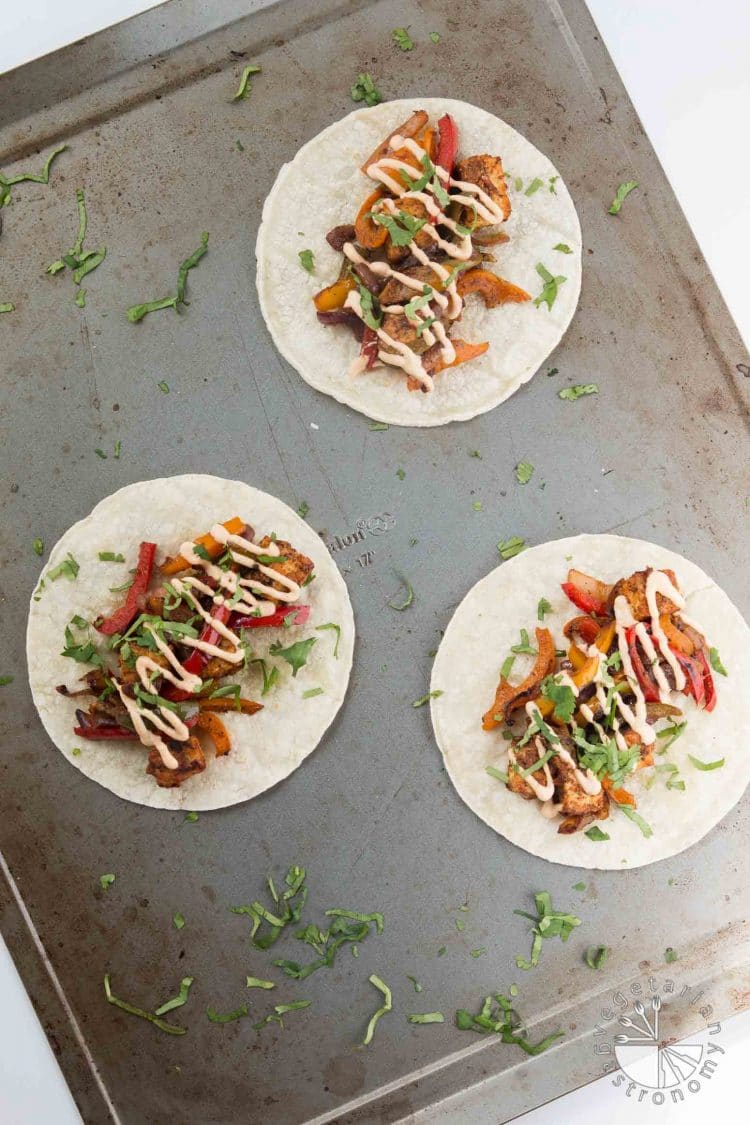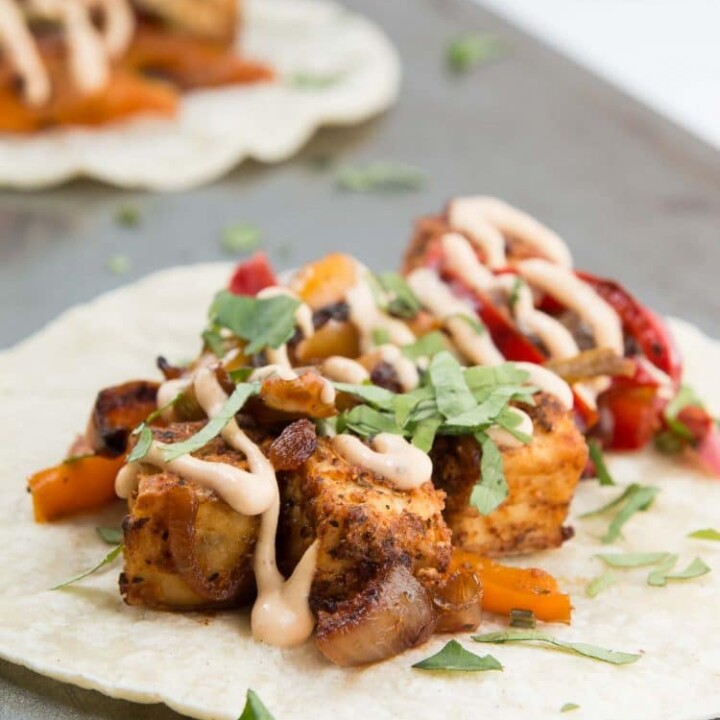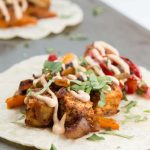 Print
Crispy Tofu Tikka Masala Tacos with Peppers, Onions, & Chilifire Crema
This gluten-free, easy, vegan tikka masala taco recipe is packed with delicious Indian flavors with a little street-style taco flair!
INGREDIENTS
8

corn tortillas

2 1/2

cup

bell peppers

, thinly sliced and halved (combination of green, red, yellow, & orange peppers)

1 1/2

cup

red onions

, thinly sliced and quartered

2 1/2

teasp

Spicemode Tikka Seasoning

1/4

teasp

salt

2

teasp

cooking oil

fresh cilantro

, finely chopped (for garnish)
INSTRUCTIONS
To Prepare the Tofu:
Preheat oven to 400 degrees. Line a

baking sheet

with parchment paper.

Cut the block of tofu into 1/2-3/4" cubes.

Toss the tofu cubes with 1 tbsp

Spicemode Tikka Seasoning

. Next toss the seasoned tofu cubes with 1 tbsp corn starch (this step works best if you use your hands).

Arrange the seasoned tofu cubes in a single layer on the lined baking sheet. Bake for 20-25 minutes until crispy. Continue onto prepping the rest of the recipe while tofu bakes to save time.

Remove from oven and set aside.
To Prepare the Chilifire Crema:
Place all the ingredients listed above for 'Chilifire Crema' in a high power blender (such as a

vitamix

) If you're using a non-high power blender, it'll still work well but just be sure that the cashews have been soaking for 3-4 hours to ensure a creamy sauce.

Blend until completely smooth. Adjust the amount of salt, lemon juice, or Spicemode Chilifire Seasoning if needed. Place in the fridge to cool completely until you're ready to serve the tacos.
To Prepare the Tacos:
Add the sliced red onions and bell peppers and saute on medium-high heat, mixing frequently, until cooked and slightly charred.

At this point, the tofu should be done (if not, turn heat off the pan and wait).

Once the tofu is baked and crispy, remove from the oven and add it to the sauteed onion and pepper mixture.

Combine and saute together on medium heat for 1-2 minutes. Adjust the amount of salt if needed.

Grill corn tortilla on both sides. Add a generous layer of the tofu-onion-pepper mixture in the center, followed by the cooled creamy Chilifire Crema. Garnish with some freshly chopped cilantro and serve!
NOTES
Prep-Ahead Tip - make the tofu-onion-pepper mixture and chilifire crema and store in the fridge. Once you're ready to serve, simply heat up the filling, grill some corn tortilla, and assemble.
To make this dish in 30 minutes, you'll need to multi-task as indicated above. While the tofu is baking, prepare the chilifire crema and filling mixture.
For another side-dish option, the baked crispy tofu tastes great dipped in the chilifire crema!
NUTRITION
Calories:
145
kcal
|
Carbohydrates:
18
g
|
Protein:
5
g
|
Fat:
6
g
|
Saturated Fat:
1
g
|
Sodium:
241
mg
|
Potassium:
247
mg
|
Fiber:
2
g
|
Sugar:
3
g
|
Vitamin A:
1460
IU
|
Vitamin C:
60.9
mg
|
Calcium:
35
mg
|
Iron:
1.3
mg
This post was sponsored by Spicemode, but the opinions and text are fully my own.
Looking for more Vegan Taco Recipes?