Jump-start your morning with this quick and easy overnight low carb Superfood Breakfast Bowl made with chia seeds, hemp seeds, unsweetened coconut, and berries! It's vegan and gluten-free, and packed with protein, healthy fats, and fiber!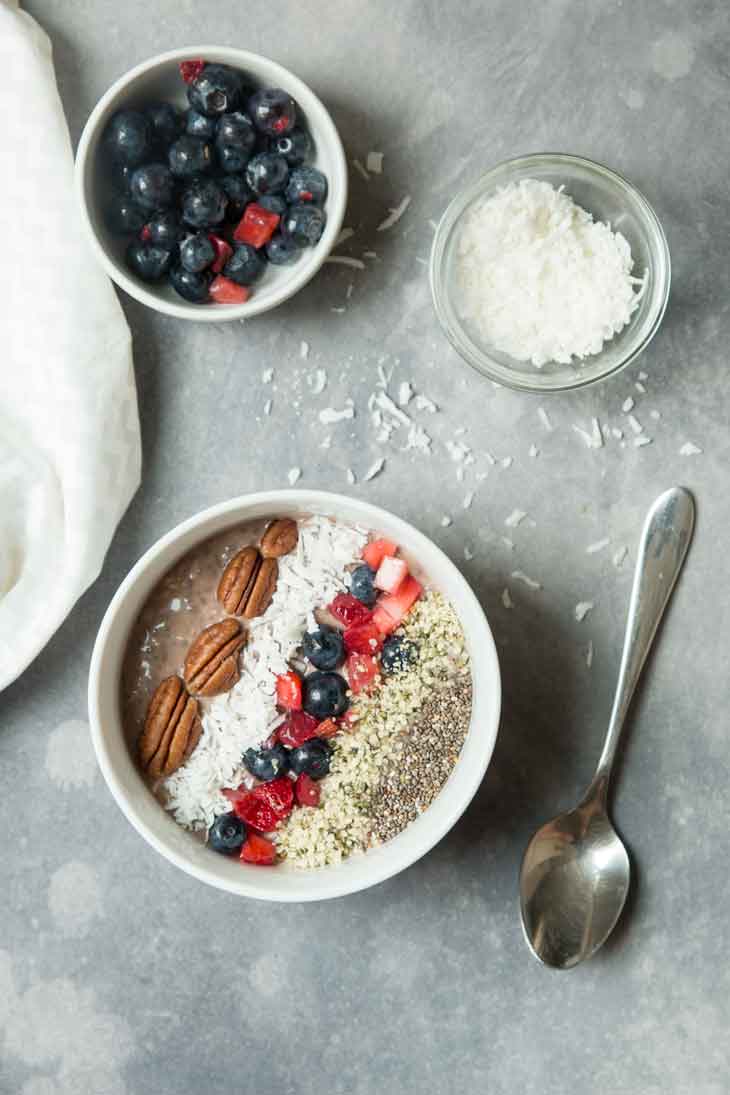 Eating Healthier & Setting Goals In The New Year
When it comes to the new year, healthy eating is on everyone's top 5 goals. Especially after the holidays (it's one of mine again this year!).
Eating healthy is a tough goal, changing eating habits takes time, and everyone moves at different paces. So instead, start small. Figure out what aspects of your life are causing your unhealthy eating.
Do you skip meals? Find yourself binge eating at the end of the day? Are your meals not satisfying, leading you into your pantry (which usually ends with me making a plate of nachos or some chocolate)? Night-time cravings?
Or are there certain aspects of your diet you want to change (less sugar, more greens, more veggies, well-balanced meals)? Do you wind up eating processed foods and quick microwavable dinners because you don't have the time or energy to cook? Maybe it's coming up with one healthy meal your entire family will eat.
…the list can go on and on, and meeting your goals can sometimes be overwhelming before you even start. Trust me…I know. I've dealt with most of the things listed above at one point or another.
My advice to you is to set 2-3 small realistic goals that you can achieve and go up from there.
Breakfast
Healthy eating should start with the first meal of the day.
During the weekdays, I'm a morning person. I wake up before the kids, get my workout in, shower and get ready before dropping the kids off to school, and have a hearty breakfast. If this doesn't happen, it definitely throws off my day. I'm a little more sluggish, lazy, not as focused or energetic.
Of course, this is my personal preference and what I've found works best for me.
I'm not going to sit here and tell you I've never skipped breakfast before. Life happens, the workday starts, and by the time you know it, you're starving, realize it's almost lunchtime, and that you skipped breakfast. I've been there…several times in fact.
But I can tell you that when I end up skipping breakfast, my body is craving energy and fuel, and I'm not as healthy with my food choices for the rest of the day.
Making Breakfast Easy
Unlike lunch or dinner, breakfast doesn't need to be completely different every day of the week. My kids alternate between oatmeal and cereal during the weekdays and enjoy something like pancakes on the weekends.
So really, what you need to do is come up with 4-5 healthy, easy, filling breakfasts and then alternate throughout the weeks depending on what fits your morning routine.
If you're someone that skips breakfast, needs new grab-and-go breakfast ideas for crazy mornings, or are looking for something super filling and hearty to last you all the way to lunch, this Easy Vegan Superfood Breakfast Bowl recipe is your answer!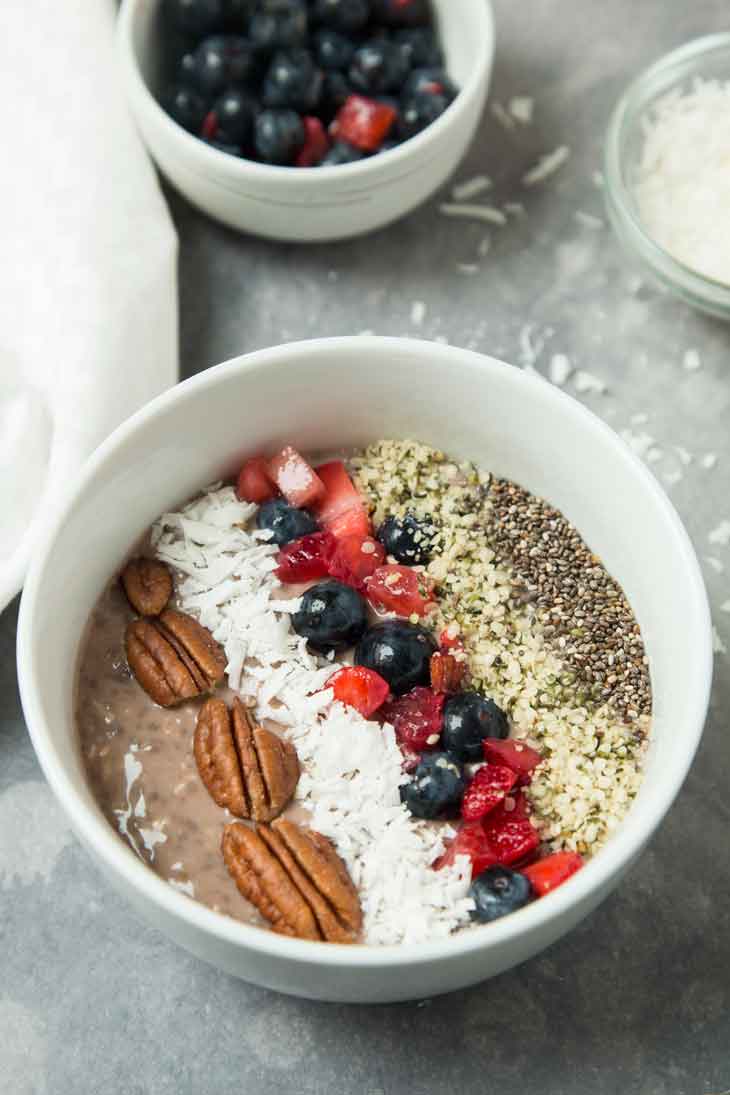 Easy Low Carb Superfood Breakfast Bowl Recipe
Jump-start your new year with this healthy and easy Breakfast Bowl!
I'm addicted to this recipe. I've been making it for the past year, as some of you have seen on my Instagram Stories. I even took the mix with me to Europe over the summer…fueled me throughout the day for our many walks and hikes.
I originally came up with it as a way to incorporate some protein powder into an overnight breakfast that I could actually eat instead of drink. I also wanted a vegan low carb recipe for a change, since my typical go-to breakfasts were overnight oats and avocado spinach toasts.
To keep it hearty and add substance, I added some of my favorite superfoods.
What makes this Overnight Breakfast Hearty?
This superfood breakfast bowl is:
Low carb
High protein
High (healthy) fat
Low (or no) sugar
It can also be the perfect vegan keto recipe that will keep you satiated and fueled the entire morning and into the early afternoon.
What's In This Superfood Breakfast Bowl?
Non-Dairy milk
Hemp seeds
Chia seeds
Unsweetened coconut
Protein powder
Berries (blueberries & strawberries) – optional
Nuts (pecans & walnuts) – optional
Only 5 main ingredients!
As far as protein powders go, I finally found a brand I like (Nuzest) and incorporate it into my diet a few times a week. It's pea protein based, no chalky after taste, shakes and mixes in easily, contains only 4 ingredients, and I love the type of natural sweetener they use (which is my main issue with most protein powders).
This is NOT a sponsored post, I just love their protein powder, especially for this recipe. They have vanilla, rich chocolate, and strawberry…all of which taste great and are easy to incorporate! I use the rich chocolate protein powder in this recipe, so no additional outside sweetener necessary.
How To Make This Superfood Breakfast Bowl In Just 2 Easy Steps!
Mix all the ingredients the night before in a grab-and-go jar.
Next morning, add berries and chopped nuts.
That's literally it! You can even add frozen berries and nuts the night before. Although I like to add the chopped nuts the next morning for that added crunch.
For a healthy and hearty way to start your day or for a new vegan keto recipe to try… check out this easy overnight superfood breakfast bowl. It's an awesome way to fuel your day!
Looking for more vegan & gluten-free breakfast recipes to add to your morning rotation? Try these out!
If you like this recipe or post, be sure to leave a comment and use the rating field! You can also tag me on Instagram with any re-makes, @vegetariangastronomy so I don't miss it, as I love sharing them on Re-Make Fridays! Or you can help me spread the word about my recipes on Pinterest and Facebook!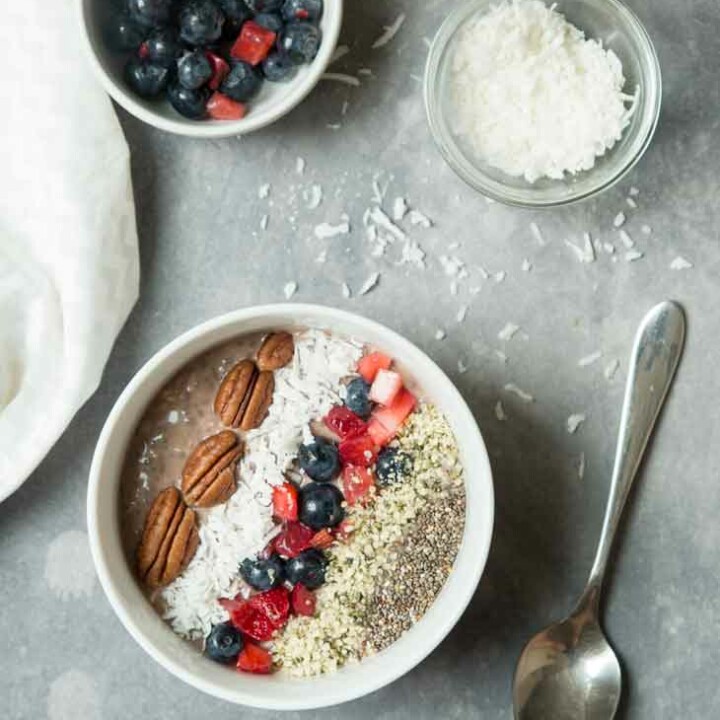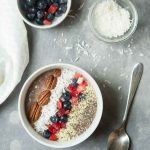 Print
Easy Low Carb Superfood Breakfast Bowl (Vegan)
Jump-start your morning with this quick and easy overnight low carb Superfood Breakfast Bowl made with chia seeds, hemp seeds, unsweetened coconut, and berries! It's vegan and gluten-free, and packed with protein, healthy fats, and fiber!
INSTRUCTIONS
Add the non-dairy milk, protein powder, chia seeds, hemp seeds, and unsweetened coconut into a jar or container.

Mix/shake well so that the protein powder is fully incorporated with the rest of the ingredients.

Place in the fridge overnight.

Next morning, add in fresh or frozen mixed berries and chopped nuts! Enjoy cold!
NOTES
Consistency -
Protein Powder - depending on which protein powder you use you may get slightly different consistency.
If you prefer a thicker consistency of the breakfast bowl, start off with 3/4 cup non-dairy milk. You can always add more the following morning.
Sweetener -
I use Nuzest rich chocolate protein powder, which is already naturally sweetened (hence no added sweetener in the recipe).
If you prefer to use plain pea protein, you will need to add a natural sweetener such as mashed bananas, maple syrup, or monk fruit (low-carb, keto friendly)
If you want to omit the protein powder altogether, you may need to play with the ratios a bit, but I would start with 1/2 the amount of non-dairy milk, and slightly increase the amount of dry ingredients. I have not tried this version of the recipe without protein powder.
Nutrition Info - includes the mixed berries & chopped nuts.
NUTRITION
Calories:
500
kcal
|
Carbohydrates:
20
g
|
Protein:
30
g
|
Fat:
35
g
|
Saturated Fat:
8
g
|
Sodium:
521
mg
|
Potassium:
237
mg
|
Fiber:
12
g
|
Sugar:
4
g
|
Calcium:
403
mg
|
Iron:
8.9
mg