Treat yourself with one of these 6 delicious plant-based Healthy Yogurt Topping Combinations! They take less than 5 minutes to make and great for a grab-and-go breakfast, snack, or even dessert!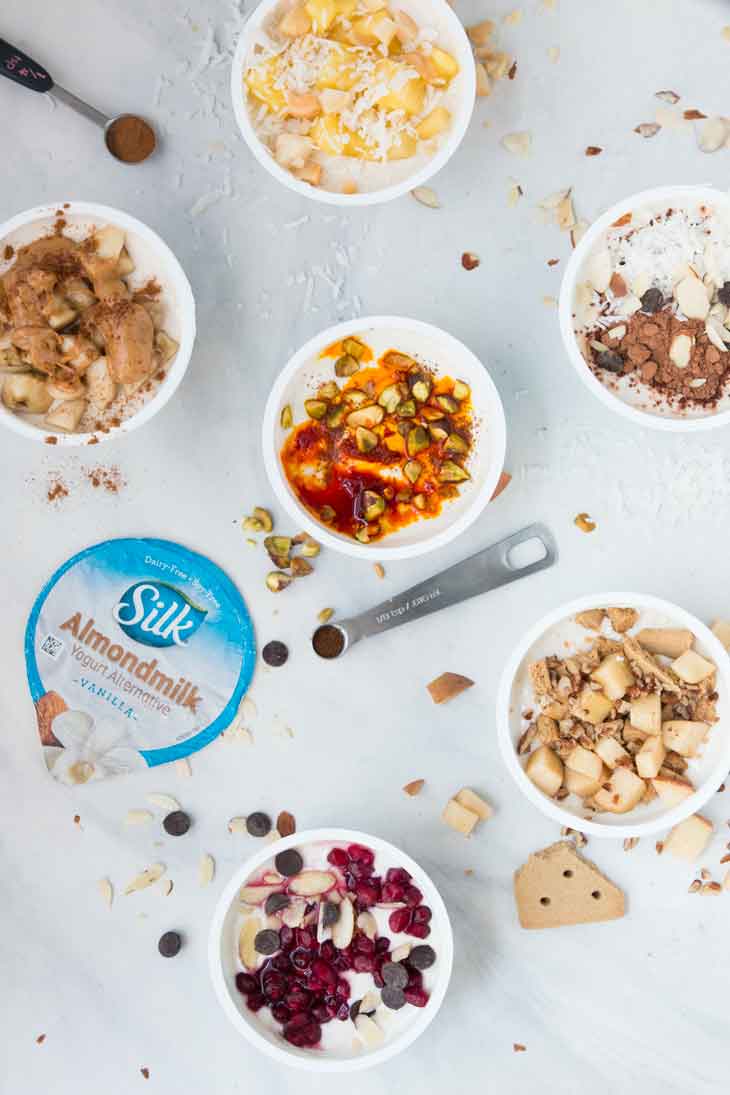 This post was sponsored by Silk, but the opinions and text are fully my own.
School's IN!
The means the lazy summer mornings are officially gone, and routine schedules are settling in again. Busy mornings rushing off to school and work, after school activities, homework, weekend sport games, and all the craziness that comes with the start of Fall (which I still can't believe is right around the corner!).
For us, routine also means cutting back on all the summer indulgences, getting back to more healthy, well-balanced, nutritious meals, & staying hydrated. This not only gets us through the week, but it also avoids moody kids who take 30 minutes just to get out the door.
Making any progress towards finding new healthier snack and breakfast options is perfection in my books. So, I've been experimenting and coming up with quick and easy ways to keep us all going.
To help you guys out, I've partnered up with SILK to bring you 6 delicious Healthy Yogurt Topping Combinations! And the best part? They're SUPER easy to make and take less than 5 minutes with the use of Silk Non-Dairy Almondmilk Yogurt Alternative as the base!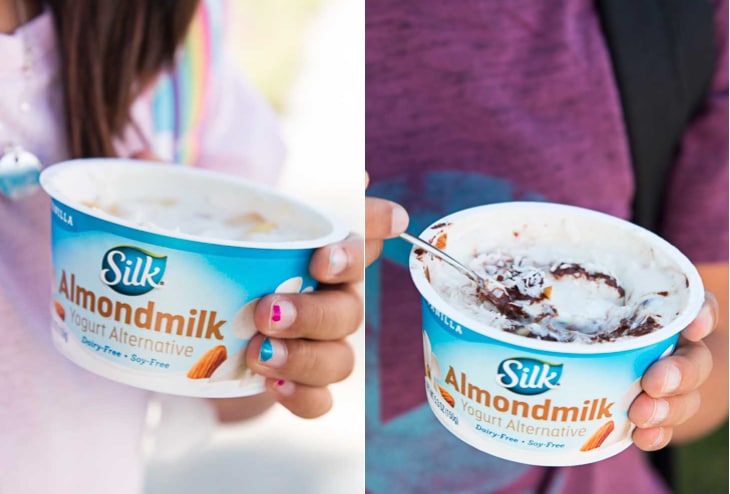 These Healthy Yogurt Cups Are Awesome!
Here are 8 reasons why…
6 unique combinations
Healthy & fun toppings
Less than 5 minutes to make
Creamy & delicious
Grab-and-go
Perfect breakfast, snack, & dessert
Easy to make ahead
Plant-based & gluten-free
What makes these yogurt cups easy to put together is the use of SILK Non-Dairy Almondmilk Yogurt Alternative. It's thick and creamy, and makes the perfect base for all these combinations! They contain 5g of protein, live & active cultures, come in several delicious flavors, and contain no artificial colors or flavors.
I prefer using the vanilla flavor so the sweetness is already included the base. I thought about using the plain flavor and adding in my own sweetener, but since no one likes runny yogurt, I wanted to avoid adding the extra liquid. Plus, the vanilla flavored almondmilk yogurt alternative has a nice neutral flavor to it and pairs perfectly for many topping combination!
Of course if you prefer to add in less of your own sweetener or want a sugar-free option, you could easily sub in the plain flavor.
All of the SILK Almondmilk Yogurt flavors are creamy and delicious on their own. But why not take it up a notch with healthy & fun yogurt toppings!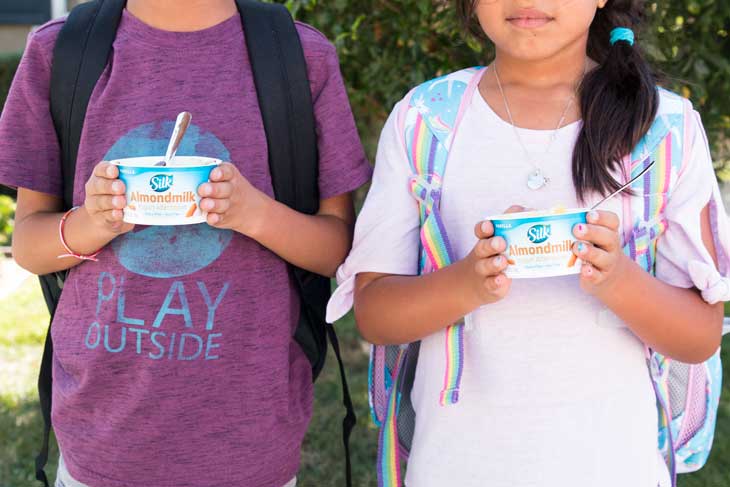 6 Delicious Healthy Yogurt Topping Combinations
My kids love choosing which combination they want because what kid doesn't love choices right?! Even your picky eater is guaranteed to love one of these combinations. You can easily rotate through each of these for variety.
Each of these healthy yogurt combinations uses the SILK vanilla almondmilk yogurt alternative flavor as the base.
Banana Cream Pie. This combination is for all you banana lovers out there. Peanut butter, fresh chopped banana pieces, and some cinnamon pairs perfectly with the creamy vanilla base.
Almond Joy. Because who can resist that coconut chocolate bar flavor! This combination contains shredded coconut, cocoa powder, dark chocolate chips, & sliced almonds.
Red Pearl. If you like texture, you'll love this one. Pomegranate seeds, sliced almonds, and chocolate chips makes for the perfect sweet & tart combination. I typically have frozen pomegranate seeds from when they're in season, but you can easily sub in berrries.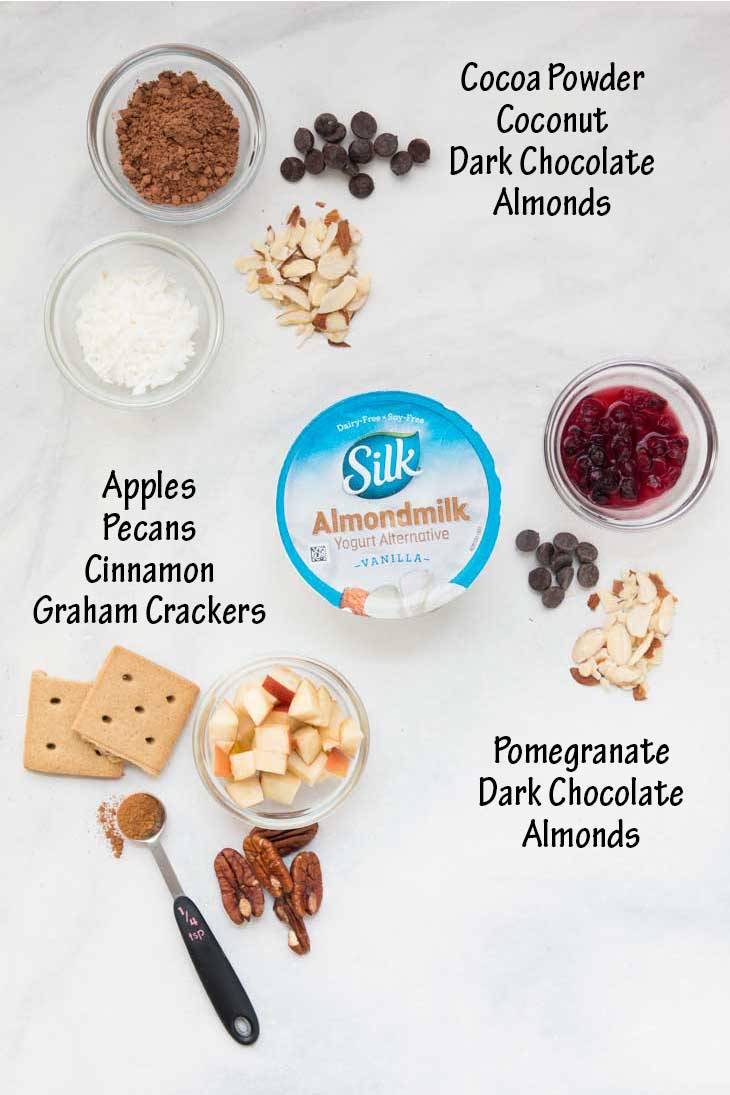 Tropical Paradise. A refreshing combination of fresh pineapple, coconut, and chopped macadamia nuts to take you back to your favorite tropical island.
Apple Pie. Apple, pecans, cinnamon, and broken graham crackers for that sweet bite of apple pie in a yogurt cup form!
Instant Shrikhand. Shrikhand is a popular, classic, thick, delectable Indian dessert. I wasn't quite sure how this instant version would taste when experimenting, but oh my goodness you guys…it's delicious! If you've ever had shrikhand before, this healthier vegan instant version with saffron, pistachios, & cardamom is just as delicious, if not better!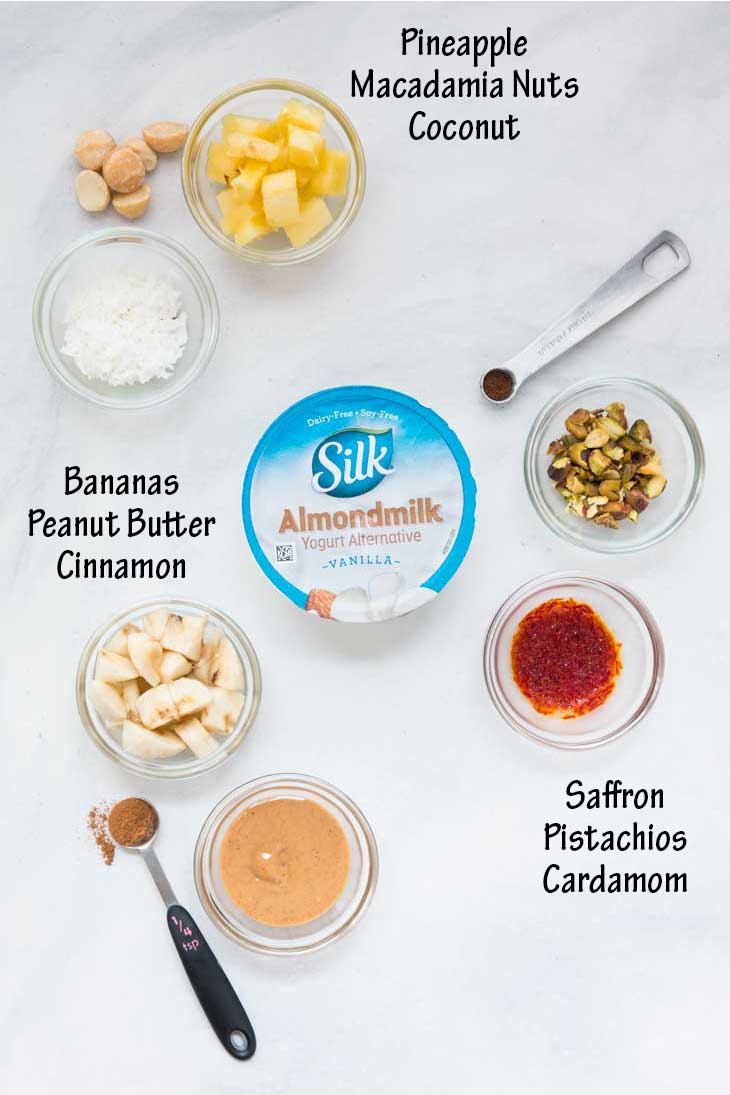 Get your kids involved! Get them in the kitchen to create their own combination of favorite toppings and see what they come up with! Here are a few other combination ideas:
pumpkin pie – pumpkin butter, graham crackers, pumpkin seeds
strawberry shortcake – strawberries, graham crackers
protein packed – assorted chopped nuts & seeds
PBJ – nut butter, jam
The options are endless! The only one tip I highly recommend is to really pack the toppings on…there's no such thing as too much.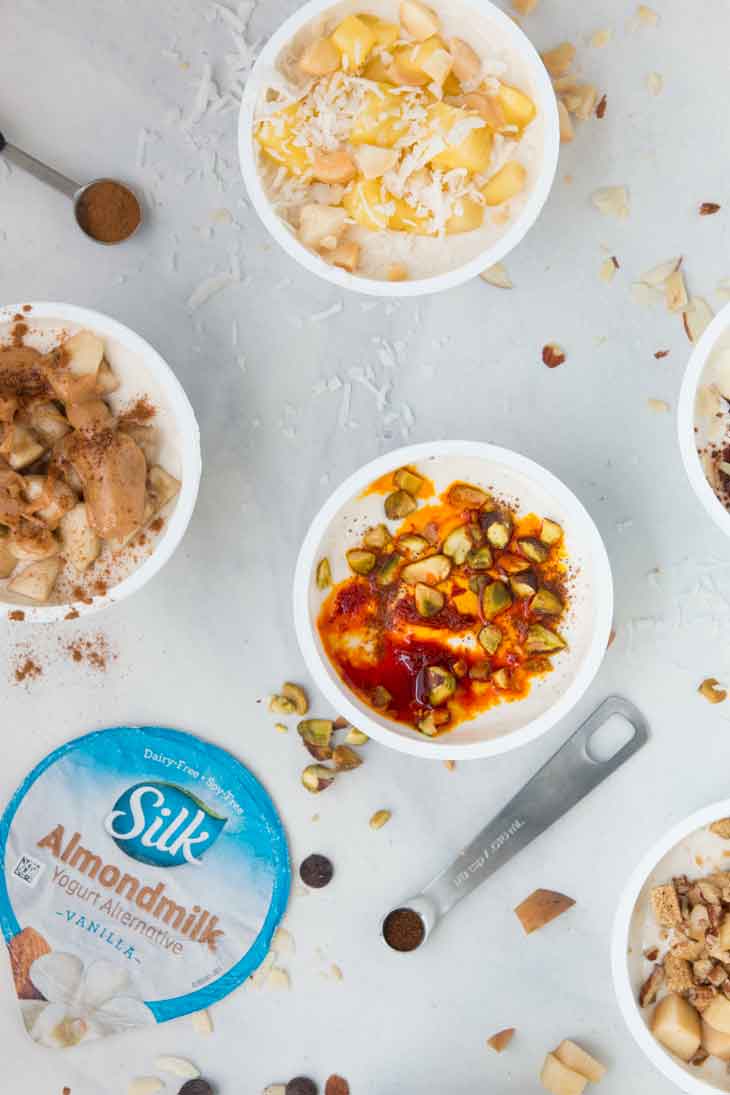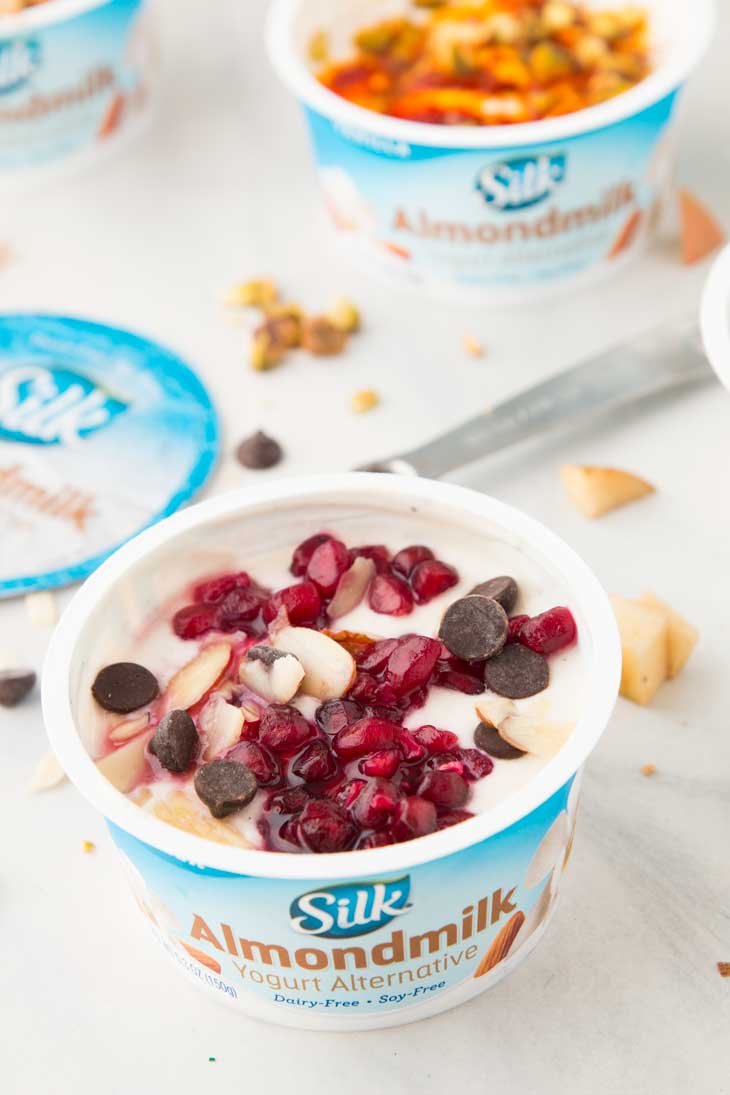 The single serving SILK almondmilk yogurt cups also make these the perfect grab-and-go breakfast or snack. Just open them up, add in your toppings, devour or close and store in the fridge until you're ready to eat!
These yogurt cups are also perfect for school lunch! Simply pack all the toppings plus one yogurt cup and let your kids assemble their own cups at school!
What are you waiting for? Get ahead and make progress on those healthy breakfast and snacks. Grab a coupon for SILK Almondmilk Yogurt Alternative and try one of these 6 delicious healthy yogurt toppings & combinations! Or create your own and let me know in the comments below.
If you like this recipe or post, be sure to leave a comment and use the rating field! You can also tag me on Instagram with any re-makes, @vegetariangastronomy so I don't miss it, as I love sharing them on Re-Make Fridays! Or you can help me spread the word about my recipes on Pinterest and Facebook!
If you need a few more easy weekday breakfast or snack ideas, check out any of the following: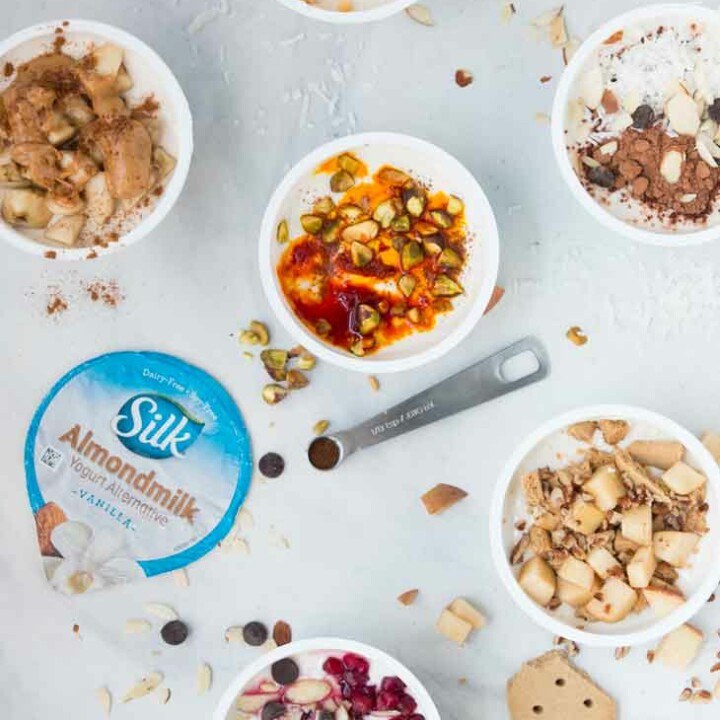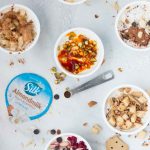 Print
6 Delicious Healthy Yogurt Topping Combinations
Treat yourself with one of these 6 delicious plant-based Healthy Yogurt Topping Combinations! They take less than 5 minutes to make, are creamy, and great for a grab-and-go breakfast, snack, or even dessert!

INGREDIENTS
INSTRUCTIONS
There's one yogurt cup for each of the combinations (6 total).

Open the yogurt cup, add in the toppings depending on which you are making.

For the Instant Shrikhand - Soak the saffron in the water in a tiny bowl for a few minutes to get the flavor and color out. Then add this entire mixture to the yogurt cup.

Eat immediately, or close back up using the top or seran wrap until ready to eat!
NOTES
This recipe uses SILK Vanilla Almondmilk Yogurt Alternative. If you choose to use the plain flavor, add sweetener of choice as needed. Note if you use a liquid sweetener, such as maple syrup, this may contribute towards the consistency of the yogurt.
The nutrition information below is based on the SILK vanilla almondmilk yogurt and an approximation of each topping variety above.
NUTRITION
Calories:
363
kcal
|
Carbohydrates:
32
g
|
Protein:
9
g
|
Fat:
23
g
|
Saturated Fat:
3
g
|
Sodium:
118
mg
|
Potassium:
219
mg
|
Fiber:
5
g
|
Sugar:
22
g
|
Vitamin A:
10
IU
|
Vitamin C:
5.2
mg
|
Calcium:
132
mg
|
Iron:
1.5
mg
This is a sponsored conversation written by me on behalf of Silk. The opinions and text are all mine.