These vegan Loaded Black Bean Tofu Tacos with "Meatless" Walnut Crumble are protein-packed, made with whole ingredients, flavorful, and perfect for dinner parties, potlucks, or a weeknight meal!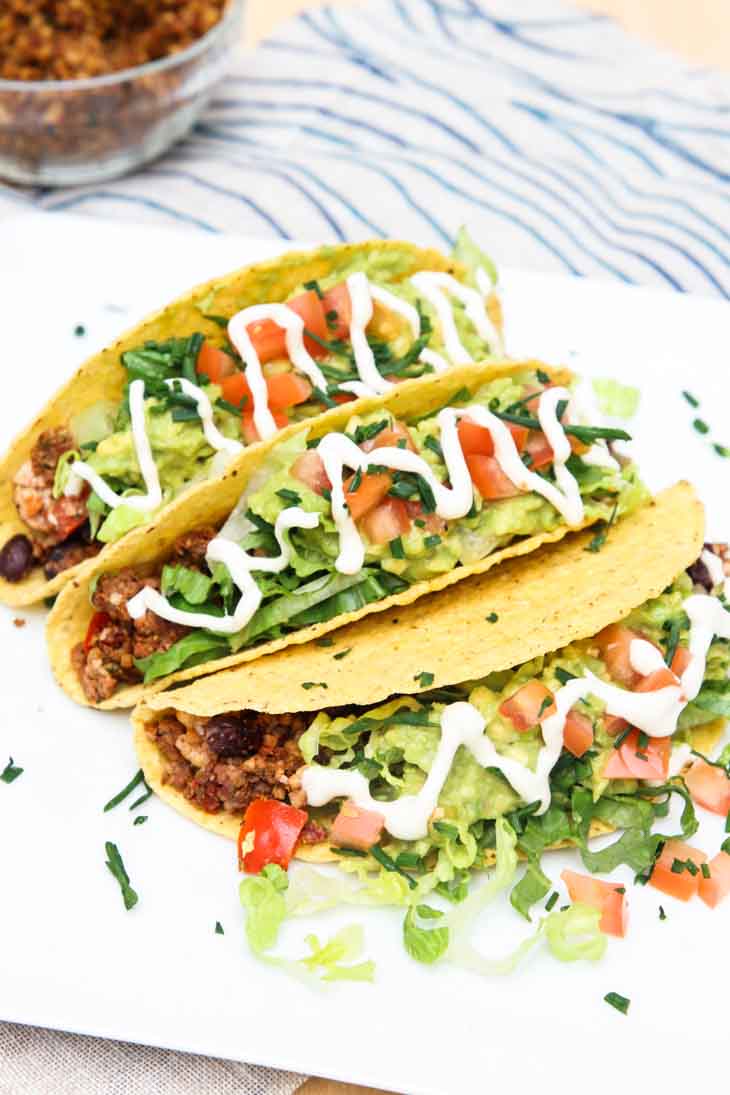 When it comes to tacos, it's all about the filling. Which is why I've created these delicious crowd-pleasing loaded vegan tacos!
This recipe is made up of veggies, black beans, crumbled tofu, my favorite Savory Sun-Dried Tomato Walnut Crumble, lettuce, avocado, tomatoes, and vegan sour cream. Saute and combine them all together to make the perfect savory, protein-packed, flavorful, healthy taco filling. It's made with whole ingredients has great texture.
Stuff the filling into your favorite crunchy taco shell and load it up with chopped lettuce, fresh cool tomatoes, mashed avocado, and my quick vegan sour cream recipe for one amazing feast!
Why We All Love Tacos!
While writing this post, it had me thinking about the general concept of tacos. Why does everyone love tacos so much? What is it about them that has everyone so EXCITED?
Well the answer is quite simple and here are a few reasons my family loves tacos:
Quick and easy
Endless filling and flavor combinations
Provides all the nutrition you need in one meal
Crunchy or soft
Easy to go
No utensils needed
And of course, last but not least, they're DELICIOUS! So what's not to love?! I mean…look at this picture below. Doesn't it make you want to just DIG in??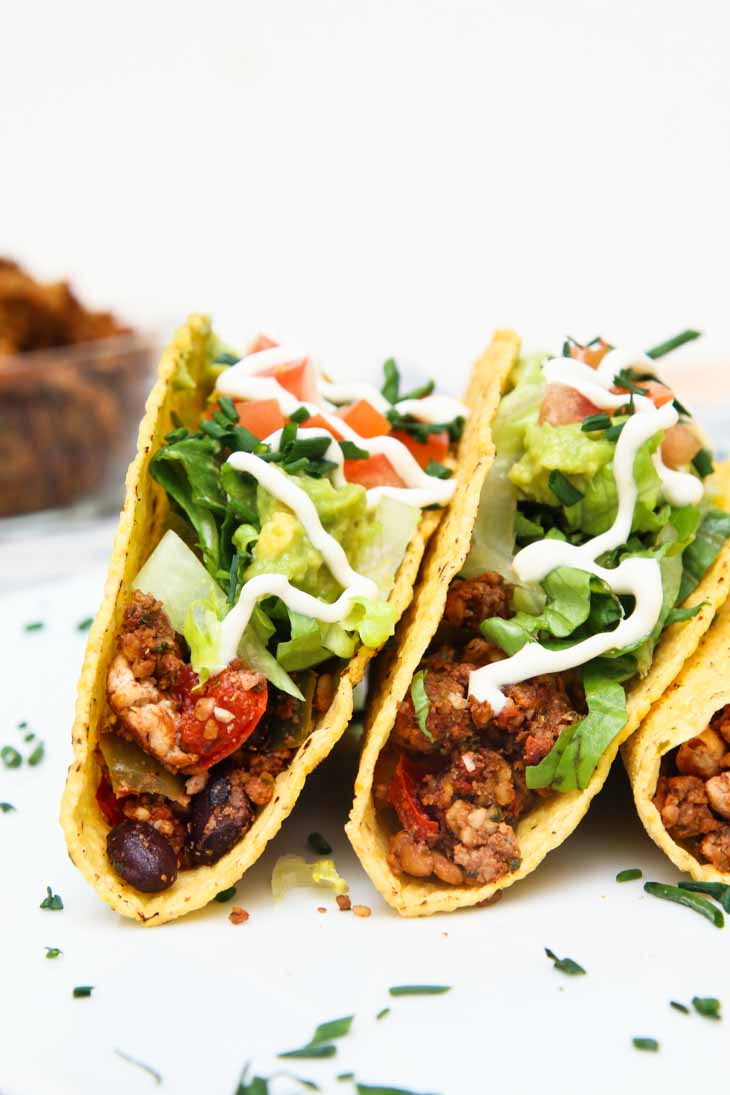 Black Bean Tofu Tacos In Just 5 Easy Steps:
Make the "meatless" sun-dried tomato walnut crumble
Saute the veggies, tofu, and black beans
Mix the filling together
Stuff the taco shell with filling
Add all the toppings
…and that's it!
For those of you already obsessed with my Savory Sun-Dried Tomato Walnut Crumble recipe (I've loved seeing all your re-makes on Instagram!), these vegan tofu tacos will be an automatic win in your house.
And if you haven't tried my amazing "meatless" walnut crumble yet, do it today by making these tofu tacos! I've had people (vegans and non-vegans alike) tell me that it's the best "ground round" they've ever had. It's packed with whole foods and good-for-you nutritious ingredients (none of that fake unhealthy store-bought stuff).
This is the real deal. It's versatile, you can throw it into anything, and tastes amazing.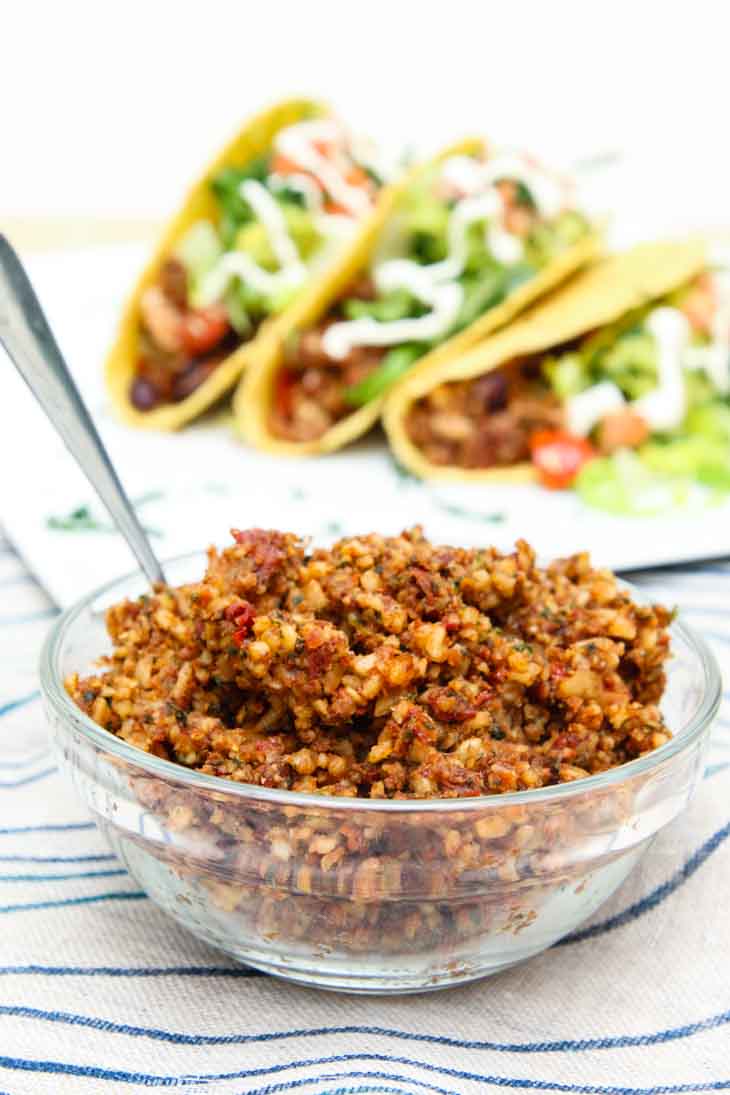 These loaded vegan tacos can easily be prepped ahead of time, making them perfect for an easy quick weeknight meal (which I know we all need), a picnic or potluck, a taco bar, or a dinner party!
Now that I've convinced you to make tacos this week, try this recipe and let me know what you think! Leave a comment below and use the rating field. You can also tag me on Instagram with any re-makes, @vegetariangastronomy so I don't miss it, as I love sharing them on Re-Make Fridays! Or you can help me spread the word about my recipes on Pinterest and Facebook!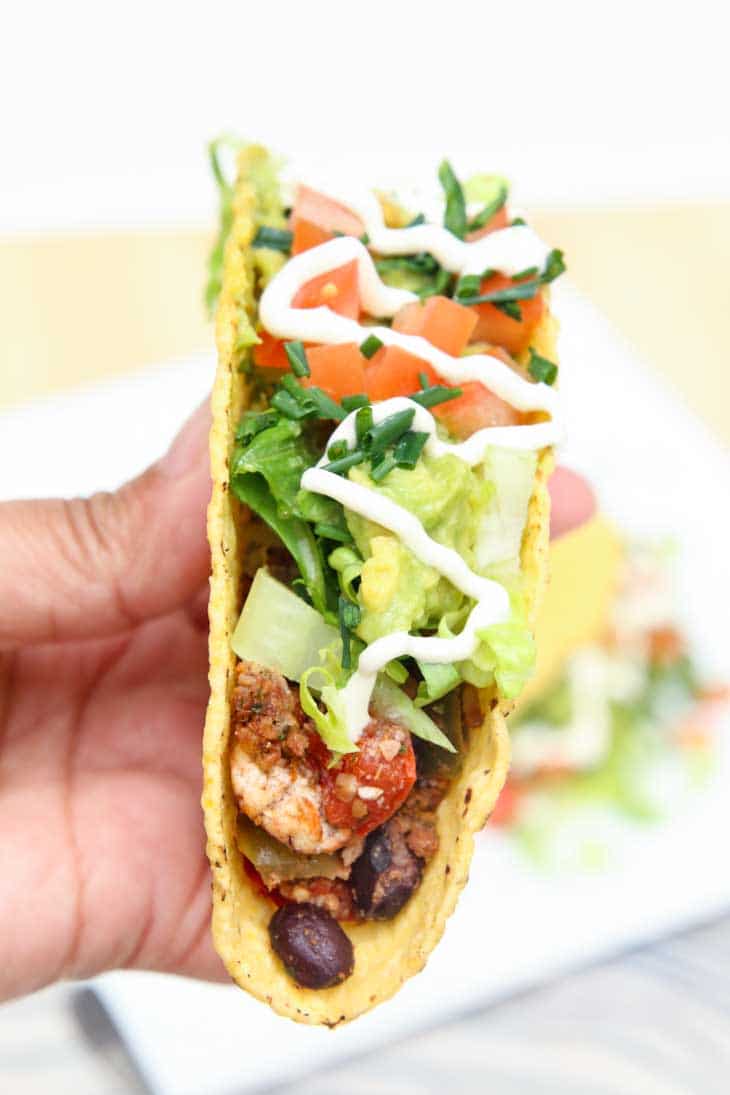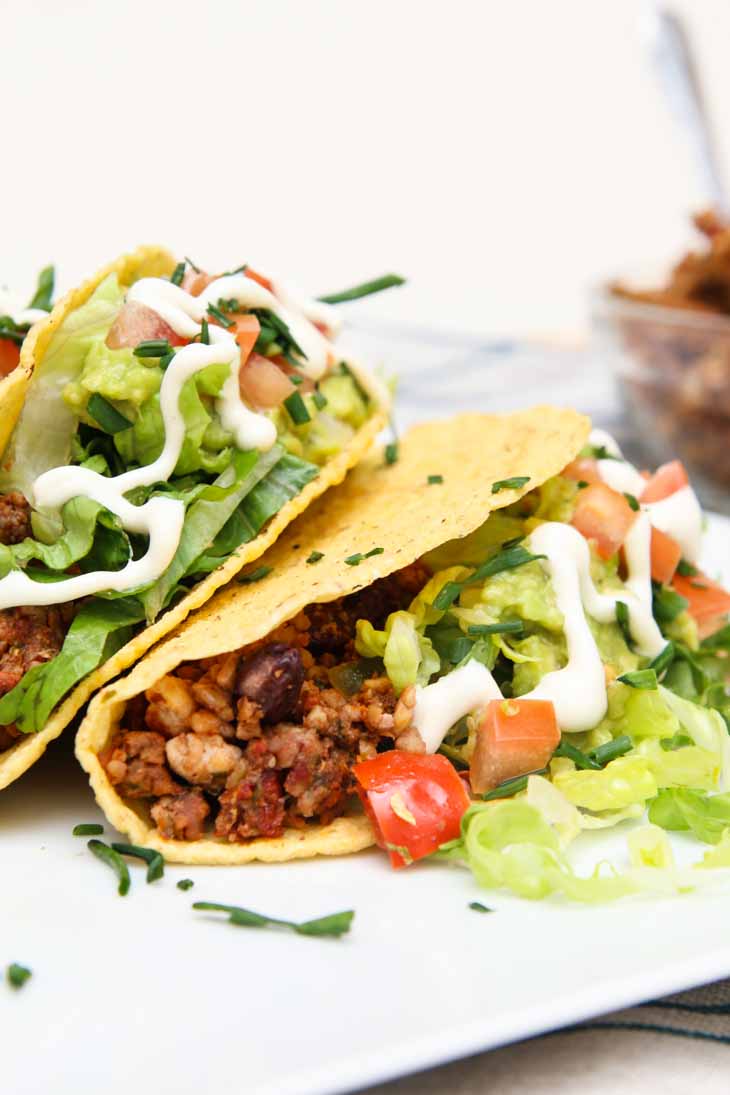 Looking for more Vegan Taco Recipes?
Looking for more Vegan Tofu Recipes?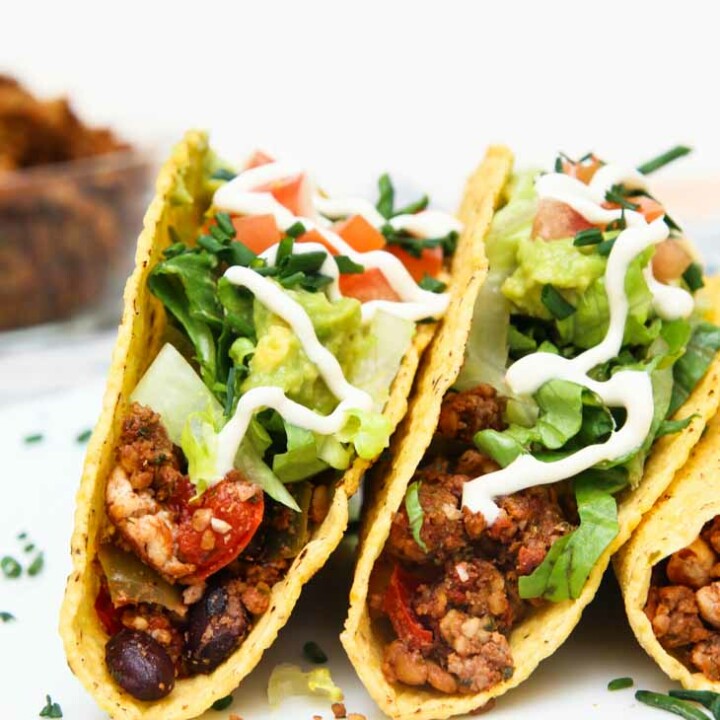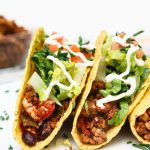 Print
Loaded Black Bean Tofu Tacos with "Meatless" Walnut Crumble
These flavorful tacos are loaded with black beans, tofu, vegan walnut "meatless" crumble, veggies, lettuce, avocado, tomatoes, and vegan sour cream! They're protein-packed, made with whole ingredients and crowd-pleasing!
INGREDIENTS
For the Filling:
1

red bell pepper

, finely diced

1

green bell pepper

, finely diced

1

cup

canned black beans

, washed well (or cooked fro scratch)

7

oz.

firm tofu

1-2

teasp

cooking oil
For the Vegan Sour Cream:
1

cup

raw cashews

, soaked for 2 hours (if not using powerful blender)

2

teasp

apple cider vinegar

3

teasp

fresh lemon juice

1/4

teasp

salt

7-8

tbsp

water
For the Tacos:
10

hard taco shells

lettuce

, chopped

tomatoes

, finely diced

avocado

, mashed and seasoned with salt

fresh cilantro or chives

, chopped (optional)

hot sauce or salsa

, optional
INSTRUCTIONS
To Prepare the Filling:
Remove as much water as you can from the firm tofu using paper towels to firmly press and soak up the water.

Using your hands, crumble the tofu into the heated pan. Saute on medium-high heat, mixing frequently, until all of the water from the tofu is released and burned off, and the tofu just starts to turn golden in color. Meanwhile, prepare the Vegan Sour Cream below to save time.

Turn the heat down to medium. Add in the diced red and green bell peppers and cook along with the tofu until the bell pepper is tender.

Add in the black beans and prepared Savory Sun-Dried Tomato Walnut Crumble. Mix well, season with salt to taste, and cook for an additional 1-2 minutes. Set aside.
To Prepare the Vegan Sour Cream:
Add all the ingredients listed under Vegan Sour Cream above into a blender (I used a powerful blender such as a

Vitamix

).

Blend on high until the contents are completely creamy and no chunks remain. Feel free to adjust the flavor if necessary with salt and/or lemon juice.

Pour the prepared Vegan Sour Cream into a bowl and place in the fridge to cool until ready to use.
To Prepare the Tacos:
Bake or Microwave the hard taco shells for a short time to slightly heat and cook them (~30-60 sec in the microwave).

For each taco shell, place a layer of the filling at the bottom, top with some chopped lettuce, followed by a layer of mashed avocado, and diced tomatoes. Drizzle on some of the cooled prepared Vegan Sour Cream. Top with your favorite salsa or hot sauce!
NOTES
Tips to Prep Ahead

- Make the Savory Walnut Sun-Dried Tomato Crumble and Vegan Sour Cream ahead of time and store in the fridge. You can also take it one step further and prepare the entire filling ahead of time as well.
Kid-Friendly

- If your kids can't handle any spice, simply omit the Savory Sun-Dried Tomato Walnut Crumble in the filling (it's honestly not that spicy to begin with, but if your kids are like my son and can't handle even black pepper, then consider leaving it out). You can easily do this by setting aside some of the filling for your kids prior to adding in the crumble.
NUTRITION
Calories:
210
kcal
|
Carbohydrates:
16
g
|
Protein:
6
g
|
Fat:
13
g
|
Saturated Fat:
2
g
|
Sodium:
156
mg
|
Potassium:
229
mg
|
Fiber:
3
g
|
Sugar:
1
g
|
Vitamin A:
415
IU
|
Vitamin C:
25.9
mg
|
Calcium:
56
mg
|
Iron:
1.8
mg