We all need an easy, healthy, delicious 15-minute meal idea for the entire family. Yes…only 15 minutes! These mini vegan savory vegetable pancakes are made with oat flour and perfect for breakfast, lunch, or snack!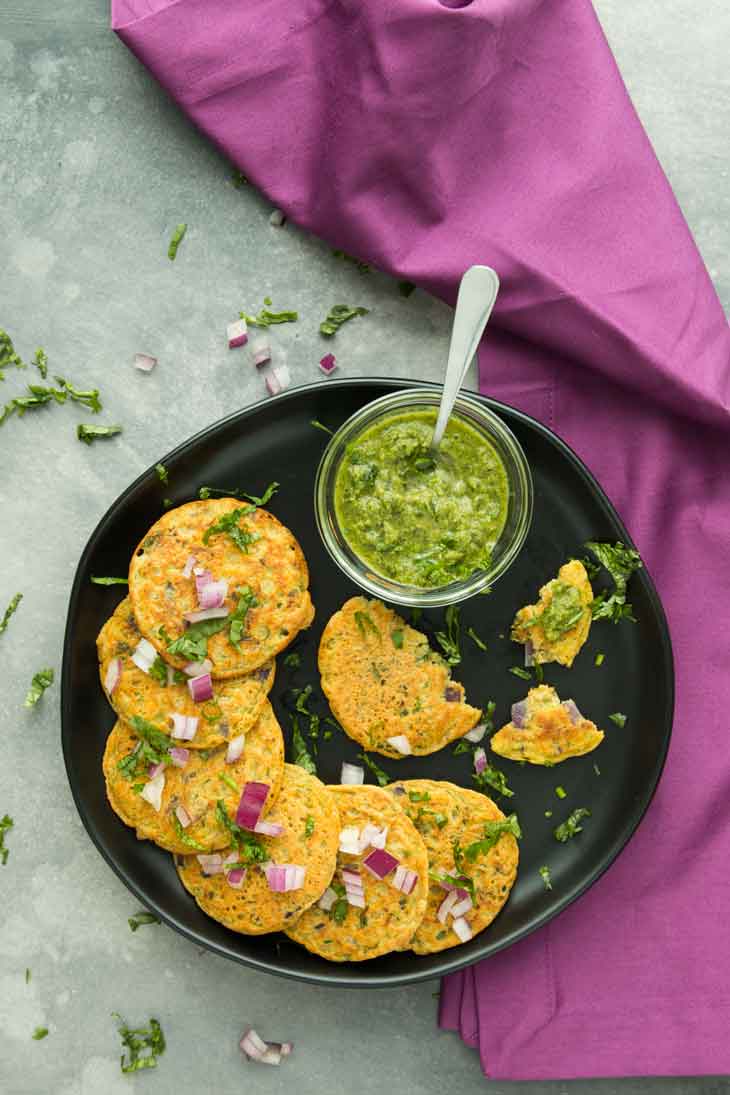 This post was sponsored by Bob's Red Mill, but the opinions and text are fully my own.
How many times have you run out of ideas on what to make for a meal, felt super lazy about cooking, or had only 10-15 minutes to whip something together before your family has a hunger meltdown?
Believe it or not, even for someone like me who loves to cook and is pretty creative and resourceful in the kitchen, this happens ALL the time! Especially on weekends when I don't want to be in the kitchen.
Quick, easy, and healthy is the name of the game.
The Easiest 15 Minute Meal For The Entire Family
This savory vegetable pancake recipe is one of the easiest meals I've made, and the entire family loves it.
All you have to do is shred a few veggies with a grater, mix it in with oat flour, brown rice flour, water, salt, and lemon juice until it forms a thin batter, and watch it cook on the stove! There's honestly nothing difficult about this recipe, and the seasoning is very basic.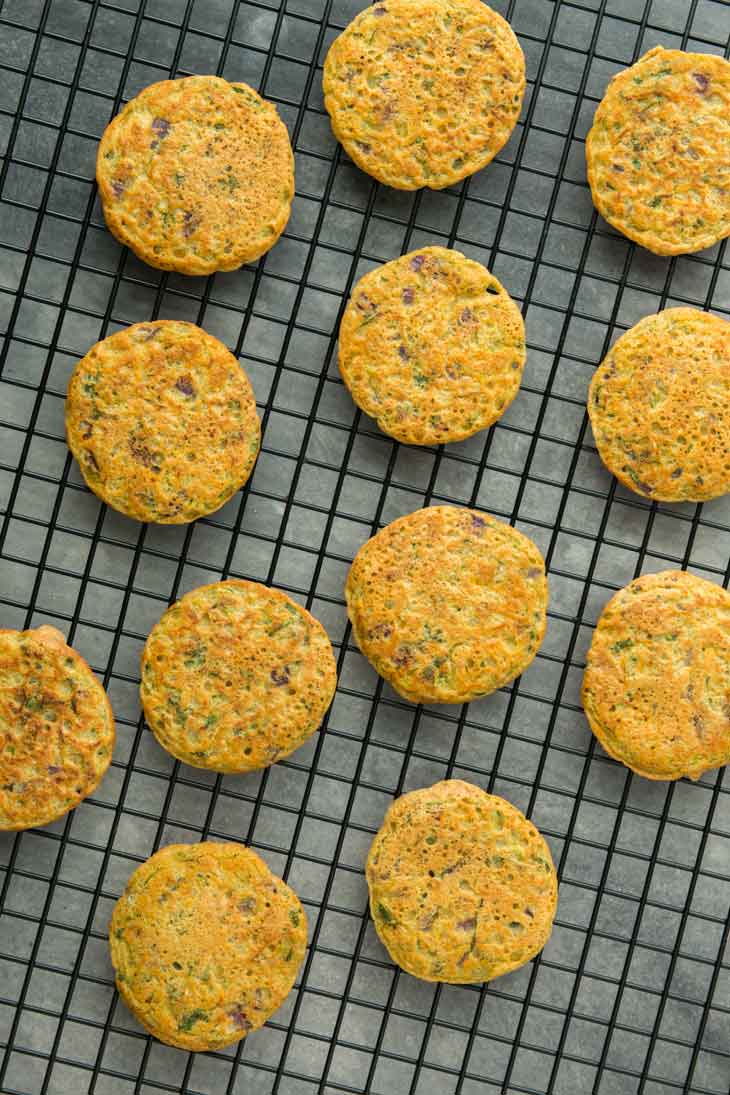 Although don't mistake easy and basic for bland and boring. The vegetables, combined with the acid and oat flour make the perfect tasting healthy savory pancakes that you can enjoy for breakfast, lunch, or snack!
The Perfect Savory Vegetable Pancake Recipe
When the kids were toddlers, my mom taught me to make quick savory pancakes recipe using cream of wheat, yogurt, and veggies. No need for fermentation, just whisk and cook similar to a thick dosa or pancakes.
My husband and I have never loved cream of wheat, so it was never our type of meal, but the kids enjoyed it and it was easy to make.
Fast forward a few years, and I've started using Oat Flour in everything! Even donuts and cookies. I love the texture that comes from using oat flour.
So I created an oat flour pancake recipe with veggies, herbs, and simple spices! This easy delicious savory pancake recipe is
gluten-free
vegan
veggie-filled
has protein
contains healthy carbs
Oat Flour
Oat flour is exactly what its name suggests…whole oats that have been ground into a flour. Oat flour is
gluten-free
a healthier option than other forms of flour (such as whole wheat)
contains 7g of protein in 1/3 cup!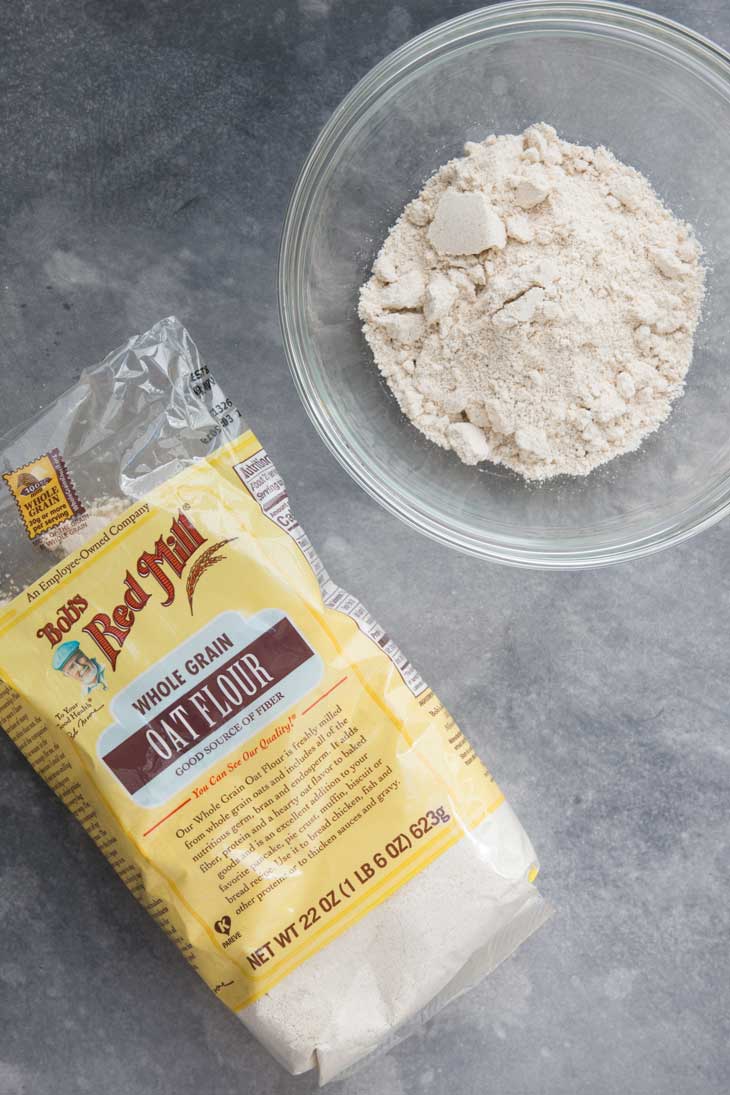 Since one of our favorite breakfasts is oatmeal, it's only natural that my entire family enjoys oat flour. I particularly love using it for baked goods because it gives more flavor than regular all-purpose flour, and gives them a chewier and crumblier texture.
I've tried to make my own oat flour before, and it's worked ok, but I've never been able to get it to that super fine powder. The quality and texture of the type of oat flour you use really make a difference.
So I headed straight for my favorite go-to brand for flours, Bob's Red Mill, because of the quality of their products.
Bob's Red Mill Whole Grain Oat Flour is freshly milled from whole grain oat groats and includes all of the nutritious germ, bran, and endosperm. Nothing is added and nothing is removed. It's been a pantry staple in our kitchen for years!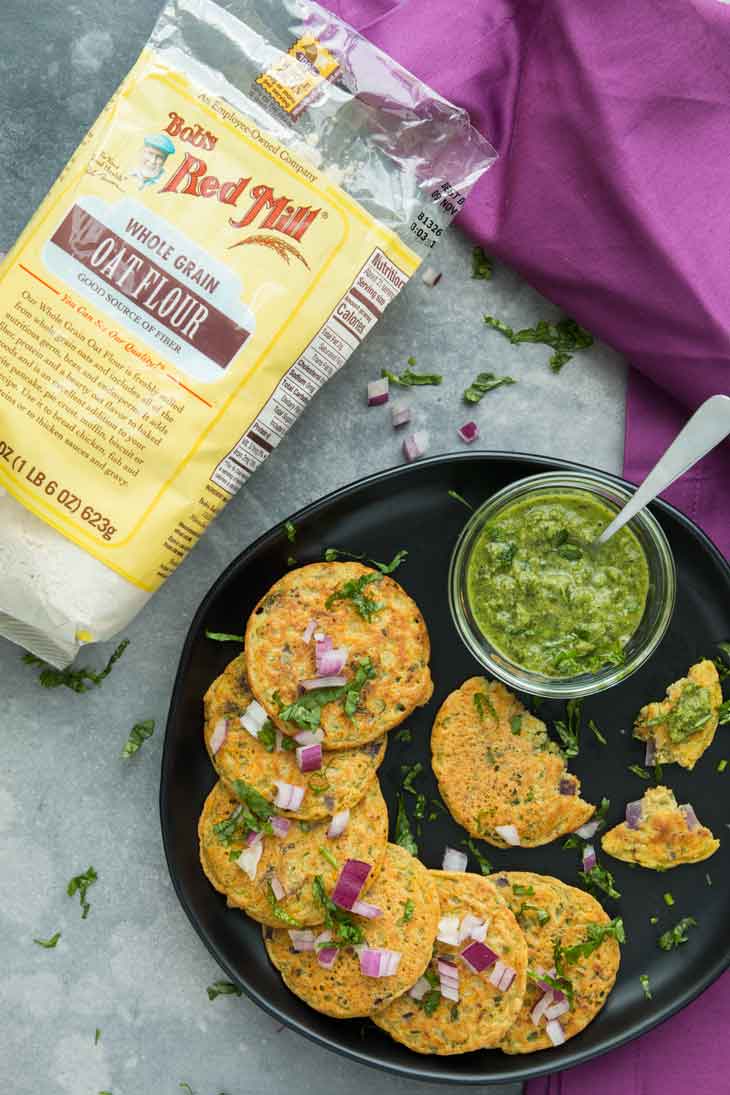 Can You Make Eggless Savory Pancakes?
Yes! All it took is a bit of trial and error to get the perfect combination of ingredients to give these pancakes the perfect texture without the use of eggs or any dairy.
I tried experimenting with using non-dairy milk as the liquid base, but water was the winner when it came to the perfect texture I was looking for.
The use of a little brown rice flour, baking soda, baking powder, and acid helps bring the batter together and give the pancakes that perfect thin and crispy texture.
What Vegetables Can I Add To These Oat Flour Pancakes?
The answer is almost any vegetable you like! Which is one of my favorite things about this recipe.
Since the vegetables and herbs go in raw, I'd recommend using ones that can be shredded or finely chopped/diced such as zucchini, carrots, and onions. But you can also add in peas and corn. I'd also recommend not skipping the ginger, garlic, and cilantro since it adds a lot of flavor.
Oat Flour Pancakes That Are Perfect For Babies, Toddlers, & Adults!
Don't think that just because they're mini pancakes, they're only suitable for babies and toddlers. These savory oat flour pancakes are great for the entire family.
You can even add some heat by adding finely grated green chilis and get creative with sauces!
These pancakes can be served for breakfast, lunch, or snack!
You can easily make larger pancakes, but I love making mini pancakes because they work well for brunch, especially with a cup of warm chai. My kids love taking them for school lunch, and they're the perfect size for babies and toddlers.
How To Make Mini Vegan Vegetable Pancakes Using Oat Flour – Step by Step
These Mini Savory Vegetable Pancakes can be made in just 15 minutes!
Add the oat flour to a mixing bowl. Shred the veggies, and add them along with the garlic and ginger.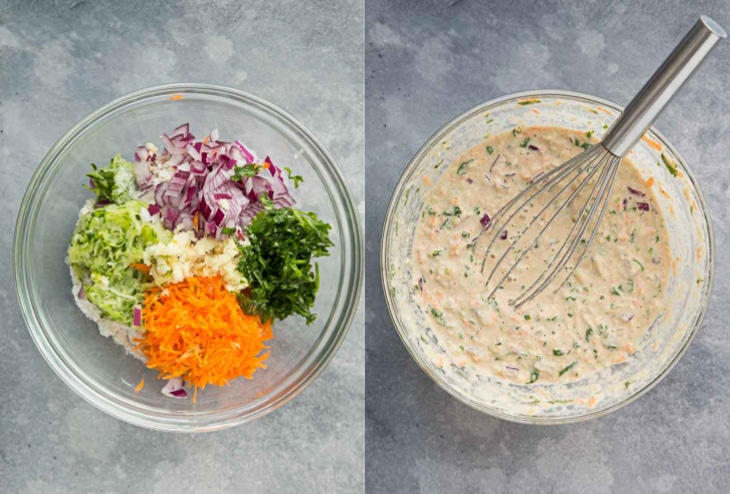 Pour in the water and add the baking soda, baking powder, salt, and lemon juice. Whisk until fully combined.
Heat a mini pancake pan to medium-low heat. Quickly spread a tiny bit of vegan butter or oil, and add a small amount of the pancake batter. The pancakes will be thin.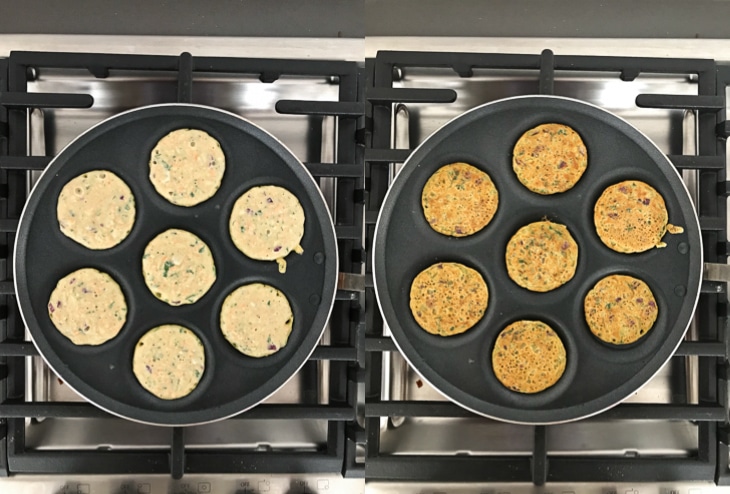 Let them cook for a few minutes until golden brown. Then flip adding butter on the other side. Let them cook for a few more minutes.
Serve hot with your favorite dipping sauce!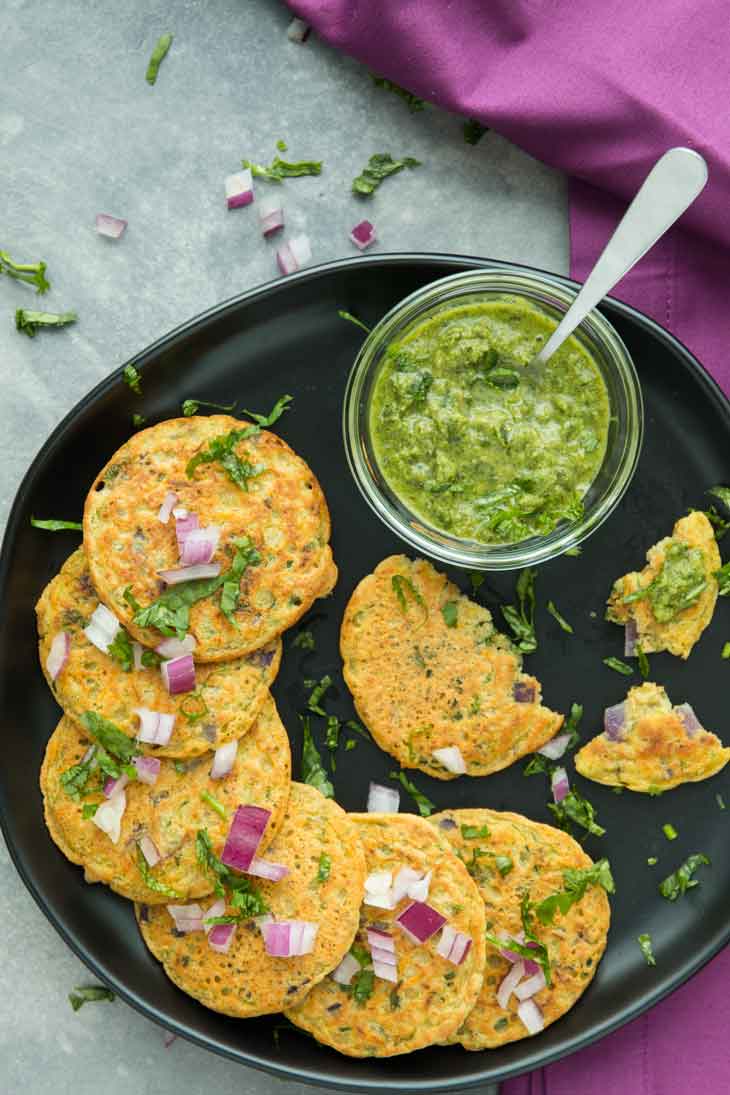 What Can I Serve With Vegetable Pancakes?
My kids love these savory vegetable pancakes on their own, but it's always fun to get creative with dipping sauces or spreads! Here are a few of my favorites to pair with these pancakes:
Oil mixture with Dried Cumin, Corriander, Chili Powder, and Salt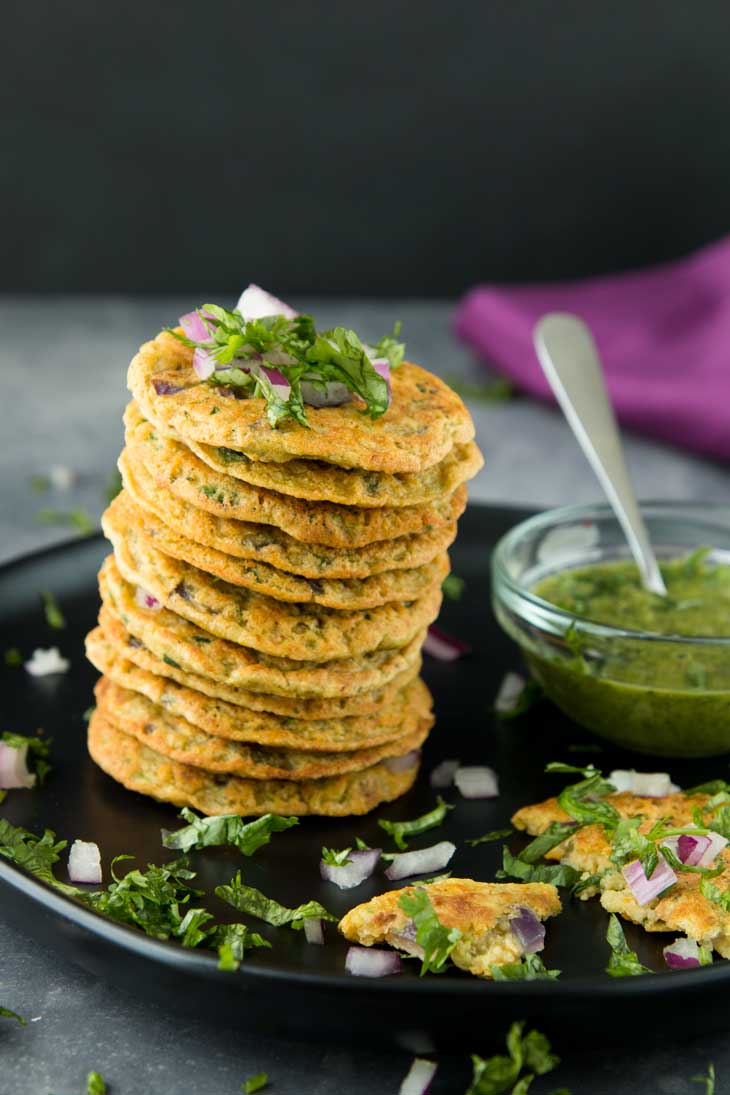 If you like this recipe or post, be sure to leave a comment and use the rating field! You can also tag me on Instagram with any re-makes, @vegetariangastronomy so I don't miss it, as I love sharing them on Re-Make Fridays! Or you can help me spread the word about my recipes on Pinterest and Facebook!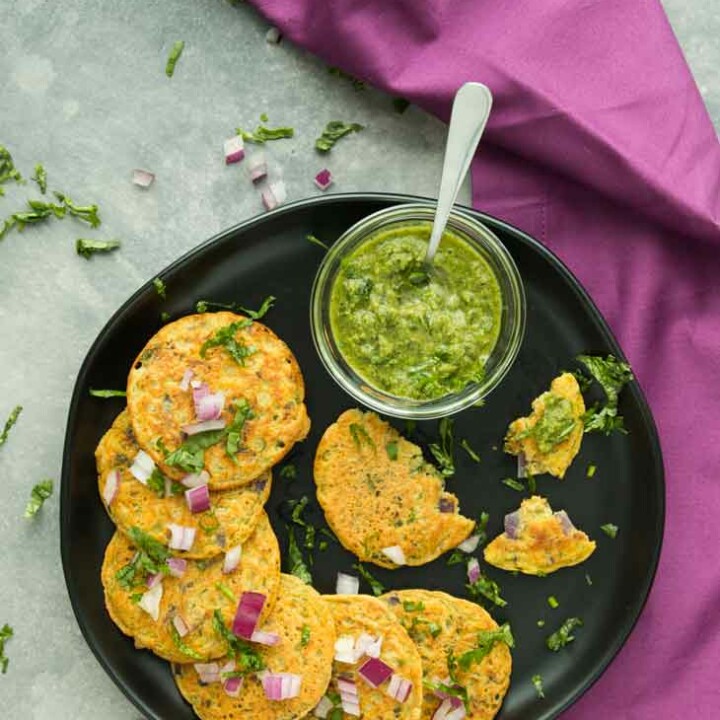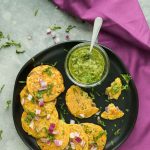 Print
Easy Savory Vegetable Pancakes
These oat flour mini vegan savory vegetable pancakes are easy, healthy, made in just 15 minutes, and perfect for breakfast, lunch, or snack!


Servings:
15
mini pancakes
INGREDIENTS
1/2

cup

oat flour

, see notes below (I use Bob's Red Mill)

2

tbsp

brown rice flour

1/4

cup

zucchini

, finely shredded

1/4

cup

carrots

, finely shredded

1/4

cup

red onions

, finely chopped

2

tbsp

fresh cilantro

, finely chopped

2

cloves

garlic

, minced

1/2

teasp

fresh ginger

, grated

1/2

cup

water

1/4

teasp

baking soda

1/4

teasp

baking powder

2.5

teasp

fresh lemon juice

1/2

teasp

salt

green jalapeno chili

, finely grated (optional)

vegan butter

, or oil (for cooking)
INSTRUCTIONS
Whisk together the oat flour and brown rice flour.

Add all the other ingredients in the order listed above. Add grated fresh green chili jalapenos for added spice.

Taste the batter and adjust for for lemon or salt if needed.

Heat a mini pancake pan on medium-low heat (see notes below).

Wipe the pan clean quickly with a slightly damp napkin.

Brush a tiny bit of vegan butter or oil on the pan where the batter will be poured.

Using a spoon, pour a small amount of batter in each of the mini pancake spots. Note that the pancakes should be thin. Add the batter and allow it to fill the mini pancake slots without overfilling.

Cook for a few minutes until the bottom side is golden brown and slightly crispy.

Flip each mini pancake, adding vegan butter or oil to the other side. Cook until slightly golden brown.

Cool on a cooling rack or serve hot with dip or sauce (see notes below).
NOTES
Oat Flour – I recommend Bob's Red Mill oat flour. If needed be sure to get the gluten-free certified oat flour.
Vegetables – you can add other vegetables such as corn or peas to these pancakes, as long as they are finely shredded or finely chopped. If needed, adjust the amount of liquid for the batter consistency.
Spice – freshly grated green jalapeno chilis taste great in this dish if you prefer spice.
Mini Pancakes – I prefer to use a mini pancake pan for this recipe (from an Indian store), but you can easily make a slightly larger one in a regular pan. Just be sure to butter when cooking and spread the batter thin when pouring.
To Serve – Serve with your favorite dipping sauce or dressing such as pesto, cilantro peanut chutney, vegan ranch, creamy tahini cilantro sauce, hummus, etc.
NUTRITION
Calories:
24
kcal
|
Carbohydrates:
4
g
|
Protein:
1
g
|
Fat:
1
g
|
Saturated Fat:
1
g
|
Sodium:
99
mg
|
Potassium:
42
mg
|
Fiber:
1
g
|
Sugar:
1
g
|
Vitamin A:
364
IU
|
Vitamin C:
1
mg
|
Calcium:
7
mg
|
Iron:
1
mg