This vegan pulled shiitake mushroom BBQ sandwich is for all you mushroom lovers! It has the perfect meaty and chewy texture is dripping with thick and sticky BBQ sauce, and is a great quick and easy meal to whip up for a crowd!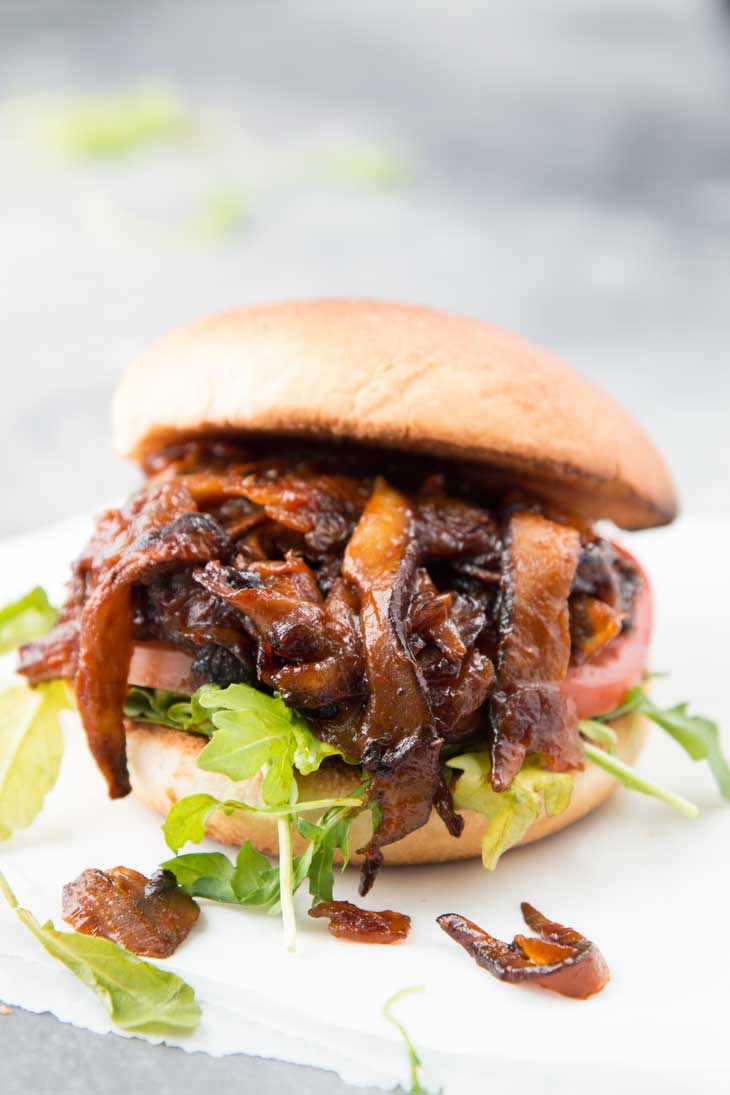 I'm thrilled to be reviewing and sharing a recipe from an awesome plant-based cookbook by my friend Linda and her daughter Alex, the great mother-daughter team behind the blog Veganosity – Great Vegan BBQ Without A Grill!
Take a look inside this new cookbook, get the recipe for this delicious Pulled Shiitake Mushroom BBQ Sandwich!
Great Vegan BBQ Without A Grill
This new cookbook came out this past summer, and I'm in love with all the vegan sandwiches, BBQ recipes, and gorgeous mouthwatering photographs!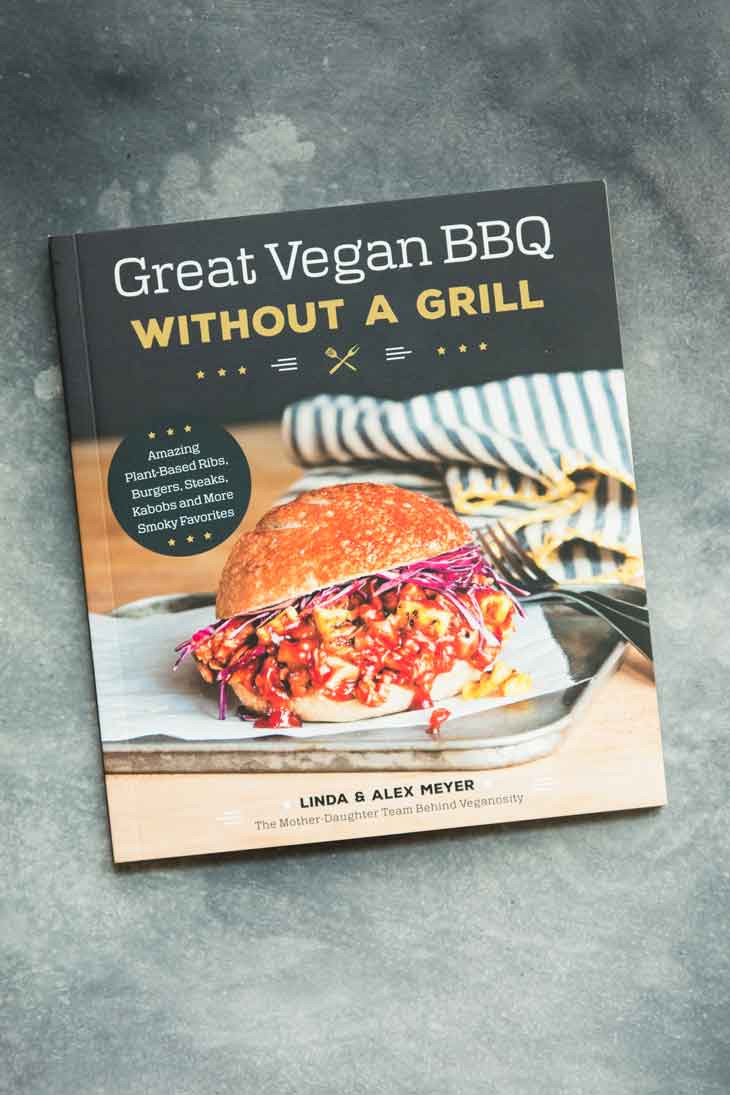 Each of the recipes in this cookbook has a story behind it and celebrates Linda & Alex's love of family, sports, the South, the Midwest, and most of all, animals. It's full of plant-based BBQ favorites, game day foods, and recipes you'd traditionally make on an outdoor grill.
And here's why I love this cookbook so much…no matter what season you're in, whether or not you have a grill, Great Vegan BBQ Without A Grill is full of amazing plant-based ribs, burgers, steaks, kabobs, and more smokey favorites you can enjoy all year long!
All of the recipes are:
Healthy
Plant-Based
Made with Whole Foods
Creative
Bold in Flavor
You'll find that many of the recipes are made with cauliflower, mushrooms, tofu, a variety of beans, jackfruit, cashews, and vital wheat gluten. They're perfect meat and dairy substitutes and have a great texture when cooked properly.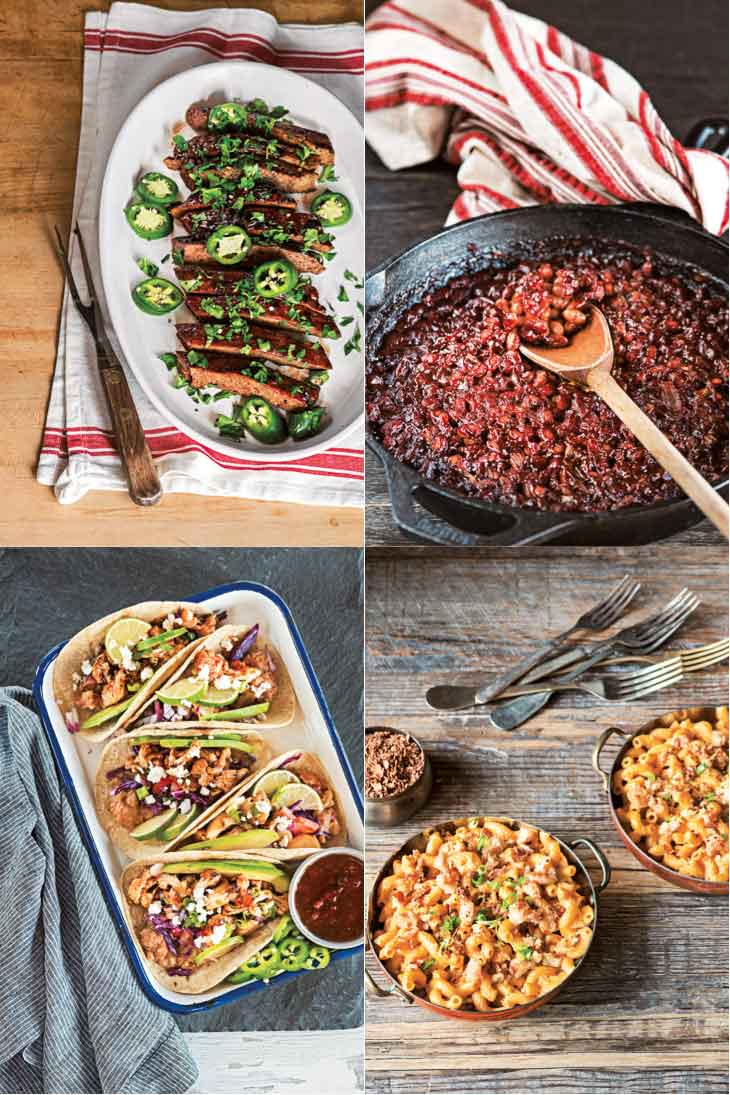 The book is carefully curated and contains chapters that are easy to follow. You'll see that there's something for everyone in this book.
Meat-Free BBQ To Satisfy Meat Eaters
Burgers & Sandwiches: From Way Up North To The Deep South
Stick Food
Stuffed, Foiled, & Smothered: delectable Entrees for a Cozy Dinner
Sides & Salads That Go With A Barbecue
BBQ Dips To Bring To A Party
Keeping It Saucy: BBQ Sauces & Rubs
The BBQ jackfruit with grilled pineapples is only 5 ingredients and the perfect easy and quick go-to recipe for any weeknight. The cheddar stuffed veggie burgers and buffalo quinoa burgers have me drooling. Or take comfort in dishes like the smoky mac n cheese and southern sticky grilled tofu.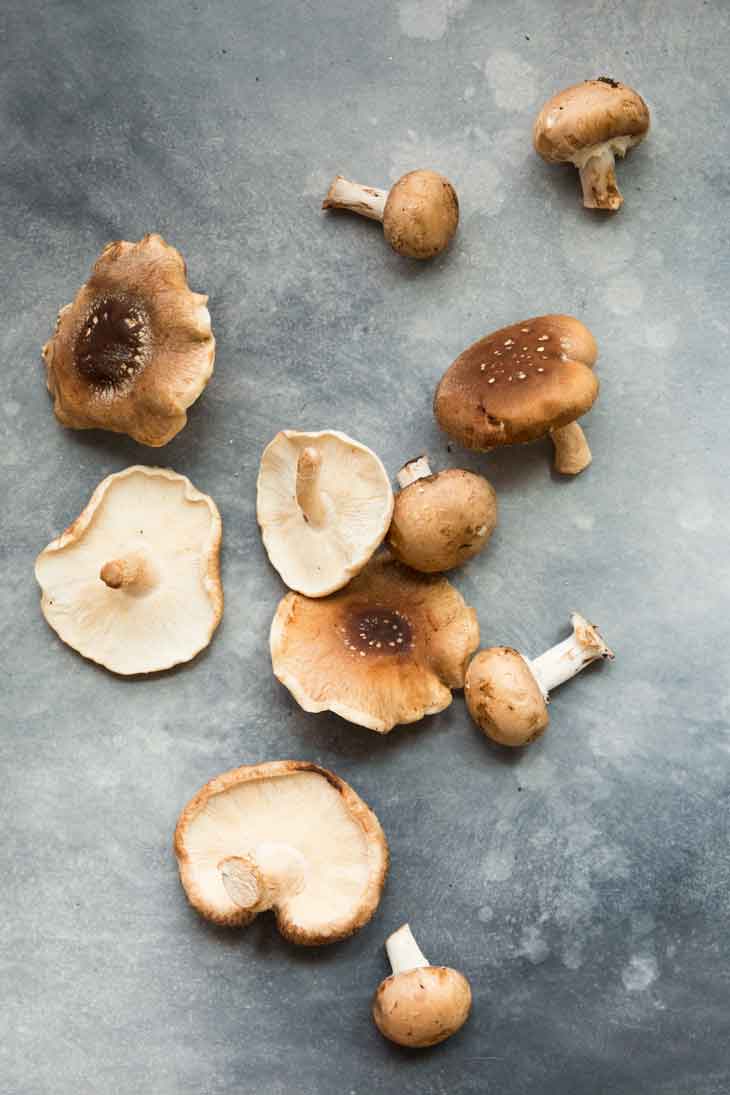 How To Make The Perfect Pulled Shiitake Mushroom BBQ Sandwich – Step by Step
This specific BBQ sandwich is from the cookbook and is easy to whip up for a crowd. You can make the mushroom mixture ahead of time, toast the buns, and let people assemble their own for a potluck or game day. It comes together quickly, is really easy to make, and perfect for all you mushroom lovers!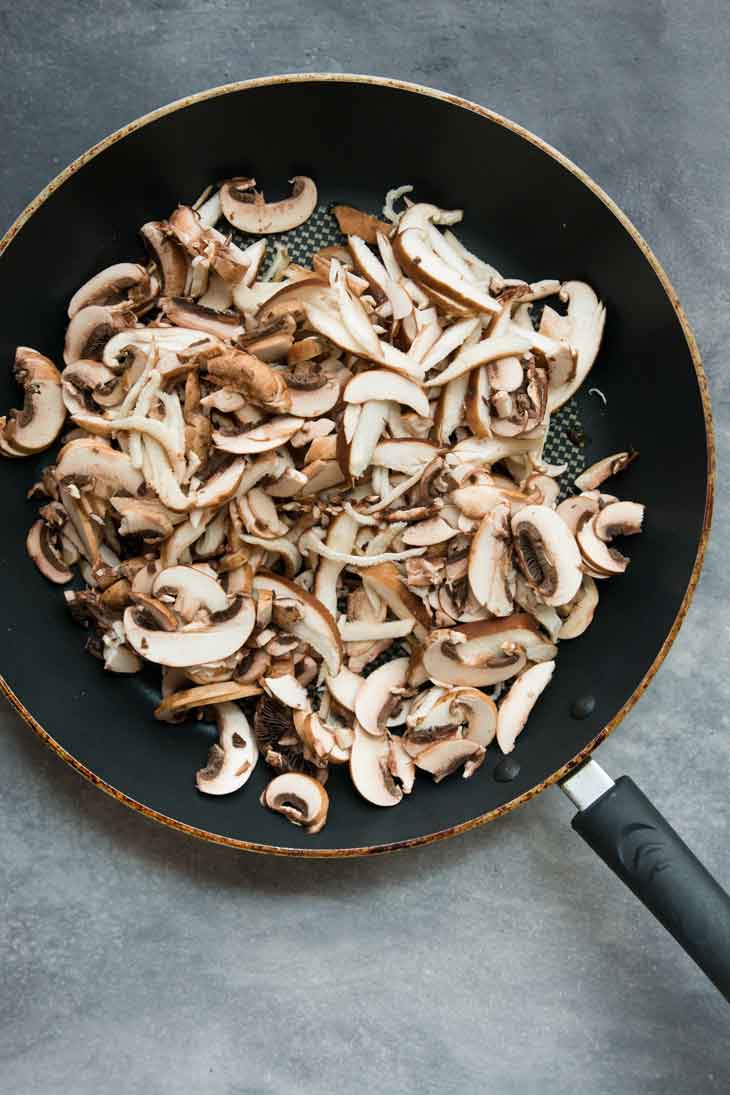 Start by thinly slicing the shiitake and portobello mushrooms. Cook the mushrooms and finely diced onions until the onions start to caramelize and the edges of the mushrooms begin to crisp up.
Add the BBQ sauce (The book has a great home-made BBQ sauce recipe, or you can easily use your favorite store-bought one to save some time).
Cook the mixture in the BBQ sauce until it coats evenly, thickens, and starts to stick.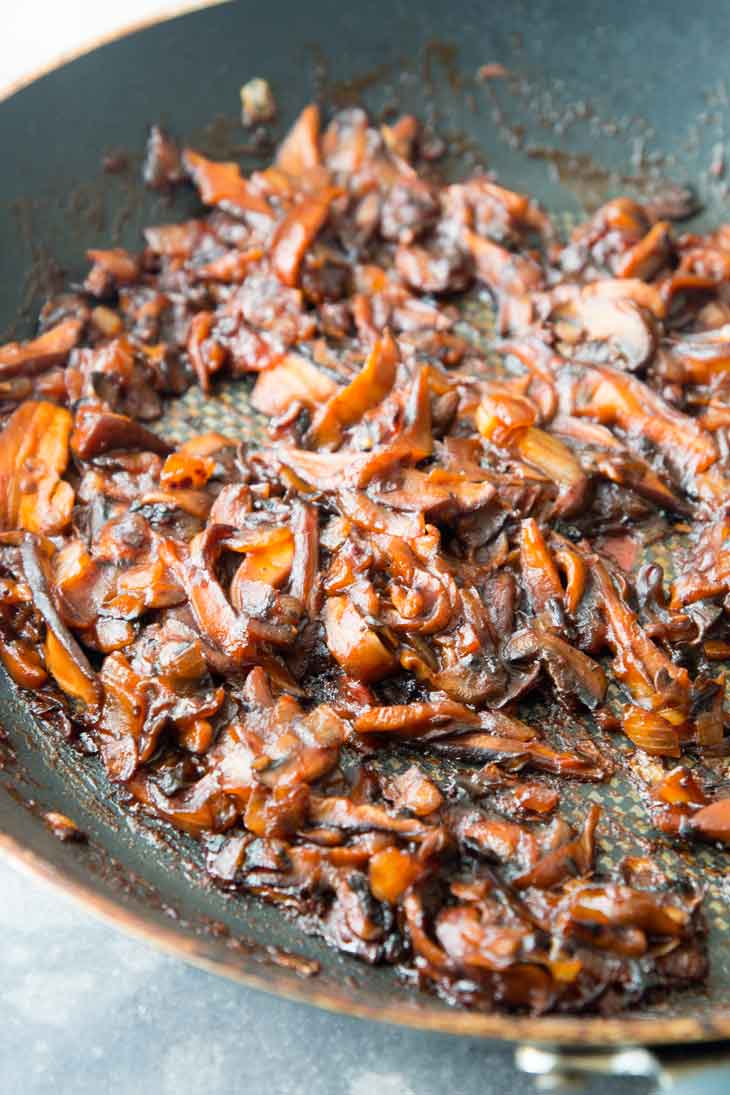 Serve the mushroom mixture on your favorite toasted buns and top with arugula, tomato, and sliced pickles for the perfect BBQ Sandwich!
If you like this recipe or post, be sure to leave a comment and use the rating field! You can also tag me on Instagram with any re-makes, @vegetariangastronomy so I don't miss it, as I love sharing them on Re-Make Fridays! Or you can help me spread the word about my recipes on Pinterest and Facebook!
Looking for more Easy Vegan Sandwich recipes?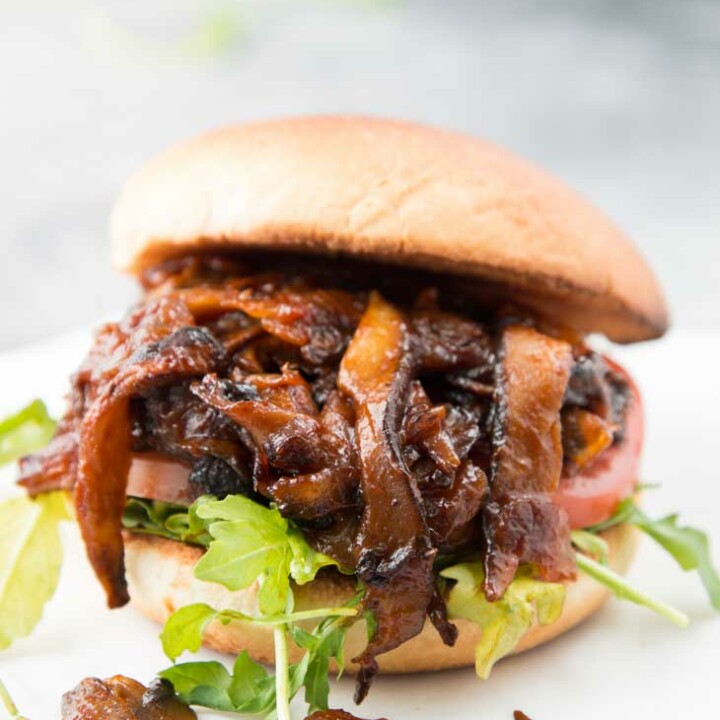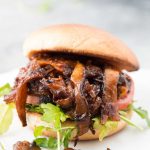 Print
Pulled Shiitake Mushroom BBQ Sandwich
For all you mushroom lovers out there, this is the perfect meaty and chewy BBQ Sandwich! Reprinted with permission from Great Vegan BBQ Without a Grill, copyright © 2018 by Linda & Alex Meyer. Published by Page Street Publishing Company.
INGREDIENTS
2

cups

Big Mama's Homemade BBQ Sauce

, or store-bought (see notes below for recipe)

22

oz

shiitake mushrooms

22

oz

baby portobello mushrooms

1

tbsp

olive oil

1

large

white or yellow onion

, finely diced

salt & pepper

, to taste

4

hamberber buns
Toppings:
arugula

tomato

, slices

dill pickles

, sliced
INSTRUCTIONS
Make the BBQ sauce, if you don't already have some on hand, to allow the flavors to infuse while you prepare the mushrooms (see notes below for homemade recipe).

Thinly slice the mushrooms. They should look shredded.

Heat the oil in a large skillet on medium heat.


When the oil is hot, add the mushrooms and onions and stir frequently until the mushrooms lose their water and the onions become translucent and soft, approximately 5 to 7 minutes. Depending on the size of the pan, you may need to cook the mushrooms and onions in two batches.


Turn up the heat to medium-high and add salt and pepper to taste. Cook until the onions caramelize and the edges of the mushrooms begin to crisp up, approximately 5 minutes.


When the mushrooms and onions are done cooking, add the BBQ sauce to the pan and stir until the mushrooms are completely coated in the sauce.

Bring the mixture to a boil on medium heat and then reduce the heat to a low simmer. Cook for 15 minutes, stirring frequently, until the sauce is thick and sticky.

Serve the mushrooms on the buns and top with the arugula, tomato and sliced pickles.
NOTES
Gluten-Free option – use your favorite gluten-free buns or bread.
Homemade BBQ Sauce Recipe (makes 2 cups):
1/2 teasp cornstarch
2 tbsp warm water
1 cup tomato sauce
2 tbsp tomato paste
3 cloves garlic or 3/4 teasp garlic powder
1/4 cup apple cider vinegar
2 tbsp dark molasses
1.5 teasp sea salt
1/4 cup + 1 tbsp coconut or dark brown sugar
1/2 teasp onion powder
1 teasp cumin
1 teasp paprika
1/2 teasp black pepper
1 teasp olive oil (optional)
Directions: In a small bowl, whisk the cornstarch and water together until smooth. You shouldn't see any lumps. set aside. Place the rest of the ingredients into a blender or food processor and blend on high until smooth and frothy. Pour the mixture into a small saucepan and bring to a boil. As soon as the sauce begins to boil, reduce the heat to a low simmer and cook for about 20 minutes. Stir frequently to prevent scorching. Slowly whisk the cornstarch into the sauce and keep whisking until the sauce thickens. Cook for 10 minutes, stirring frequently. Store in an airtight container in the refrigerator for up to 2 weeks.
NUTRITION
Calories:
497
kcal
|
Carbohydrates:
98
g
|
Protein:
12
g
|
Fat:
8
g
|
Saturated Fat:
1
g
|
Sodium:
1704
mg
|
Potassium:
1500
mg
|
Fiber:
9
g
|
Sugar:
59
g
|
Vitamin A:
320
IU
|
Vitamin C:
3.6
mg
|
Calcium:
106
mg
|
Iron:
3.9
mg