Looking for the PERFECT kale smoothie that tastes like DESSERT? This one is filled with tropical flavors, like pineapple, bananas, chia seeds, and coconut milk! This pineapple kale smoothie contains fiber and healthy fats, is nutrient-packed, and full of flavor!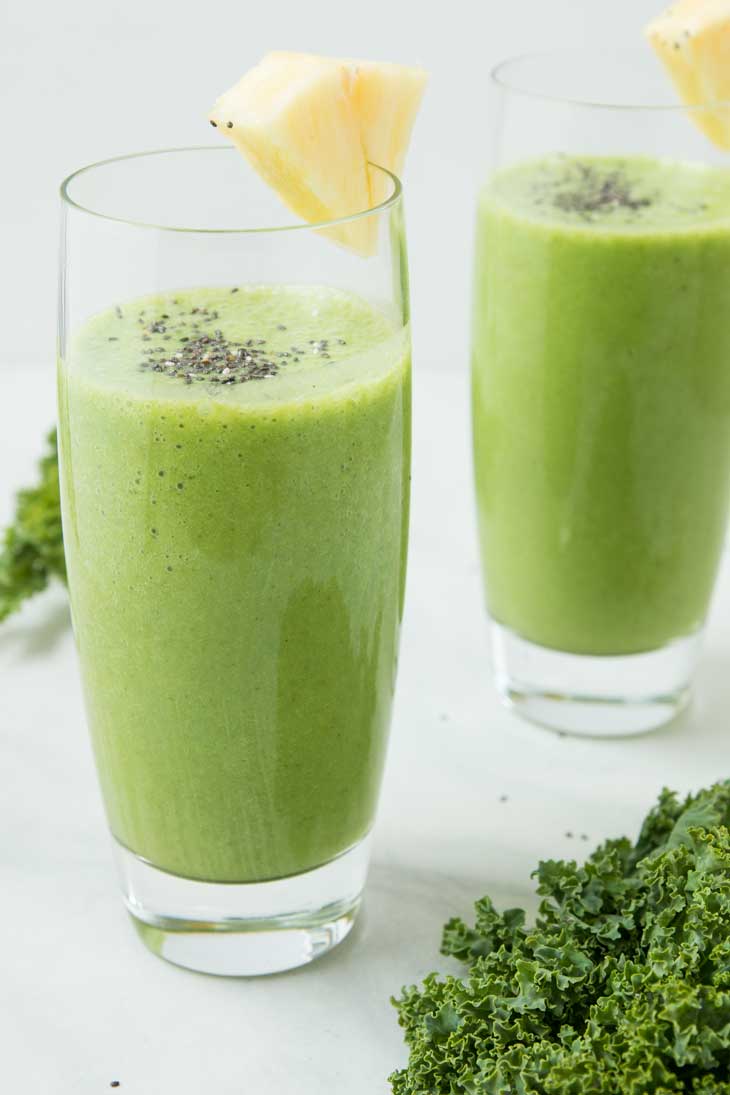 First off, Happy New Year to all of you! And yes…I do realize that it's already the end of February and it's been about 2 months since I've posted a new recipe. Before I go into this favorite Pineapple Kale Smoothie recipe of mine, I wanted to give you a little update.
Where I've Been The Past Few Weeks
I usually run a year-end post reflecting on the past year and highlighting the top recipes, but to be real and honest with you guys, I wasn't quite in the head-space of blogging around the holidays this past December. So instead, I spent it with my family and eased into 2020 at my own pace.
That's not a direct reflection on how this past year as been. In fact, I had a huge year in 2019, tons of growth on both on the blogging front and in our personal lives, and exciting new partnerships. All good things, so I can't complain. But it also had me thinking and reflecting a little more on a personal level.
Freeing my mind so it's more clear and focused on the important things in life, being even more present and conscious about what we spend our time and energy on, fully enjoying what's in front of me without other clutter, my love-hate relationship with social media, ending the majority of our days feeling full and satisfied, contemplating some worldly issues that have been heavy on my mind, and materialism on all fronts.
I know…that all seems like a lot! I'm sure I missed a few, but hopefully, you get the idea 🙂
Of course, there's also the fact that I'm turning 40 this year! So some may call this a 'mid-life crisis', but I'd hardly call it quite a "crisis" (ha!), especially in this privileged life we live. It's more about de-cluttering and making sure we value and make the most of this life.
Moving Forward
I decided to take on less work and partnerships for the time being so that I could focus on a few other personal things I have planned for the year, and to catch up on the things I've wanted to implement on my site for which I've felt as thought I've never had the time. And most importantly, post new recipes purely on my own schedule instead of working against hard-set deadlines!
So what does this mean for all of you?
Really, nothing! Other than hopefully, you'll get a better version of me and my site this year! In fact, I already have 10+ recipes photographed and perfected that I know many of you have been waiting for.
There's a lot more I could say on all this, but maybe I'll save it for another post. For now, I'm back and excited to share one of my FAVORITE easy recipes with all of you that I've been making for a few years now!
What's So Special About This Pineapple Kale Smoothie Recipe?
If you're new to green smoothies, need a great refreshing healthy drink, or need to get those dark leafy greens in, THIS is the recipe to keep on hand!
Why?
Simple…because it tastes DELICIOUS!
Even if you're anti-green smoothies or anti-kale, you won't be able to resist this smoothie. With ingredients like pineapple, bananas, and coconut milk, you can't even taste the raw kale!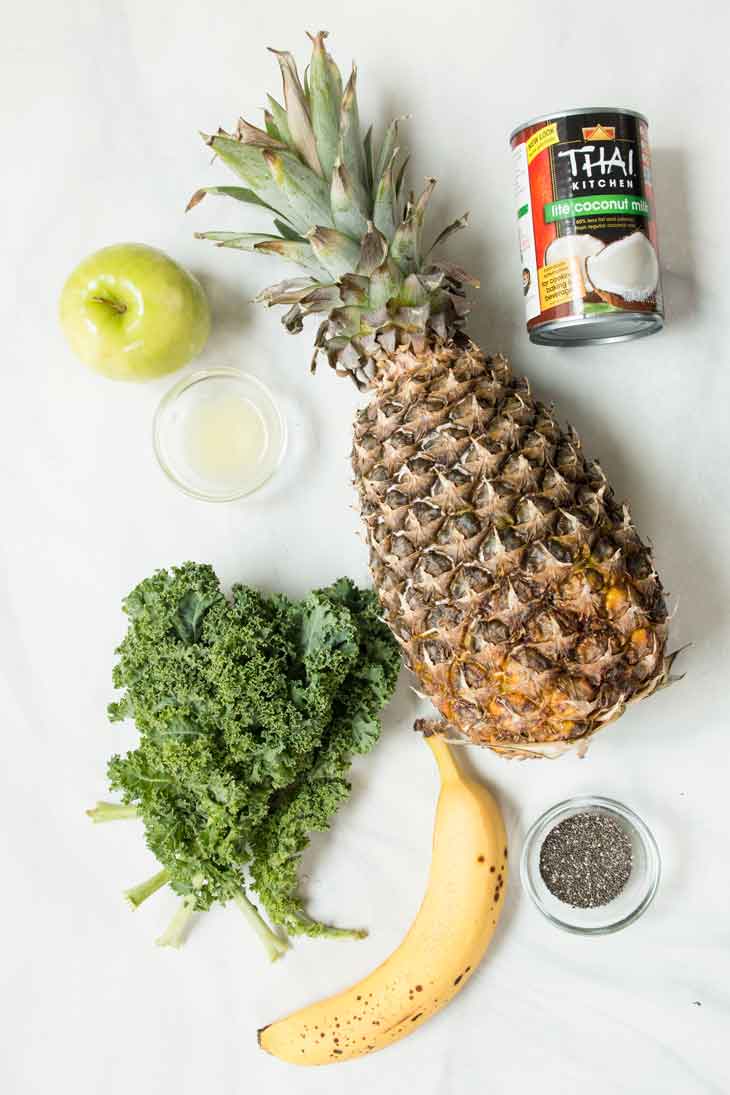 Instead, you're left with a healthy, filling, full of fiber, healthy fats, creamy, refreshing green smoothie that you can enjoy any time of the day.
Benefits Of A Kale Smoothie
When it comes to green smoothies, my top two leafy greens to use are spinach and kale. Even though I like to mix it up, whenever I make this particular green smoothie recipe, I always use kale.
Kale has many health benefits:
High in fiber
High in antioxidants
Contains Vitamin K, calcium, & iron
Great source of Vitamin C
Is It OK To Put Raw Kale In A Smoothie?
Yes, absolutely. You can use straight-up raw kale in a green smoothie. There's no need to cook it first.
Because kale is fibrous and can be tougher than other greens, I'd recommend using a powerful blender to ensure that the kale is completely blended in.
Raw kale can also have quite a strong flavor on it's own, even bitter at times. But that's where the combination of pineapple and banana comes in. When blended together, they mask that strong kale flavor so well.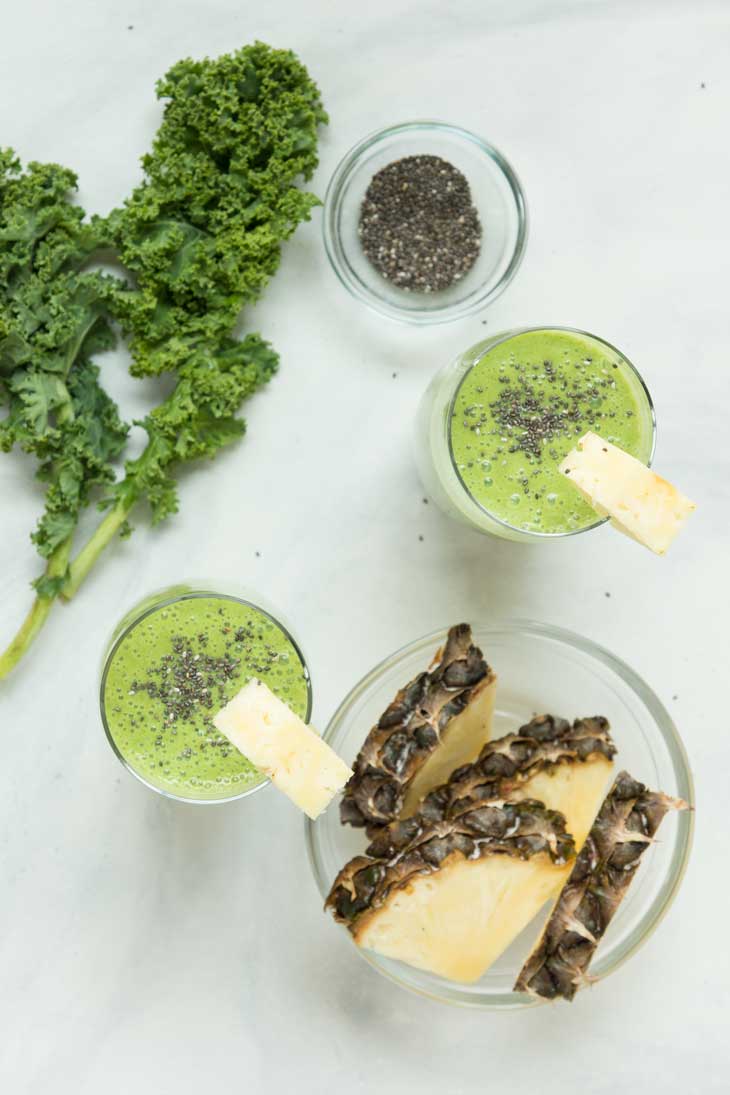 Is It OK To Drink A Green Smoothie Everyday?
Absolutely! I like to mix it up with the type of leafy green I use, typically going back and forth with kale and spinach. But a green smoothie is a great way to pack in those nutrients that you may be missing through your meals. Healthy fats, protein, and greens.
See below for tips and variations on how to change up this green smoothie recipe!
Easy Healthy Breakfast Or Snack
My family's favorite time to enjoy this pineapple kale smoothie is in the afternoon, especially right after school.
Everyone's tired and drained in the afternoon, and you need that healthy pick-me-up. So instead of grabbing a cup of coffee or some junk food, try making this kale smoothie!
Since it tastes like dessert, I doubt your kids will mind. And it helps nourish your body with all the vitamins, minerals, and nutrients.
How To Make This Easy Tropical Pineapple Kale Smoothie Recipe – Step by Step
If you're using a powerful blender, such as a Vitamix, add all the ingredients in and blend until completely smooth. If your fruit is at room temperature, you can also add in some ice cubes to make it cold and refreshing.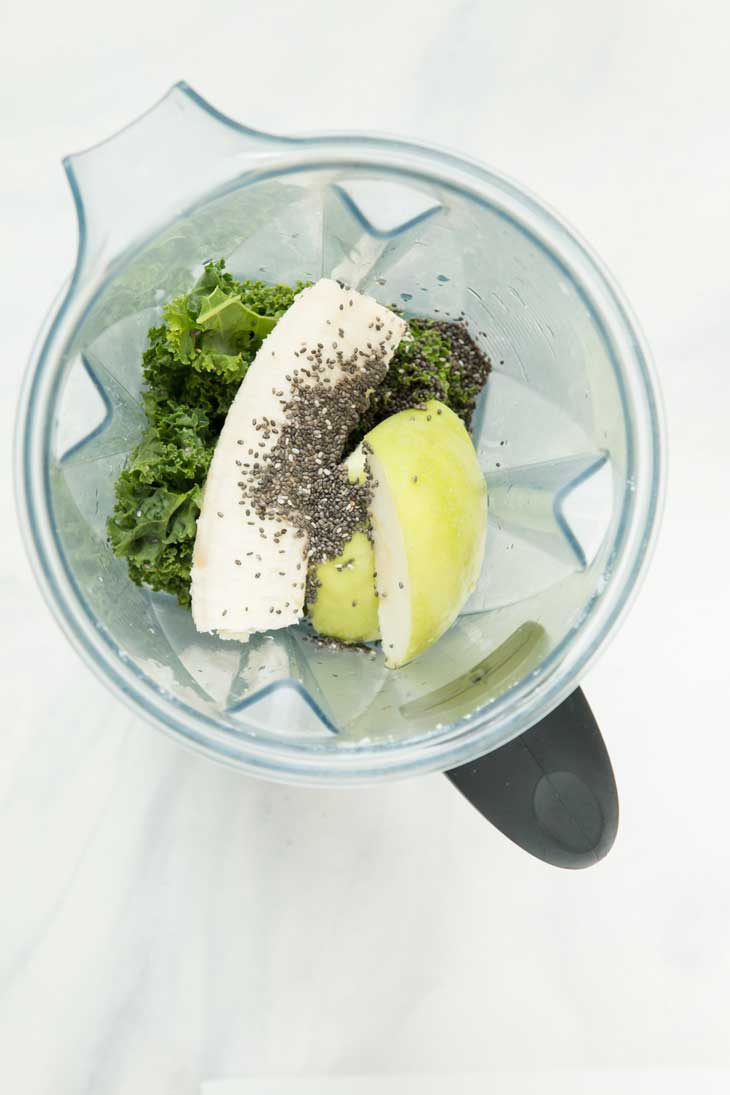 If you have another blender, then be sure to remove the tough parts of the kale stem. Then first blend the coconut milk and kale until completely smooth. Add in the rest of the ingredients and blend again, stopping to mix in between.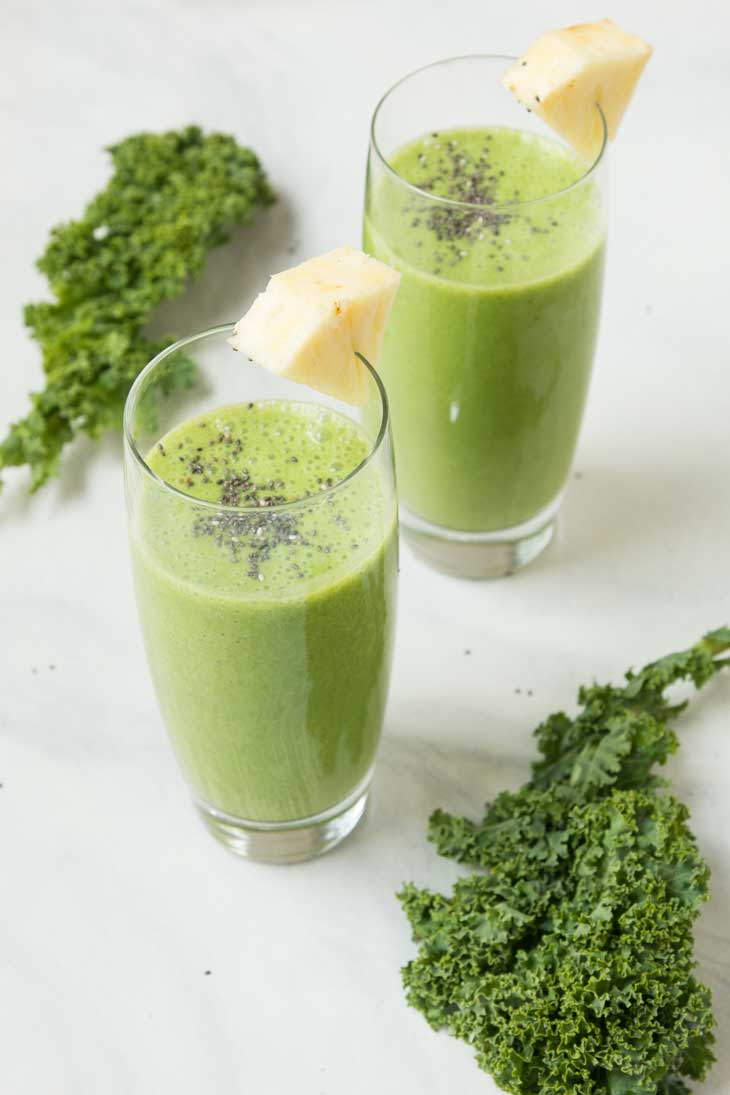 This recipe was inspired by our love for Hawaii and all the tropical fruits and nuts. So blend up a glass, close your eyes, sit back, and pretend you're in Hawaii! Or at least that's what I do!
Vegan Green Smoothie Tips & Variations
I make a variety of green smoothies on a weekly basis. This pineapple kale smoothie recipe is one of my favorites, but here are a few variations on the recipe if you need:
Coconut Milk. I love the use of lite coconut milk in this recipe because of the flavor it adds, creaminess, and healthy fats. But you can just as easily substitute any unsweetened non-dairy milk, such as almond milk.
Kale. Mix it up and try baby spinach leaves instead of kale! I love changing up my greens.
Fruit. The combination of pineapple, green apple, and banana is soooo delicious in this smoothie! Fresh or frozen. But if you must sub out one of these fruits, then change it up and add in some berries. The flavor will differ because the sweetness comes from the pineapple and banana, so just taste and adjust as needed.
Extras. If you want some extra fat or fuel, try adding a spoonful of your favorite nut butter, some flaxseeds, or hemp seeds!
Also, here are some tips to make your smoothie making process easier!
If you don't have a high-speed blender, first blend the non-dairy milk and greens until it's as smooth as you can get it, then blend in the fruit.
For quicker prep, have all your fruit portioned out in freezer bags ready to go!
If you can't find fresh pineapple, then buy the bags of frozen pineapples.
Need Additional Vegan Smoothie Or Drink Recipes?
If you liked this Pineapple Kale Smoothie Recipe or any other recipe on the blog, please consider rating it with the star rating system and leave a comment below! I love hearing from you and seeing your delicious re-makes! You can tag and FOLLOW ME on INSTAGRAM @vegetariangastronomy. Or you can help me spread the word about my recipes on PINTEREST and FACEBOOK!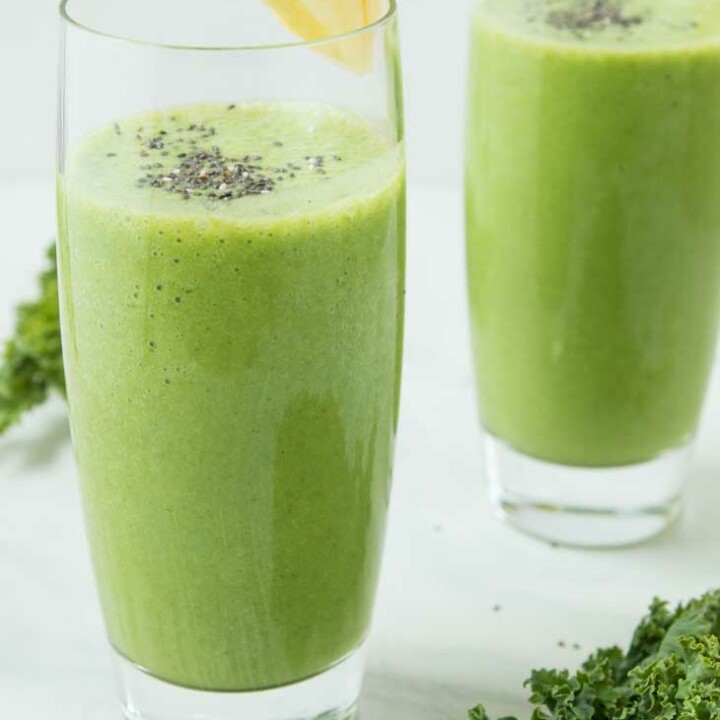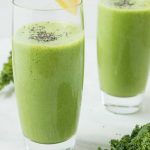 Print
Tropical Pineapple Kale Smoothie
Looking for the PERFECT kale smoothie that tastes like DESSERT? This one is filled with tropical flavors, such as pineapple, bananas, chia seeds, and coconut milk! Fiber, healthy fats, nutrient packed, and full of flavor!
INGREDIENTS
2

cups

kale leaves

1.5

cup

lite coconut milk

, from can

1.5

cup

pineapple

, cut into cubes

1/2

banana

1/2

green apple

1-2

tbsp

fresh lemon juice

2

tbsp

chia seeds
INSTRUCTIONS
Add all the ingredients into a high power blender (see notes below). Add 1-2 ice cubes if your fruit was at room temperature and blend until completely smooth. Pour into glasses and enjoy right away!
NOTES
If you don't have a high-speed blender, add the kale leaves and coconut milk first. Blend to get it as smooth as possible before adding the rest of the ingredients.
Frozen fruit works great in this smoothie.
Substitutions/Additions:
Substitute fresh baby spinach leaves for the kale leaves, or do half and half.
Substitute any other non-dairy milk for the lite coconut milk. The taste and cfreaminess will change but should still taste great.
The combination of pineapple, green apple, and banana works well to cut the taste of the kale. So you can substitute any other fruit, but the flavor will change.
Add a spoonful of peanut butter or almond butter
Add 1/2 tbsp of hemp seeds or flax seeds for added fat
NUTRITION
Calories:
330
kcal
|
Carbohydrates:
46
g
|
Protein:
6
g
|
Fat:
15
g
|
Saturated Fat:
11
g
|
Sodium:
154
mg
|
Potassium:
667
mg
|
Fiber:
8
g
|
Sugar:
21
g
|
Vitamin A:
6765
IU
|
Vitamin C:
147
mg
|
Calcium:
192
mg
|
Iron:
2
mg