Indulge in this quick and easy vegan dessert, Apple Nachos! It's drizzled with my favorite pumpkin butter, and topped with chocolate and pecans. Take it for a potluck, or enjoy as a breakfast, snack, or dessert! Everyone will love it, and it's a fun way to serve up fruit!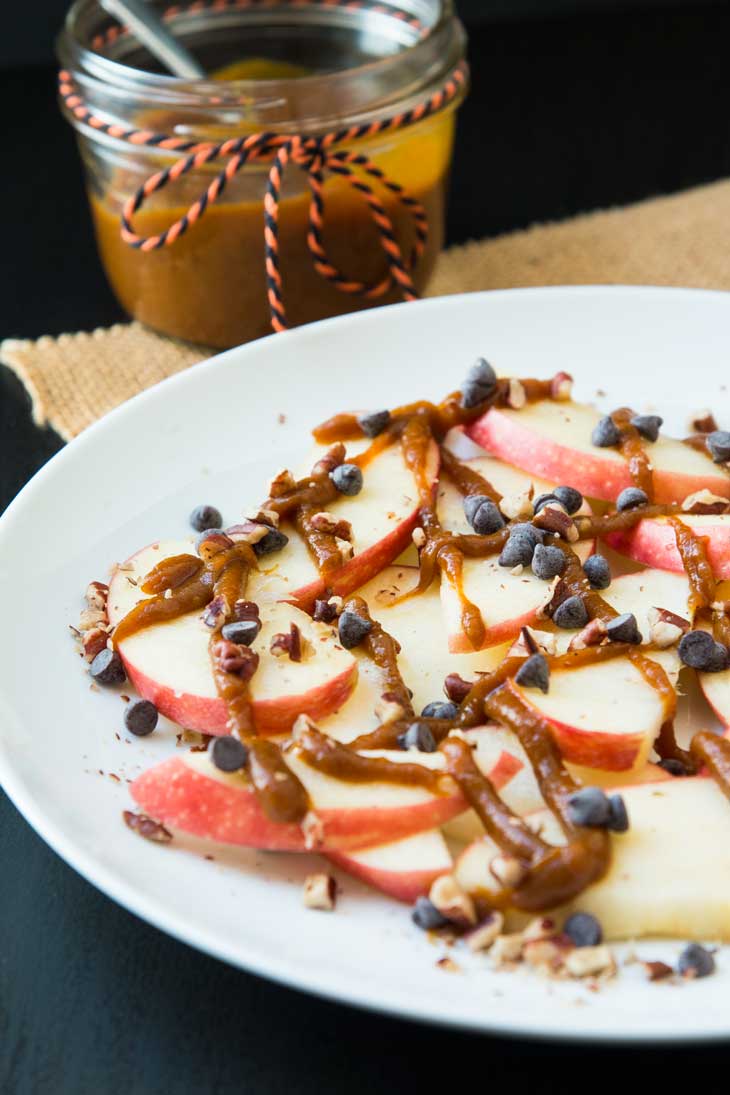 When you create something simple and delicious, you make it every week and try to use it on everything.
That's exactly what happened with my 15-Minute Pumpkin Butter recipe I posted a few weeks back. It's PERFECT, especially if you have extra pumpkin puree left over or just want to make something for the holidays to have around in the fridge to use throughout the week. I love dipping green apples into this pumpkin butter for a quick snack, breakfast, or after dinner sweet bite. I've also used the pumpkin butter in this sweet & savory Fall-inspired grilled cheese sandwich.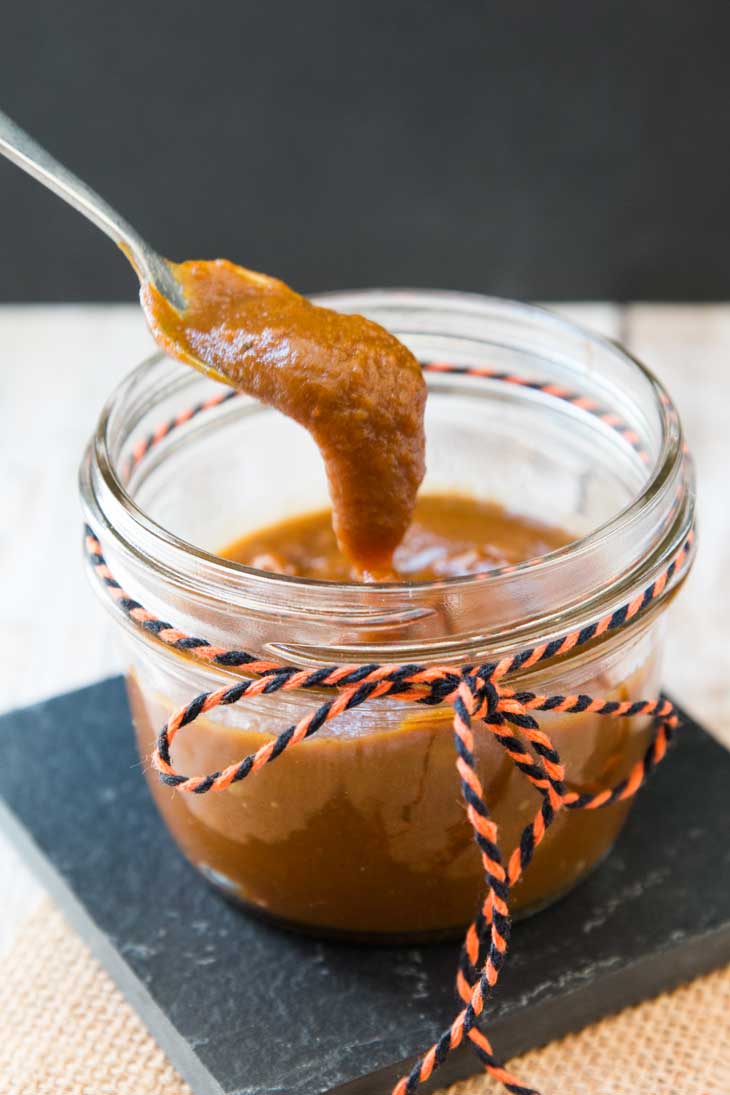 And just in case you're still not convinced at how versatile pumpkin butter is, this plate of Apple Nachos with Pumpkin Butter will hopefully win you over!
I love surprising the kids with fun treats after school, especially during the Holiday months because it's just that much more fun ! Can't quite explain the feeling 🙂 But quite honestly, every holiday season also brings long lists of things to do, school events, family gatherings, and let's not forget that it's the busiest time for food bloggers! So I'm all about multi-tasking and trying to keep it simple and fun throughout the holiday months.
We do apples dipped in almond or peanut butter quite often in our house as an after school snack. So to change it up, I made my kids a plate of these dessert apple nachos instead! You can totally get fancy here, but I kept it quite simple. A generous drizzle of pumpkin butter, topped with chocolate chips and chopped pecans…
…and that's it! That's all it took to win over the kids after school. They called it dessert and we've turned it into a regular after school snack.
There are many apple nacho recipes out there using caramel, so this is my version using my favorite current combination of pumpkin paired with chocolate and pecans (I may have created yet another quick super delicious dessert with leftovers of all these ingredients that some of you got a sneak peak of on my instastories, but I'll save that one for next year since it needs a few tweaks!).
How To Make Dessert Apple Nachos In 15 Minutes?
Make the pumpkin butter
In the meantime, slice up the apples and arrange on a tray
Drizzle on prepared pumpkin butter
Sprinkle chocolate chips & pecans on top
If you already have the pumpkin butter made, it'll cut your time down to just 5 simple minutes. You can also get creative if you want and drizzle on melted chocolate instead of using chocolate chips, or add other toppings such as shredded coconut. There are many fun ways to serve this dish. And if you're looking for more QUICK & EASY holiday desserts to enjoy or share, check out a few of my favorites below!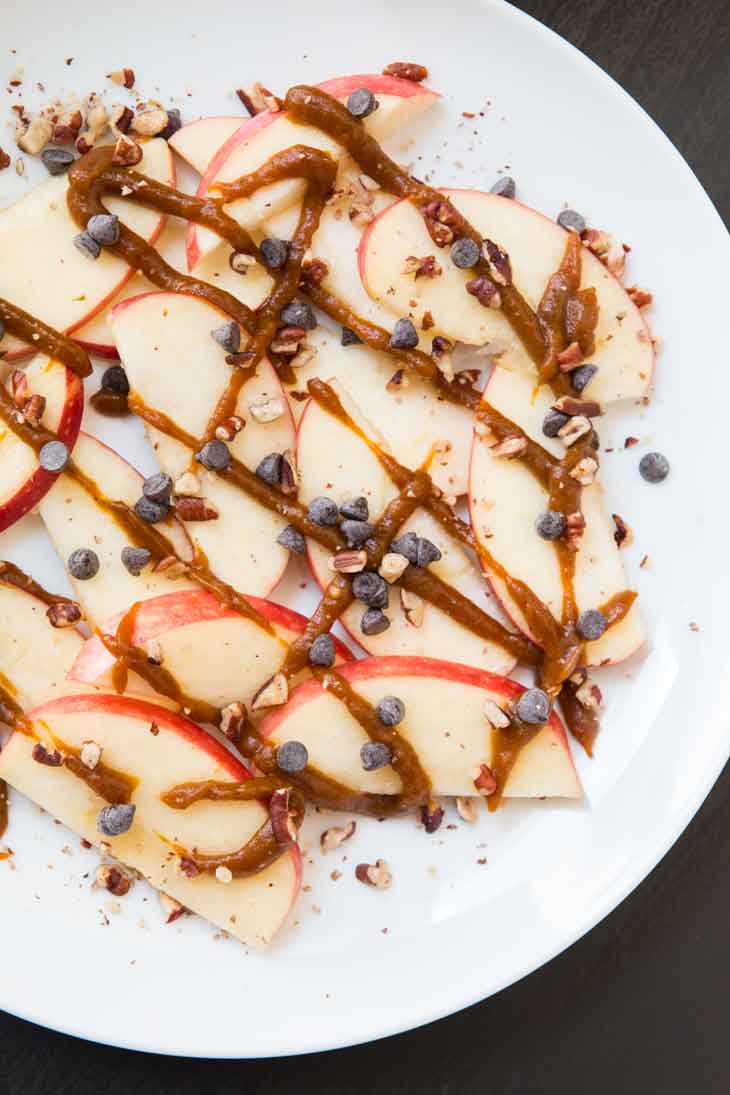 Favorite Quick & Easy Holiday Desserts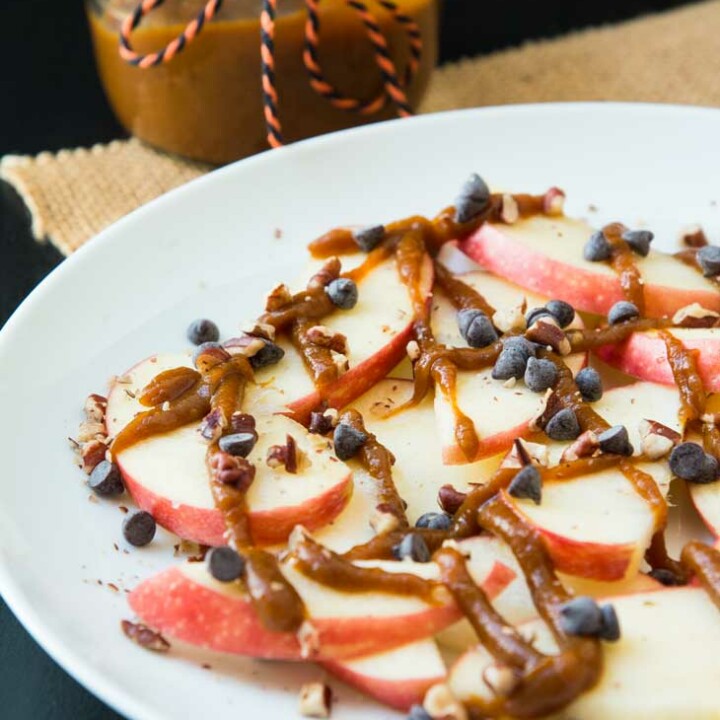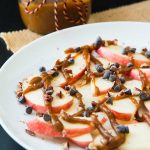 Print
Apple Nachos with Pumpkin Butter
If you want a quick and easy vegan dessert, indulge in a plate of Apple Nachos! Take it for a potluck, or serve it up for breakfast, snack, or dessert! Everyone will love it, and it's a fun way to serve up fruit!

Servings:
3
servings (snack size)
INSTRUCTIONS
Separate and arrange the thinly sliced green apples on a plate.

Drizzle on the pumpkin butter. If the pumpkin butter was made ahead of time and refrigerated, allow it to come to room temperature so that it's easier to drizzle. Or simply re-heat a little so it's pour-able.

Top with chopped pecans and chocolate chips.
NOTES
Apples - I prefer to use green apples for this recipe (even though the photographs show red apples). The tartness of green apples pairs well with the sweetness of the pumpkin butter and chocolate chips.
Chocolate - Instead of solid chocolate chips, you can also melt the chocolate and drizzle it over so that it sticks to the apples.
Get creative with additional toppings such as shredded coconut, etc.!
NUTRITION
Calories:
226
kcal
|
Carbohydrates:
26
g
|
Protein:
2
g
|
Fat:
14
g
|
Saturated Fat:
5
g
|
Sodium:
1
mg
|
Potassium:
209
mg
|
Fiber:
4
g
|
Sugar:
17
g
|
Vitamin A:
3175
IU
|
Vitamin C:
9
mg
|
Calcium:
54
mg
|
Iron:
2.1
mg