You can enjoy ALL the ranch you want with this dairy-free ranch dressing recipe! Only 1-bowl, easy, healthy, vegan, made with whole ingredients, and so much better than any store-bought ranch dressing!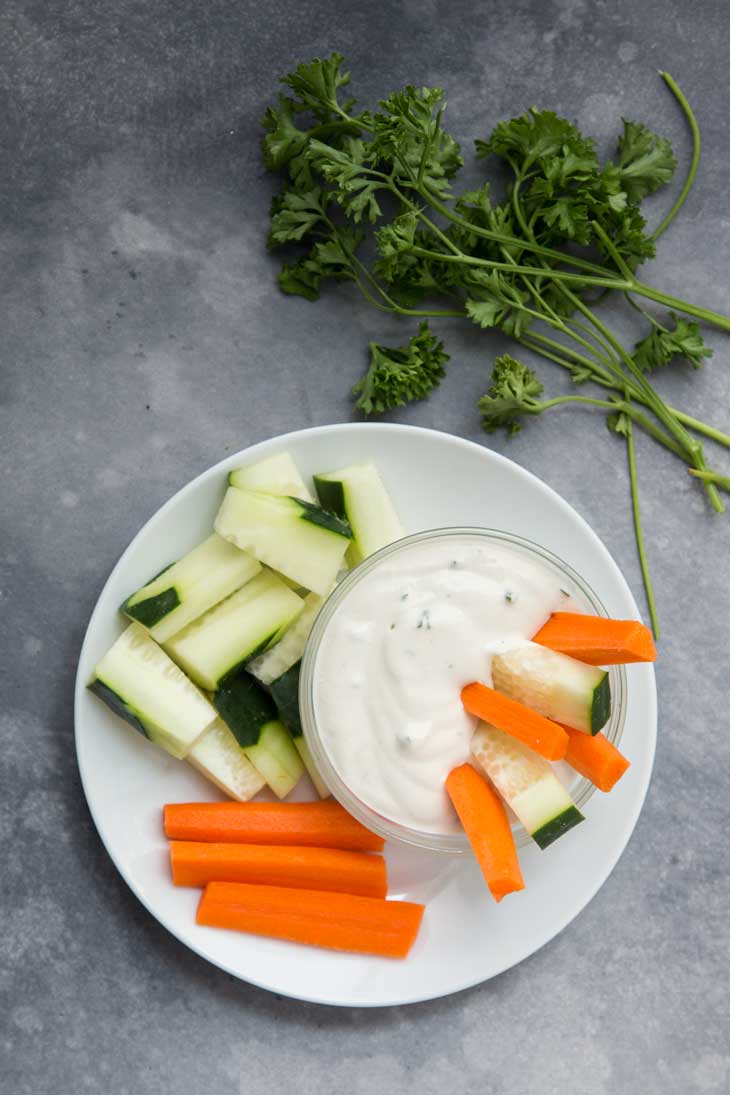 This recipe was originally published on 11/29/2015.
This easy dairy-free ranch dressing tastes SO much better than any store-bought version I've ever had.
It's also full of clean, whole food ingredients so you can dip and drizzle away to your heart's content! We love using it as a dip with veggies or pizza, drizzling it on salads or tacos, or using it as a spread for burgers!
Ranch Dressing & Me
Ranch dressing and I go way back. I'd even go as far as to say we have a history together, and it goes something like this…
Growing up, ranch dressing was one of my favorites and the only way I'd eat raw veggies or a salad.
During college, I enjoyed Ranch with zucchini fries and late-night cheesy breadsticks in the dorms while studying.
About halfway through college, I gave up eggs, and using Ranch as a dipping sauce was one of the last and hardest things to let go (yes…even harder than a cookie).
My husband (BF at the time), used store-bought Cucumber Ranch Dressing since it was the only flavor that was eggless, but it didn't quite taste the same.
But a few years into our marriage, I convinced him to stop buying the store-bought Cucumber Ranch because of all the processed ingredients and how unhealthy it was.
…and then I went vegan.
I started to crave that creamy, subtle herb, slightly tangy flavor. And my love for Ranch came back. So much so, that I had to create my own healthy vegan version. After experimenting with a few different ingredients, I fell in love with this delicious Dairy-Free Ranch Dressing Recipe!
Is Ranch Dressing Vegan?
Traditional ranch dressing usually includes ingredients like buttermilk, sour cream, and/or mayonnaise. So no…most store-bought ranch dressings are not vegan.
You could technically swap the ingredients for store-bought vegan substitutes, but I still love this ranch recipe over all others because it avoids the use of preservatives and tastes exactly like the ranch dressing I grew up with!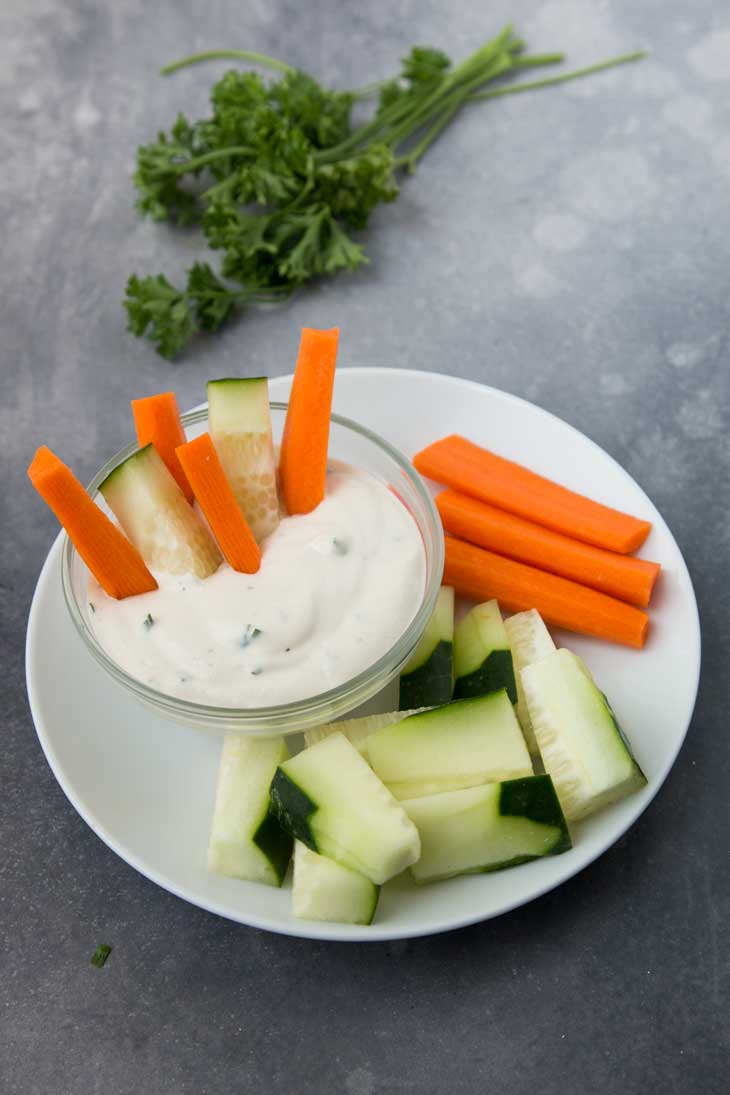 Is Ranch Dressing Healthy?
Have you ever looked at the ingredients in ranch dressing at the store? It's full of dairy, unhealthy fats, processed ingredients, and fillers. Not very healthy in my opinion.
But when you create a healthy vegan ranch dressing made with whole foods, that is just as creamy and tastes exactly like the store-bought versions you grew up with…then dip away!
Vegan Ranch Dressing Made With Whole Foods
This vegan dressing is an 8-ingredient, 1 blender, easy recipe that's made with ingredients you already have on hand. It really doesn't get easier than this.
I tried using vegan mayo or tofu as the base for this recipe, but the taste just didn't cut it.
So cashews it was! Blended cashew cream makes for the perfect neutral non-overpowering flavor and texture. This base combined with a few other ingredients makes for an ultra-creamy, but not heavy, tangy, herbal flavor that makes Ranch so irresistible!
Base – cashews
Acid – apple cider vinegar & lemon juice
Fresh herbs – parsley & cilantro
Spices – onion & garlic powder
I even love throwing in a small piece of cucumber if I can to take it up a notch!
How To Make Dairy Free Ranch Dressing – Step by Step
Once you see how easy this recipe is, you'll be making a batch or two every week!
Add all the ingredients, except for the fresh herbs, into a blender.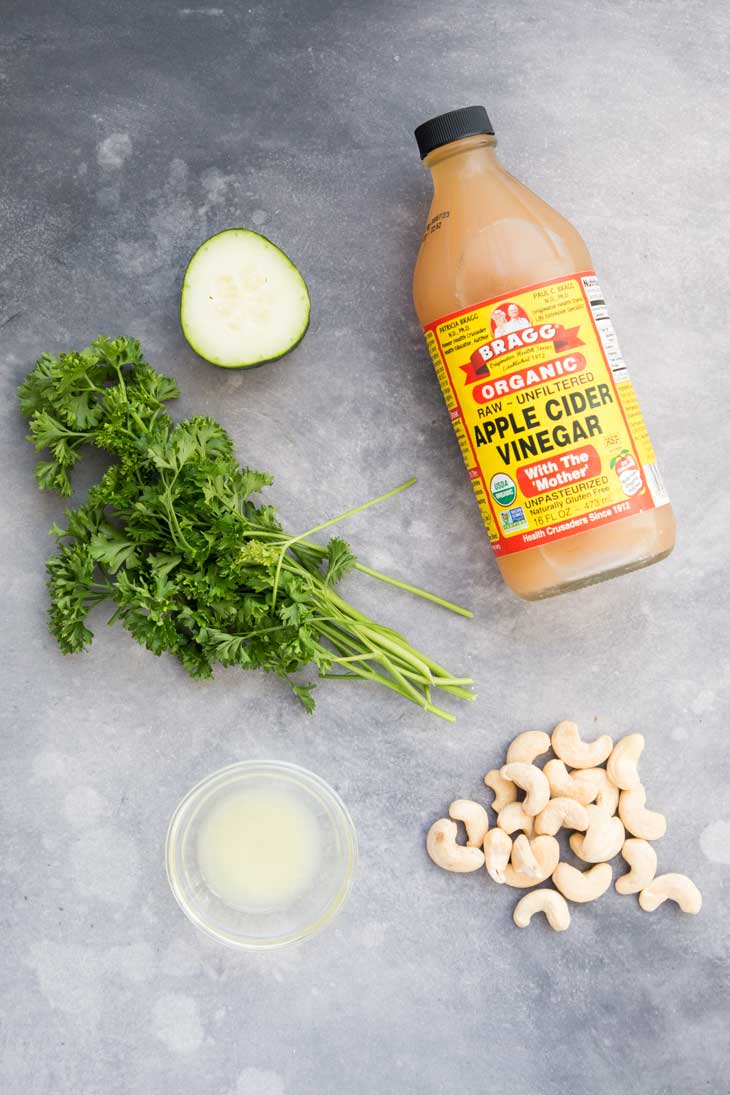 If you're using a powerful blender such as a Vitamix, you do not need to pre-soak the cashews. Otherwise, soak and drain the cashews before placing them in the blender.
Blend until completely smooth and creamy.
Add the chopped fresh cilantro and parsley, season to taste with salt, and freshly ground black pepper.
Make double the batch and store it in the fridge for a few days.
Ideas For Using Vegan Ranch Dressing
Using this dairy free vegan ranch dressing will be easy! The hard part is making sure you have enough, so make sure to double the batch! Here are a few of my favorite ways to use this creamy vegan sauce:
Use it as a dip for veggies, fries, etc.
Spread it onto your favorite sandwich or burger
Drizzle it on pizza or tacos
Use it as it was originally intended…an awesome vegan salad dressing!
My favorite recipes to pair with this vegan ranch:
Are you looking for more easy sauces? Check out my Spicy Roasted Red Pepper Sauce, Green Peruvian Sauce, Creamy Cilantro Tahini Sauce, or Sweet Jalapeno Lemon Cream Sauce.
If you liked this Pineapple Kale Smoothie Recipe or any other recipe on the blog, please consider rating it with the star rating system and leave a comment below! I love hearing from you and seeing your delicious re-makes! You can tag and FOLLOW ME on INSTAGRAM @vegetariangastronomy. Or you can help me spread the word about my recipes on PINTEREST and FACEBOOK!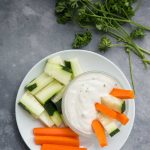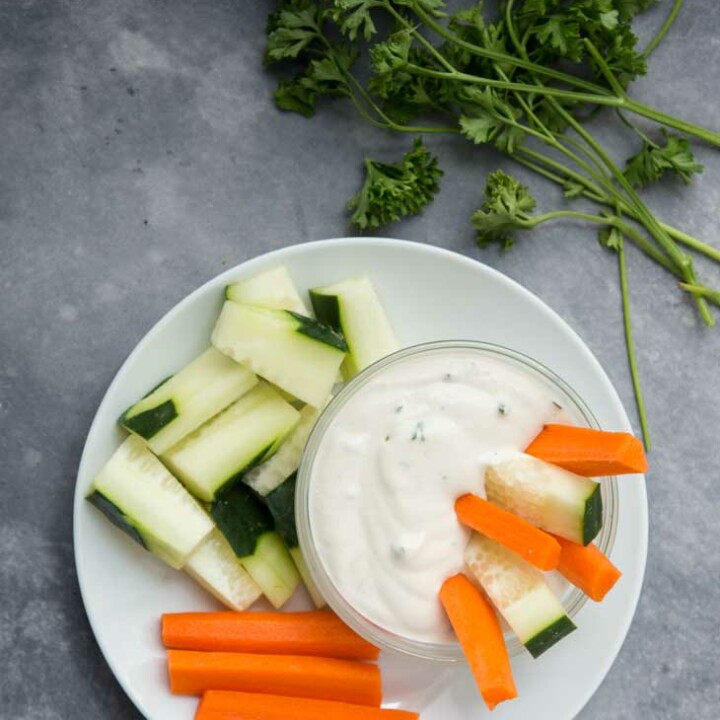 Print
Healthy Dairy-Free Ranch Dressing (Vegan)
You can enjoy ALL the ranch you want with this vegan, clean, "better than store-bought" cucumber ranch dressing!
Servings:
4
servings (makes 1 cup total)
INGREDIENTS
1/2

cup

raw cashews

, soak for 3-4 hours in water if not using a powerful blender

1/4

cup

water

1

tbsp

apple cider vinegar

1/2

teasp

lemon juice

1/2

teasp

onion powder

1/4

+ 1/8 teasp salt

, adjust based on taste

1

clove

garlic

2

tbsp

Persian cucumber

, (optional) or any cucumber chopped

1

tbsp

fresh cilantro

, finely chopped

1/2

tbsp

fresh parsley

, finely chopped
INSTRUCTIONS
If you had to soak your cashews, drain them.

Place the cashews along with the other ingredients, EXCEPT the chopped cilantro and parsley, into a blender (I used my Vitamix, but any blender will work.).

Blend until completely smooth. Taste and feel free to adjust the amount of lemon juice and/or salt if needed.

Empty the contents of the blender into a bowl. Mix in the finely chopped parsley and cilantro.

Chill and store in the fridge until ready to use. Drizzle over salads, use as a dipping sauce, or spread on your favorite sandwich!
NOTES
Cashews – You do not need to soak the cashews if you are using a powerful blender such as a vitamix. Simply blend on high until the dressing gets nice and creamy. If you do not have a powerful blender, this recipe will still work just fine, as long as you soak the cashews for 3-4 hours prior to blending to ensure creaminess.
Cucumber – I love the added taste cucumbers bring to this recipe, but you can just as easily omit the cucumbers.
Batch Size – depending on the size of your blender container, you may need to make twice the batch to make sure that the cashews fully blend into a creamy smooth dressing.
NUTRITION
Calories:
93
kcal
|
Carbohydrates:
5
g
|
Protein:
3
g
|
Fat:
7
g
|
Saturated Fat:
1
g
|
Sodium:
3
mg
|
Potassium:
117
mg
|
Sugar:
1
g
|
Vitamin A:
40
IU
|
Vitamin C:
1.1
mg
|
Calcium:
6
mg
|
Iron:
1.1
mg