Fresh citrus-flavors, coupled with colorful peppers, crispy tofu, green onions, and sesame seeds. This Thai-inspired orange tofu stir-fry is a one-pot, healthy, vegan, gluten-free dish that's become a weeknight favorite in our house!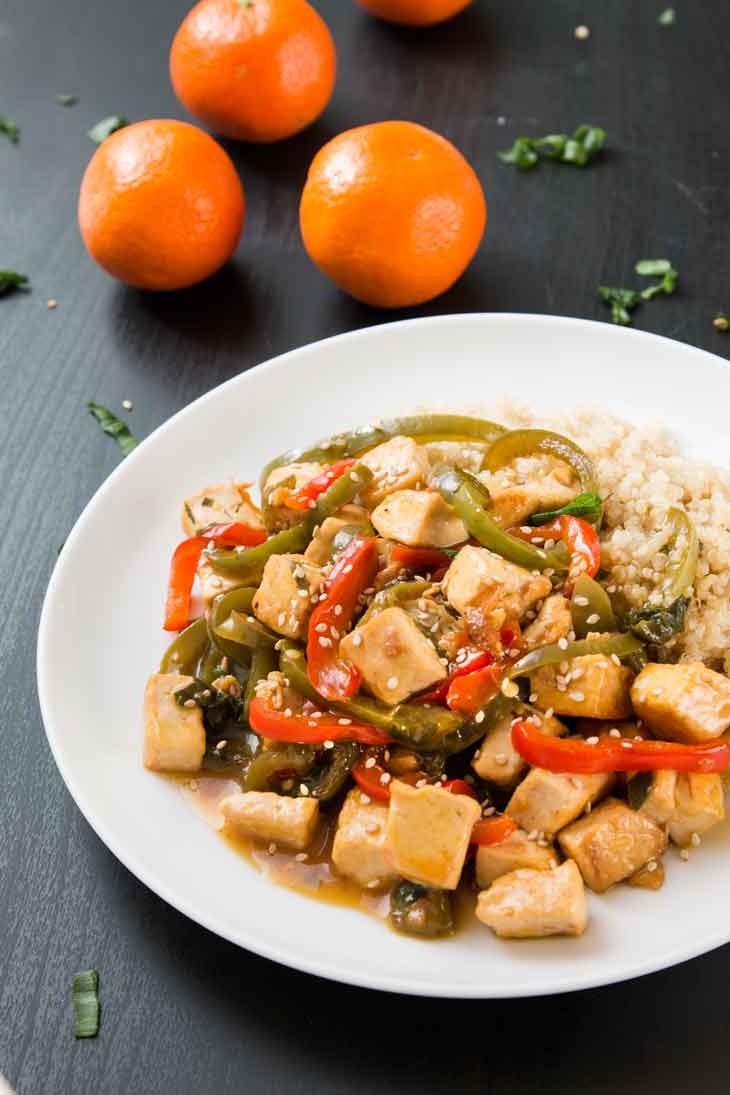 Out of all the different types of dishes that I cook and develop, I'd have to say that my favorites are the Thai-inspired ones. I use the word "Thai-inspired" because I don't claim to be an expert on Thai cuisine…these recipes are my own twist on favorites.
The key to a great Thai dish is a perfectly balanced sauce combination…sour, sweet, salty, & sometimes bitter, all at the same time.
I love trying to re-create or come up with new twists on dishes I've enjoyed in restaurants. And by now, I have a good grasp on working with a base set of ingredients to create that perfect combination to pour over veggies, tofu, noodles, and/or rice.
In order to keep my recipes simple and easy, most of the sauce ingredients are pantry-ready with a few variations to get the flavor profile I'm looking for.
With that in mind, I'd like to introduce you to this creation…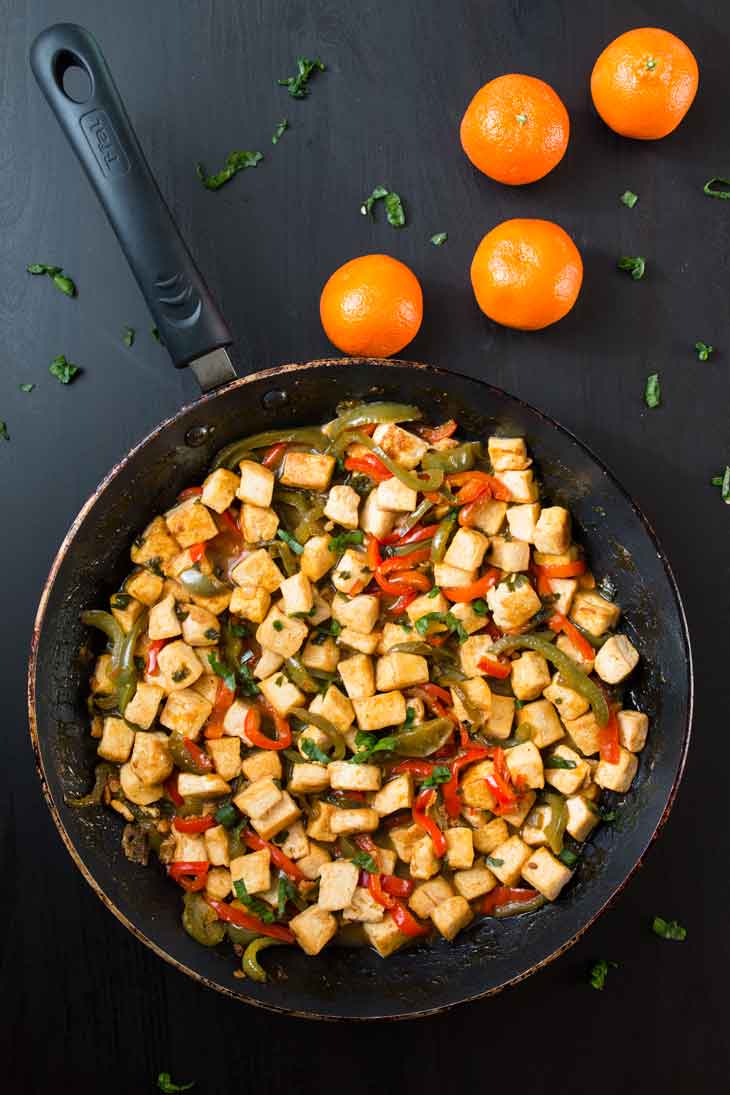 Orange Tofu Stir-Fry with Peppers
There's really no better way to enjoy home-grown oranges than eating them straight or making fresh orange juice. But when you're a food blogger and have a surplus of home-grown oranges (even after dropping some off to friends and neighbors), there's only one thing you can do…start creating recipes!
…and that's exactly what I did. Paired freshly squeezed orange juice and a few other ingredients to come up with this delicious citrus-y Thai-inspired orange tofu recipe.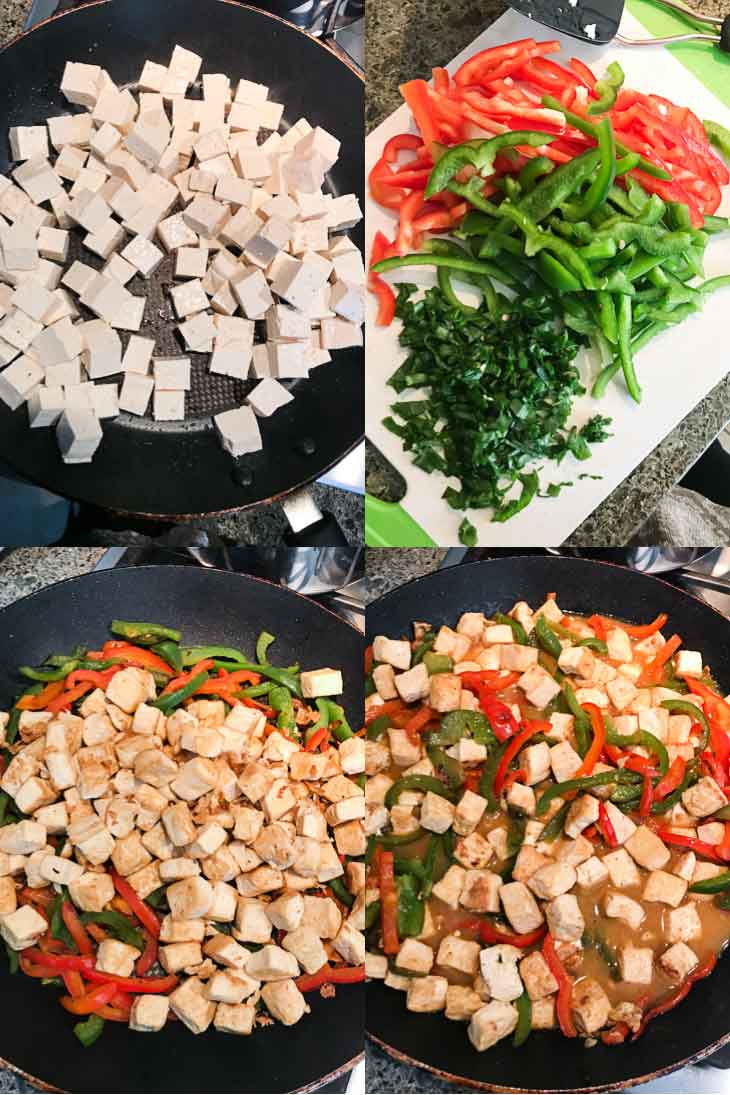 Instead of throwing in a ton of veggies, I used red and green bell peppers to compliment that orange flavor. If you don't have home-grown oranges pouring out of your house or it's not orange season, you can easily use store-bought orange juice (see recipe notes). Add some fresh green onions and sprinkle on some sesame seeds, and you have yourself this gorgeous mouth-watering orange tofu dish!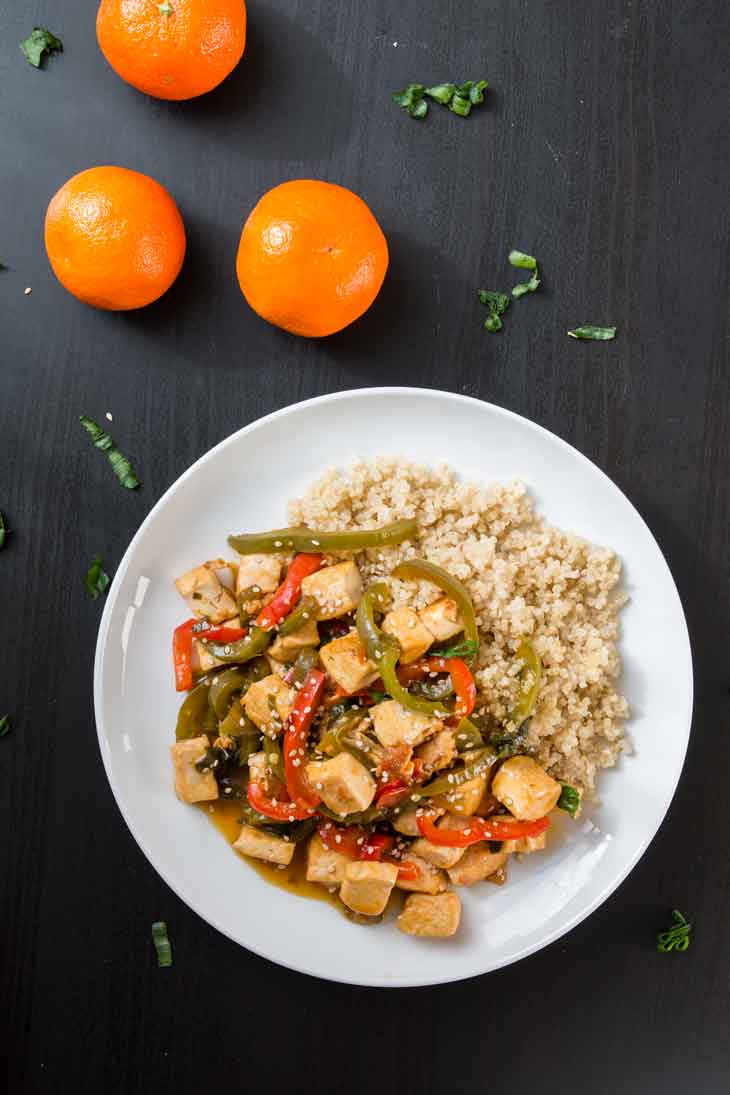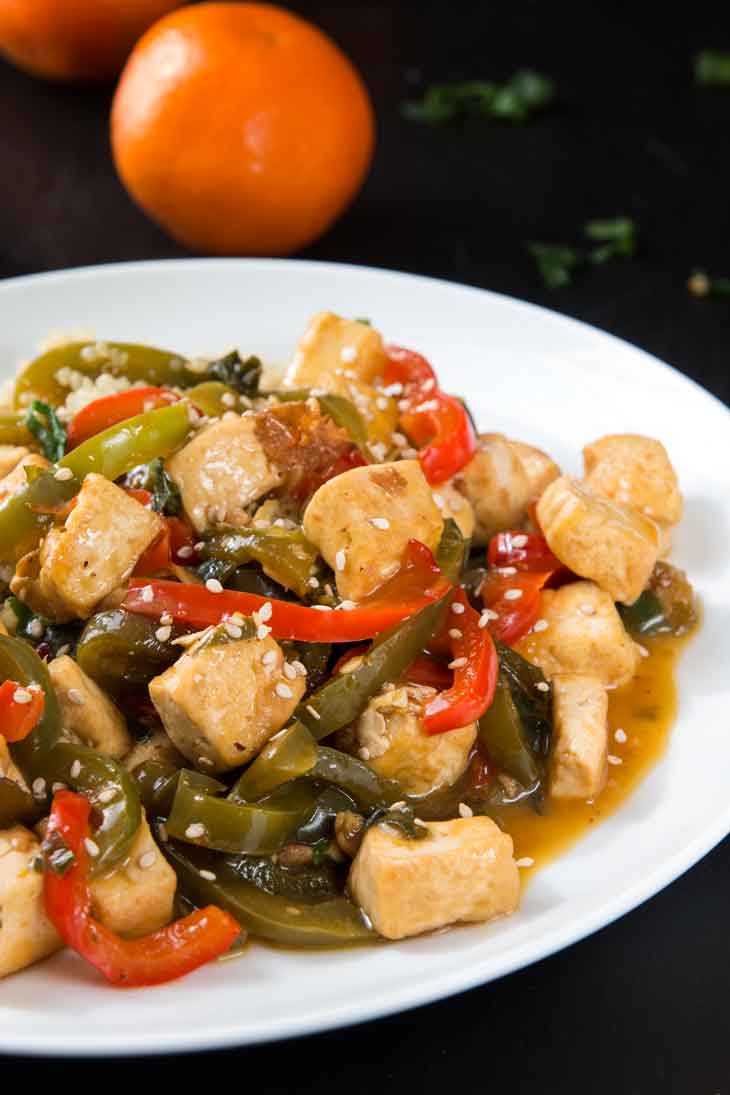 My entire family loves Thai food, and this is yet another favorite to add to our meal rotations (and hopefully yours as well). Looking to make more of your own vegan Thai dishes at home? Or need another vegan tofu recipe? Check out any of these favorites below!
Easy Thai Pra Ram Recipe (Peanut Butter Sauce)
Stir-Fry Cauliflower "Rice" with Tofu & Veggies
Thai Flat Rice Noodles
Thai Basil Eggplant
Teriyaki Tofu with Asparagus
Sweet Chili Lime Tofu
Garlic Pepper Tofu
Sweet & Sour Tofu with Vegetables
And for those of you looking to use up those oranges, check these orange-based recipes out!
Orange Julius Popsicles
Orange Blueberry Vanilla Overnight Oats
Dark Chocolate Covered Dates Stuffed with Orange Coconut Cream
Tropical Creamy Soft Serve
Orange Coconut Blueberry Green Smoothie
Have you tried any of my other Thai recipes? If so, which one do you like the most? Or which Thai dish would you like to see me re-create? Let me know in the comments below!
If you like this recipe or post, be sure to leave a comment and use the rating field! You can also tag me on Instagram with any re-makes, @vegetariangastronomy so I don't miss it, as I love sharing them on Re-Make Fridays! Or you can help me spread the word about my recipes on Pinterest and Facebook!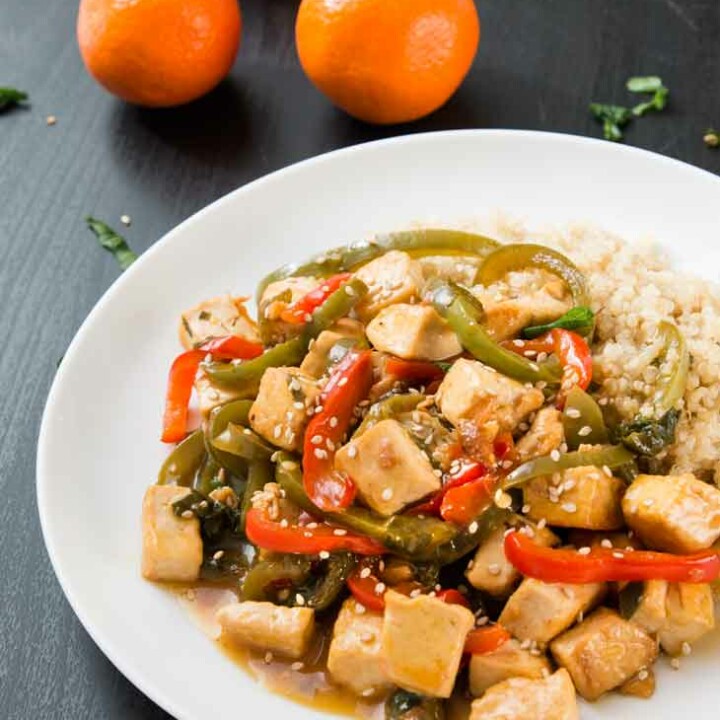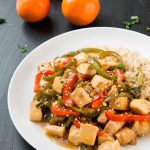 Print
Orange Pepper Tofu (vegan, gluten-free)
Fresh citrus-flavors, coupled with colorful peppers, crispy tofu, green onions, and sesame seeds. This Thai-inspired orange tofu stir-fry is a one-pot, healthy, vegan, gluten-free dish that's become a weeknight favorite in our house!

INGREDIENTS
28

oz.

firm tofu

, about 2 blocks tofu

1

large

red bell pepper

1

large

green bell pepper

1/4

cup

green onions

, finely chopped

chili sauce

, such as Huy Fong Garlic Chili Sauce

2

tbsp

cooking oil

cooked brown rice

, or cooked quinoa
INSTRUCTIONS
To Prepare the Tofu:
Cut each block of tofu in half. Place each half in 2 clean paper towels one at a time and gently press/squeeze to remove excess stored liquid (without breaking up the tofu).

Cut the tofu into 1/2-inch cubes and pan fry on medium-high heat with

2 tbsp

oil. Gently Mix and turn frequently until all the water is burned off and the tofu is lightly golden brown on most sides (be sure not to burn the tofu). If you find that the tofu is sticking to the pan, add a little more oil.

Once done, set aside. While the tofu is cooking, slice the bell peppers (as indicated below).
To Prepare the Dish:
Wipe down the same pan with a wet paper towel to re-use.

Thinly slice the bell pepper (note, depending on the length of the bell pepper, you may need to cut the thinly sliced bell peppers in half once more.

In the same pan as above, heat

1/2 tbsp

oil on medium heat. Add the sliced bell peppers and saute until cooked and tender, but still remain crispy. In the meantime, prepare the sauce below.

To prepare the sauce, whisk all the sauce ingredients in a bowl or measuring cup. Depending on how sweet your orange juice is, you may need to adjust the amount of maple syrup accordingly (I used freshly squeezed orange juice which was very sweet).

Once the bell peppers are done, add the pan-fried tofu back into the pan. Keep the heat on low-medium.

Add in the prepared sauce and toss with the peppers and tofu.

Add the chili sauce for an added level of heat/spice.

Mix slowly on medium-low heat until the sauce starts to thicken and coat the peppers and tofu. Be sure not to burn off all the sauce. Once done, the peppers and tofu should be marinated and coated with the sauce, and the sauce remaining should be thickened.

Turn off the heat and add the chopped green onions. Sprinkle on some white sesame seeds. Toss once more and serve hot over some cooked brown rice or quinoa.
NOTES
Nutritional Information - does not include cooked brown rice or quinoa.
NUTRITION
Calories:
219
kcal
|
Carbohydrates:
25
g
|
Protein:
11
g
|
Fat:
8
g
|
Saturated Fat:
4
g
|
Sodium:
555
mg
|
Potassium:
550
mg
|
Fiber:
1
g
|
Sugar:
17
g
|
Vitamin A:
1125
IU
|
Vitamin C:
88.7
mg
|
Calcium:
75
mg
|
Iron:
2
mg