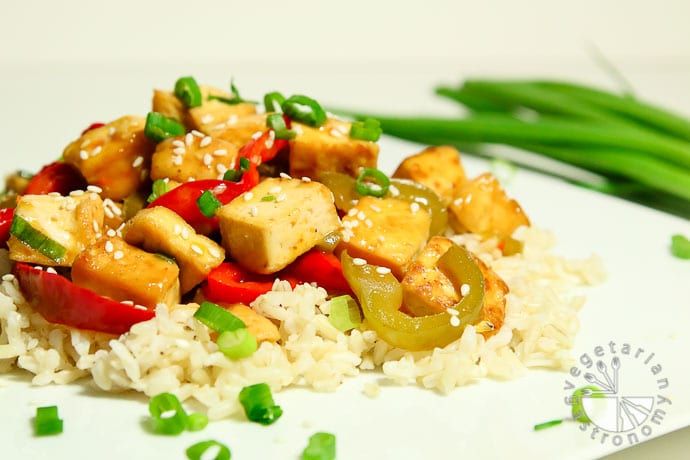 Before I dive into this post and introduce my newest creation, I just wanted to take a minute to make two quick announcements. First off, I've updated my ABOUT page. There's some new information in there, including an exciting announcement about a recent change to my diet (in case you haven't already noticed the change from my posts and social media). I'll let you head on over to find out =) Secondly, several people have been unable to SUBSCRIBE to my site for FREE via email in order to get weekly recipes sent straight to their inbox.  I'm in the early stages of making changes to my site, and realize that my subscribe box in not in an ideal location.  If you haven't yet subscribed to my site and wish to do so, please simply type your email in the box below. You will get an email asking you to confirm your subscription.  You'll never again miss a single one of my recipes! Thank you!
And now onto this delicious and flavorful dish!
Out of all the different types of cuisines I love, I'd have to say that one of my favorites is Thai inspired dishes. I'm constantly trying to re-create or come up with new added twists to traditional dishes I've enjoyed in restaurants. In fact, my most POPULAR recipe is the Thai Basil Eggplant!
With that in mind, I would like to introduce you to my newest creation… Orange Pepper Tofu! By now, I've created enough Thai inspired dishes to know the set of ingredients I love, and how to work them together to get that perfect sauce combination to pour over some veggies and tofu. As always, I try to keep the sauce ingredients pretty basic and pantry-ready.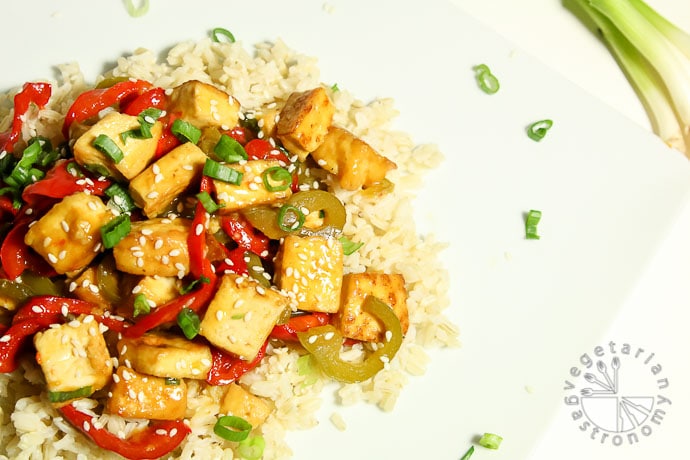 For this recipe, I threw in some of my freshly squeezed orange juice (yes…this is yet another recipe created from the plethora of delicious, sweet, home-grown large navel oranges we had a few weeks back) and developed the flavors around that orange taste. Instead of throwing in a ton of veggies, I decided to simply add some red and green bell peppers to compliment that orange flavor. The results was this gorgeous mouth-watering Orange Pepper Tofu! We all loved the dish served over some warm rice. The kids enjoyed it without the spice, and they were excited since they saw me use some of the orange juice they had freshly squeezed earlier that day (they love using the citrus juicer to make fresh orange juice). Yet another favorite to add to my list (and hopefully yours as well)…
I'm curious, to those of you who have been following , which one of my Thai dishes do you like the most? Let me know in the comments below!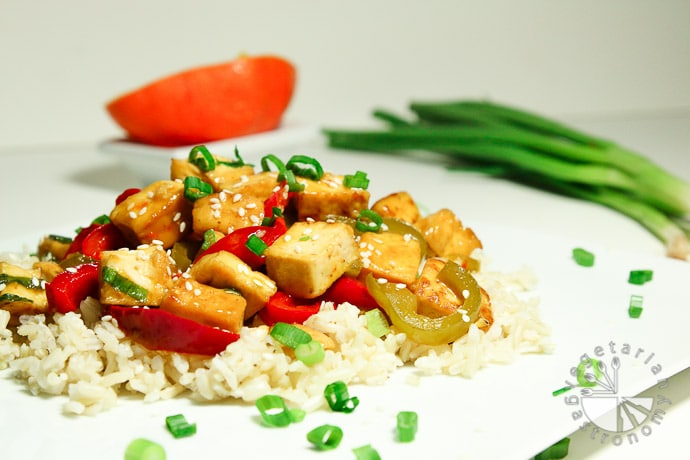 It's always wonderful to hear from my readers and followers in the comment section below. So if you make this recipe or even simply like the idea of the recipe, I'd love to hear from you. It's also a great way for me to get feedback so that I know how you like the recipes, whether you are eating or making them.  You can give any feedback below, or you can also tag me on Instagram if you make one of the recipes @vegetariangastronomy , #vegetariangastronomy, so I don't miss it.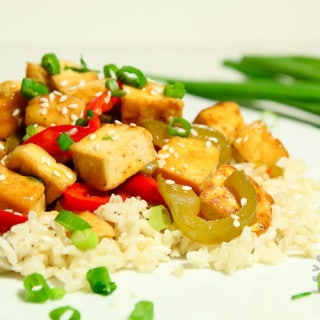 Orange Pepper Tofu (vegan, gluten-free)
Make this restaurant favorite at home! Fresh citrus flavors, one-pot, and a perfect weeknight meal!
Recipe Type:
Gluten-Free, Thai, Vegan
Ingredients
28

oz.

Blocks Firm Tofu

, about 2 blocks tofu

1

large

red bell pepper

1

large

green bell pepper

1/4

cup

green onions

, finely chopped

chili sauce

, such as Huy Fong Garlic Chili Sauce

2

tbsp

cooking oil

cooked brown rice

, or cooked quinoa
Instructions
To Prepare the Tofu:
Cut each block of tofu in half. Place each half in 2 clean paper towels one at a time and gently press/squeeze to remove excess stored liquid (without breaking up the tofu).

Cut the tofu into 1/2-inch cubes and pan fry on medium-high heat with 2 tbsp oil. Gently Mix and turn frequently until all the water is burned off and the tofu is lightly golden brown on most sides (be sure not to burn the tofu). If you find that the tofu is sticking to the pan, add a little more oil.

Once done, set aside. While the tofu is cooking, slice the bell peppers (as indicated below).
To Prepare the Dish:
Wipe down the same pan with a wet paper towel to re-use.

Thinly slice the bell pepper (note, depending on the length of the bell pepper, you may need to cut the thinly sliced bell peppers in half once more.

In the same pan as above, heat

1/2 tbsp

oil on medium heat. Add the sliced bell peppers and saute until cooked and tender, but still remain crispy. In the meantime, prepare the sauce below.

To prepare the sauce, whisk all the sauce ingredients in a bowl or measuring cup. Depending on how sweet your orange juice is, you may need to adjust the amount of maple syrup accordingly (I used freshly squeezed orange juice which was very sweet).

Once the bell peppers are done, add the pan-fried tofu back into the pan. Keep the heat on low-medium.

Add in the prepared sauce and toss with the peppers and tofu.

Add the chili sauce for an added level of heat/spice.

Mix slowly on medium-low heat until the sauce starts to thicken and coat the peppers and tofu. Be sure not to burn off all the sauce. Once done, the peppers and tofu should be marinated and coated with the sauce, and the sauce remaining should be thickened.

Turn off the heat and add the chopped green onions. Sprinkle on some white sesame seeds. Toss once more and serve hot over some cooked brown rice or quinoa.
Recipe Notes
Nutritional Information - does not include cooked brown rice or quinoa.
Nutrition Facts
Orange Pepper Tofu (vegan, gluten-free)
Amount Per Serving
Calories 219
Calories from Fat 72
% Daily Value*
Total Fat 8g 12%
Sodium 555mg 23%
Potassium 550mg 16%
Total Carbohydrates 25g 8%
Protein 11g 22%
* Percent Daily Values are based on a 2000 calorie diet.
[subscribe_box]