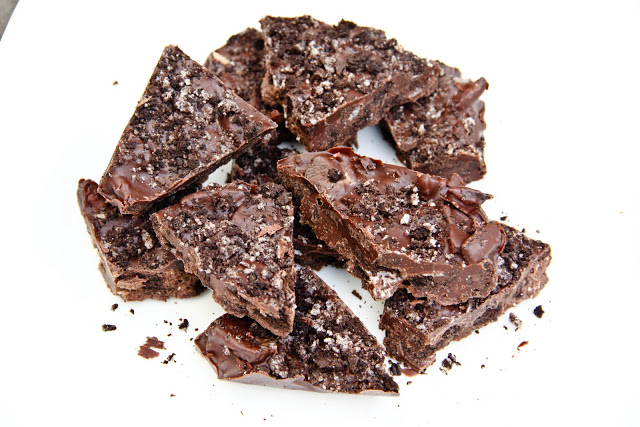 Who doesn't like Oreo Cookies combined with additional chocolate? For this years holiday party, I decided to make a variety of different dessert home-made barks. When it comes to barks, you can get as creative as you want and really add anything to a chocolate base, which once solidified, makes for a delicious piece of candy. My husband loves Oreo Cookies…I mean who doesn't right? So I decided to make a simple Oreo Chocolate bar. I made two versions: one with dark chocolate and one with white chocolate. I made a dark chocolate version because…well, it's simple…I like dark chocolate! The white chocolate version looks very pretty and festive, so I had to include it as well. The Oreo cookies added a nice crunch to the otherwise standard chocolate chips. These were a huge hit at the party, especially with the kids, and my husband of course.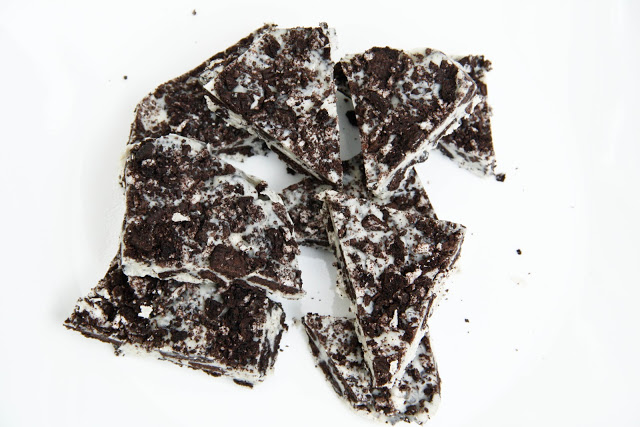 DARK & WHITE CHOCOLATE OREO COOKIE BARK:
(gluten-free, vegan)
(makes 8×8 pan of bark)
Ingredients:
10oz. chocolate chips, white or dark chocolate (vegan option: use Enjoy Life Brand Dark Chocolate)
15 regular Oreo cookies, chopped (gluten-free option: use Glutino Chocolate Vanilla Creme Cookies)
2 regular Oreo cookies, finely chopped (for topping)
8×8 baking pan
Directions:
Line a 8×8 baking pan with parchment paper or wax paper. Use enough paper to leave a 1-inch overhang on each side.
Place the chocolate chips in a double broiler* over low heat (instructions on how to setup a double broiler are listed below) and stir until the chocolate chips have melted completely.Transfer the melted chocolate to a heat proof bowl and cool for 5 minutes.
Add 15 chopped Oreo cookies to the chocolate and mix to combine. Pour the entire mixture into the 8×8 lined baking pan and spread evenly. Use a spatula to smooth out the top.
Sprinkle the 3 finely chopped Oreo cookies on top. Chill in the fridge for about 10 minutes or until the chocolate becomes solid.
Lift the whole bark off of the pan/wax paper by holding onto the paper overhang. Cut the bark into pieces with a knife or fork and Enjoy!
* To Setup A Double Broiler:
Find one medium size pot and a metal bowl. The size of these two items should be such that when the metal bowl is placed on top of the pot, the two are nested together.
Add about 2 inches of water to a saucepan and simmer on low-medium heat.
Add the chocolate chips to another metal bowl.
Set the bowl on top of the pot with the simmering water so that the two pieces nest together. Note that the bottom of the metal bowl should not be touching the simmering water when nested together.  If this happens, remove some of the water. The steam from the simmering water is being used to heat up the chocolate chips
Stir frequently until the chocolate chips are completely melted.
~ Anjali