Tired of your typical plain quesadillas? Try this fun twist with roasted poblano peppers and portobello mushrooms! A simple recipe that makes this vegan quesadilla a delicious dinner option!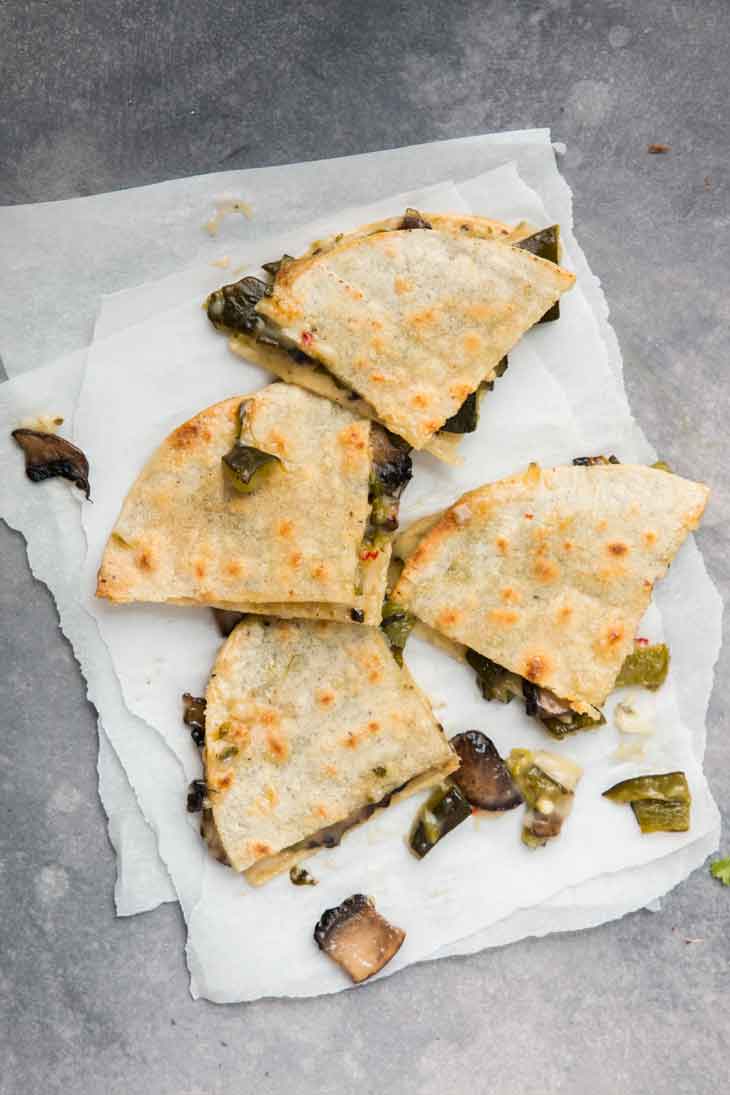 If you've ever stepped foot in a kitchen, you probably know how to make a quesadilla.
Chances are, it's one of the first things you learned how to make as a kid because it's simple. Grill up some tortilla, stuff it with your favorite cheese, and fold it over until the cheese melts!
Yep…that good old fashion cheese quesadilla. It was definitely one of my go-to meals in college and never failed to satisfy.
To be honest, I never understood people who went to Mexican Restaurants and ordered plain cheese quesadillas…no special sauce, just cheese and tortillas!
My husband was one of them…but who wants to pay money for something that's 2 ingredients and can easily be made at home??
But then, I came across the combination of mushrooms and poblanos in quesadillas. ONLY THEN…would you have caught me me ordering a quesadilla at a Mexican restaurant.
There's something about the earthy combination of roasted poblano peppers and mushrooms that has me craving them in quesadillas! And now I can easily make a vegan version at home using this recipe!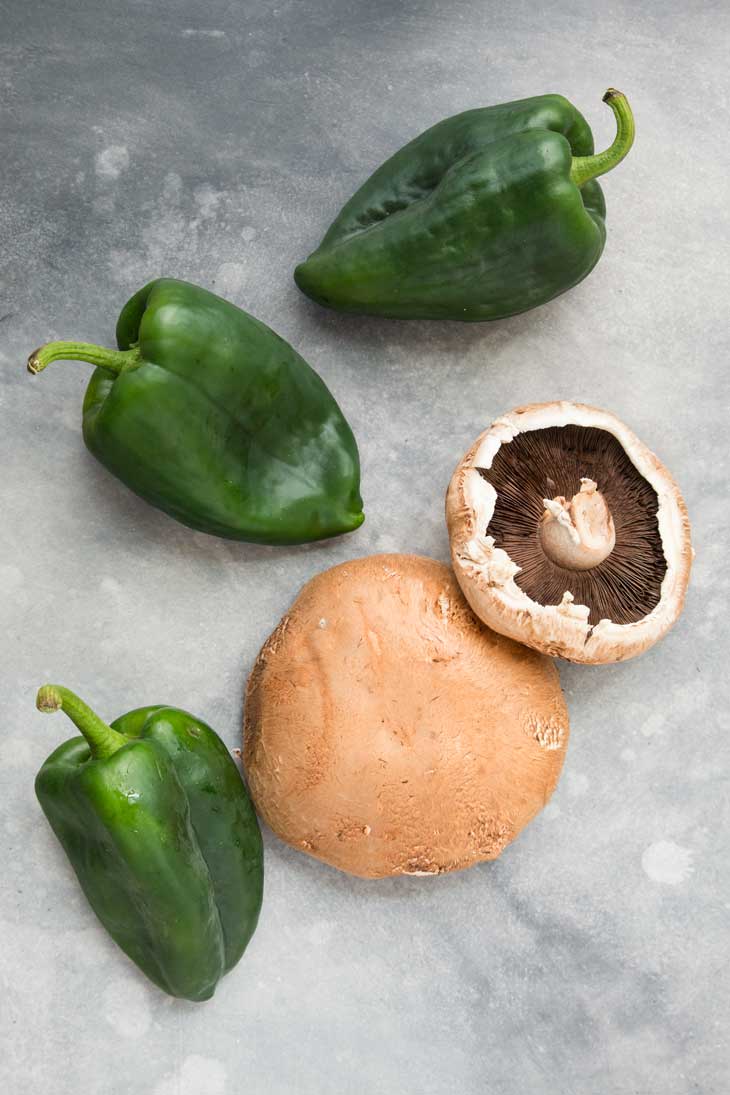 What are Poblano Peppers?
Poblano peppers (often called pastillas) are mild, green-colored chile peppers sold at most supermarkets.
Poblano peppers have thick skin and a wide base, making them perfect to stuff and roast since they'll typically hold their shape. You probably know these peppers best from chile rellenos.
When dried (and sometimes smoked), these peppers are known as ancho chili which is used in many traditional Mexican dishes.
Why Roast Poblano Peppers?
Poblano peppers are perfect for roasting since they have a tough outer skin.
Roasting brings out the fruitier flavors of the peppers and makes it easy to remove the thin outer layer of skin, which can sometimes be difficult to digest.
How To Easily Roast Poblano Peppers?
You don't need an outdoor grill or any fancy tools to roast poblano peppers.
Your oven will work perfectly. In fact, I love using my small toaster oven to roast 3-5 poblano peppers at a time! Toaster ovens are quick to heat up, and use a lot less energy.
Heat up your oven to 400 degrees.
Rub a tiny amount of oil on the poblano peppers.
Line a baking sheet with parchment paper or foil, and bake the peppers until they are roasted and slightly charred on all sides (turning ½ way through).
That's it!
Once they're done roasting, I like to place them in a bowl and cover with a towel until they're cool enough to handle. Then under running water, gently peel and wash off the top thin layer of the skin, the seeds, and stem!
Now you can slice, dice, or use them as is in a variety of different dishes!
How To Use Roasted Poblano Peppers
Once your peppers are roasted you can use them a few different ways:
Make roasted poblano grilled cheese sandwiches
Slice them up in your favorite tacos
Add them to breakfast potatoes
Add them as a topping to your favorite veggie burger
Make enchiladas
Blend them with chickpeas to make a roasted poblano hummus
Make a roasted poblano vegan Mexican rice
Lastly, my favorite way to use them…in these Roasted Poblano & Mushroom Vegan Quesadillas!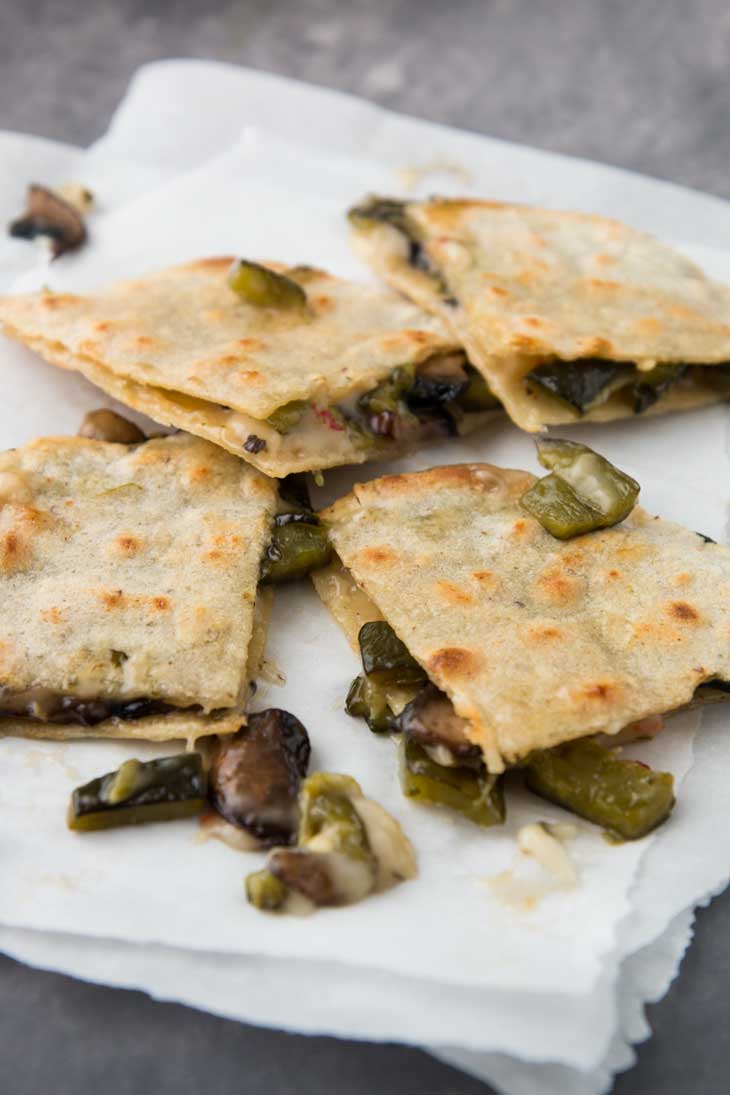 If you need a new vegan quesadilla recipe, love mushrooms and peppers, or need a quick and easy delicious Mexican dish, try out this recipe!
Before I dive into the recipe, let's talk a little about my favorite brands of vegan cheese to use for this vegan quesadilla recipe.
Which Vegan Cheese Should I Use For Quesadillas?
I've tried almost all vegan cheese brands out there and can happily say that there are some awesome vegan store-bought cheeses out there (and also some not-so-great ones).
I'll be doing a post all about store-bought vegan cheeses soon, but I've found that I like using different brands of vegan cheeses for different dishes.
Since this is a vegan quesadilla recipe, let's talk about my favorite brands of cheese to use in quesadillas:
Follow Your Heart Slices. The american, provolone, or pepper jack slices all work well with quesadillas. Tear the slices into pieces and layer into the quesadilla. They melt well and taste great. Their pepper jack is by far my favorite in quesadillas!
Chao Slices. Tear up the slices and add to quesadillas.
Daiya Cutting Board Collection. We like their new cutting board collection of cheddar and pepper jack.
For this particular recipe, I prefer the flavor of pepper jack cheese with the roasted poblano peppers & mushrooms, but any other will taste great as well!
I also love Miyoko vegan cheeses, and I had a little sneak peek this past March at something they're working on…nut-free vegan pepper jack cheese shreds! What they already had formulated tasted great, so hoping to see them out on the market sometime soon!
Vegan Quesadilla Making Tip
Add a little cheese on BOTH sides of the filling so that the cheese fully melts through and holds the quesadilla together! That way you can stuff the quesadilla with the mixture without worrying about it falling apart.
Now that I have you hooked on these vegan quesadillas, let's dive into the recipe!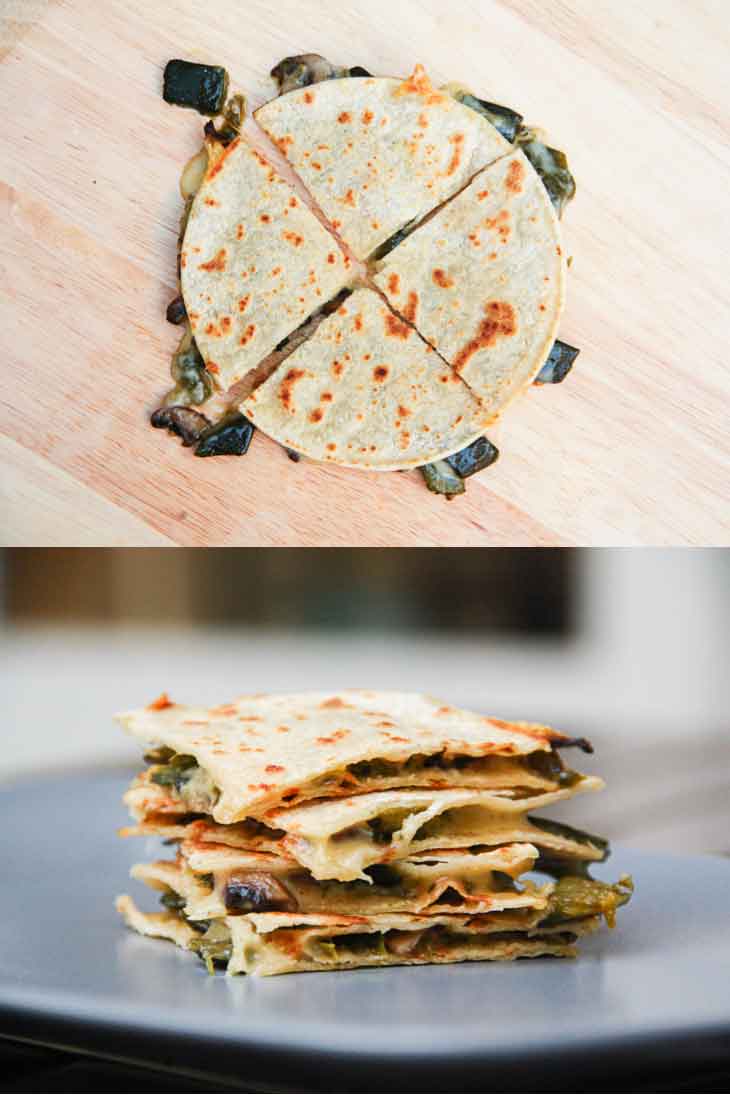 How To Make Mushroom Vegan Quesadillas – Step by Step
These vegan quesadillas are one step up when it comes to flavor, but can easily be made in under 30 minutes.
Roast the poblano peppers in the oven. Rub some oil and bake them in the oven at 400 until their skin starts to blister and char.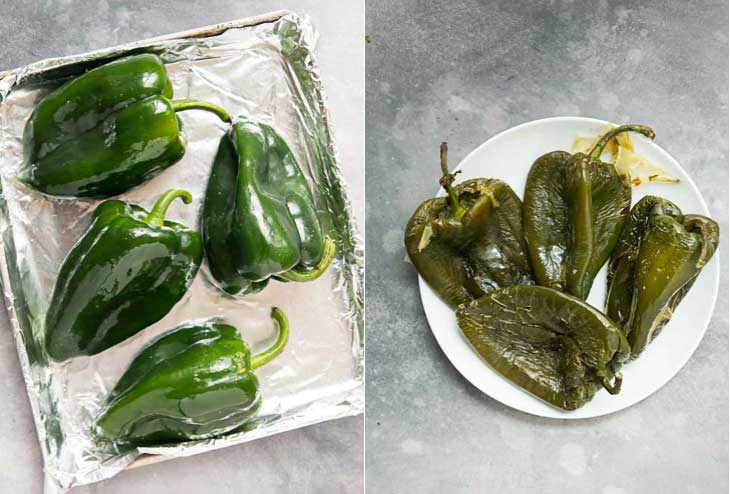 Prepare the portobello mushrooms. Slice and saute the portobello mushrooms in a non-stick pan at medium-high heat until all the water released evaporates and the mushrooms start to brown.
Remove the skin & slice the roasted poblano peppers. Remove the outer thin blistered layer of skin and seeds under running water and dice the roasted poblano pepper.
Make the poblano mushroom mixture. Add the diced poblano peppers to the sauteed mushrooms, season with salt to taste, and cook for 1-2 minutes on medium heat to combine.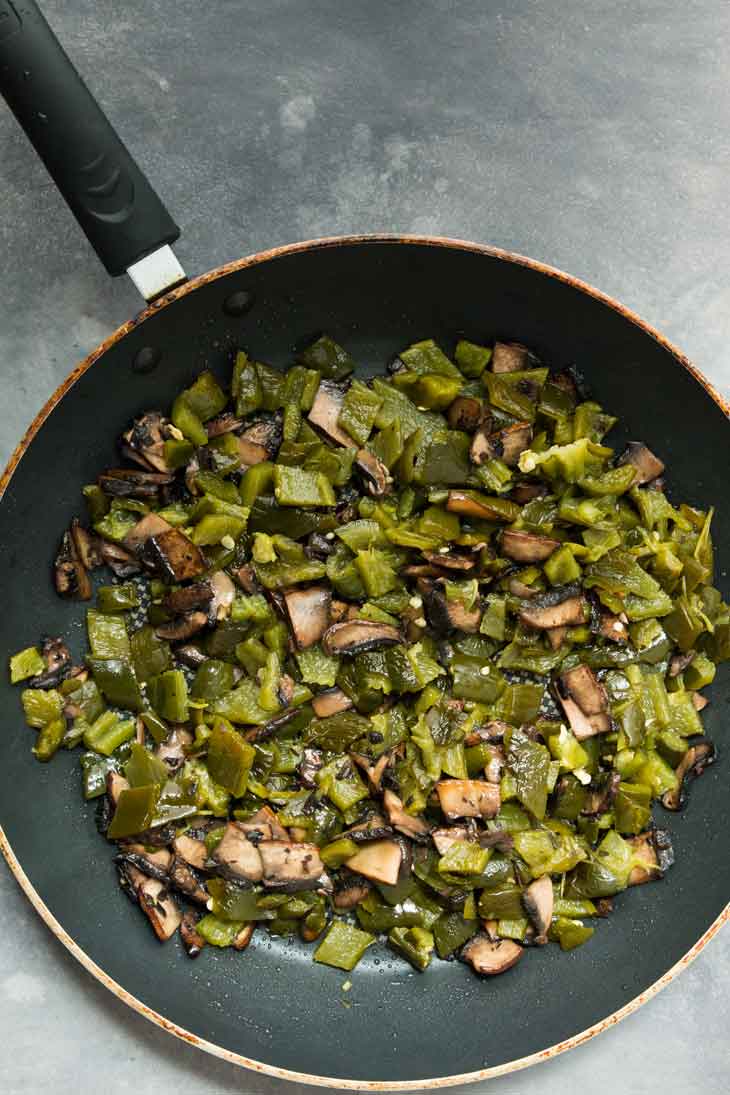 Make the vegan quesadilla. Grill your favorite tortilla on a pan with some vegan butter, add the filling, top with vegan pepper jack cheese, fold in half, and cook until the tortilla is crispy and vegan cheese has melted through. Slice and serve with your favorite hot sauce!
What is your favorite Quesadilla combination?
Need Additional Vegan Quesadilla Recipes?
Check Out These Favorite Vegan Mexican Recipes!
For all you TACO lovers out there, check out my roundup of 25 Mouthwatering Vegan Taco Recipes!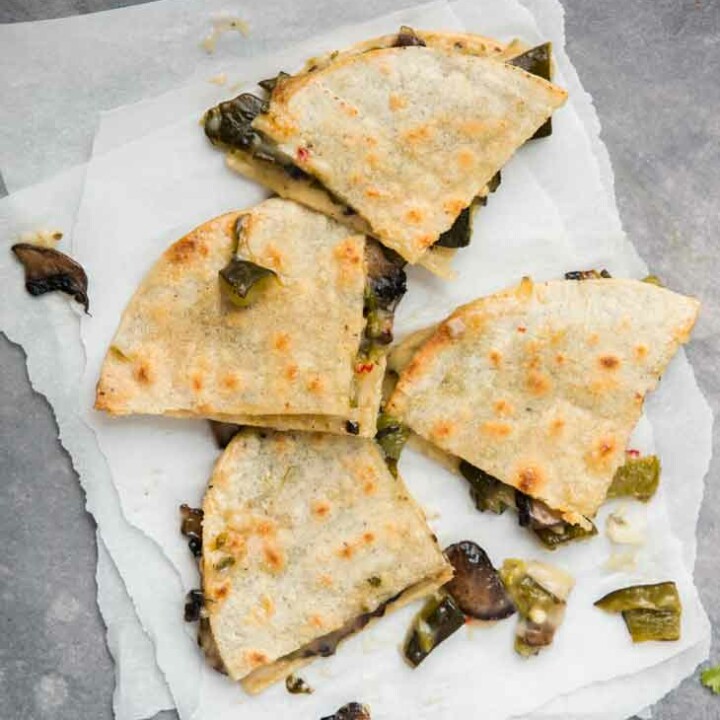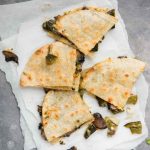 Print
Roasted Poblano and Mushroom Vegan Quesadilla
Tired of your typical plain quesadillas? Try this fun twist with roasted poblanos and mushrooms! A simple recipe that makes these a delicious dinner option!
INGREDIENTS
3

poblano chilies

2

large

portobello mushrooms

vegan cheese

, see notes below

favorite tortilla

, see notes below

salt

salsa

,Cholula or Salsa Verde
INSTRUCTIONS
To Roast and Prepare the Poblano Chiles:
Preheat the oven to 400 degrees.

Line a baking sheet with foil. Lightly rub olive oil on the surface of each poblano chile. Place them on the baking sheet and bake for 15-20 minutes until the outer skin blackens and blisters throughout. You may need to rotate them halfway through to roast them evenly.

Remove them from the oven and place them in a bowl. Cover with a kitchen towel and set aside to cool completely.

Once cooled, rub off the outer thin blackened skin under running water, carefully tearing the poblano chiles open and pulling out the seed pods and stems inside. Rinse all the seeds away.

Dice the roasted chiles and set aside.
To Prepare the Mushrooms:
Thinly dice the Portobello mushrooms into small sections.

In a large non-stick skillet, heat 2 Tbsp. olive oil on medium heat. Add the diced mushrooms and saute, mixing frequently. After a few minutes you should start to see water release from the mushrooms.

Keep cooking the mushrooms until the water has evaporated and they are roasted (slightly browned).
To Prepare the Quesadillas:
Add the roasted diced poblano peppers to the mushrooms. Add salt to taste and toss together. Turn off the heat.

In another large non-stick pan, grill some tortilla on one side using butter or oil.

On half of the tortilla, sprinkle a thin layer of shredded jack cheese, add a layer of the poblano/mushroom mixture, and end with another thin layer of cheese on top of the mixture.

Fold the tortilla in half. Press with a spatula until the cheese inside the quesadilla is melted and the tortilla is grilled on both sides. Note that you will need to flip the folded quesadilla to grill the other side.

Cut into 2 or 3 sections and serve hot with your favorite salsa!
NOTES
Make-Ahead Tip – Prepare the mushroom/poblano mixture ahead of time so all you need to do is assemble and grill the quesadillas. Alternatively, roast the poblano peppers to save oven time.
Tortilla – Use your favorite tortillas for this recipe. I prefer either corn tortilla (gluten-free option) or flour tortillas.
Vegan Cheese –
Vegan pepper jack cheese tastes the best with this recipe. I use either Follow Your Heart slices (torn into pieces), or Daiya cutting board pepper jack shreds.
I personally do not like to add too much cheese in this dish because it takes away from the flavor of the roasted poblano/mushroom mixture. Just add enough to hold the quesadilla together on both sides of the mixture.
NUTRITION
Calories:
126
kcal
|
Carbohydrates:
18
g
|
Protein:
2
g
|
Fat:
4
g
|
Saturated Fat:
1
g
|
Sodium:
189
mg
|
Potassium:
202
mg
|
Fiber:
3
g
|
Sugar:
1
g
|
Vitamin A:
165
IU
|
Vitamin C:
35.9
mg
|
Calcium:
38
mg
|
Iron:
0.8
mg