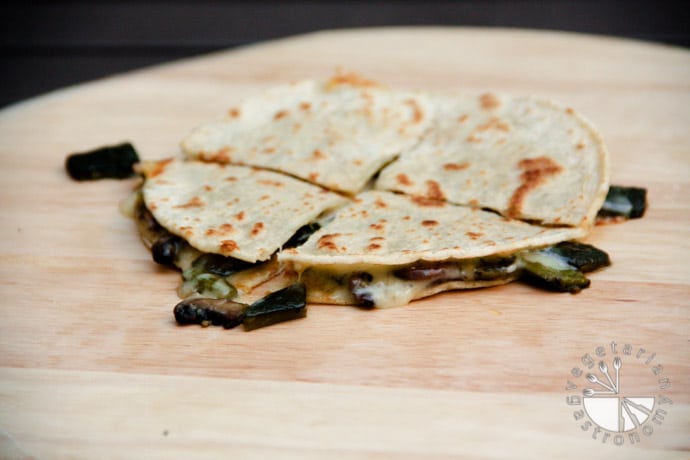 Normally I would never order a cheese quesadilla at a Mexican restaurant. The only exception is when they have poblano peppers and mushrooms stuffed inside! Whenever I see this on a restaurant menu, you can bet I'm ordering it!
I had bought some Poblano Peppers intending to make Poblano Cream Sauce Enchiladas, but ended up not having the time. Not wanting the peppers to go to waste, I immediately thought of roasting them alongside some portabello mushrooms and stuffing them into a quesadilla. Having roasted Poblano Peppers many times in the past, I knew it was really easy to do and very fast! That day I bought some Jack Cheese and prepared one of my favorite combinations at home…Roasted Poblano and Portabello Mushroom Quesadillas!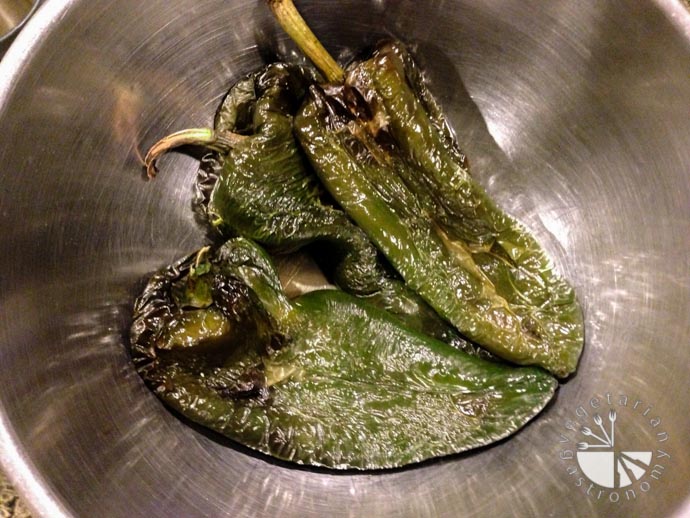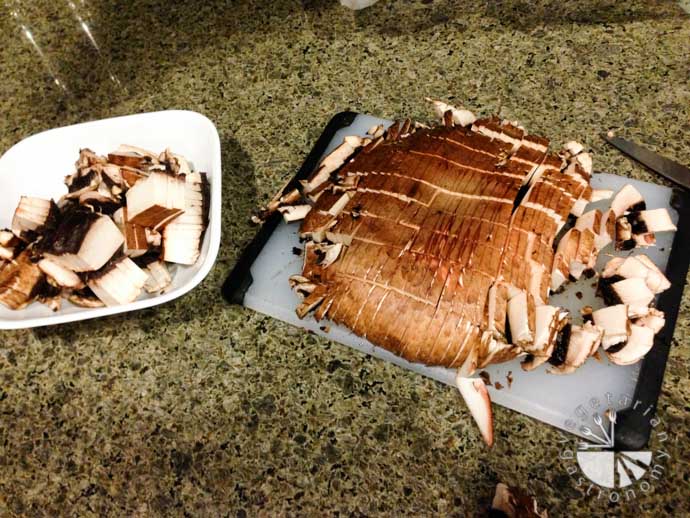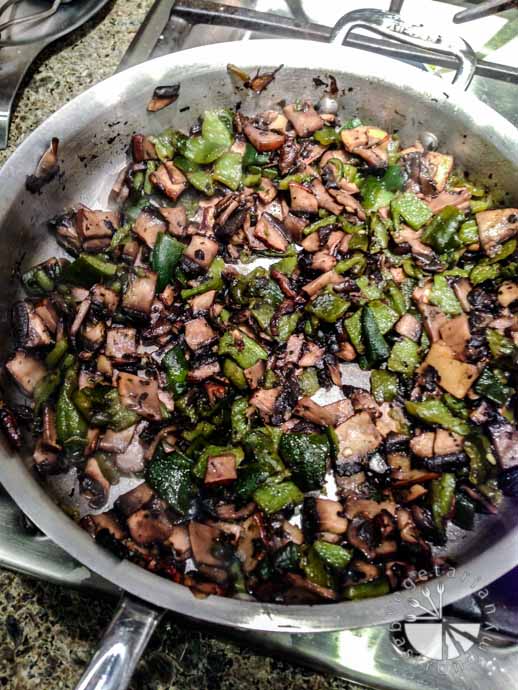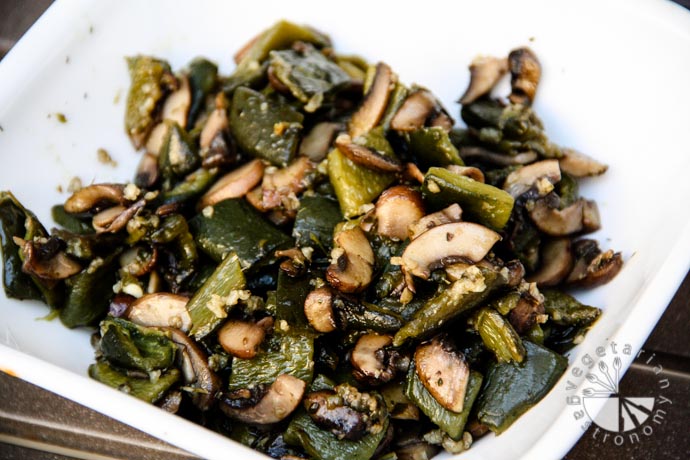 It was extremely easy, very tasty, and just perfect! It was a quick meal and a nice change from our typical quesadillas at home consisting of sharp cheddar cheese, cilantro, jalapenos, and tomatoes. The Poblano Peppers had a nice kick to them. These quesadillas go great with either flour or corn tortillas. I personally like Guerrero brand corn tortilla with this recipe, but have also enjoyed it with flour tortillas. If you've never tried uncooked flour tortillas from Canasta, here is your chance. They taste so much better than any other packaged flour tortilla brand I've tasted so far. You can find these uncooked flour tortillas from Sprouts and Ralphs. You can also purchase these tortillas directly on the Canasta Uncooked Flour Tortillas website or on amazon.
What is your favorite Quesadilla combination?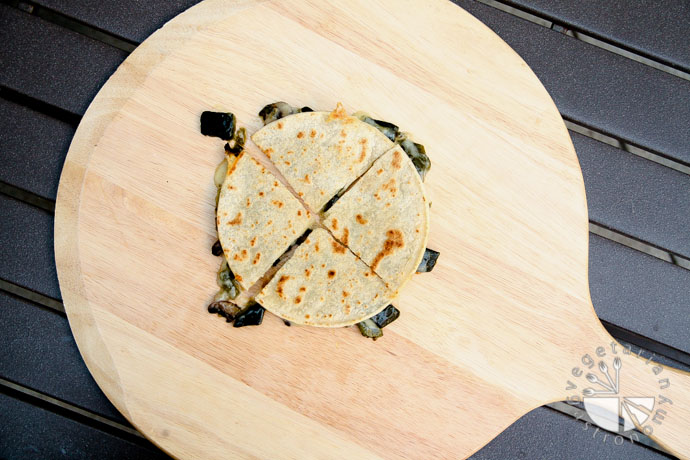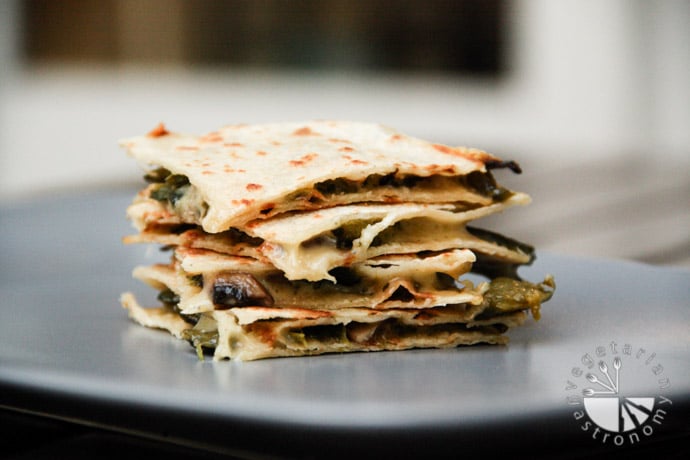 Roasted Poblano and Mushroom Quesadilla (gluten-free, contains dairy)
---
Yields makes ~ 8-10 quesadillas (depending on the size of your tortillas)
Ingredients:
3 poblano chilies
2 large portabello mushrooms
jack cheese, shredded
tortilla (flour, corn, gluten-free, etc.)
salt
olive oil
salsa (Cholula or Salsa Verde )
Directions:
To Roast and Prepare the Poblano Chiles:

Preheat the oven to 400 degrees.
Line a baking sheet with foil. Lightly rub olive oil on the surface of each poblano chile. Place them on the baking sheet and bake for 15-20 minutes until the outer skin blackens and blisters throughout. You may need to rotate them half way through to roast them evenly.
Remove them from the oven and place them in a bowl. Cover with a kitchen towel and set aside to cool completely.
Once cooled, rub off the outer blackened skin under running water, carefully tearing the poblano chiles open and pulling out the seed pods and stems inside. Rinse all the seeds away.
Finely dice the roasted chiles and set aside.

To Prepare the Quesadillas

Thinly dice the Portabello mushrooms into small sections.
In a large non-stick skillet, heat 2 Tbsp. olive oil on medium heat. Add the diced mushrooms and saute, mixing frequently. After a few minutes you should start to see water release from the mushrooms.
Keep cooking the mushrooms until the water has evaporated and they are roasted (slightly browned).
Add the roasted diced poblano peppers to the mushrooms. Add salt to taste and toss together. Turn off the heat.
In another large non-stick pan, grill some tortilla on one side using butter or oil.
Flip the tortilla/
On half of the tortilla, sprinkle a thin layer of shredded jack cheese, add a layer of the poblano/mushroom mixture, and end with another thin layer of cheese on top of the mixture. (Note: I personally do not like to add too much cheese in this dish because it takes away from the flavor of the roasted poblano/mushroom mixture. Just add enough to hold the quesadilla together on both sides of the mixture.)
Fold the tortilla in half. Press with a spatula until the cheese inside the quesadilla is melted and the tortilla is grilled on both sides. Note that you will need to flip the folded quesadilla to grill the other side.
Cut into 2 or 3 sections and serve hot with your favorite salsa!
Notes:
I've had this recipe with both corn and flour tortillas and both taste great. I recommend buying uncooked flour or uncooked corn tortillas from your local grocery store - they taste much better then the standard tortillas. I've purchased the uncooked brand at several grocery stores such as Sprouts, Ralphs, Vons, etc.
7.8.1.2
282
https://vegetariangastronomy.com/roasted-poblano-mushroom-quesadilla-gluten-free-contains-dairy/
www.VegetarianGastronomy.com