Traditionally, I like to end the year showcasing the 10 Best Vegan Meals, Drinks, or Snacks of 2017 from the blog based on traffic. These are the most popular recipes you guys craved in this past year, starting off by reflecting on the past 12 months and plans for the upcoming year.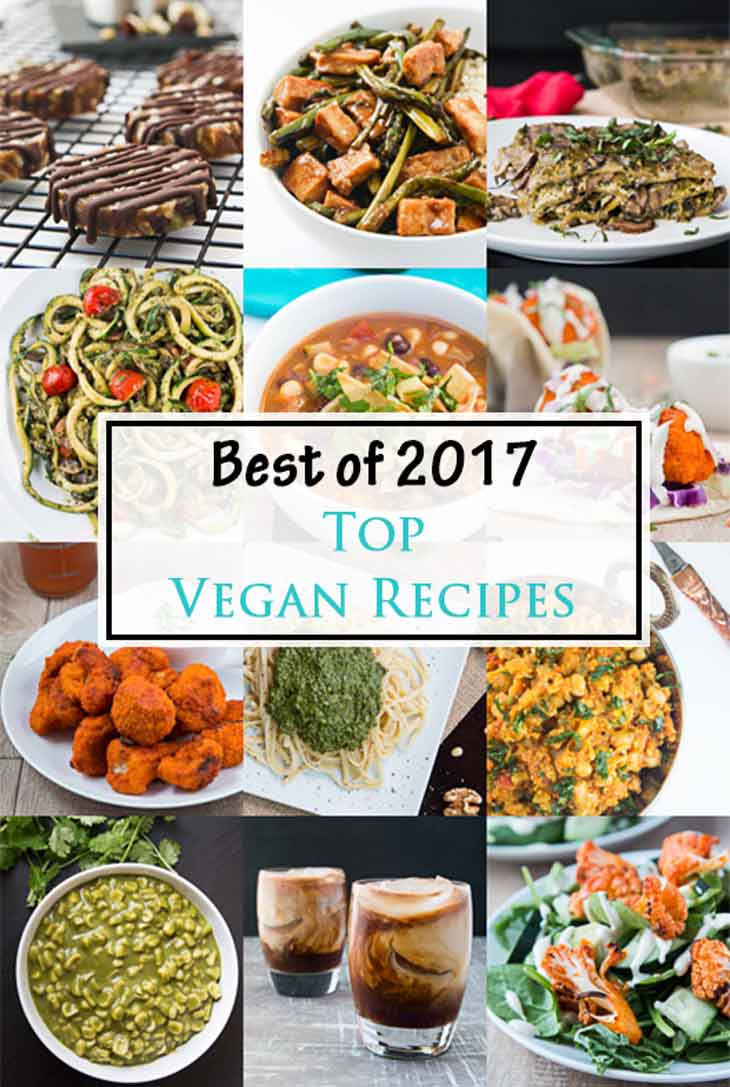 Happy New Year!
I know what you're thinking…I'm more than a week late in posting this Best of 2017 post. And yes…you're totally right. But for my family, our winter holiday break officially ended this past Monday when the kids went back to school, and let's just say it took a few extra days for me to get back into routine 🙂
Reflecting on the Past Year, 2017
As always, the year went by too fast.
More TIME. My baby girl started elementary school full-time this past Fall, and I had to transition my life from having her home the majority of the time to both kids being in school everyday. I honestly thought I'd have a hard time with the transition, but the summer prepared me well 🙂
The break and extra me-time was very welcoming and much needed after having them home with me everyday for 3 months!
Although I love having them home, and would do it again in a heartbeat, I no longer feel like I'm having to juggle as much. I'm sure all you parents out there know what I'm talking about. I can breathe over the weekend and enjoy the moment instead of trying to constantly play catch up.
I have more time during the day to work on my blog and my mind is now fully focused on my kids when they come home, and it feels great.
The Holidays. I can gratefully say that this past Holiday season was pretty stress-free. Looking back at my previous end of the year posts (2016, 2015), they were always filled with tons of emotions relating to my Dad. The holidays always made me anxious since it's a time when you miss your loved ones the most, and I usually wanted to them to fly by quickly.
I enjoyed every moment, watched old family videos, and did not feel sad thinking of all the memories and love associated with my Dad. I'm not sure if it's time that has healed, a one-time thing, or my surroundings this year, but it was very refreshing and felt great. I was finally able to stay happy and truly enjoy myself.
My Vegan Journey. It's still going strong! I couldn't be more happy with the choice I made 3 years ago. Not to mention all the amazing vegan eats that have popped up in San Diego!! I'd even go as far as to say we now actually have a 'Vegan Scene.'
It's exciting to see what the future holds for the plant-based diet! New products are constantly hitting the market and brands are realizing they can't ignore the increasing shift towards a more plant-based diet. There are even more new documentaries coming out showing the ethical, environmental, and health benefits on a plant-based diet.
The overall consensus and increased awareness of veganism in the world today compared to what it was just 5 years ago just blows my mind.
This Site, Vegetarian Gastronomy. Thanks to all of you, this site has had some major growth over the past year in the number of subscribers and followers on social media, especially on Facebook! I've loved seeing and sharing each and every re-make on Instagram, reading every comment, and connecting personally with many of you.
From a technical and design standpoint, I decided to have an SEO audit done on my site mid-year (the person who did it was awesome…if you want to find out more, contact me). I now finally feel like I have a handle on best practices and what I need to improve. It's still a constant learning curve, but I'm finally making good progress.
I collaborated with a few of my favorite brands over the past year. For those of you that know my site, I don't take on much sponsored work, but love being able to connect with like-minded individuals and get behind products that I love.
I ran my very first private cooking party for 15 people this past November and it was a huge hit! The theme (chosen by the group) was Indian Food, we made 7 dishes, and everything turned out great. There's definitely a learning curve the first time around, but teaching people how to cook and showing them how easy and delicious a plant-based diet can be was worth every minute.
I'm hoping to do a few more this year. If you're interested or would like to set one up, contact me! It's great for all types of people…even those who don't love to cook enjoyed the night!
This site has become my passion and outlet for creativity, and I've loved continuing to share my adventure with all of you!
To All Of You, My Followers. As always, THANK YOU!
Thank you for reading my posts, making my recipes, following me on social media and commenting on my site.
I develop recipes and share them with all of you because I simply love doing it. It makes my day knowing that there's a chance my site may inspire you to cook in your own kitchens, try new ingredients, flavors, and cuisines, and eat more plant-based and healthy.
If you ever have any questions, suggestions on the site, or requests on what type of recipes you'd like to see in the upcoming year, I'd love to hear from you! Simply comment in this blog post below, contact me through my site, or email me at anjali@vegetariangastronomy.com.
This Upcoming Year, 2018
Time Management. I'm hoping to manage my time better. I guess I've come to learn that I work more efficiently when I have less time available to me. It's odd, I know.
I sort of went all-in with my blog as soon as summer was over last year, but lost my sense of time. When it comes to keeping up with blogging, it's endless. From managing all the social media, to writing, photographing, developing recipes, maintaining your site, and keeping up with things like SEO, emails, and the latest trends, you can imagine it's a lot, as are most businesses and endeavors.
So I'm planning on having a better schedule, being more efficient when I'm working, and hoping to open up time during my day to add in a few non-blog related goals, such as volunteering and hobbies I've always wanted to pick up again.
Being Happy. On a personal level, I've always had the continuing goal of trying to slow down, push negativity out, and clear my mind.
Life is full of tiny moments, and if you don't stop to enjoy them, they'll pass right by without any notice. so it's all about balance.
Be specific, figure out what small things make you happy, and make it happen
Make it a point to put down your phone and enjoy the person in front of you
Be kind to yourself
Let the little things go
Appreciate others and your life, instead of always needing more
Go for a run or jog without headphones and just enjoy your surroundings
Don't always worry about what others think.
It's a lot…I know. But if you surround yourself with genuine people who you love and care about, you're already half way there. I'm always working on this list, and I know this new year will be even better.
This Site, Vegetarian Gastronomy. Developing new and creative easy vegan recipes is still the #1 reason I blog, and I'm excited about all the new posts coming to you guys in the new year!
Healthy recipes to kick off the new year, new easy school lunch recipes, my very first meal plan, more posts on veganism in general (such as favorite products, etc.), and Instant Pot recipes (I finally caved and got one for xmas, hoping to convert some old recipes and create new one-pot meals).
As far as site growth, my goal this year is to continue and focus on SEO. I'm a math and science person. So to me, things like social media is something that I can't always control or chase. Do I appreciate it's value at times? Yes.
I would've never made the amazing friends and connections, and quite frankly probably wouldn't have made it in the blogging world without all the help and support from fellow blogger friends and others I've met on social media. But as far as growth goes, SEO makes sense to me. It's logical, and currently my ideal way of growing my site.
I still have a ways to go, so that's my focus for the upcoming year.
Food & More Recipes! Because let's face it…that's why you guys are all here.
After the 2-3 weeks of family time over the holidays, I'm ready to jump into 2018, more excited than ever, and ready to bring you new creative, easy, delicious, healthy, vegan recipes! If you still haven't subscribed to my site and would like to receive emails of my recipes, do it now below. That way you won't miss any of my posts!
And finally… here it is. The 10 Top Vegan Recipes in 2017 based on traffic, followed by a few of my personal favorites from the past year!
2017 Top 10 – Best Vegan Meals, Drinks, or Snacks (based on traffic)
Buffalo Cauliflower Bites with Vegan Cucumber Ranch. This is my Top Post of 2018!! Thanks to you guys, I've seen so many re-makes of this popular vegan recipe on Instagram! They're baked, can be made gluten-free, home-made buffalo sauce, and the perfect appetizer or snack to serve. Turn leftovers into a meal by making #3 below!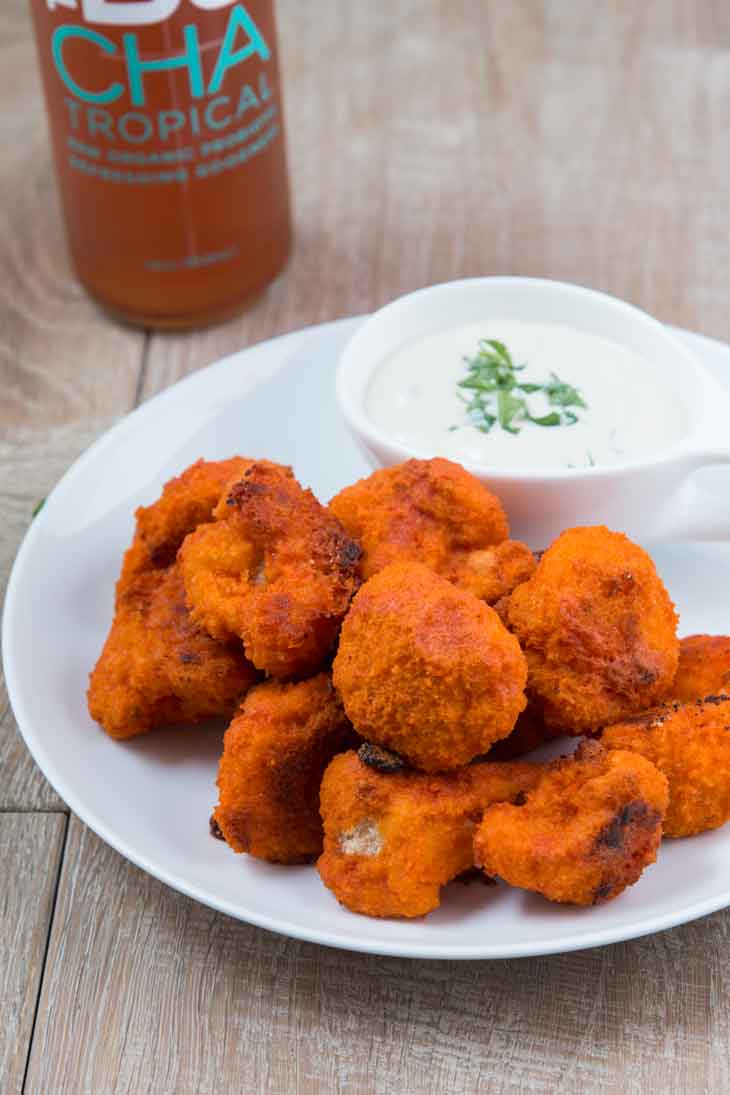 The Best Vegan Tortilla Soup Recipe. Out of these 10 top recipes, I'd have to say that this vegan tortilla soup recipe gets made in my house the most. It's a one-pot, healthy, family-friendly meal filled with protein and veggies. No fancy ingredients, just whole foods, clean, and packed FULL of flavor! Thanks again to all of you for all the re-makes on Instagram!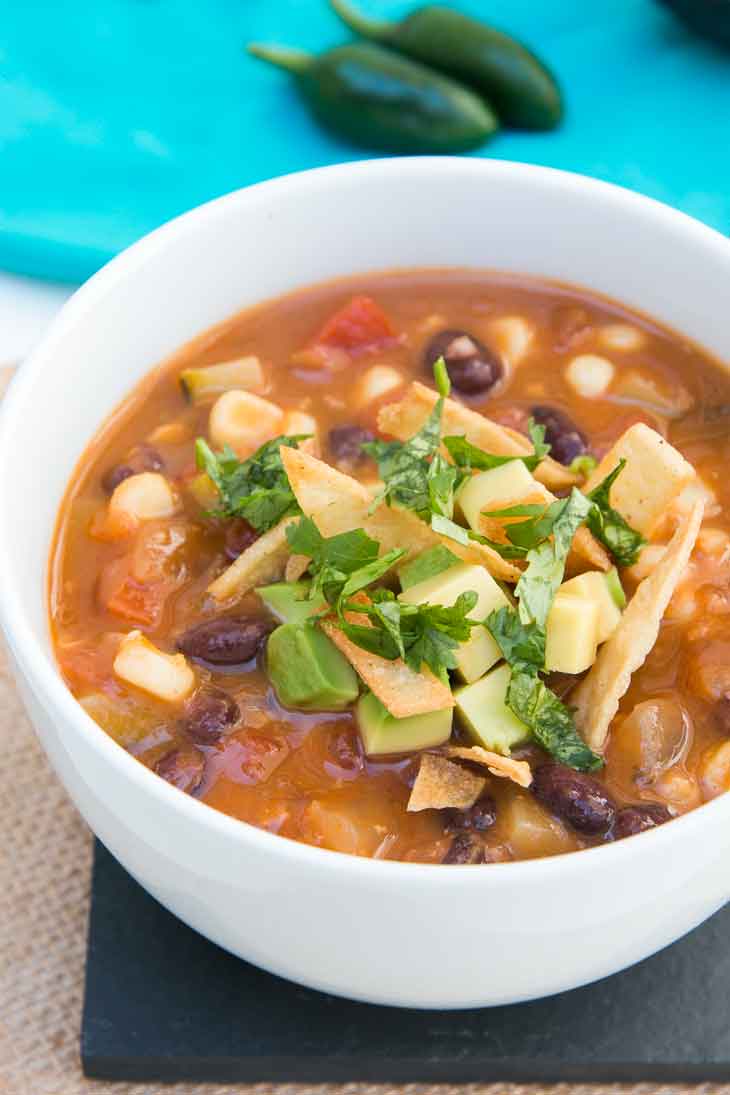 Buffalo Cauliflower Tacos with Cucumber Ranch, Slaw, Red Onions, & Fresh Herbs. If you want to WOW your non-vegan friends, THIS is the dish to do it with. Crispy vegan buffalo cauliflower bites, the best creamy vegan ranch dressing you'll ever have, and some slaw makes for the best taco combination!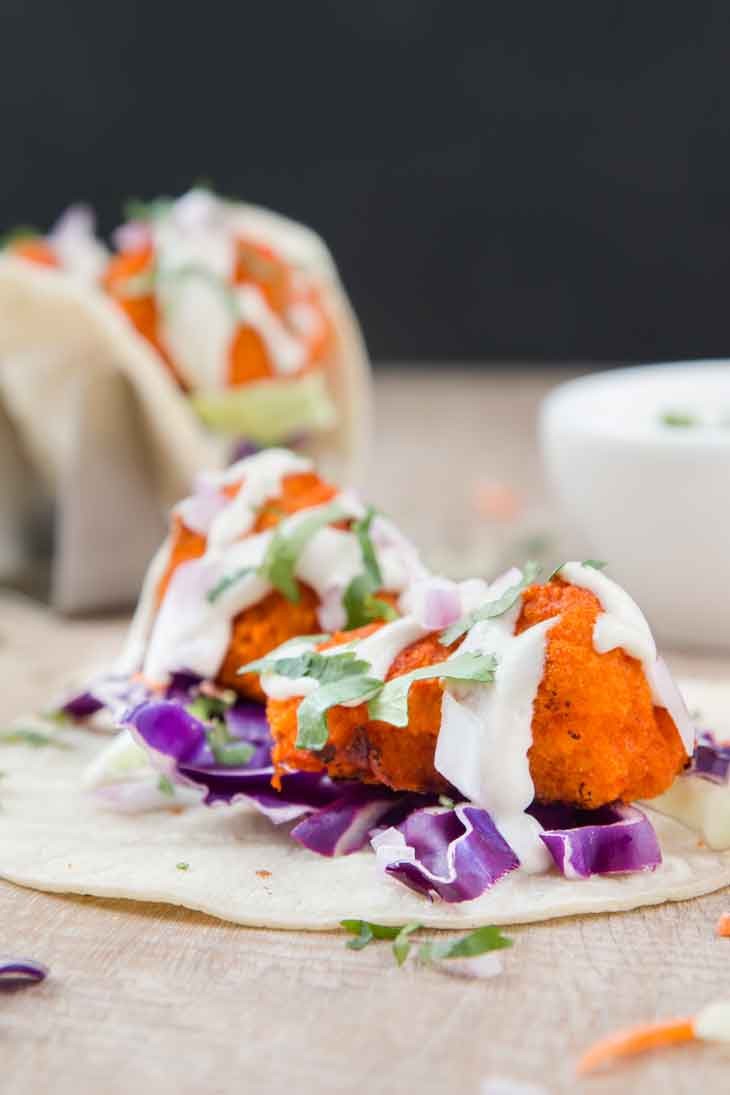 Pesto Zucchini Spahgetti Recipe (Zoodles). If you think you'll miss the carbs…think again! This recipe marks that time I dusted the cob-webs off my spiralizer and started putting it to use. It's the perfect light low-carb lunch or dinner, and a great healthy way to start out your new year!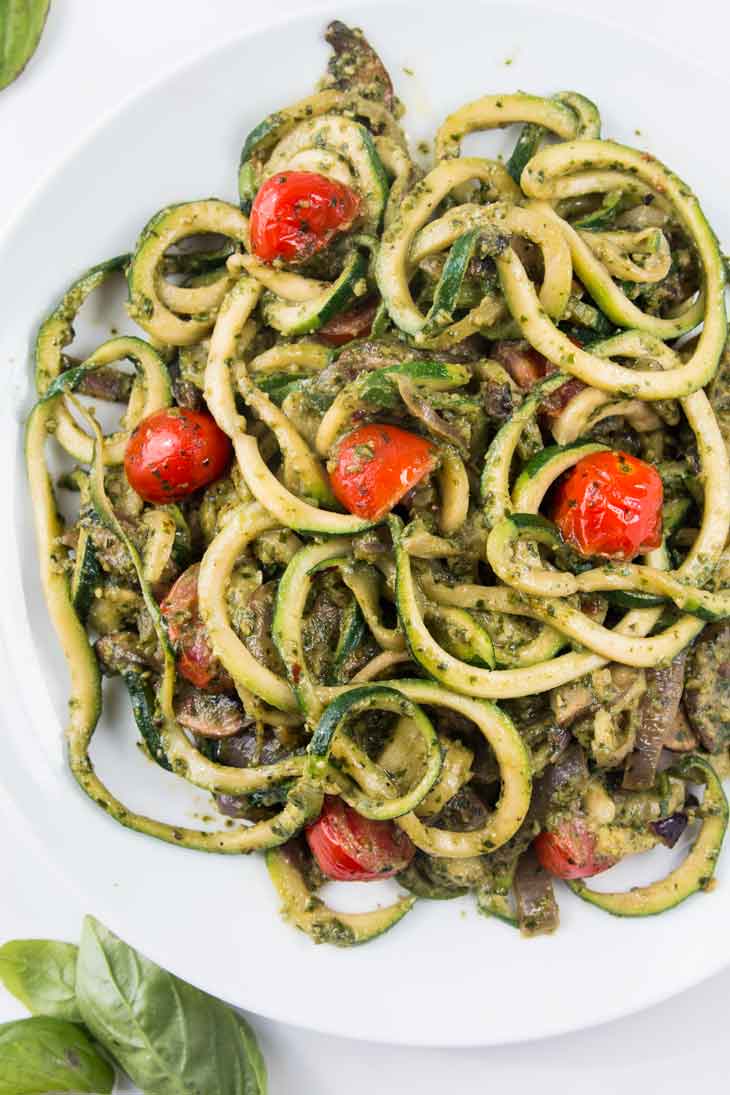 Simply Pesto (Vegan). Everyone needs a good basic vegan pesto recipe. THIS one has a home in my freezer at all times!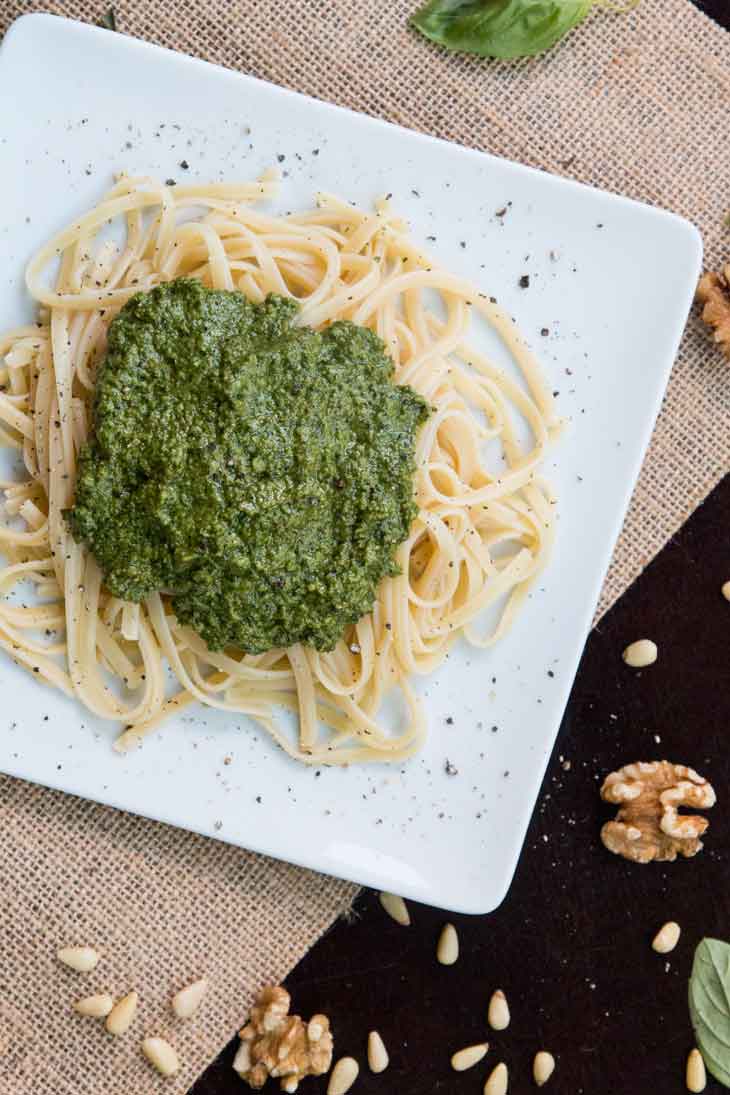 No-Bake Chewy Chocolate Date Cookies. These allergy-friendly energy-packed no-bake cookies area favorite in our house for a quick grab and go breakfast or afternoon snack!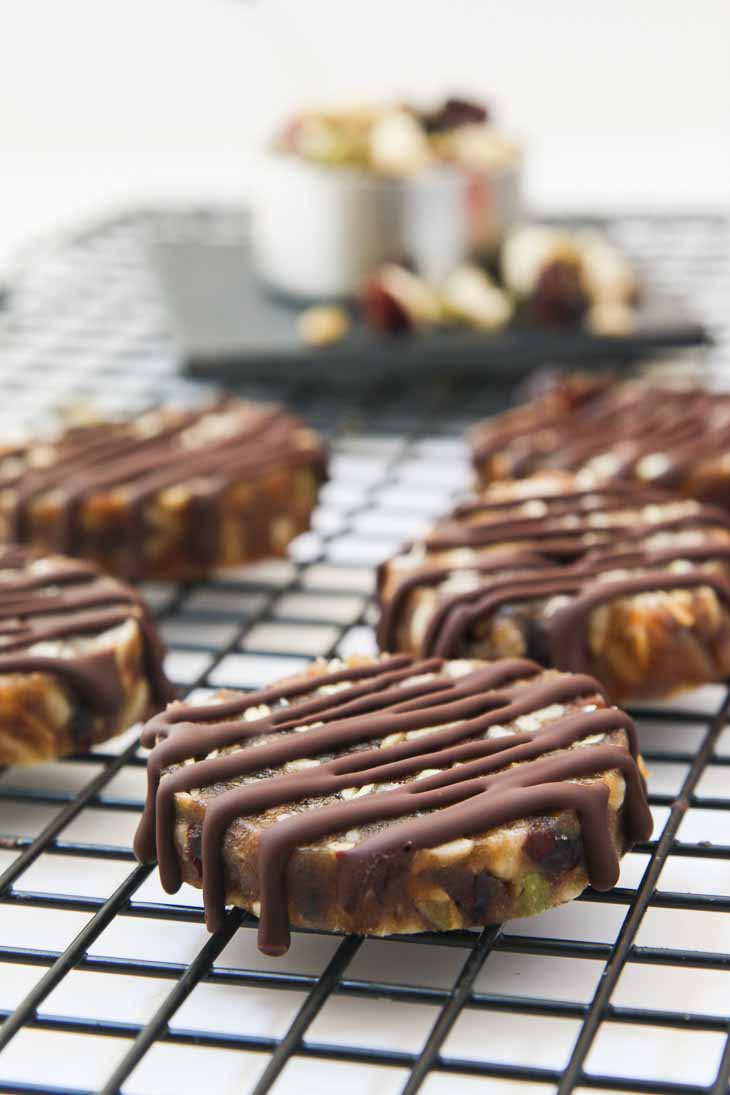 Chole Masala Recipe (Indian Chickpea Curry). One of my go-to Indian dishes and restaurant favorites made healthier, using all fresh ingredients! This is a popular favorite that can easily be re-created in your own home.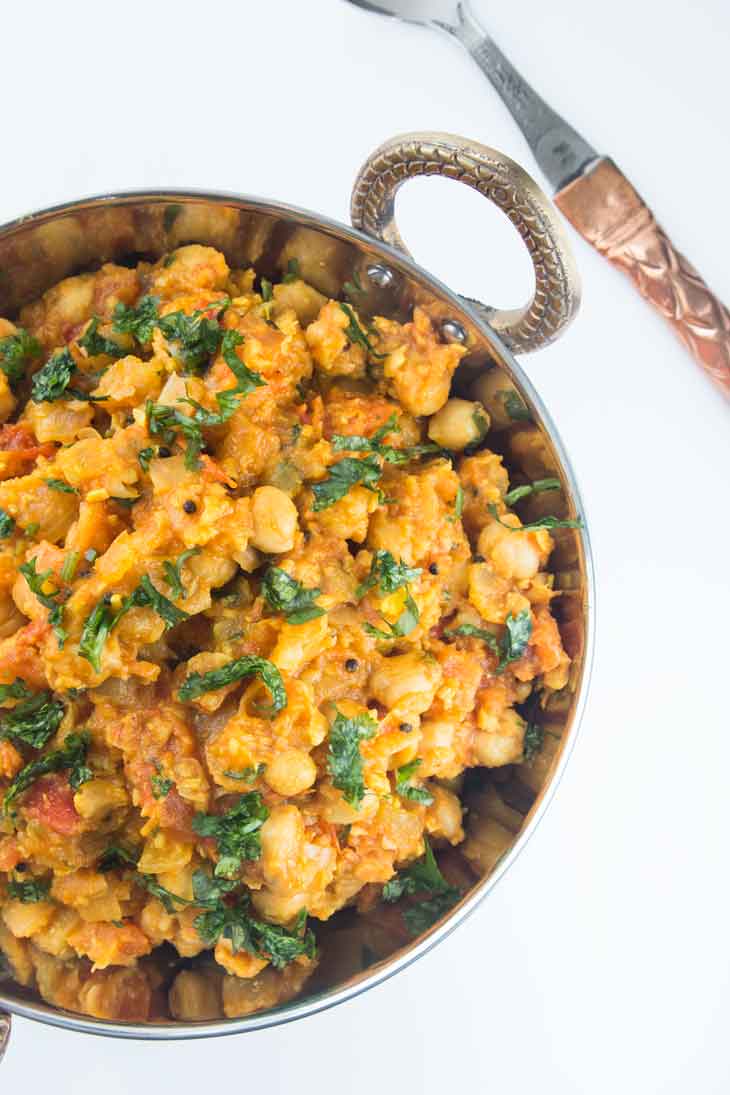 Teriyaki Tofu Stir-Fry. I'm all about using simple sauce combinations, especially when it comes to Asian food. Add any assortment of veggies or even pour it over noodles, this Teriyaki Tofu will soon become a popular favorite.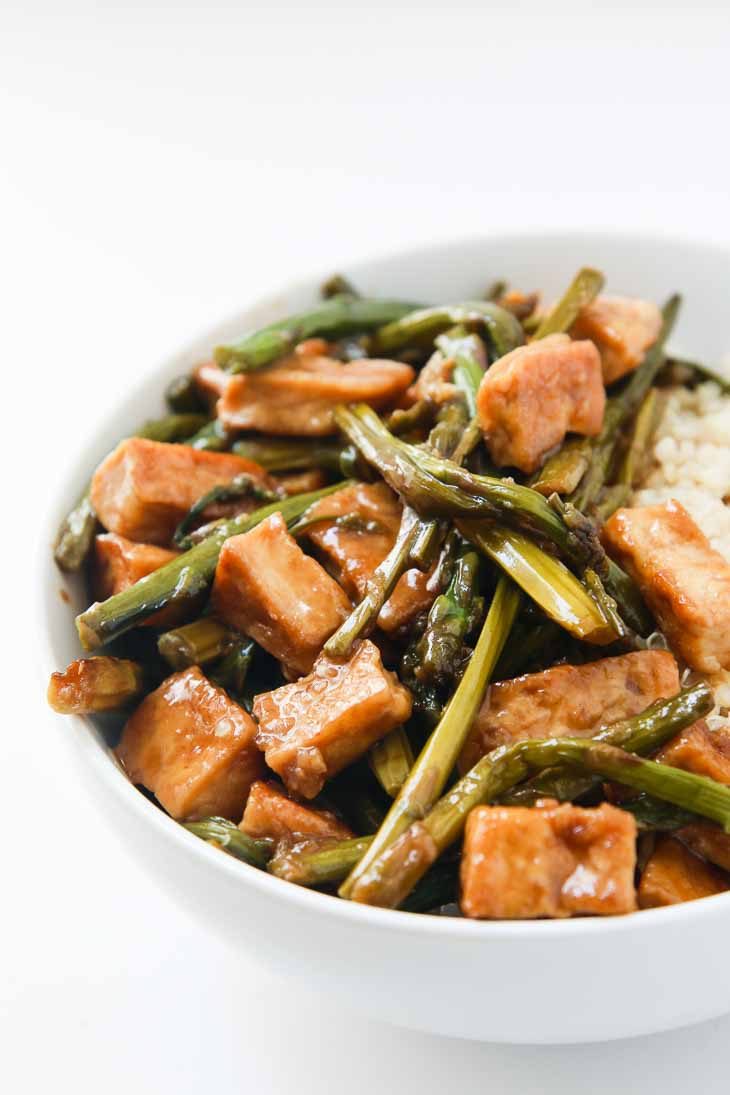 Spinach Pesto Lasagna with Creamy Mushroom Sauce (Vegan). This recipe has become so popular in just one month!! If you're trying to stay healthy in the new year, be sure not to pass over this recipe! It's vegan, gluten-free, protein-packed, full of greens, and so delicious!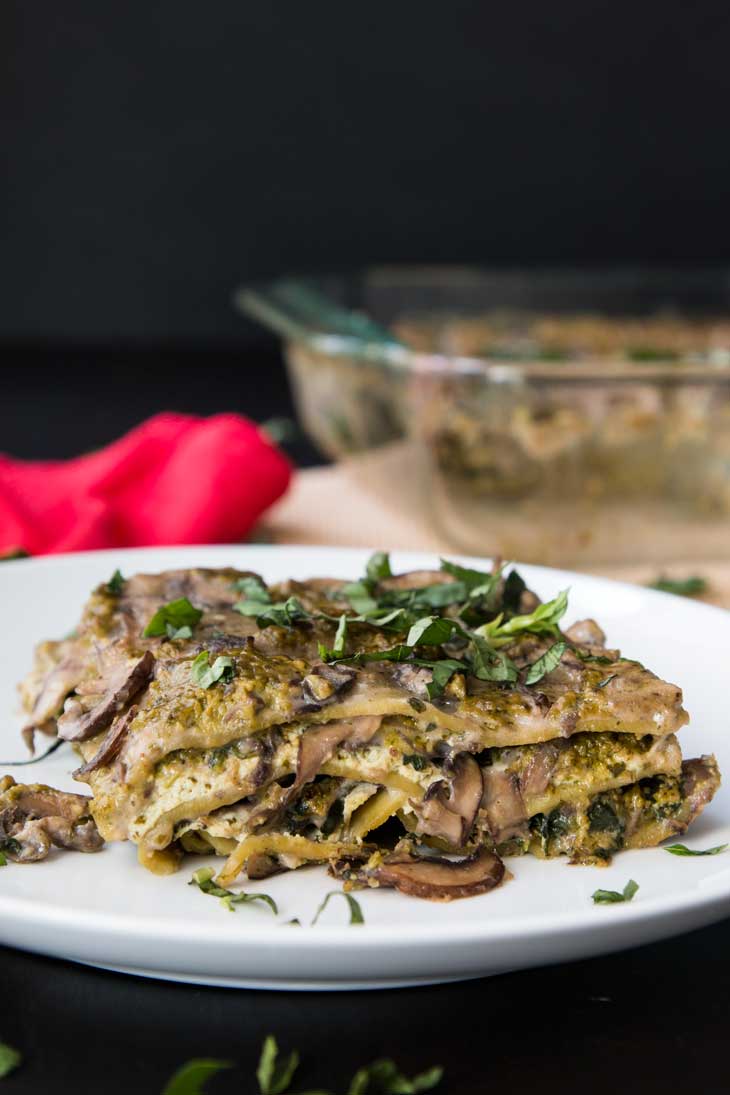 Aztec Iced Mocha Recipe. This was my life-savor during the summer! Even when it's cold out…I'd have to say I crave this drink. A 2-ingredient no-cook spicy-chocolate sauce combined with espresso and your favorite non-dairy milk.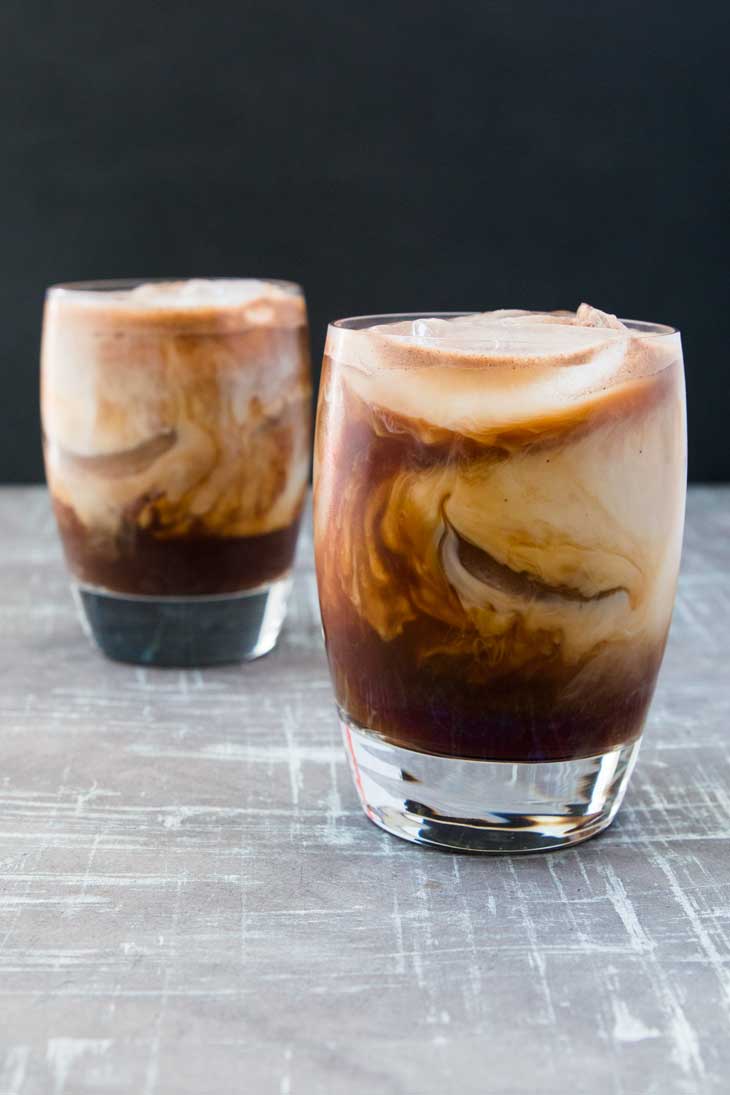 …and there you have it…the 10 Best Vegan Meals, Drinks, or Snacks from 2017 on VG! Recipes that you all have loved and re-made over the past year. If you're new to the blog, or are looking for a few healthy recipes to get you started in 2017, this is the perfect list!
My Favorites From 2017
The 10 best vegan meals, drinks, & snacks listed above is purely based on traffic and stats on google analytics (i.e. all your favorites!). There were a few recipes that did not show up in the list above, that are on MY list of favorite creations from the past year, and many of you loved them as well 🙂
Both my kids are fairly good eaters. I've tried to introduce them to a variety of different cuisines, textures, and flavors early on in their lives. But there's something pure and lovely about the sight of your kids thoroughly enjoying their healthy home-cooked meal.
There are a several number of recipes from the blog that fit into this category, but one in particular from 2017 is my Layered Taco Salad with Baked Tortilla Bowls.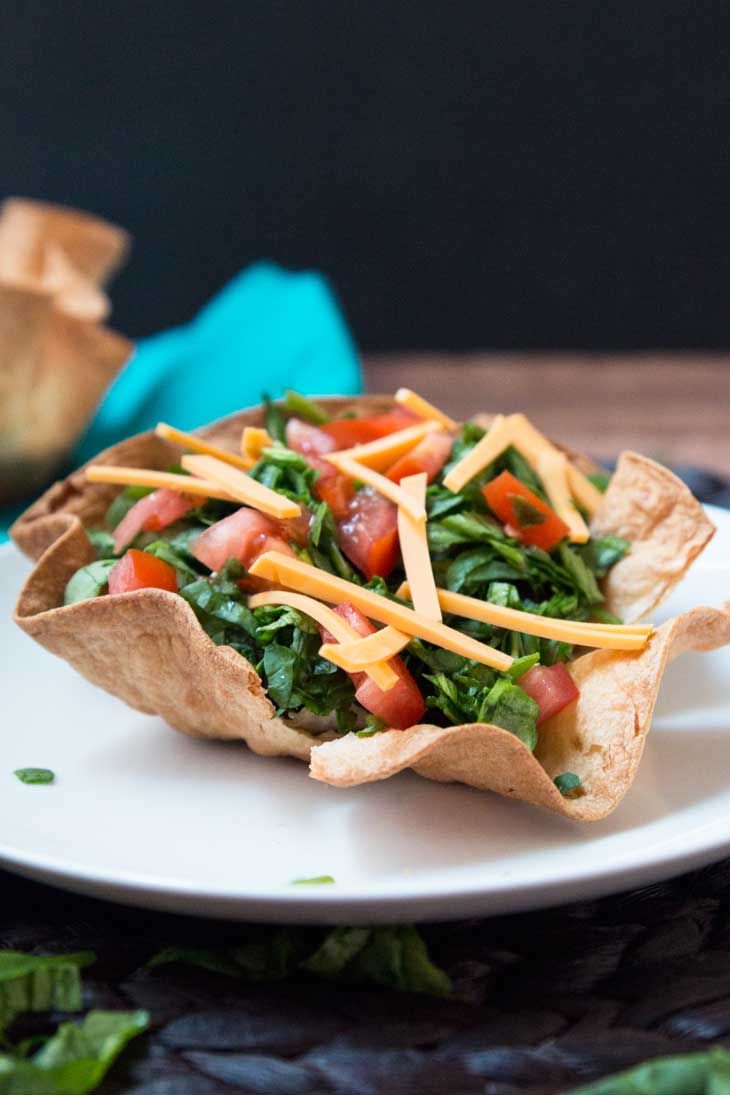 I'm not sure if it's the fun shaped crispy shell, the fact that they get to assemble it themselves, or the mess as they dig in. To them, it's everything and this mom loves watching them enjoy their messy meal.
Healthy go-to recipes for myself during the day or breakfast have been a challenge this past year at times. When it's only one to cook for, there are no leftovers, and you're tired of your staples, these three recipes from the past year really came in handy!
The first is my Sweet Potato Avocado Toasts with Pistachios & Hemp Seeds can be made in 10 minutes, are so healthy and delicious, and can even serve as any meal (breakfast, lunch, or dinner).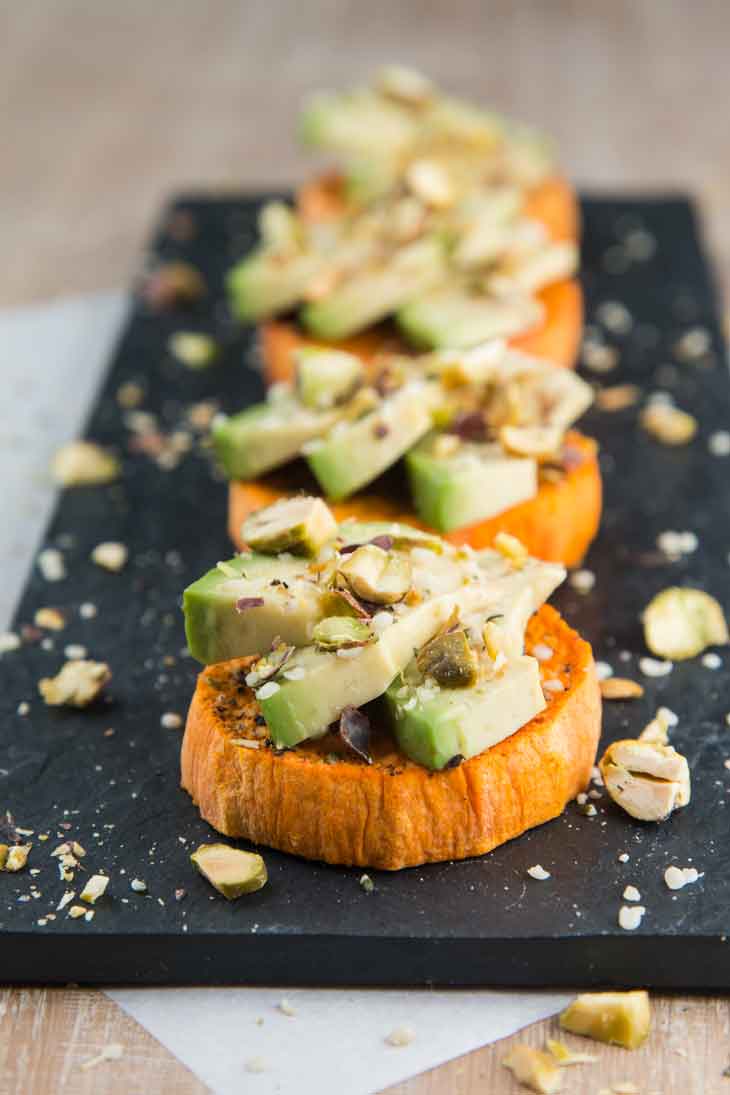 My vegan buffalo sauce recipes seem to be a HUGE hit this past year. Even I craved them every week! But when the laziness kicked in, I came up with this fabulous lighter version for lunch or dinner, Mixed Green Salad with Buffalo Roasted Cauliflower, Avocado, & Vegan Ranch Dressing!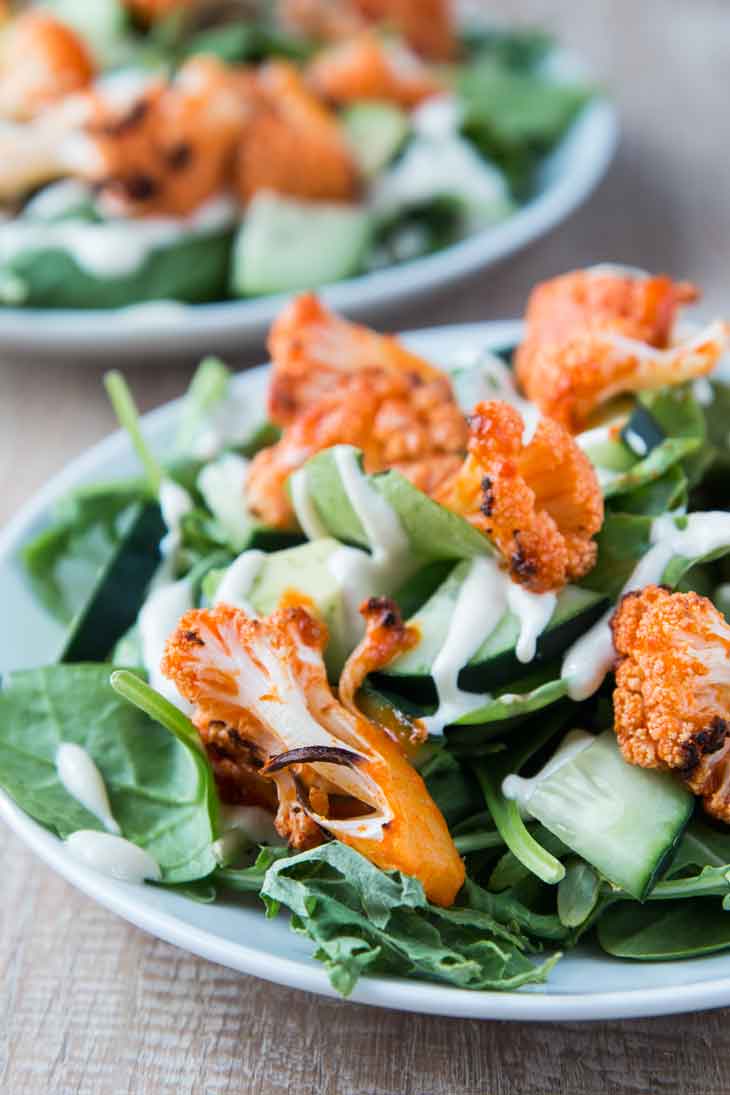 If all else fails, I fall back on the third recipe, my Easy Curried Tofu Scramble recipe. A block of tofu, any veggies from the fridge, and a simple seasoning.
Whether it's for a quick grab-and-go breakfast, afternoon bite, hiking or traveling snack, or dessert, these three recipes have populated my kitchen throughout the entire year and the kids LOVE them! My No-Bake Vegan Pumpkin Cookies with Pecans & Coconut, Chocolate Covered Banana-Chocolate Ice Cream Bites, and my Rich & Creamy Chocolate Milk Recipe!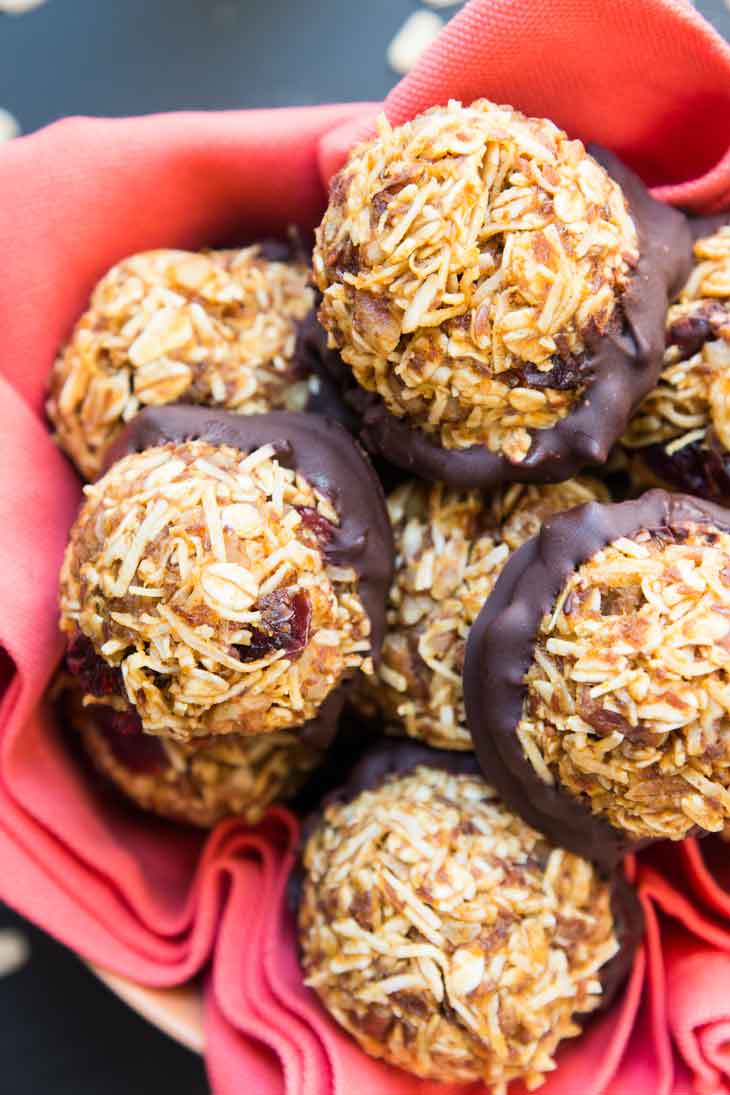 Two of my absolute favorite Indian dishes made their way to the blog this year! My Pav Bhaji Masala recipe (soon to be re-vamped to include Instant Pot instructions), and my 5-Ingredient Indian Green Coconut Curry!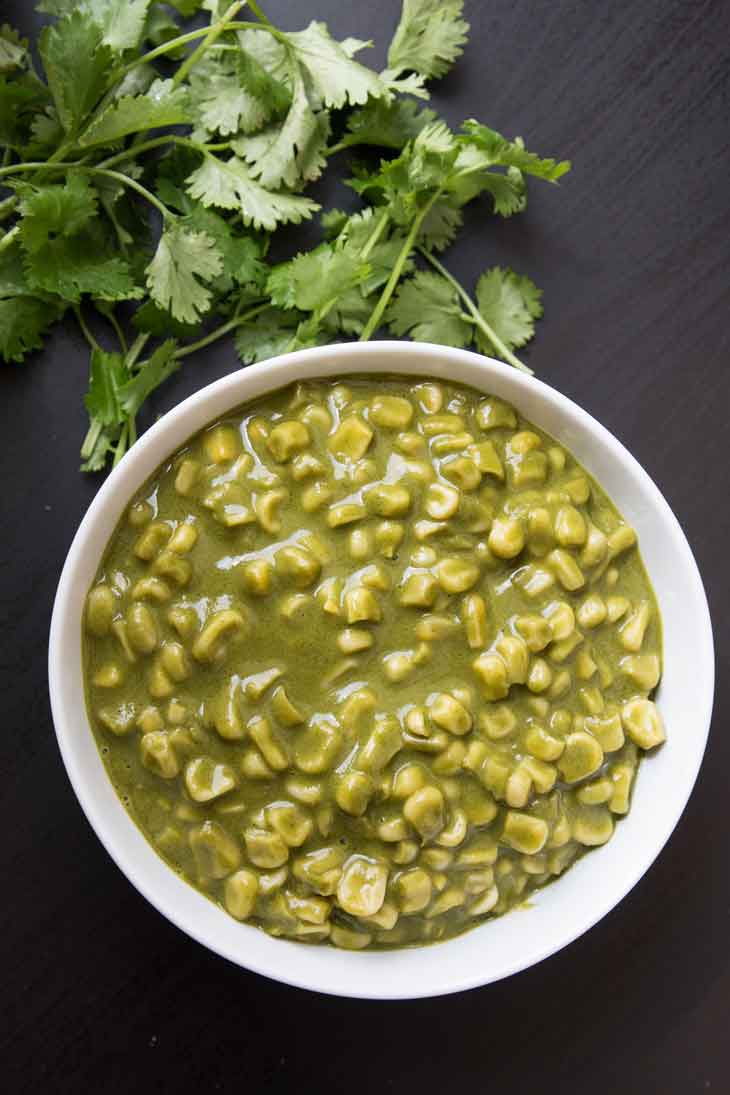 There's always that childhood dish that you love and crave but it's full of dairy. Well I finally veganized my Creamy Corn & Spinach Toast recipe! Everyone loves this recipe, and no one misses the dairy! I'd call that a win-win.
There you have it, 2017 in a nut-shell. Here's to a great 2018!
Happy New Year!
Wishing You All The Best In 2018!