No-churn, easy, chocolate-banana ice cream bites dipped in rich dark chocolate. These fun and healthy frozen treats make for the perfect afternoon snack or dessert!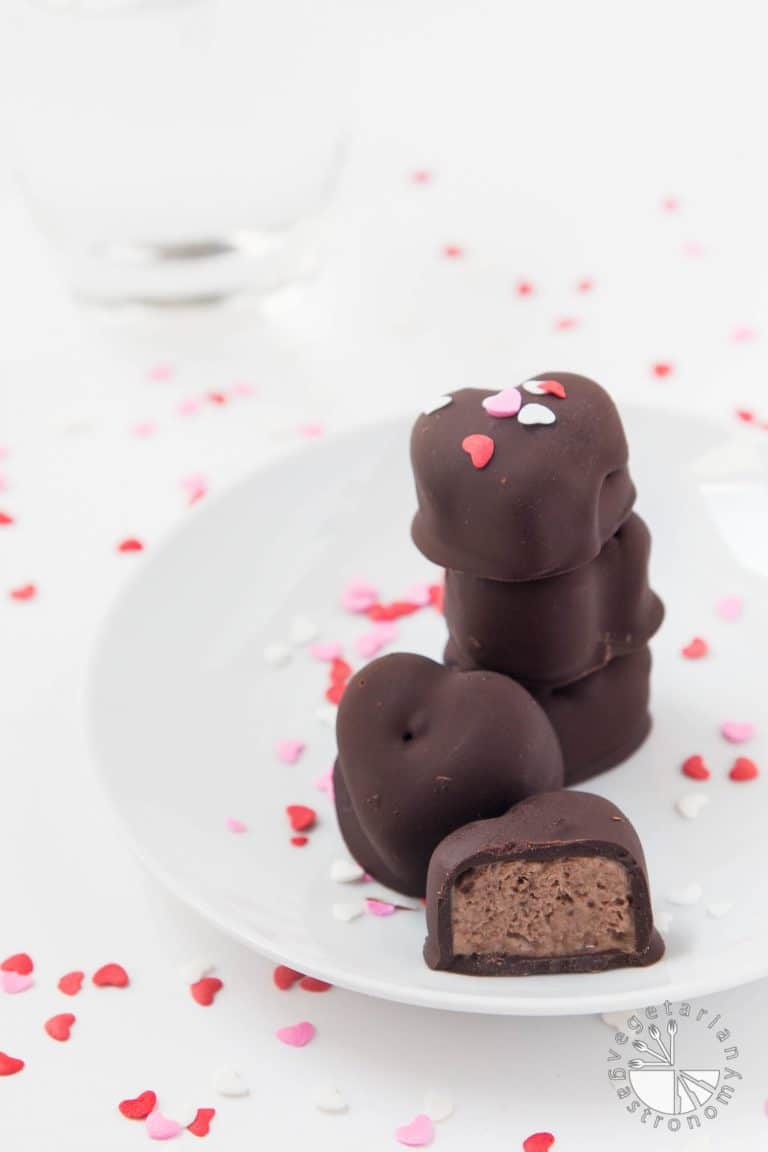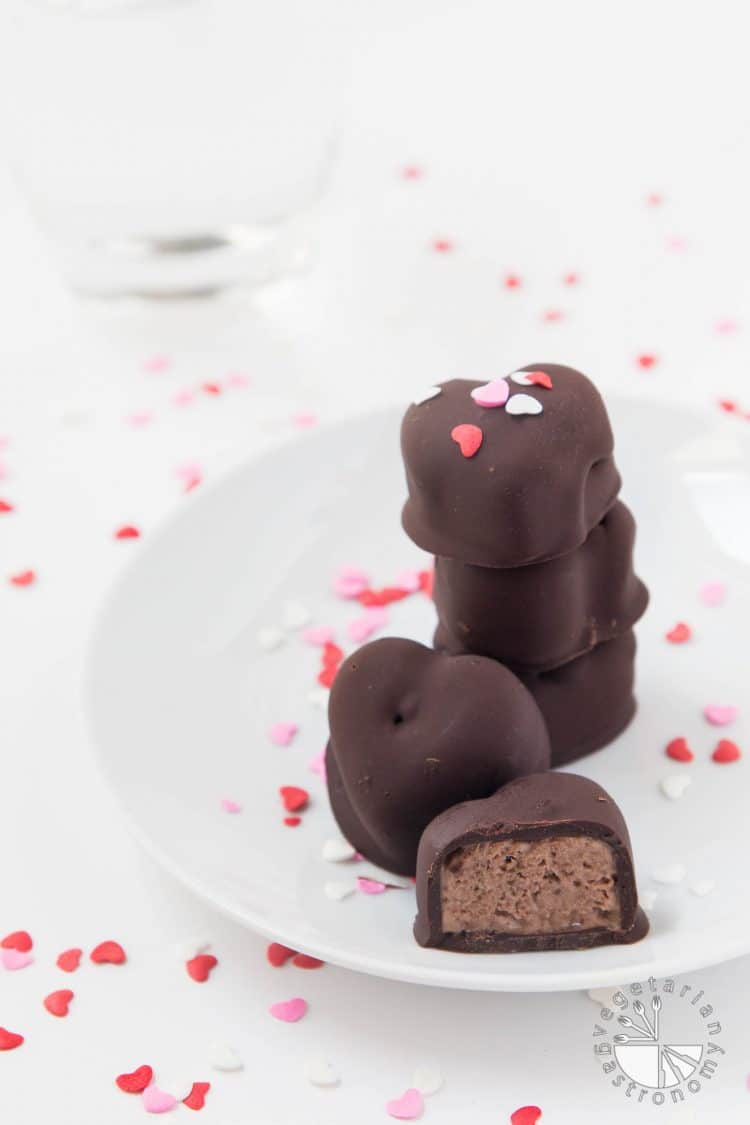 Chocolate covered banana slices are a staple in our house. Simply slice up a banana, melt some chocolate, dip the banana slices in, top with any nuts or sprinkles, and store them in the freezer! It's one of our favorites since they are very easy to make, a fun afternoon activity with the kids, healthy, and they last forever in the freezer. Not to mention the fact that I love being able to say 'yes' to my kids when they ask for a treat.
This past week, it was that time again, and my son asked if we could make them together after he came home from school. Of course I said yes. But this time, I thought it'd be fun to switch it up and make them these vegan Chocolate Covered Banana-Chocolate Ice Cream Bites instead. They are similar to the chocolate dipped ice cream bars you can find at the store. But, I still wanted to stick with the banana base, keep them easy to make, and healthy.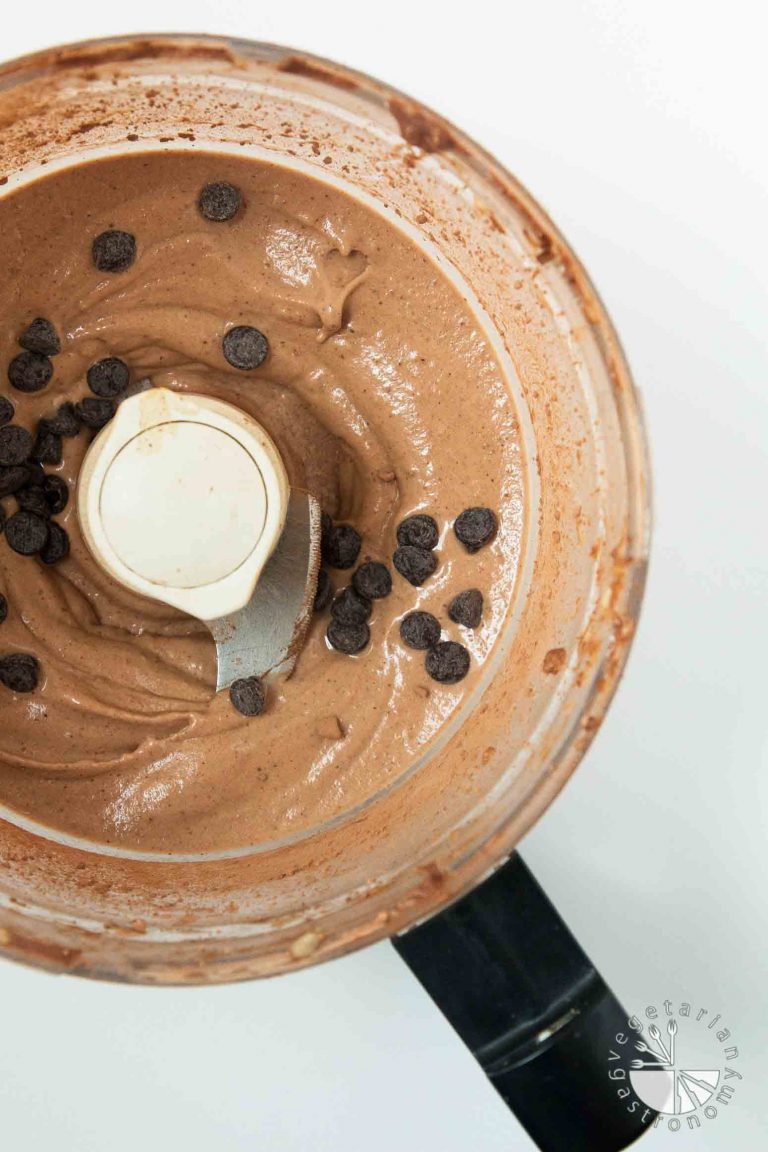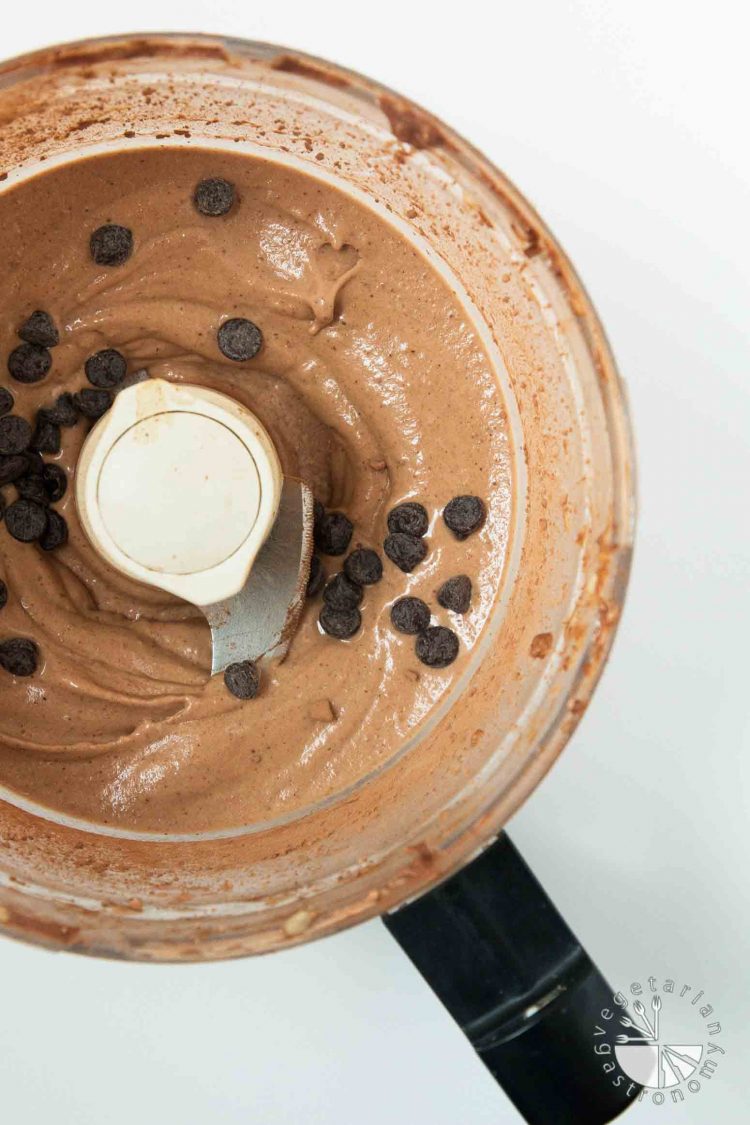 Since I had a few frozen bananas in the freezer, I used them to make some home-made no-churn vegan banana chocolate ice cream in my food processor. We've made all sorts of ice cream flavors out of frozen bananas in the past ('nice-cream' as it's been termed), especially over the summer, so this was just an extension of that. To avoid that frozen banana texture that you get when you freeze nice-cream (which is why it's best when eaten right away), I added some almond butter to the base.
With Valentine's Day coming up this week, I remembered that I had these silicone heart shaped ice trays/molds that my friend gave me years ago. She was moving and had no need for them, and sometimes kitchen throw-aways can be like GOLD to a food blogger haha! They were perfect for these easy vegan ice cream bites, and they doubled up as Valentine's Day treats since they were heart-shaped, which I knew my daughter would love. As a bonus, at the end of this post, I've put together three fantastic 3-Course Vegan Valentine's Day Menus by Cuisine (Italian, Mexican, & Thai). I've also included a few fun breakfast-in-bed ideas, so make sure to keep scrolling past the recipe to check them out!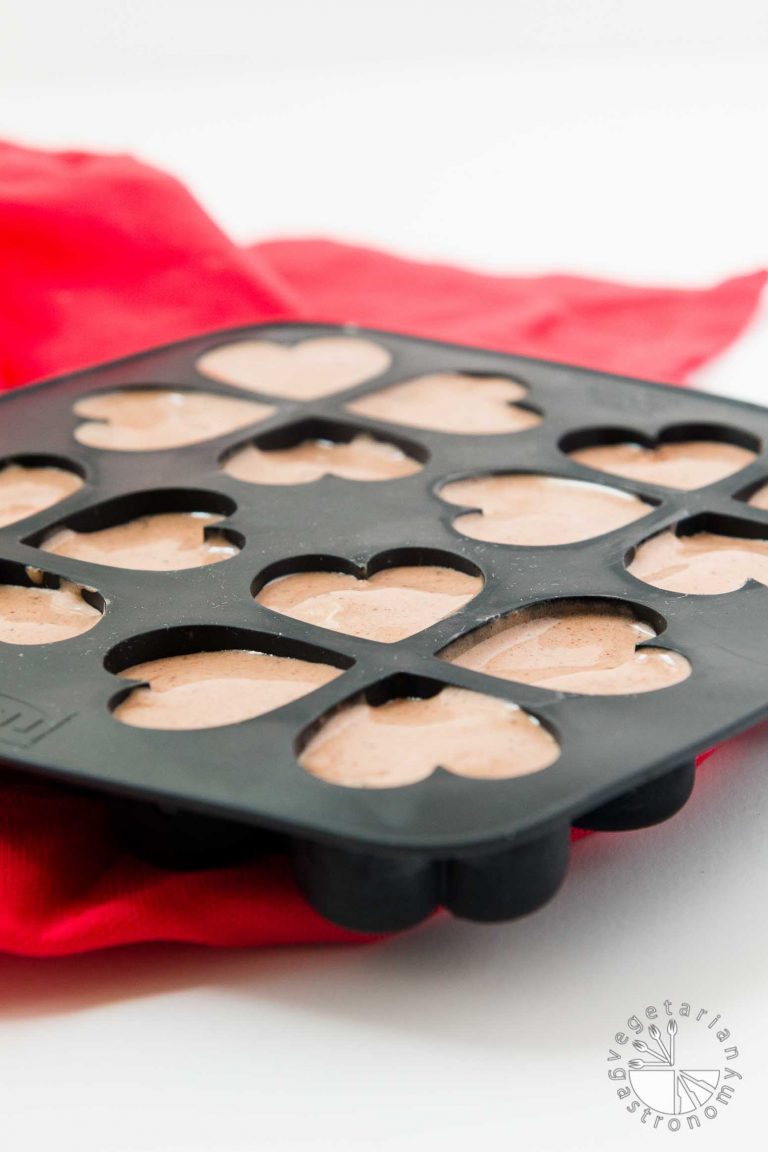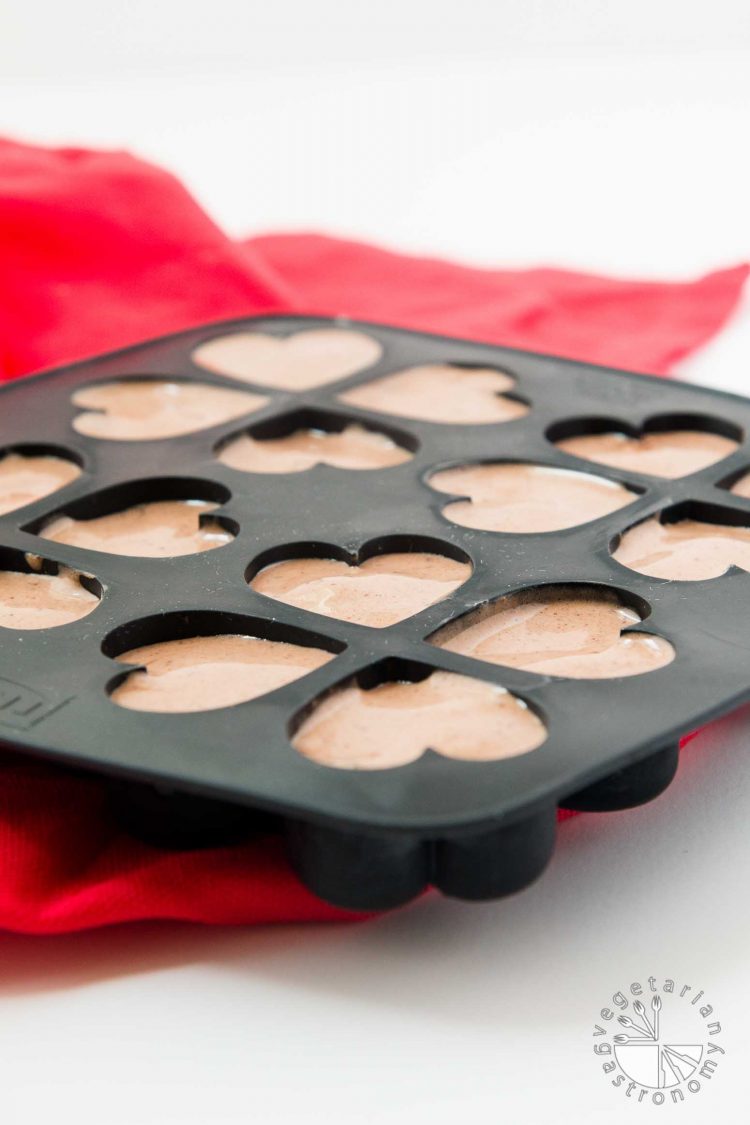 The silicone molds were also perfect because the ice cream bites easily popped out of the molds without much effort and kept their heart-shape really well. If you don't have any, I highly suggest getting one. They are much better than the plastic ice-cube trays that come with freezers. I also use the silicon molds to freeze freshly squeezed lemon juice so I have bags full of adorable heart-shaped lemon juice available for cooking and morning warm lemon water. If you don't care about the shape of these vegan ice cream bites, you can easily use any ice cube tray. Be careful not to over-fill them and it should work just fine.
So back to these heart shaped chocolate banana ice cream bites I now have. As you know, everything tastes better covered in dark chocolate. So in each went into some of my favorite melted dark chocolate. Pop them in the freezer, and you have yourself home-made healthy delicious frozen treats! My kids loved them when they came home from school…they almost polished off the entire batch!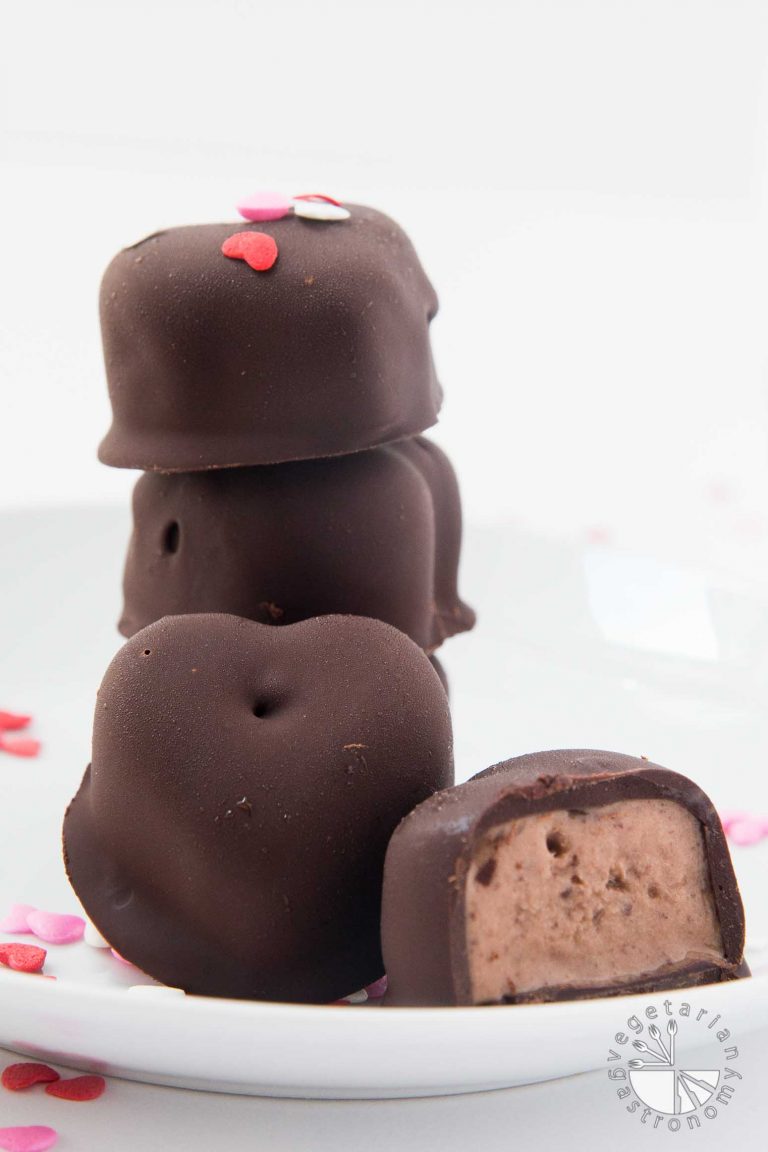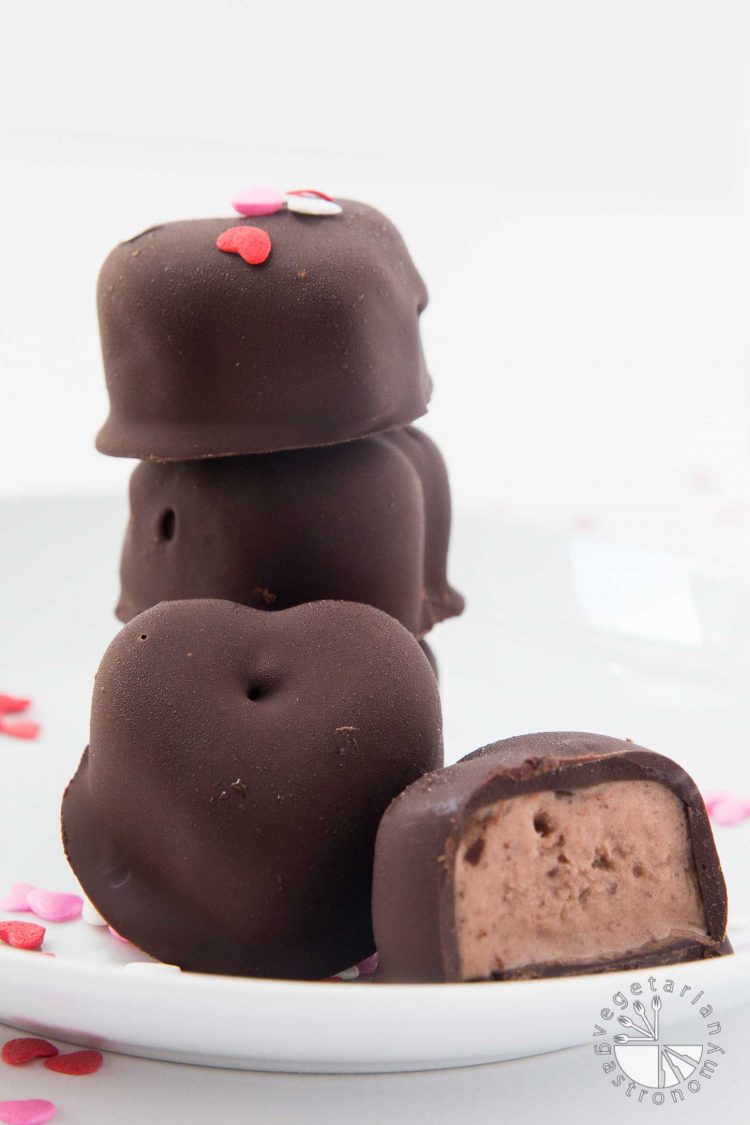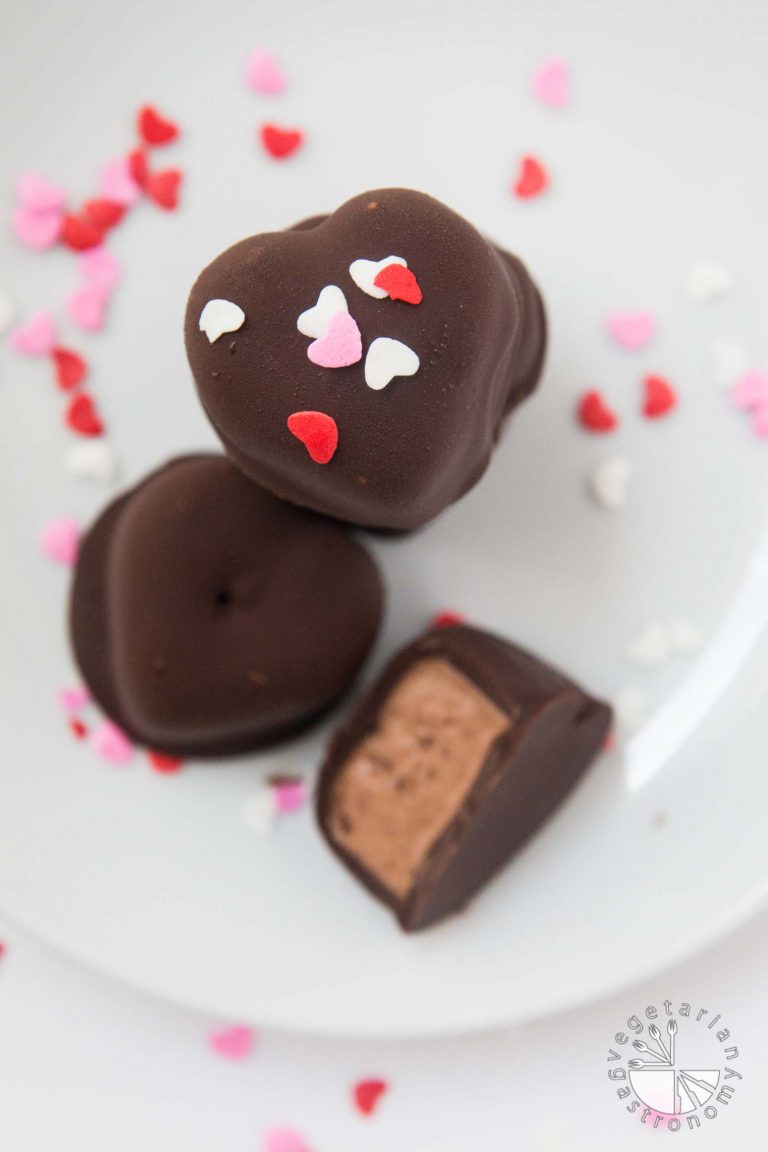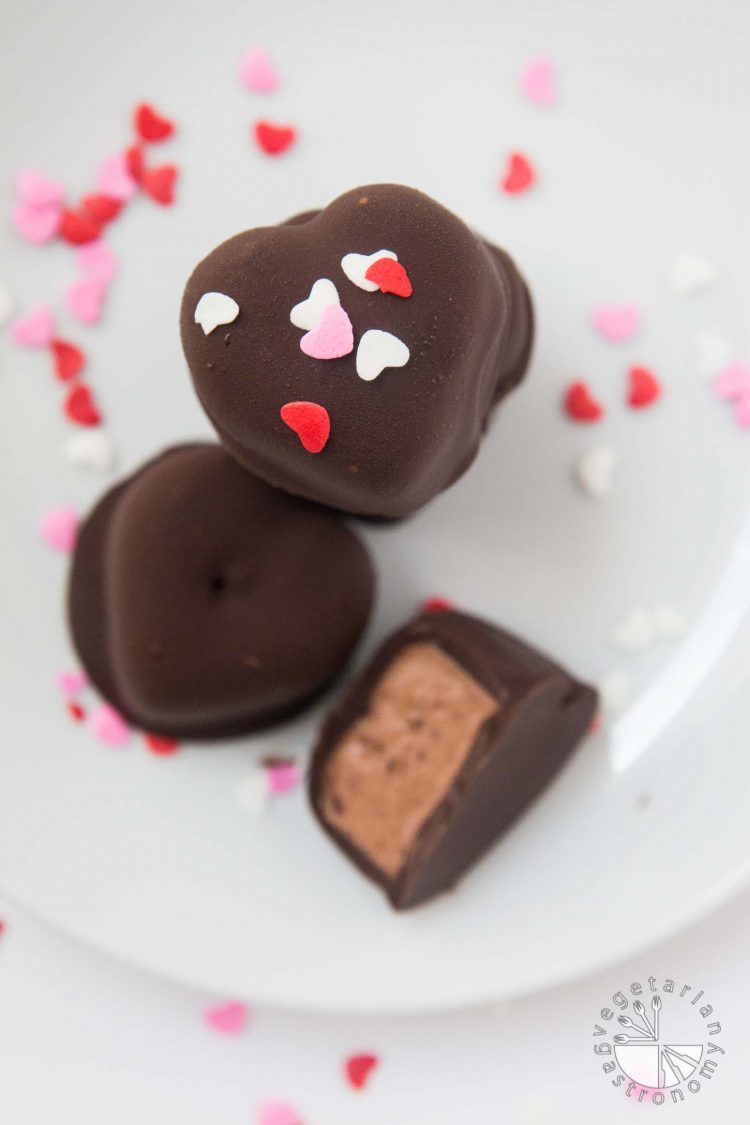 These heart shaped vegan Chocolate Covered Banana-Chocolate Ice Cream Bites are the perfect way to surprise your loved ones this week for Valentine's Day! You can even get fancy and plate a few with some fresh fruit and coconut whip cream for a nice dessert after dinner. They're healthy, free of refined-sugar, and rich. The best part is that they are easy and you can make them well in advance. Try them out and let me know what you think!
But wait…there's more! If you're staying in for Valentine's Day this year and want to make something special for a loved one for dinner, I have you covered! Scroll below this ice cream bites recipe for three different Valentine's Day 3-Course Menu suggestions based on Cuisine (Italian, Thai, Mexican). Most of these recipes are easy to make, and you can prepare most of it ahead of time so that you don't have to spend all of Valentine's Day cooking.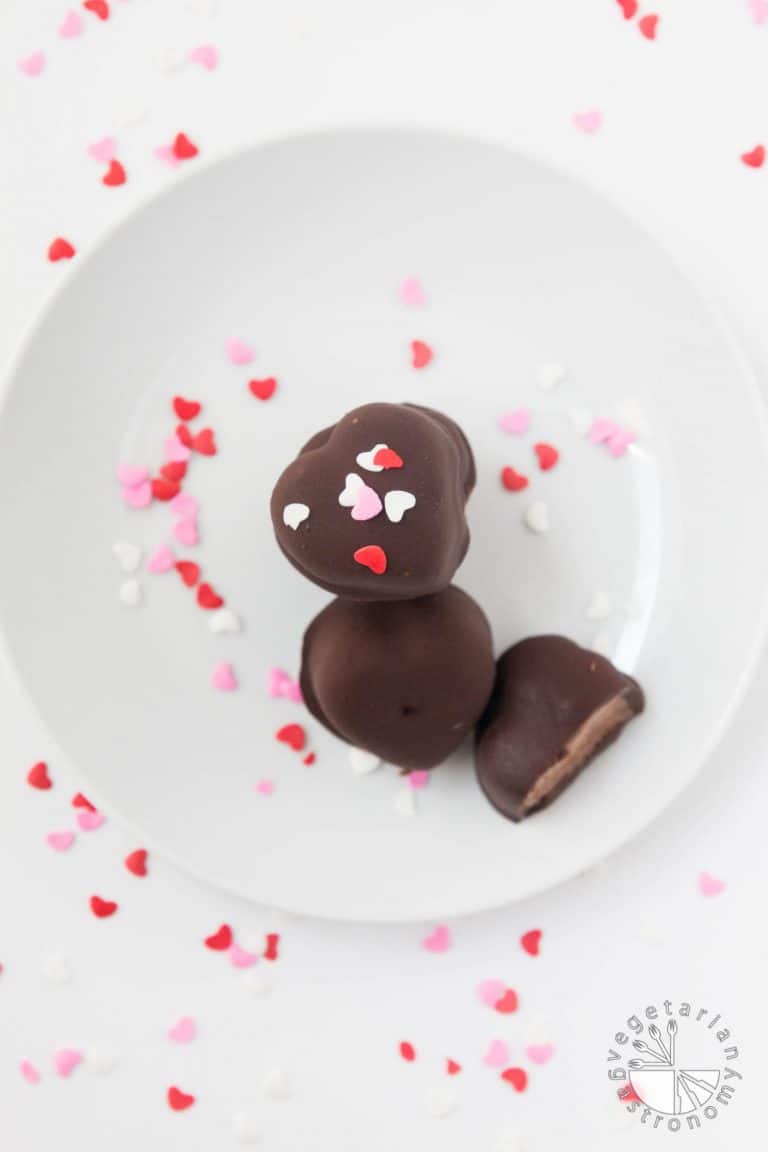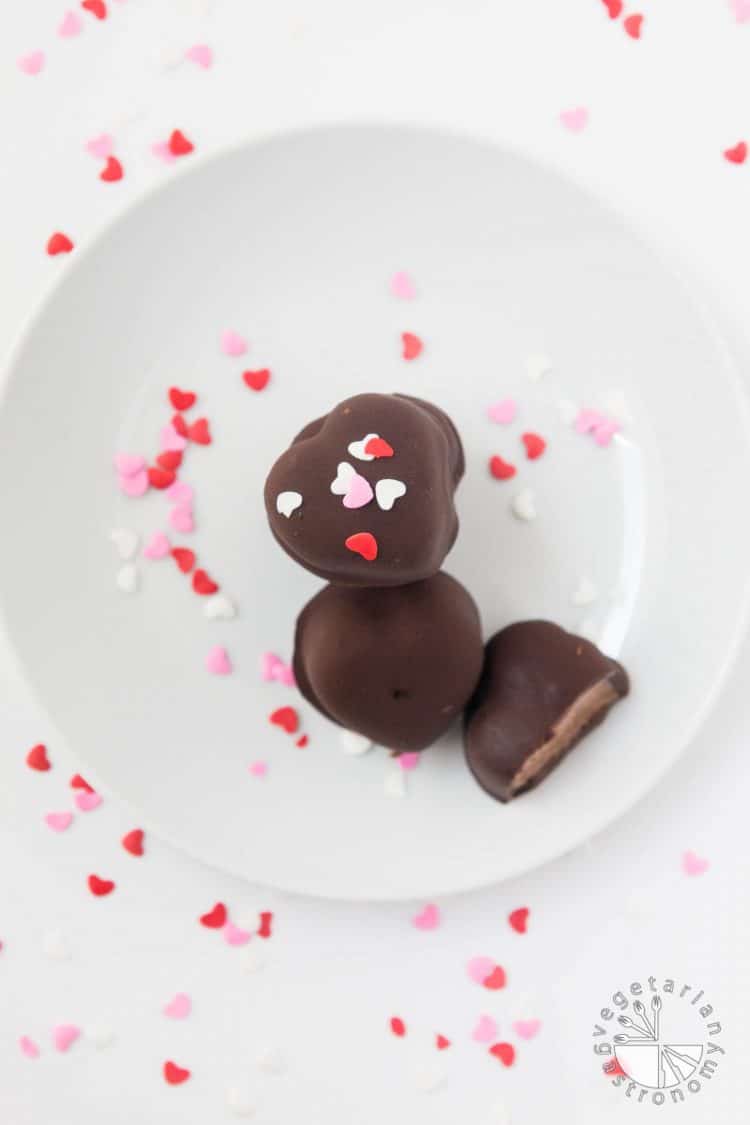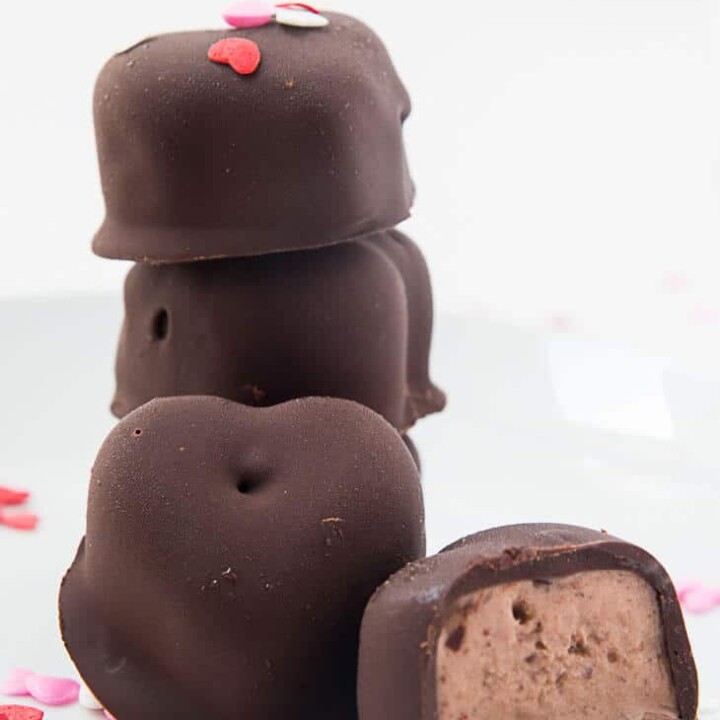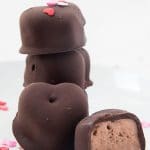 Print
Chocolate Covered Banana-Chocolate Ice Cream Bites (Vegan)
No-churn, easy, chocolate-banana ice cream bites dipped in rich dark chocolate. These fun and healthy frozen treats make for the perfect afternoon snack or dessert!
Servings:
24
ice cream bites
INGREDIENTS
For the Chocolate Coating:
INSTRUCTIONS
To Make the Ice Cream:
Place the frozen bananas, unsweetened almond milk, almond butter, cocoa powder, and pinch salt in a food processor (or high powered blender such as a vitamix).

Pulse and process on high until the mixture becomes thick and creamy and all the frozen banana blends in completely. This should not take too long.

Add

2 tbsp

chocolate chips if using, and pulse a few times to chop them up.

Using a spoon, fill each of the

silicone mold

or tray with the banana-chocolate ice cream. I used a spoon to do this. Be careful not to over-fill since it will slightly expand when frozen.

Place in freezer for an hour until it's completely frozen.
To Make the Frozen Bites:
Line a baking sheet with parchment paper.

Remove the silicone molds and carefully pop out the frozen ice cream shapes. This shouldn't be too difficult, especially if you're using a silicone mold. Place in container and put back in freezer so they don't start to melt.

Line a baking sheet with parchment paper.

Setup a double broiler over the stove. Add the

2 cups

chocolate chips + coconut oil. Mix until the chocolate is completely melted, pour-able, and smooth. Once done, turn off the heat.

Take 1/2 of the melted chocolate into a small deep bowl and add more melted chocolate as needed.

Take a few of the frozen ice cream shapes out of the freezer (working with a few at a time to avoid melting).

Working quickly, take a toothpick and pierce it 1/4th of the way into one of the frozen ice cream shapes. Pick it up and quickly dip it into the melted chocolate, using a spoon to help coat the entire piece. Once completely covered in chocolate, place it back on the parchment paper and remove the toothpick carefully using another toothpick to slide it off.

Continue until all of them are done. Then take the next batch out of the freezer and repeat.

Once all the bites are covered in chocolate, place the baking sheet back in the freezer until ice cream bites are completely frozen.

Store them in an airtight container.

Serve individually or plate a few with some fresh strawberries/raspberries and

coconut whip cream

and enjoy with a spoon!
NOTES
You can use any tray to make the ice cream shapes, but I personally prefer silicone molds for this recipe. They work well and the shapes are very easy to pop out once frozen.
My favorite brand of vegan dark chocolate chipse is Enjoy Life Foods.
I recommend dividing the melted chocolate above in case some of the ice cream bites start to melt in the chocolate and change the consistency while dipping them in. That way, you have a fresh bowl of melted chocolate to switch to.
NUTRITION
Calories:
112
kcal
|
Carbohydrates:
15
g
|
Protein:
1
g
|
Fat:
5
g
|
Saturated Fat:
3
g
|
Cholesterol:
2
mg
|
Sodium:
14
mg
|
Potassium:
72
mg
|
Fiber:
1
g
|
Sugar:
12
g
|
Vitamin A:
45
IU
|
Vitamin C:
1.4
mg
|
Calcium:
29
mg
|
Iron:
0.4
mg
Valentine's Day 3-Course Vegan Menus & Breakfast!
ITALIAN CUISINE MENU
Appetizer: Mushroom Crostini w/Garlic Basil Spread or Velvety Zucchini Basil Soup
Entree: Vegan Lasagna w/Roasted Veggies & Garlic Basil Ricotta or Caramelized Onion, Roasted Eggplant, & Tomato Penne Pasta
Dessert: Chocolate Mousse or Chocolate Covered Banana-Chocolate Ice Cream Bites (recipe above) plated with fresh strawberries/raspberries & Coconut Whip
MEXICAN CUISINE MENU
Appetizer: Tortilla Soup and Fresh Mango Kiwi Salsa w/Chips
Entree: Crispy Tofu Tikka Masala Tacos or Roasted Balsamic Portobello Tacos
Dessert: Warm Chocolate Chip Walnut Cookies served w/vegan vanilla ice cream or Mango Mousse Parfait
THAI CUISINE MENU
Appetizer: Fresh Rice Wraps or Wontons
Entree: Sweet Chili Lime Tofu and Thai Basil Eggplant OR Thai Pra Ram Tofu and Crispy Garlic Fried Brown Rice w/Kale (all served with cooked quinoa or brown rice)
Dessert: Fresh Mango Coconut Chia Seed Parfait or Chocolate Covered Dates Stuffed w/Orange Coconut Cream
BREAKFAST IN-BED IDEAS:
Cinnamon-Infused Vegan Mascarpone on Focaccia Topped with Strawberries & Roasted Pistachios
Double chocolate Chip Strawberry Oat Waffles
Strawberry Hemp Milkshake
Overnight Chocolate Strawberry Overnight Oats
Banana Macadamia Nut, Coconut Whip Pancakes
HAPPY COOKING!