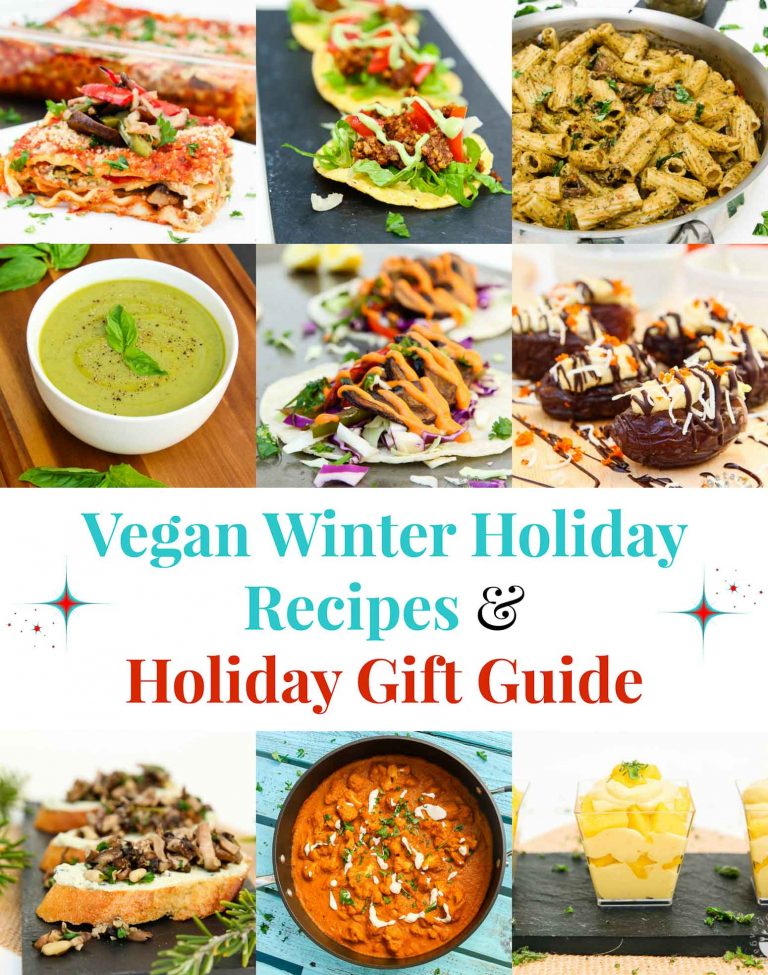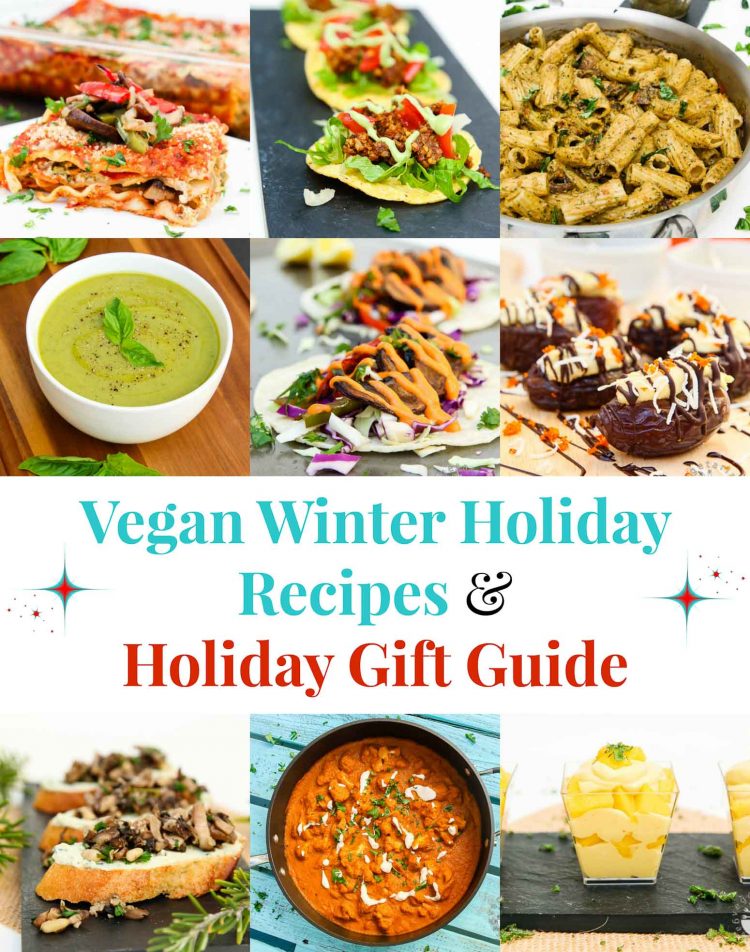 December is here and we are in full winter holiday mode! School parties, gifts, home decorations, stockings, outdoor lights, toy drives, holiday cards, hot chocolate, holiday music and the ELF out and about. On top of it all, we hosted our annual Holiday Party this past weekend (menu coming soon). I was in full cooking and baking mode for 2 days.
I know how busy December can be, so here are a few of my favorite Vegan Winter Holiday Recipes from the blog. If you're hosting your own holiday party this year, having people over for Christmas or New Years, or need to come up with a dish to take for a potluck, I've got you covered with a few of my favorite vegan appetizers, main dishes, and desserts below!
I'm also sharing a few of my FAVORITE Holiday Gifts. From cookbooks, to favorite kitchen items, to a few fun gadgets for anyone who enjoys cooking. If you have your holiday menu set, skip straight to my Holiday Gift Guide by clicking here , otherwise start out by checking out this roundup of Vegan Holiday Recipes!
Vegan Winter Holiday Recipes
APPETIZERS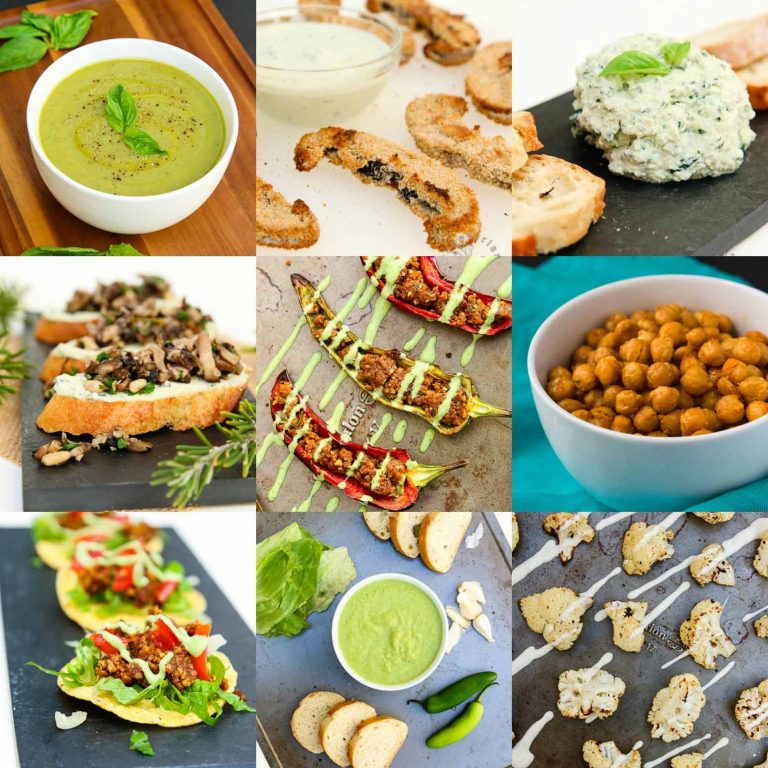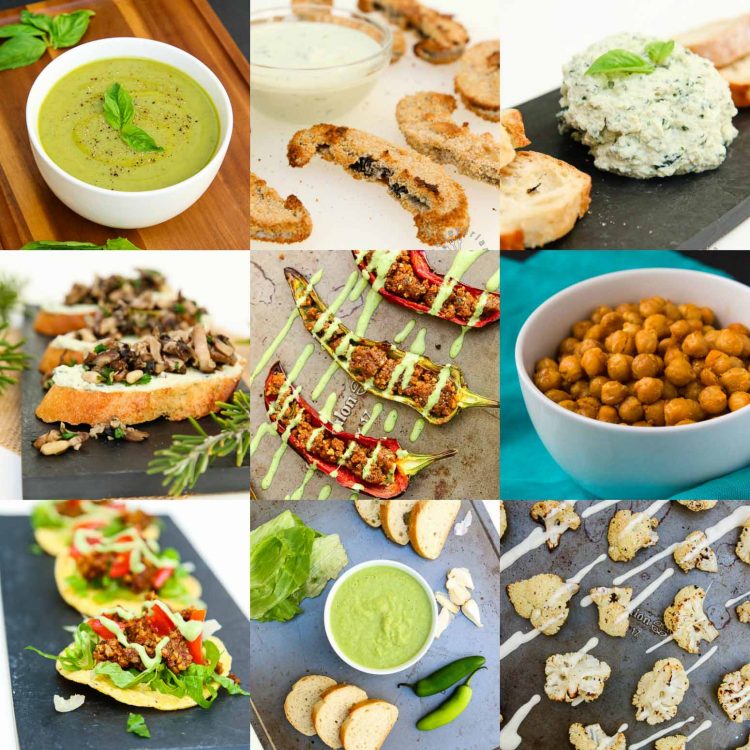 MUSHROOM CROSTINI WITH GARLIC BASIL VEGAN RICOTTA "CHEESE" SPREAD
SPICY PERUVIAN DIPPING SAUCE (served with french bread)
MINI WALNUT SUN-DRIED TOMATO CRUMBLE TOSTADAS
GARLIC BASIL VEGAN RICOTTA "CHEESE" SPREAD
ROASTED CAULIFLOWER DRIZZLED WITH LEMON TAHINI SAUCE
BAKED CRISPY PORTABELLO MUSHROOM FRIES
SWEET & SALTY OVEN ROASTED CURRIED CHICKPEAS
STUFFED ANAHEIM PEPPERS WITH CREAMY CILANTRO TAHINI SAUCE
MAIN DISHES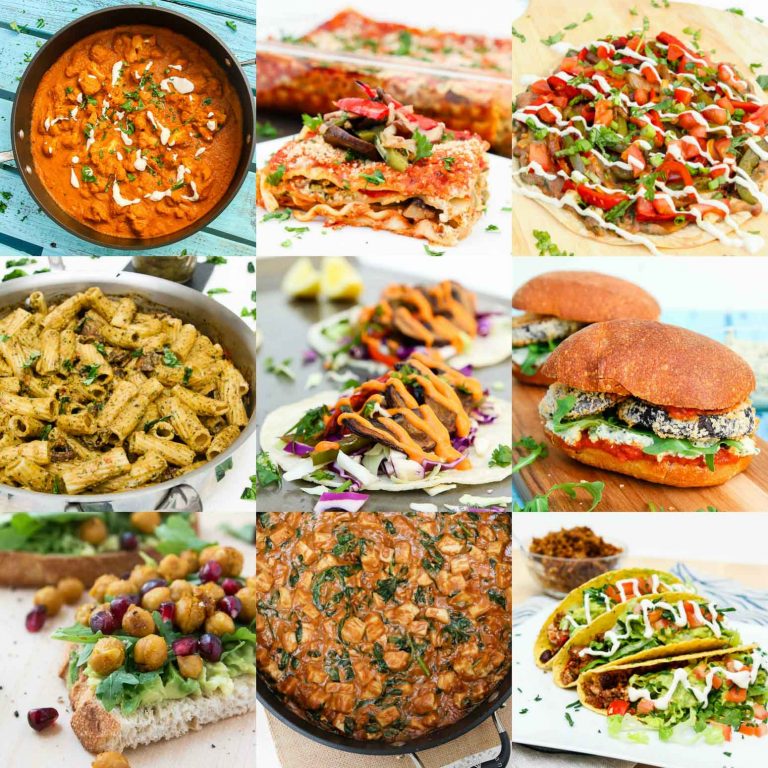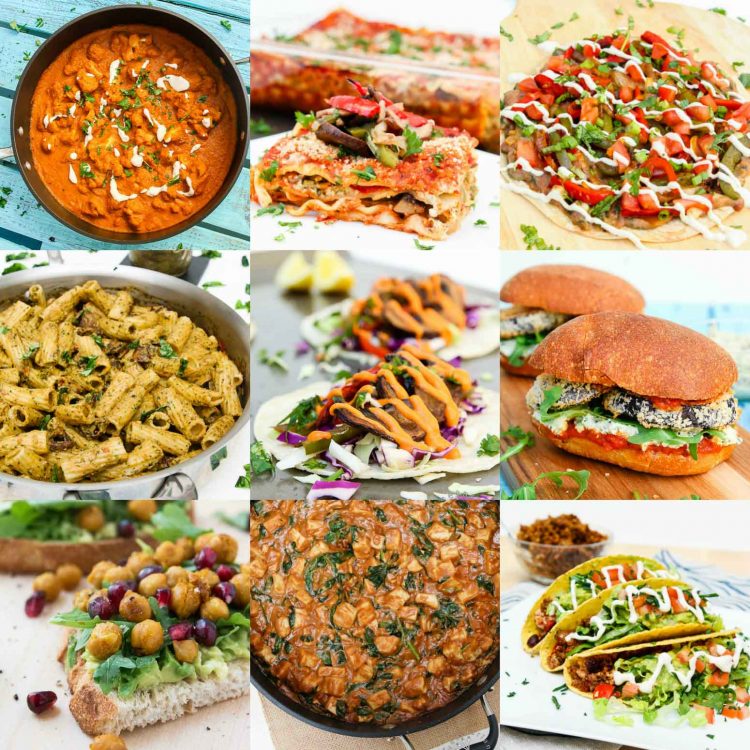 VEGAN LASAGNA RECIPE WITH ROASTED VEGGIES & GARLIC BASIL RICOTTA
EASY THAI PRA RAM TOFU (served with cooked quinoa or brown rice)
LOADED BALSAMIC PORTABELLO TACOS WITH SPICY RED PEPPER SAUCE
LOADED AVOCADO TOAST WITH ROASTED CHICKPEAS & POMEGRANATES
CRISPY EGGPLANT PARMESAN SANDWICH
CREAMY SUN-DRIED TOMATO, MISO, BASIL PESTO PASTA WITH ROASTED MUSHROOMS
LOADED BLACK BEAN TOFU TACOS WITH WALNUT CRUMBLE
DESSERTS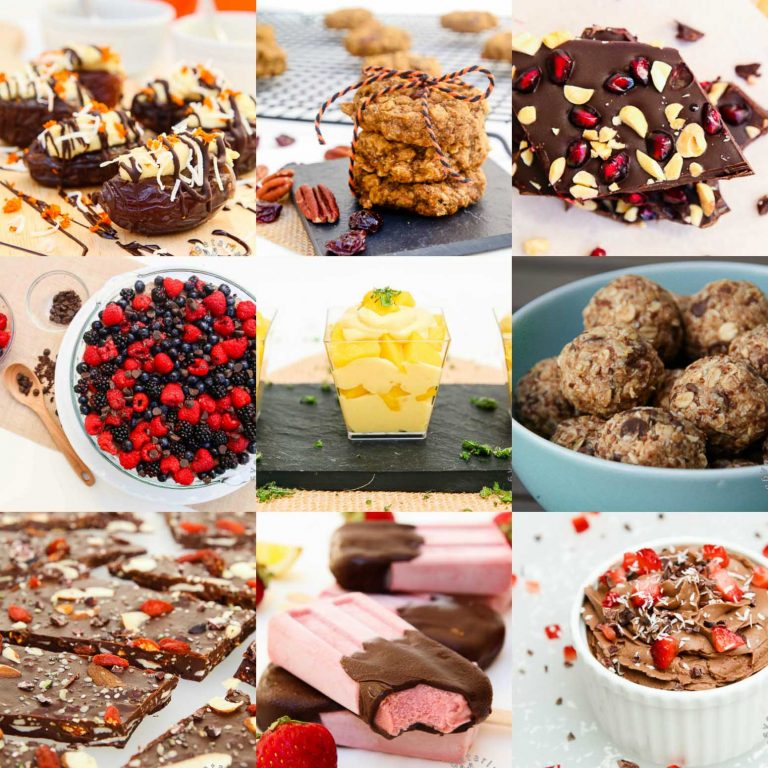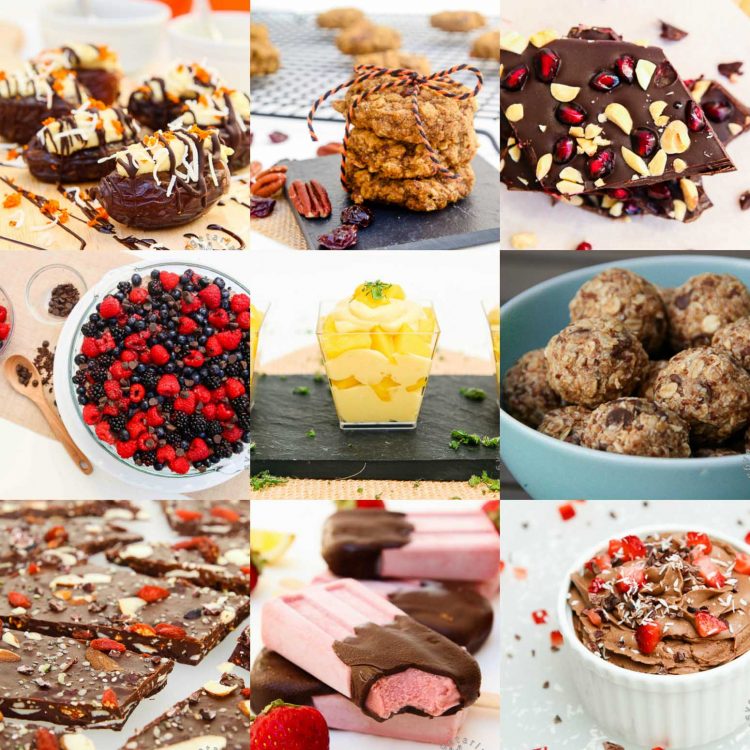 CHEWY, SEEDY, HEALTHY DARK CHOCOLATE BARK
CHOCOLATE COCONUT CHIA PUDDING FRUIT PIE
CHOCOLATE COVERED STRAWBERRY CREAM POPSICLES
DARK CHOCOLATE COVERED DATES STUFFED WITH ORANGE COCONUT CREAM
POMEGRANATE, ROASTED PEANUT, DARK CHOCOLATE BARK
Holiday Gift Guide
For those of you last minute shoppers out there, here's a fun little gift guide to help you with with your gift shopping! It's a non-overwhelming list of some of my favorites. From cookbooks, to kitchen items, to non-cooking related favorites…I personally own all of them. Check out my Gift Guide below!
KITCHEN GADGETS & COOKWARE
EDIBLE GIFTS
COOKBOOKS
OTHER FAVORITES
SoundBot Water Resistant Bluetooth Shower Speaker. If there was one thing I recommend out of this entire gift guide, it'd be THIS SoundBot shower speaker! I love it.

Shiatsu Pillow Massager with Heat. I bought this for my husband last year and he LOVES it. It's perfect for the car, or relaxing with at home to relieve the stress in your neck and back.

JJ Cole Outdoor blanket + Mommy Hook. This is my go-to when gifting to new moms! I still use my waterproof blanket weekly for picnics or at the beach.

Magna-Tiles. Warning…you may need more than 100 pieces, especially if the adults get involved.

BOARD GAMES. Boardgames are currently my favorite gift to give to kids of all ages. A few of our favorites are Candyland, Sleeping Queens, Sequence for Kids, Spot It, Eye Found It, Camelot Jr, Scavenger Hunt for Kids, Ticket to Ride First Journey, Bananagrams, …just to name a few!
BOOKS! You can never go wrong with books…my kids are huge readers so if you need any recs, let me know in the comments below!
And there you have it! Vegan Holiday Recipes + Holiday Gift Guide! Do you have any other recs? I'd love to know in the comments below! Happy Holidays!