Stay in this year with one of my 3-course Valentines Dinner Recipes & Menus! I have four cuisines to choose from, including Italian, Mexican, Thai, & Indian! And if you're not in the mood for cooking dinner, check out one of my favorite Valentine's Day breakfast ideas or sweet treats to surprise your loved ones with!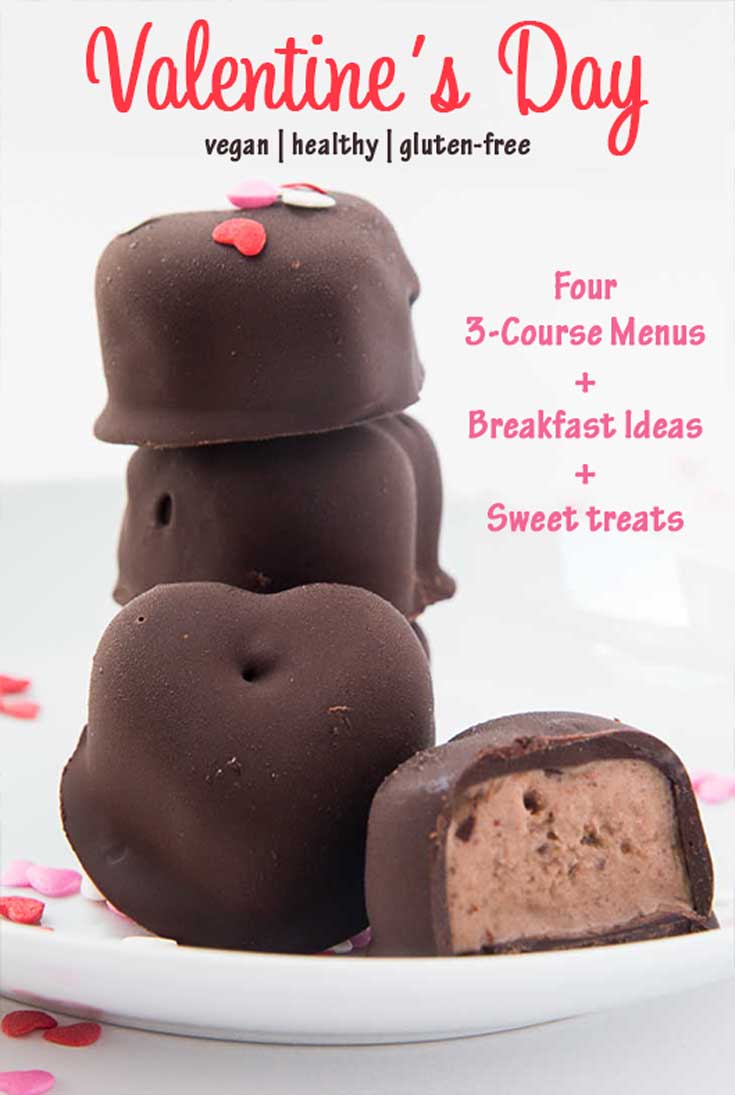 Yes…Valentine's Day is just another day.
But, sometimes you need that reminder to show your feelings of love, affection, and friendship. Of course, these sentiments should be expressed every day, but in our busy and hectic lives, sometimes a little reminder helps us remember to cherish those special people in our lives.
For me, this day means spending time with my husband and two kids.
Our typical weekday nights are probably similar to yours for those of you who have kids. Try to get dinner on the table by 6pm and sit as a family (which doesn't always happen), hope that your kids behave at the dinner table and that you're not having to constantly remind them to eat (yes we have one of those too), rush to clean the kitchen up so you don't have to do it later, try to spend whatever remaining time you have reading or playing games with the kids while getting them showered and to bed on time.
Sounds exhausting right? Well, that's the typical routine.
This leads me to Valentine's Day… to enjoy a nice 3-course dinner at home with your loved one.
If we have the time, my husband and I both love cooking and being together in the kitchen, but of course this never happens, and I typically do most of the cooking these days. It's nice to be able to enjoy a nice candle-light dinner at home, after the kids go to bed, without having to find a babysitter or hassle with reservations and crowds on Valentine's Day.
I also know that we are busy people and don't always have the luxury of spending all day in the kitchen. I for one, have two kids running around all day and am lucky if I get an hour in the kitchen to prep, cook, and clean. Most of these recipes are easy to make, and you can prepare them ahead of time so you don't have to spend all of Valentine's Day cooking.
Of course if all else fails, order take-out and you can still enjoy a candle light dinner at home. It's definitely been our fall-back a few times.
For those of you who need some ideas on a Valentines dinner recipes, I've put together four different 3-course Menus for you to choose from depending on what cuisine you're in the mood for: Italian, Mexican, Thai, or Indian. Each menu is complete with an appetizer, entree, and dessert.
If you're reading this post and thinking that you're one of those that hates cooking or just doesn't have the time, I've also put together a list of quick and easy morning breakfast ideas or home-made treats.
So this year, instead of making dinner reservations somewhere or trying to find the perfect gift, surprise your loved ones with breakfast-in-bed, sweet bites throughout the day, or one of these 3-course meals for dinner. It's the perfect way to spend Valentine's Day!
Valentines Dinner Recipes (3-Course Vegan Menu Ideas)
There are four different Valentine's Day 3-Course Vegan Dinner Menu ideas with several options under each course based on cuisine (Italian, Thai, Mexican, Indian).
ITALIAN CUISINE MENU
Start off your dinner with a gorgeous crostini layered with a garlic herb tofu "ricotta" spread, and topped with mushrooms, herbs, and pine nuts. As a main course, enjoy the sweet notes of caramelized onions, combined with oven roasted eggplant and a fresh tomato sauce for the perfect fresh penne pasta dish. End the night with one of my favorites, a quick and easy coconut cream-based vegan dark chocolate mousse.
Appetizer:
Mushroom Crostini w/Garlic Basil Vegan Ricotta "Cheese" Spread
Entree:
Caramelized Onions, Roasted Eggplant, Tomato Penne Pasta
Dessert:
Vegan Dark Chocolate Mousse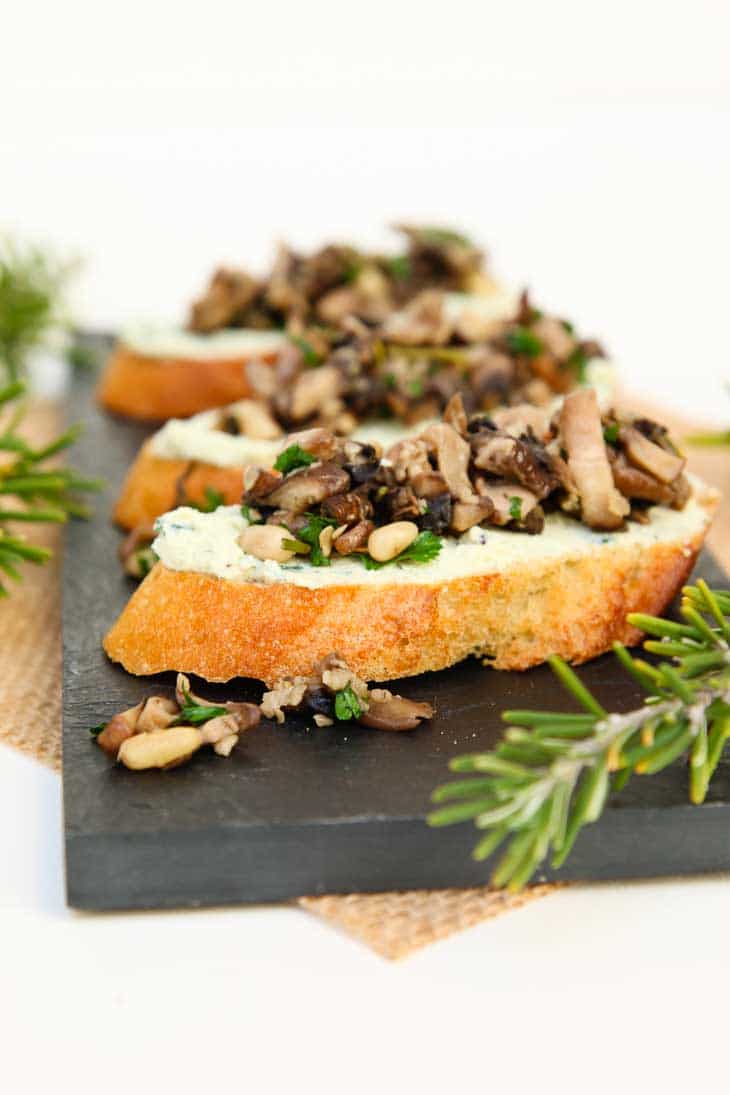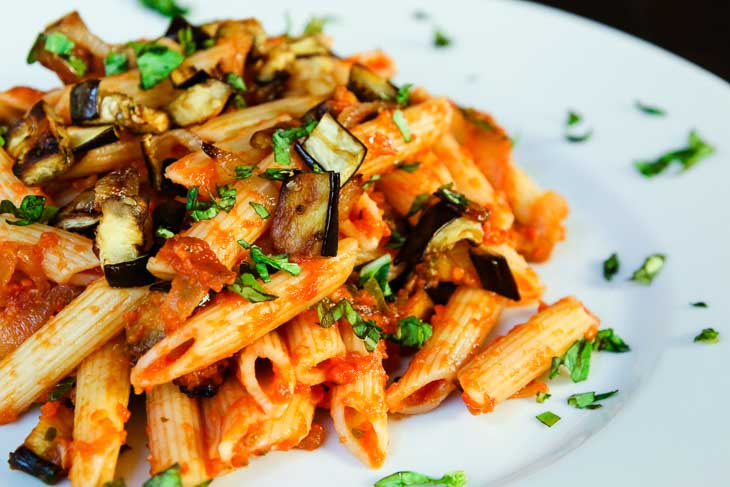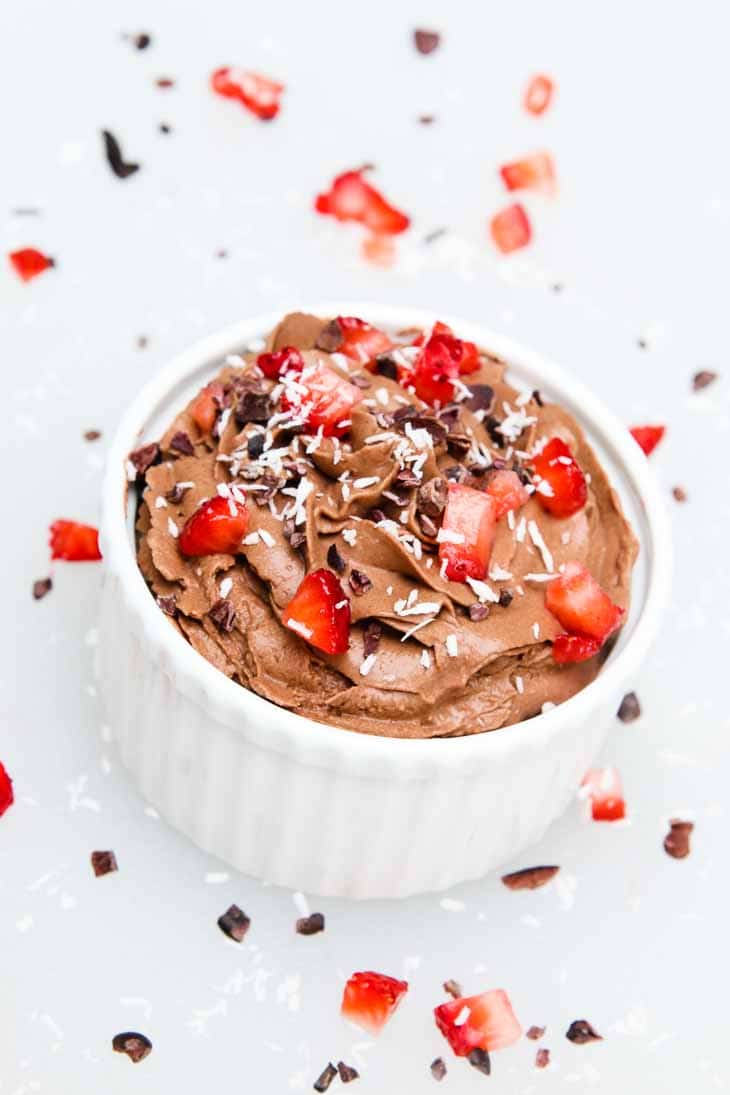 THAI CUISINE MENU
Start the night with some fried wontons or fresh spring rolls. For the main course, enjoy two restaurant favorites at home. These dishes are loaded with veggies and are made with easy one-bowl sauces. Also, who can go wrong with some flavor-packed noodles or eggplant? End the night with a frozen treat, Chocolate Covered Ice Cream bites, plated with fresh berries and a side of coconut whip.
Appetizer:
Fresh Rice Wraps or Fried Wontons
Entree:
Thai Flat Rice Noodles w/Veggies and Thai Basil Eggplant,
Served with cooked rice or quinoa
Dessert:
Chocolate Covered Banana-Chocolate Ice Cream Bites plated with fresh strawberries/raspberries & Coconut Whip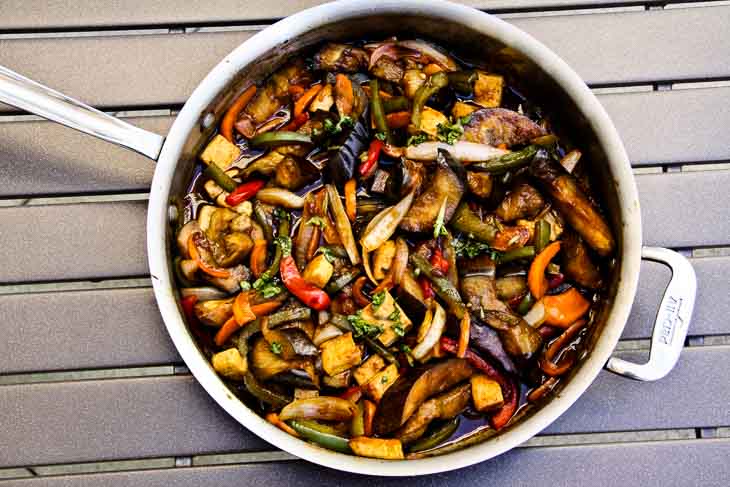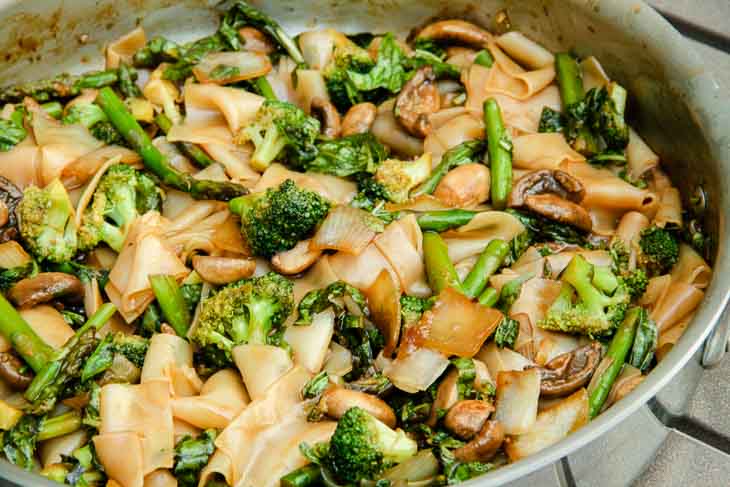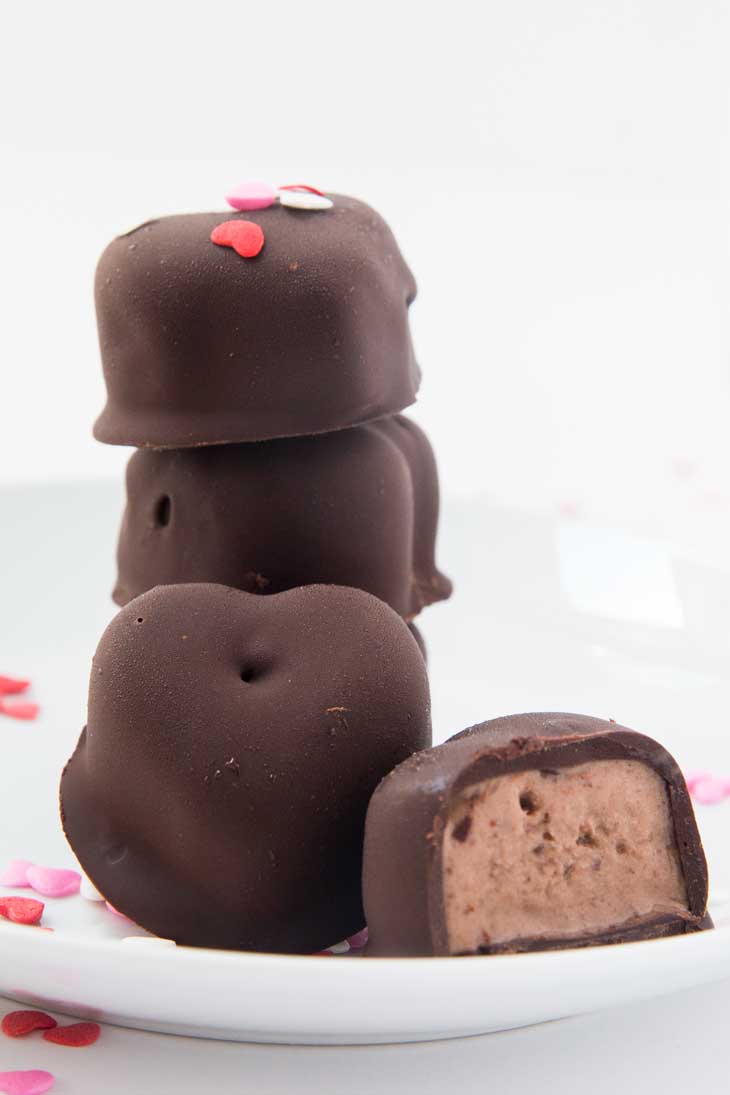 MEXICAN CUISINE MENU
Start off with a bowl of my popular vegan tortilla soup and some fresh mango kiwi salsa, followed by some balsamic roasted portabello tacos smothered with my favorite spicy roasted red pepper sauce. End the night with a freshly baked warm chocolate chip cookie, topped with some vegan vanilla ice cream.
Appetizer:
Tortilla Soup and Fresh Mango Kiwi Salsa w/Chips
Entree:
Roasted Balsamic Portobello Tacos with Spicy Red Pepper Sauce
Dessert:
Warm Chocolate Chip Walnut Cookies served w/vegan vanilla ice cream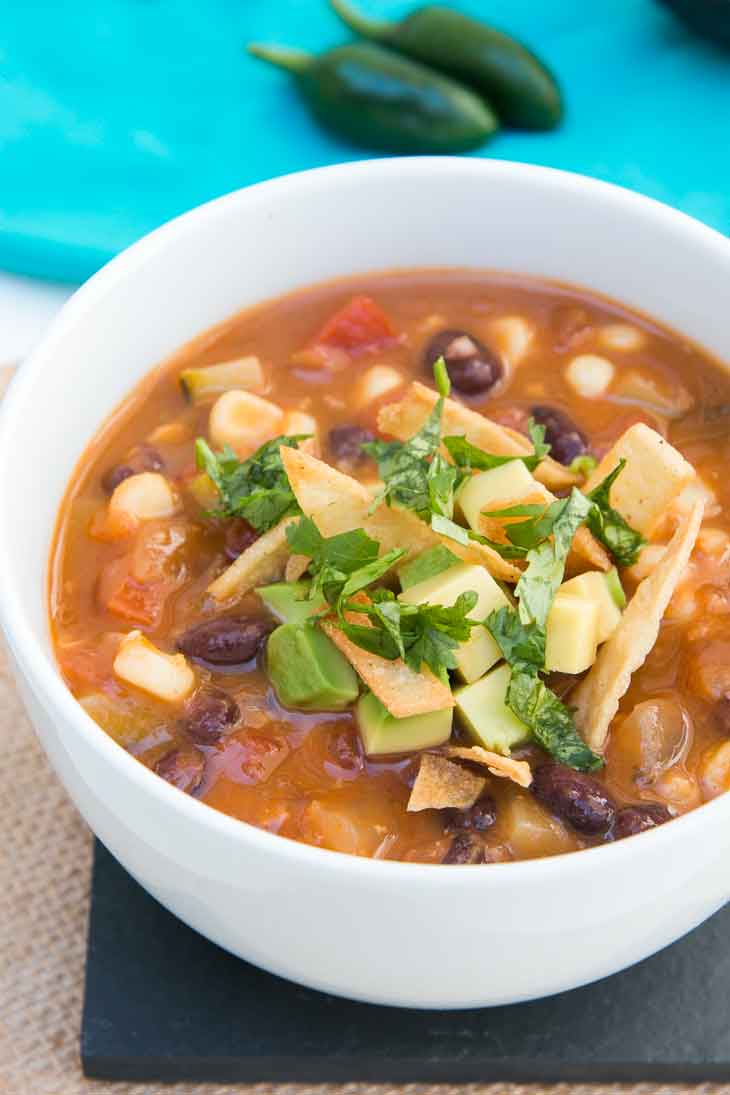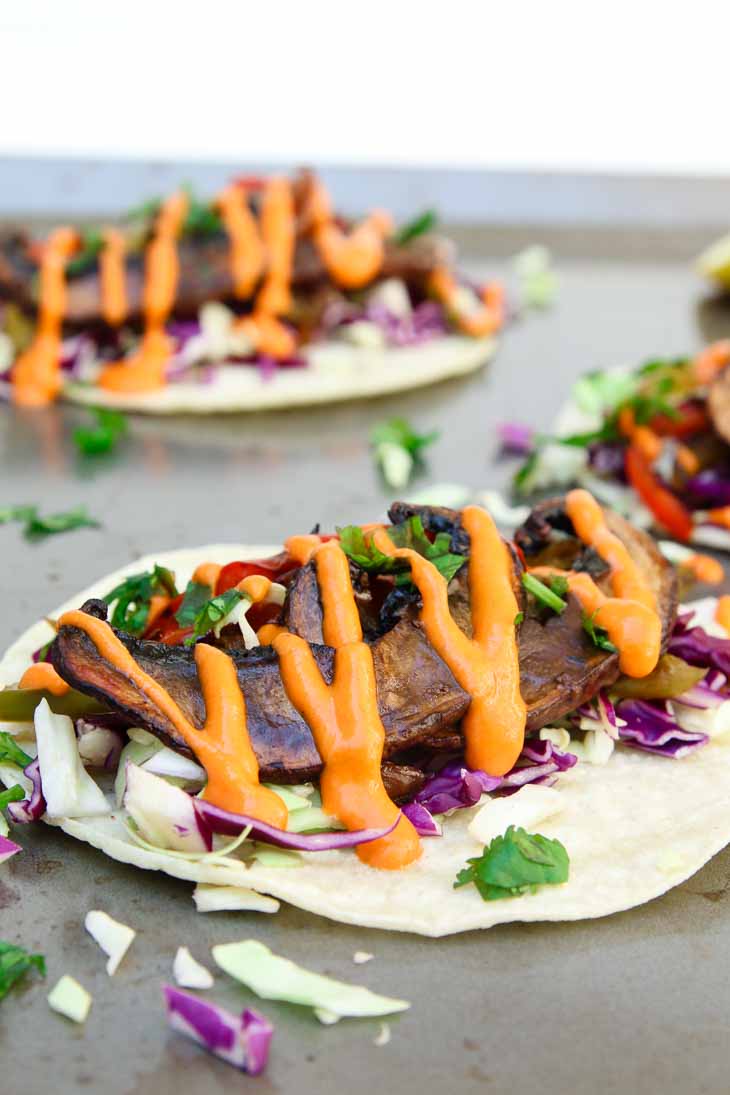 INDIAN CUISINE MENU
Surprise your loved one with this 3-course Indian inspired menu, starting off with my oven roasted curried chickpeas. For the main course, enjoy the rich, creamy, yet healthy flavors of my Cauliflower Tikka Masala and Green Coconut Curry, served with a side of Naan or rice. End the meal with a sweet bite, dark chocolate covered dates stuffed with orange coconut cream.
Appetizer:
Oven Roasted Curried Chickpeas
Entree:
Cauliflower Tikka Masala and Green Coconut Curry served with Naan and/or rice or Pulau
Dessert:
Dark Chocolate Covered Dates Stuffed w/Orange Coconut Cream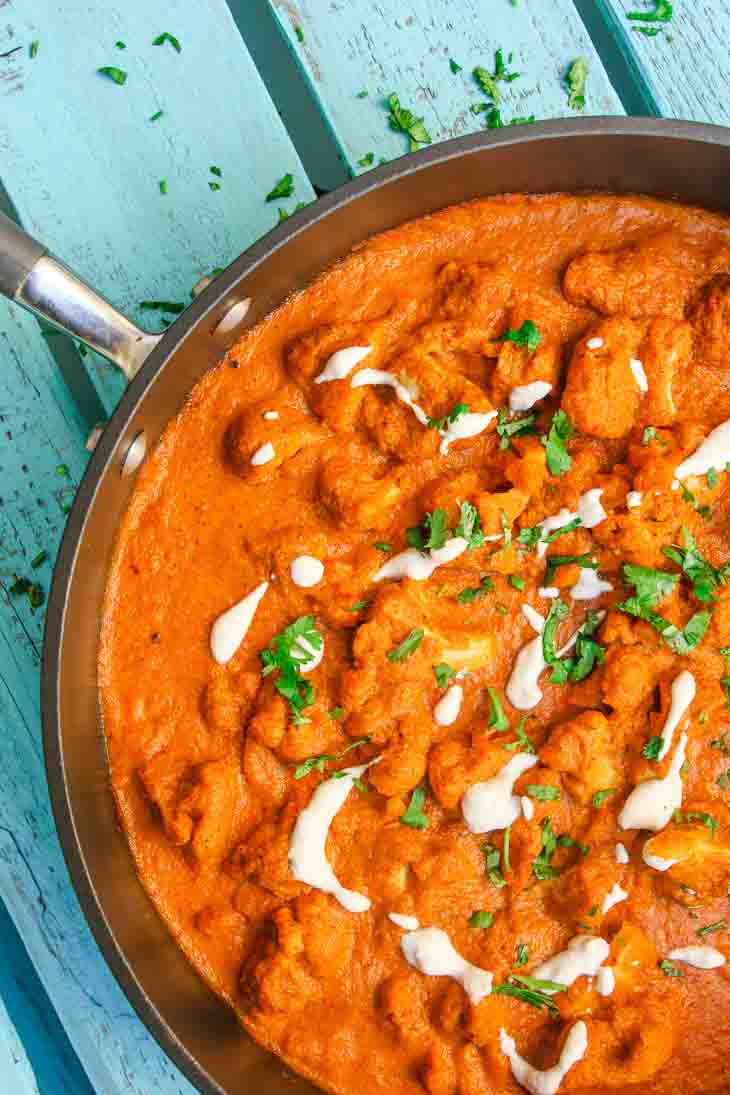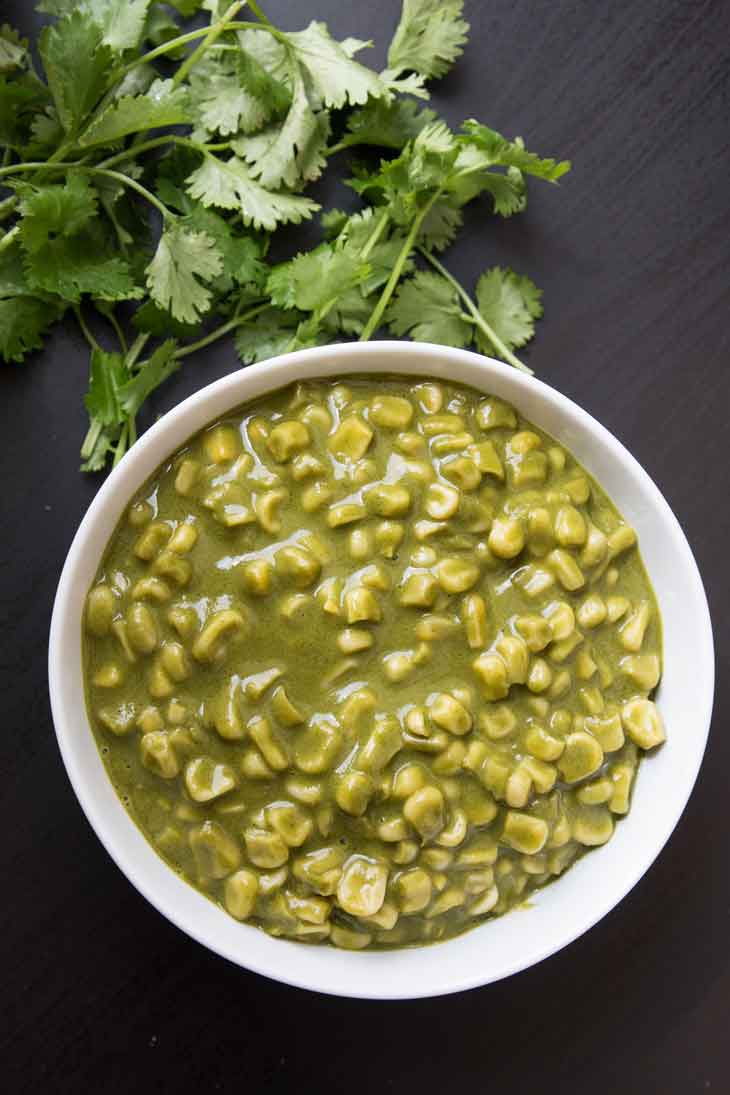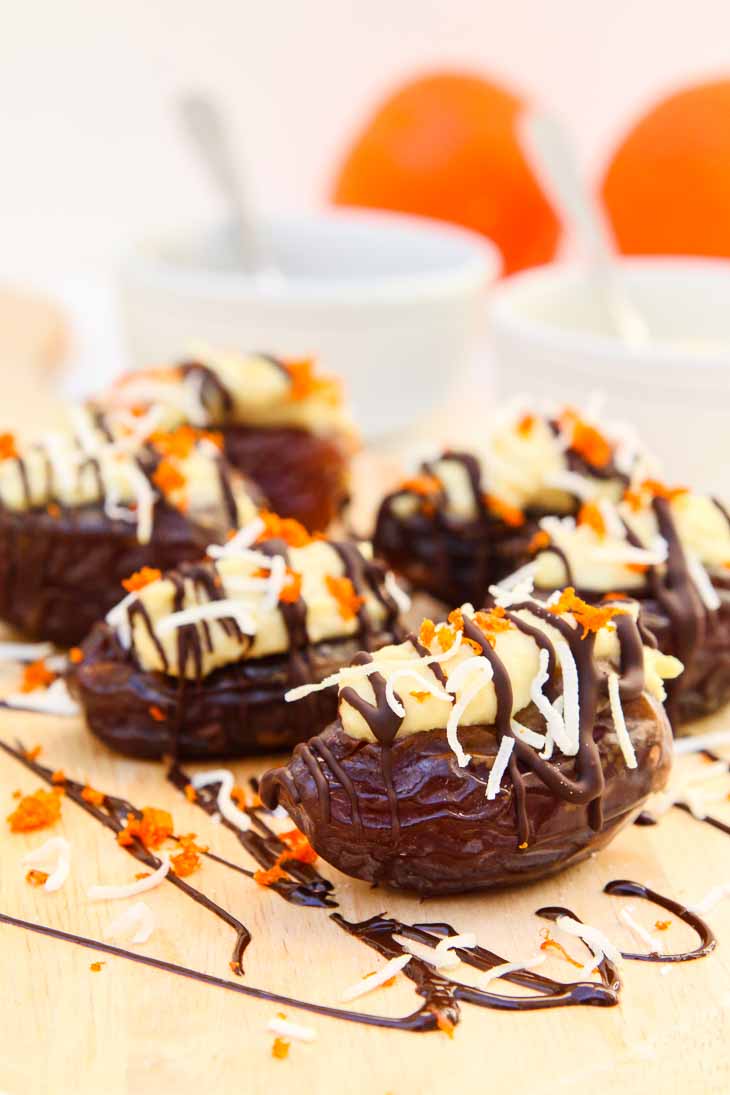 Breakfast-In-Bed Ideas
Surprise your loved ones in the morning with one of these special breakfasts!
Cinnamon-Infused Vegan Mascarpone on Focaccia Topped with Strawberries & Roasted Pistachios – If you want the ultimate breakfast-in-bed, this is the one! It looks fancy, and is gorgeous with all the colors, yet super easy to make!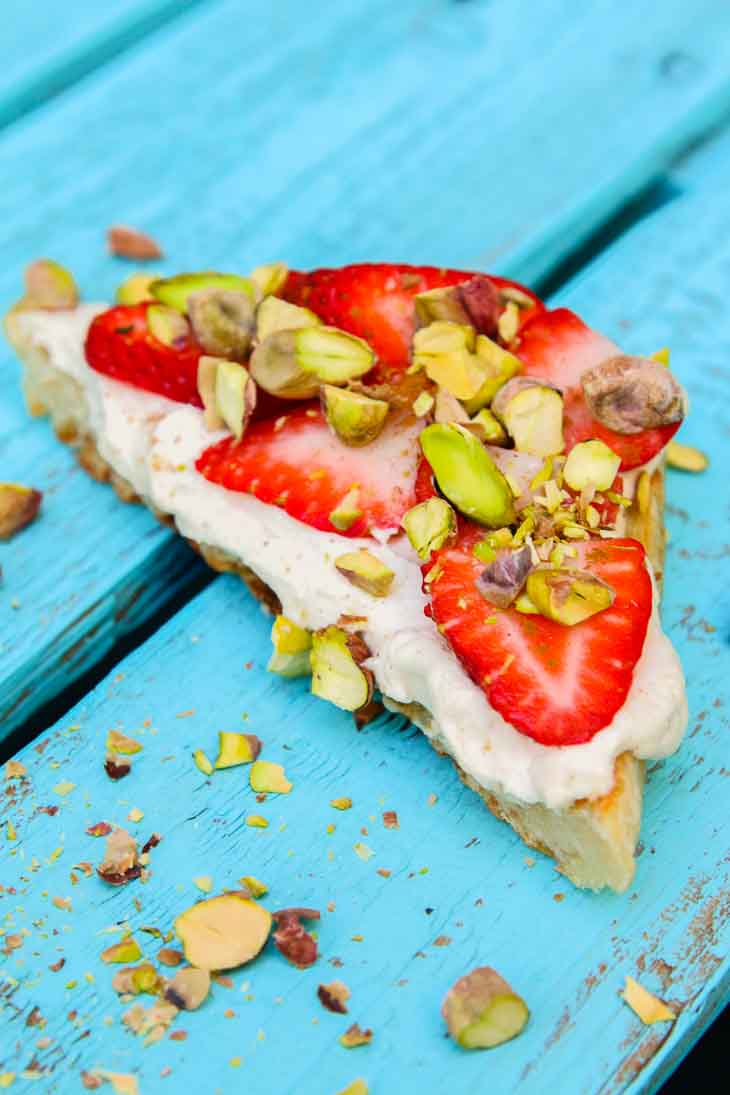 Double chocolate Chip Strawberry Oat Waffles – This one is for you chocolate lovers out there. Smother on a dollop of whipped cream and some fresh berries for the best dessert-like breakfast!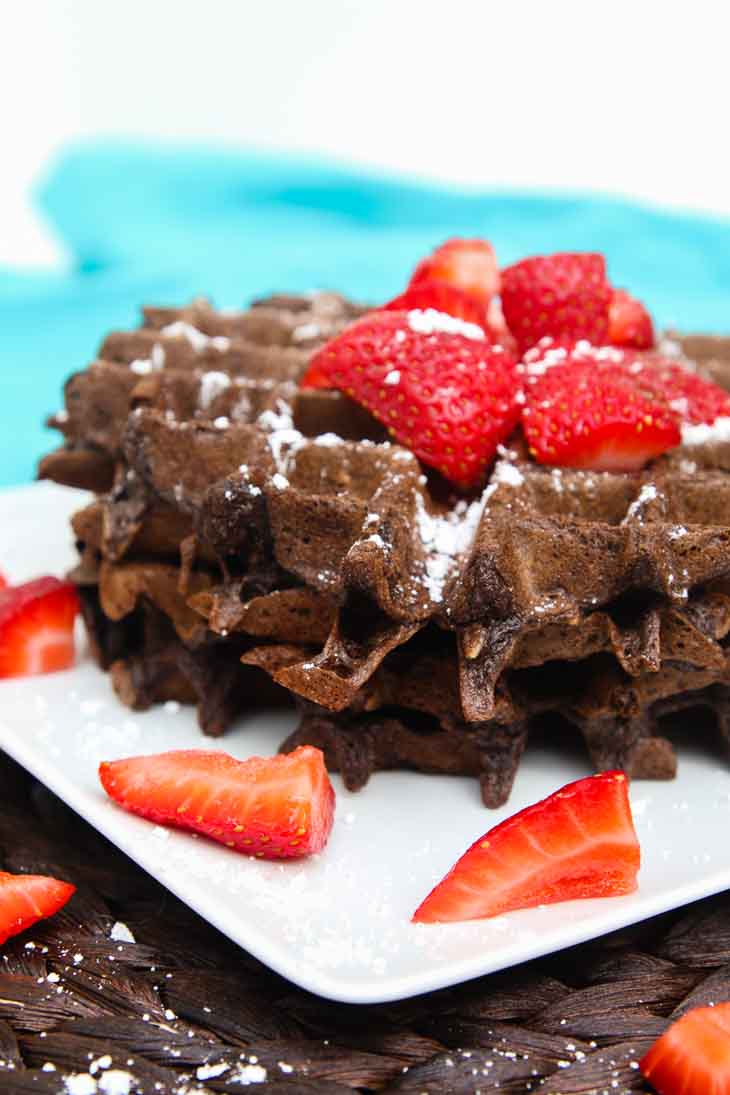 Strawberry Hemp Milkshake – If you're looking for something light, festive, yet filling and healthy for breakfast, enjoy this milkshake! It's also the perfect breakfast on the go. Top it off with a dollop of whipped cream, just because it's Valentine's Day.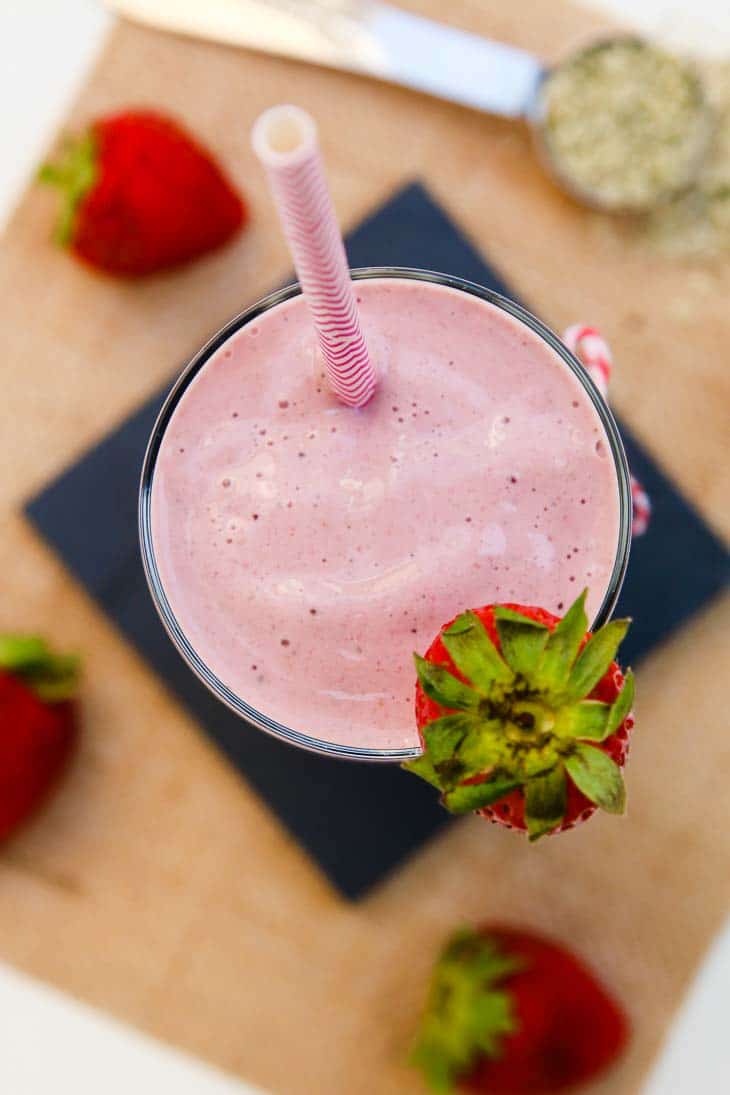 Overnight Chocolate Strawberry Overnight Oats – Sure it's Valentine's Day, but who has the time to enjoy breakfast in bed when it's a weekday? This my friends, is your answer. Requires 10-minutes of prep the night before and you have yourself a grab-and-go dessert-like breakfast the following morning! It's the perfect surprise to wake up to as you're rushing out the door.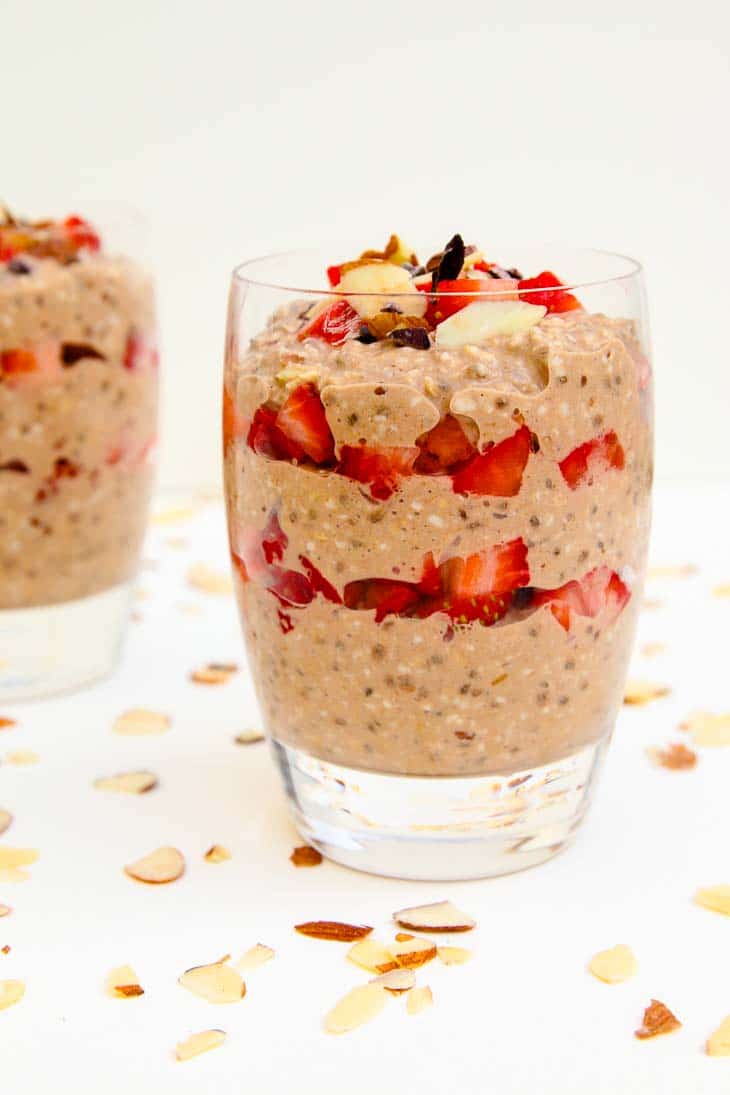 Banana Macadamia Nut, Coconut Whip Pancakes – One of my favorites, and what I would choose for breakfast on Valentine's Day. There's nothing getting past that banana + macadamia nut + coconut flavor.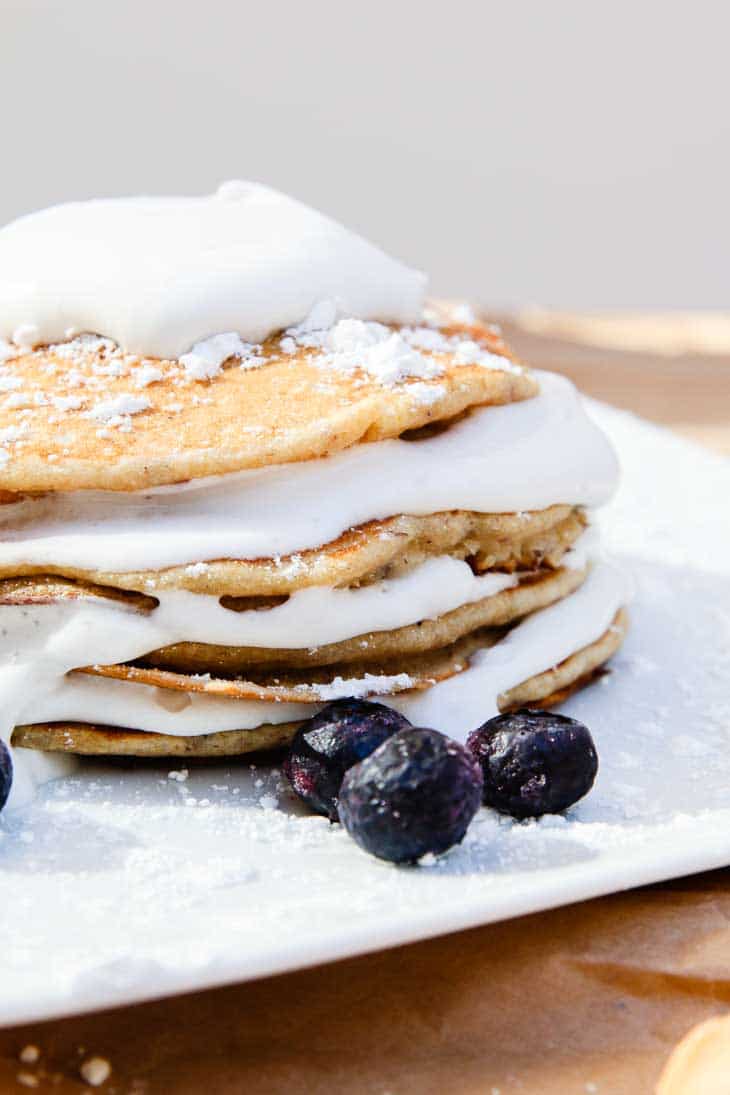 Loaded Avocado Toast w/Roasted Chickpeas & Pomegranates – Call it breakfast, or call it brunch. This Avocado toast is like no other. Aside from the fact that it's gorgeous ad beaming with color, it's also flavor-packed with avocado, crispy chickpeas, arugula, and sweet pomegranate pearls.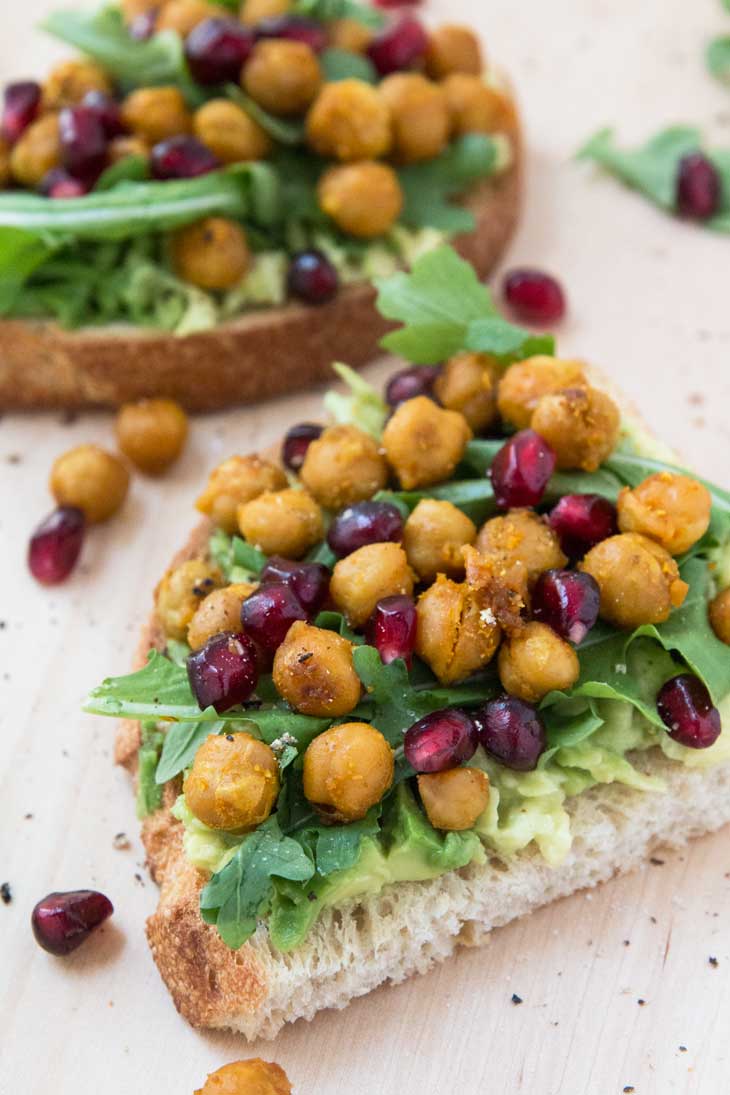 Apple Cinnamon Waffles – These can even be made ahead of time and frozen for a quick and fun surprise breakfast on Valentine's Day. The fresh bits of apple in the batter get me every time.
Vegan French Toast w/Strawberries – This was my first Mother's Day memory…my husband (on behalf of my son) made this vegan french toast topped with some powdered sugar, maple syrup, and strawberries. They take only 10 minutes to make and it's delicious.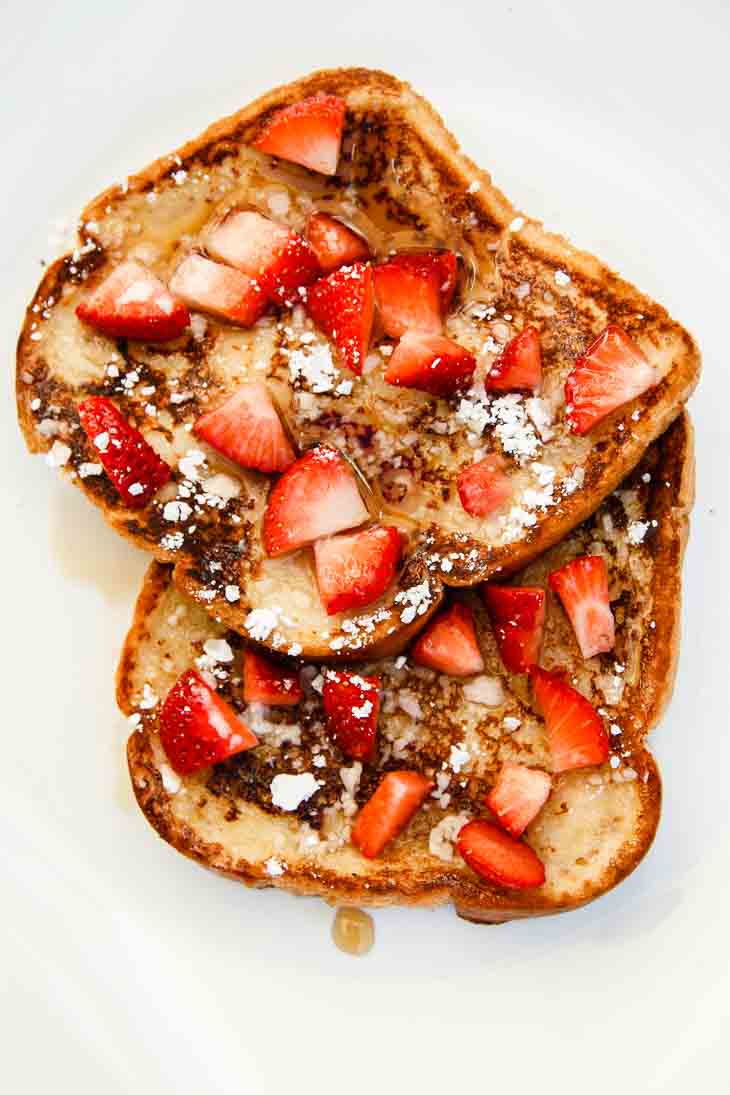 Sweet Treats
Don't have time to cook an entire meal? Surprise your loved ones with one of these treats in their lunch, snack, or share them with friends, teachers, and neighbors!
Chocolate Covered Banana-Chocolate Ice Cream Bites – I typically have these made and in the freezer anyway, so why not get the fun heart-shaped silicone ice cube trays and make them festive for Valentine's Day! They make the perfect after dinner sweet bite or afternoon snack.
Strawberry Hemp Milkshake – Replace your kids after school snack with this pretty pink smoothie! And shhh…it's loaded with hemp seeds!
Apple Dessert Nachos – Get your kids involved and let them make a plate of apple dessert nachos after school!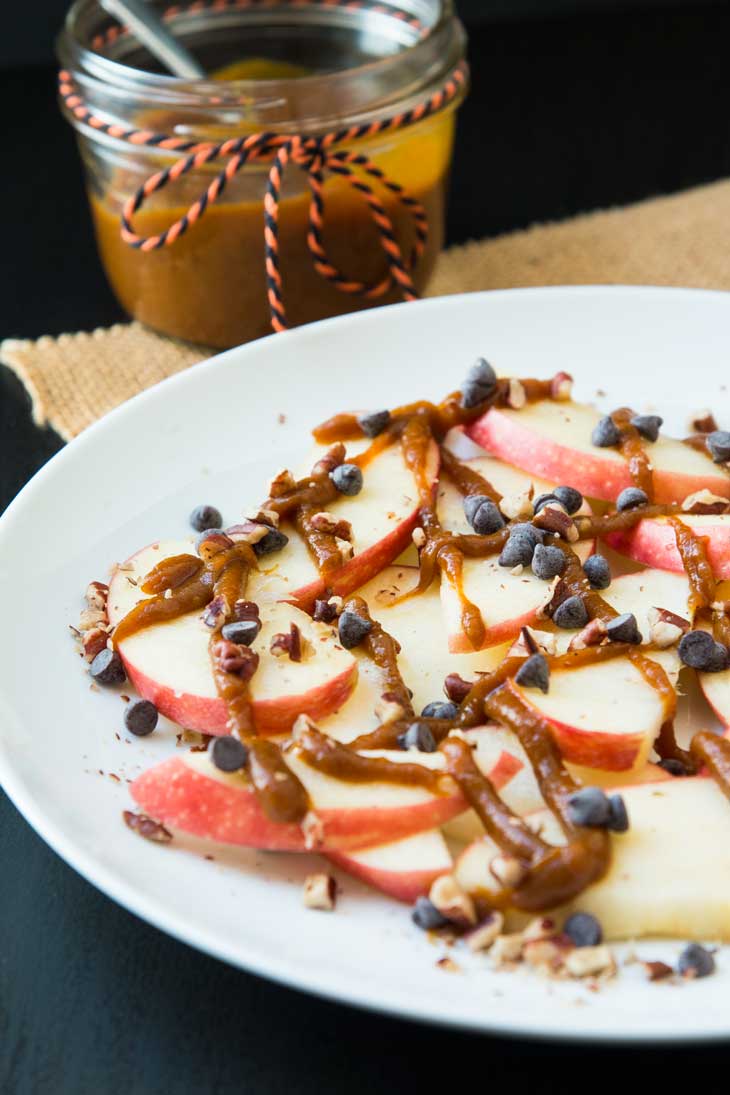 No-Bake Vegan Pumpkin Cookies w/Pecans & Coconut – For those of you who don't like baking, and need something quick and easy, these bites are delicious! Also makes for the perfect grab-and-go snack or breakfast.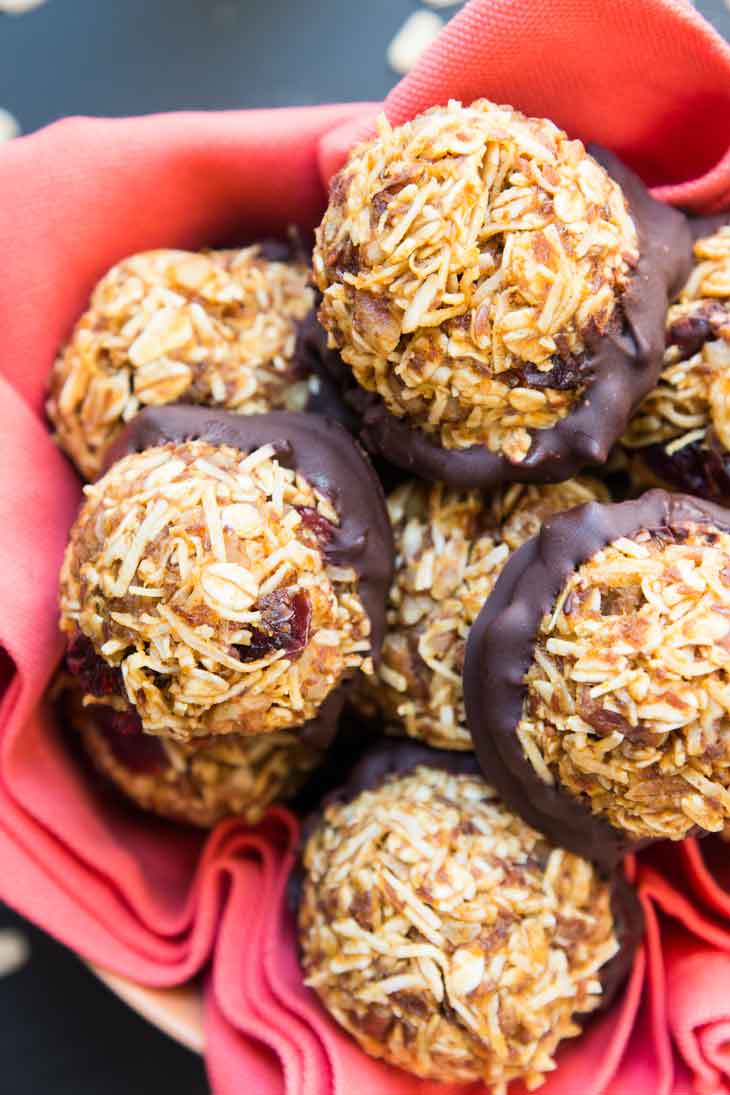 Chocolate Covered Strawberry Cream Popsicles – Because if you're anything like me, you need at least something that screams 'chocolate covered strawberries' during Valentine's Day.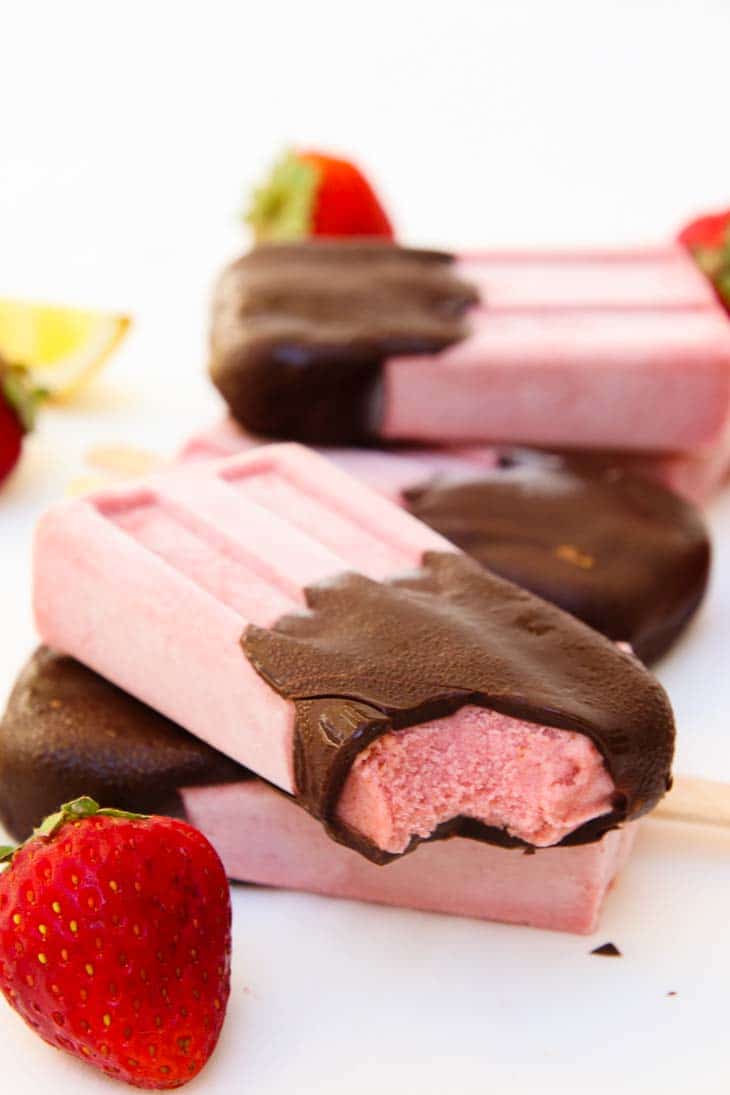 Double Chocolate Chia Cake Donuts – Valentine's Day or not…you can always enjoy a batch of these double chocolate chia cake donuts. Decorate them with small heart sprinkles to make them festive!
Creamy Chocolate Fudge Popsicles – Creamy, fudgy, chocolaty, healthy. This may look like an ordinary popsicle, but it's the most rich indulgent frozen treat you'll ever have.
Pomegranate, Roasted Peanut, Dark Chocolate Bark – If all else fails, dark chocolate bark it is! This is one of my favorite combos, but you can top your bark with ANYTHING!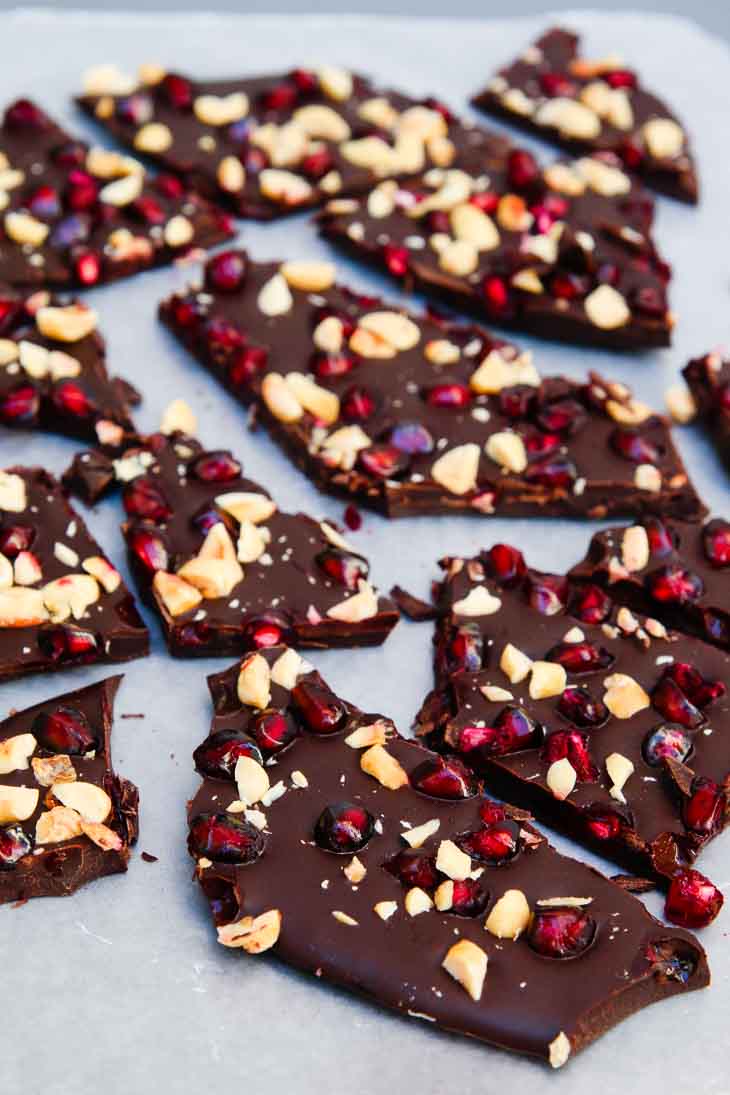 If you get a chance to try any of these Valentines dinner recipes, menus, breakfast items, or sweet treats, please let me know! Tag me on Instagram at #vegetariangastronomy @vegetariangastronomy so that I don't miss it! And tell me in the comments below…what's your favorite sweet treat on Valentine's Day?